In 2017, our international Photographs category achieved more than $22 million in global sales. This included landmark successes for such private collections as The Odyssey of Collecting: Photographs from Joy of Giving Something Foundation and Henri Cartier-Bresson: The Eye of the Century, Photographs from the Personal Collection of Peter Fetterman, both of which sold in New York.
Meanwhile in London, ULTIMATE—now in its eighth edition—was 100% sold for the year. This unique selling platform, which offers exceptionally rare and sold-out works as well as one-off creations made exclusively for Phillips, has successfully debuted 24 artists at auction and established world records for 35 artists since its launch in 2014.
This year saw auction records stablished for photographers spanning the 19th, 20th and 21st centuries, solidifying our status as the market leader for Photographs sales that span the history of the medium. As is a trademark of the Phillips brand, we continue to present rare-to-the-market classic works in dialogue with contemporary material. Upon entering the New Year, we take this opportunity to reflect on some of the team's most memorable moments from 2017.
1. 'The Odyssey of Collecting' spans three centuries of photography
Phillips was proud to offer three auctions of The Odyssey of Collecting: Photographs from Joy of Giving Something Foundation in New York in April and October. This world-class collection of photographs, assembled by Joy of Giving Something's founder, Howard Stein, spanned three centuries of photography and included rare and unique works by true masters of the medium. The demand for these extremely significant works, including prints by László Moholy-Nagy, Gustave Le Gray and Imogen Cunningham, among others, was confirmation of the knowledge and passion with which Howard Stein built his collection, and was further evident in the exceptional results which totaled in excess of $10 million.
László Moholy-Nagy Photogram studies for Goerz (negative and positive), 1925. Sold for $212,500.
2. Fashion photography leads London ULTIMATE sections
Throughout 2017, ULTIMATE celebrated the power of collaborative creativity in fashion photography. ULTIMATE CAMPAIGN in May championed generation-defining photographs from advertising campaigns for the likes of Yves Saint Laurent and Alexander McQueen.
We then collaborated with the legendary Calvin Klein to celebrate the release of his much-anticipated first book. Three photographs from the book by Steven Meisel, Bruce Weber and David Sims were printed exclusively for our November edition of ULTIMATE, making these iconic photographs available for the very first time. 100% sold, this offering stood as a testament to Klein's revolutionary approach to fashion advertising.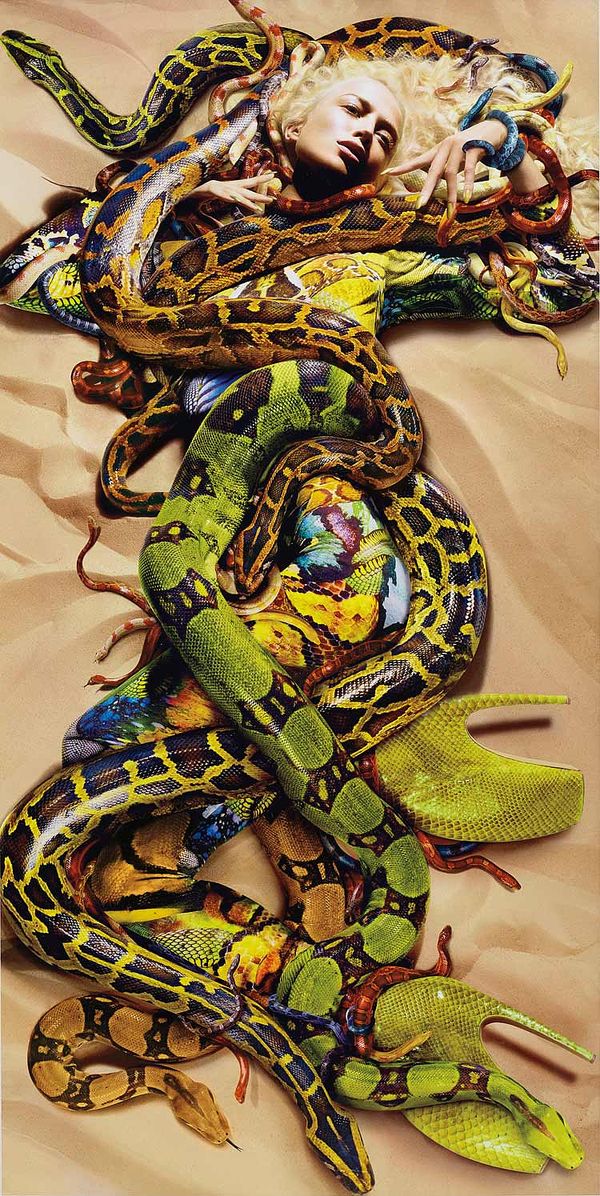 Nick Knight Alexander McQueen, Snakes, 2009. Sold for £50,000.
3. 'Henri Cartier-Bresson: The Eye of the Century' doubles expectations
This December, we were honored to offer Peter Fetterman's personal collection of Henri Cartier-Bresson photographs, which doubled its pre-sale estimate, totalling over $2 million. In a unique presentation, images representing 70 years of the photographer's work and travels—which we charted from region to region across Europe, the Middle East, Asia and the Americas—were exhibited alongside our Design sales in New York.
In a 'first-ever' at Phillips, renowned designer Joe Nahem guest-curated the galleries of design masterworks and Cartier-Bresson photographs, creating a visually dynamic exhibition for all who attended in person or viewed it online in our virtual reality walkthrough.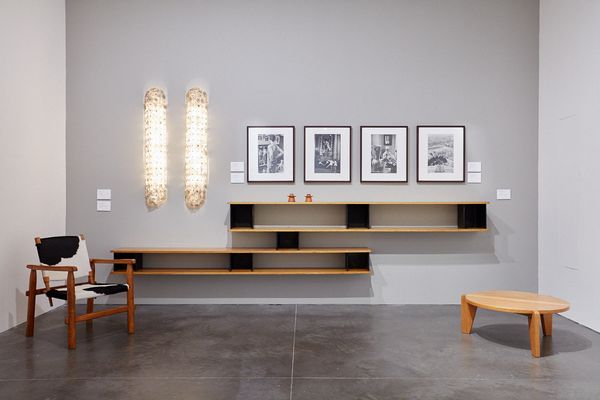 4. New talent in Phillips' sales
As a global team, the Photographs department at Phillips introduced 13 artists from 8 different countries to auction, with great success, including Girl with a Bamboo Earring by newcomer Awol Erizku in New York's April sale, which sold four times over its estimate.
In May's London sale, we saw exceptionally strong results for first-timers including British photographer Juno Calypso and her A Dream in Green from The Honeymoon Suite, 2015, Korean Lee Jeonglok's bioluminescent tree and Japanese Sohei Nishino's diorama map of London. During London's November sale, we debuted 28-year-old Russian Danila Tkachenko with a unique triptych as well as Mexican Pablo Lopez Luz with a bird's eye view of Mexico City, both of which exceeded their high estimates and demonstrated Phillips' strength in presenting new fine art photographers at auction, established with the prescient initial offerings of Alex Prager and Ruud Van Empel before them.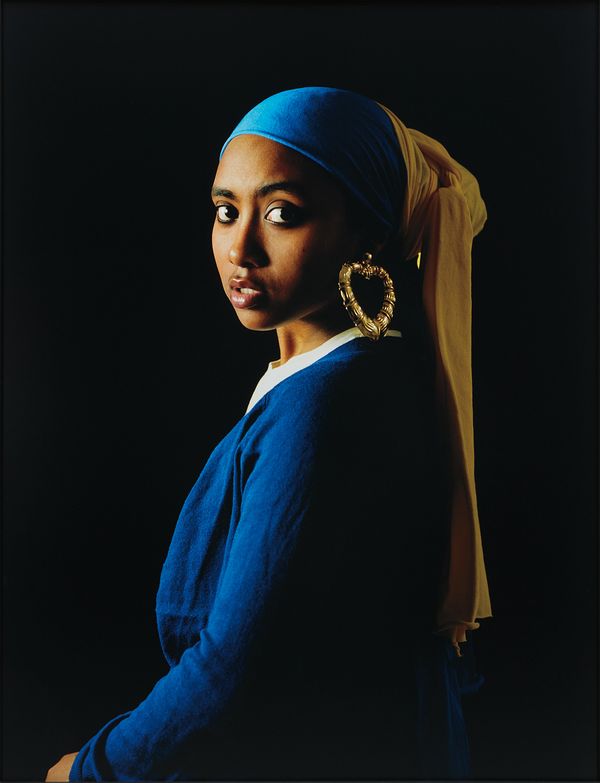 Awol Erizku Girl with a Bamboo Earring, 2009. Sold for $52,500.
5. Spotlight on 19th Century Photographs
In addition to introducing fresh, emerging artists to auction, we also shone in the nineteenth-century market, seeing success for photographs covering the full history of the medium. As we offered exceptional examples from such important early photographers as William Henry Fox Talbot and Gustave Le Gray, Phillips achieved record prices for 6 nineteenth-century photographers over the course of 2017.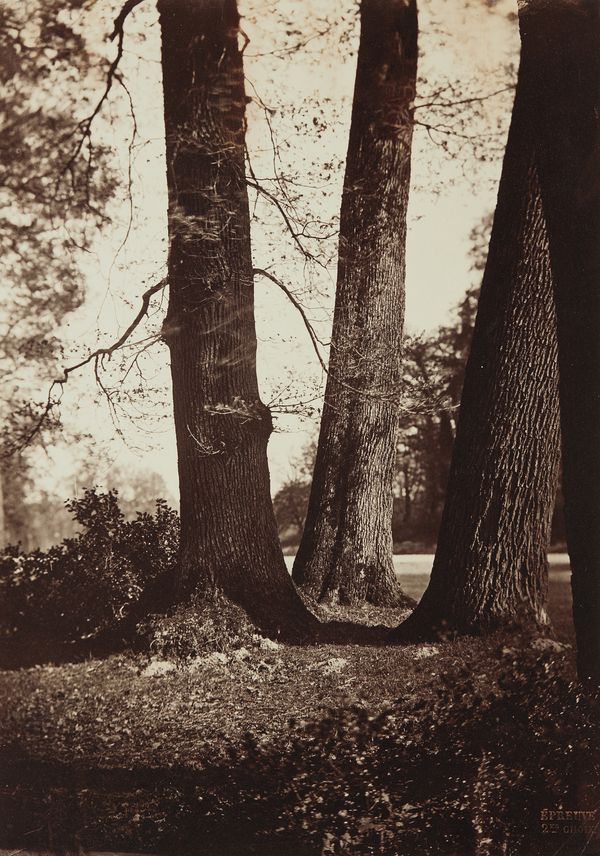 Gustave Le Gray Troncs d'Arbres, Fontainebleau, 1855. Sold for $200,000.
6. Spotlight on women artists
As part of ULTIMATE this past November, we offered a dedicated selection of five masterworks by internationally acclaimed women artists. The section featured a poignant work from Carrie Mae Weems' seminal Kitchen Table Series alongside works by Laurie Simmons, Marina Abramović, Helena Almeida and Anne Collier. As a reflection of the market's positive response to these curated selections, the section was 100% sold with new world auction records for both Almeida and Collier.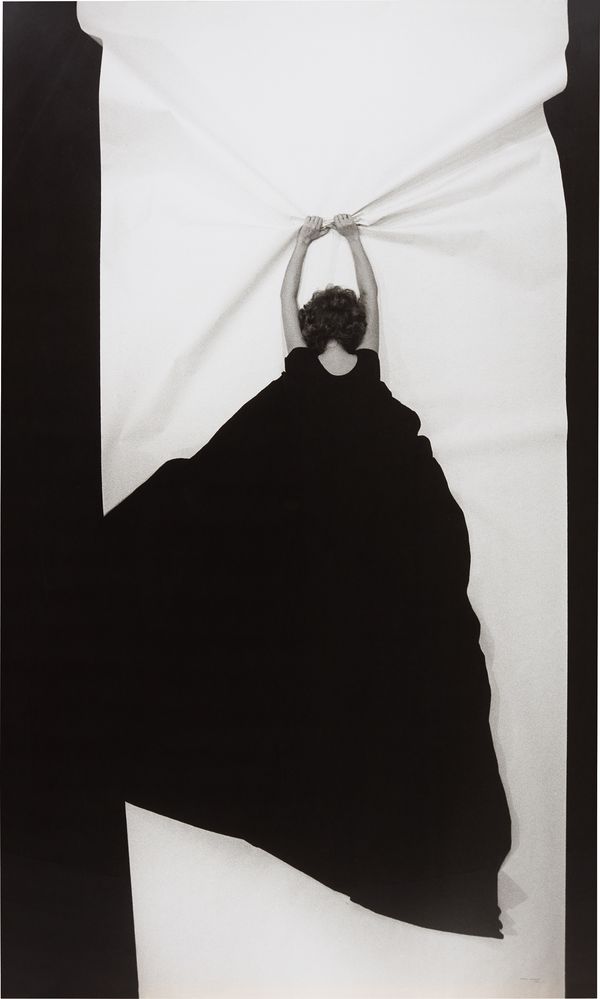 Helen Almeida Ponto de Fuga (Vanishing Point), 1982. Sold for £75,000.
7. Rare-to-the-market Japanese post-war photography
After the successful 2016 sale of Masahisa Fukase's iconic photograph from Ravens, which set a new world auction record for the artist, we were once again able to offer an important Japanese post-war photograph in London. Seiji Kurata's rare, early print of a yakuza in the underbelly of 1970s Tokyo sold for £56,250 from an estimate of £15,000-25,000, setting another world auction record for an artist and demonstrating a continued desire for Japanese masterworks. In advance of the auction, our own Yuka Yamaji had the opportunity to talk to Seiji Kurata about this provocative 'Tattooed Man' and how his portrait came to be.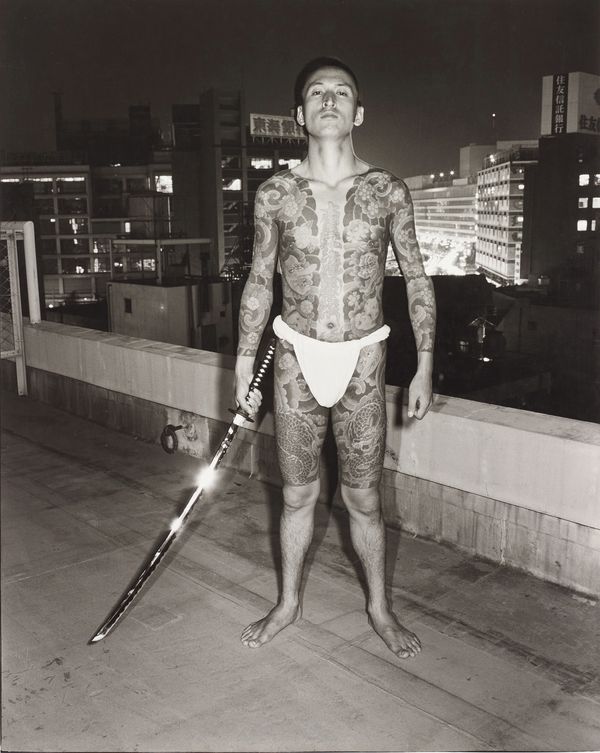 Seiji Kurata 入墨の男 [Irezumi no otoko] Tattooed Man from Flash Up, 1975. Sold for £56,250.
8. Phillips in dialogue: conversations with artists and collectors
Expanding on this theme, we had the privilege of speaking to and hosting conversations with artists and experts in the field throughout the year. This past spring in New York, Phillips brought together an esteemed panel of experts from the art market and the world of museums and fine arts to discuss Howard Stein and his expansive Joy of Giving Something Foundation collection.
For the December spotlight on Henri Cartier-Bresson, we featured a talk between former MoMA curator Peter Galassi and collector Peter Fetterman that illuminated the iconic photographer's life and work.
In London, as part of our collaboration, Phillips' Yuka Yamaji spoke with the legendary Calvin Klein about his debut book with Rizzoli, the art of creating campaigns and his passion for photography.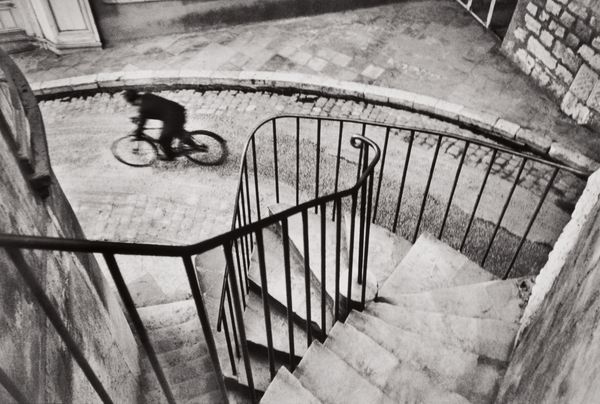 Henri Cartier-Bresson Hyères, France, 1932. Sold for $100,000.
9. The classic meets the contemporary
Photographs sales at Phillips are widely recognized for their distinct balance of classic and contemporary works, and 2017 continued this trend. This past October in New York, we saw a new world record for a photograph by Christian Marclay alongside a $300,000 result for a Man Ray Rayograph, both of which demonstrate camera-less photography at its finest, separated by 90 years. Likewise, in London's May sale, we saw strong results for Irving Penn's 1950 photograph Girl in Bath (Jean Patchett), New York and Nick Knight's Alexander McQueen, Snakes from 2009.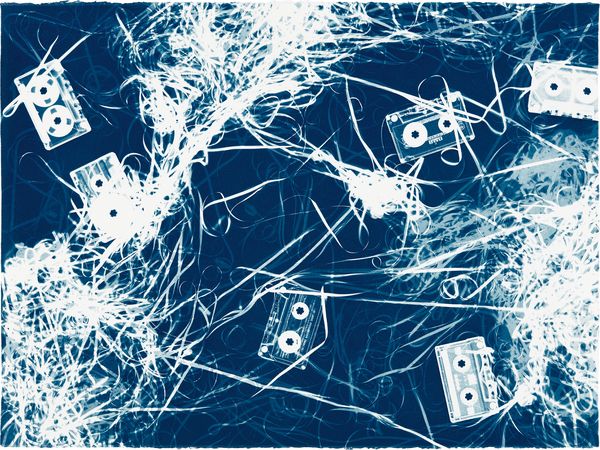 Christian Marclay Untitled (Luciano Pavarotti, Halo and Four Mix Tapes II), 2008. Sold for $102,500.
10. A global presence
With auctions happening in April, May, October, November and December at Phillips Park Avenue and Phillips Berkeley Square, we expanded our global presence with touring exhibitions from important private collections The Odyssey of Collecting: Photographs from Joy of Giving Something Foundation and Henri Cartier-Bresson: The Eye of the Century. These images were exhibited across Los Angeles, San Francisco, Chicago, London, Paris and Hong Kong.
Regardless of location, our team of international specialists is dedicated to creative and thoughtful presentations of fine art photography from across the centuries, and we look forward to a decidedly dynamic and international 2018.