Gongkan, Freedom, 2022. New Now & Design.
Gongkan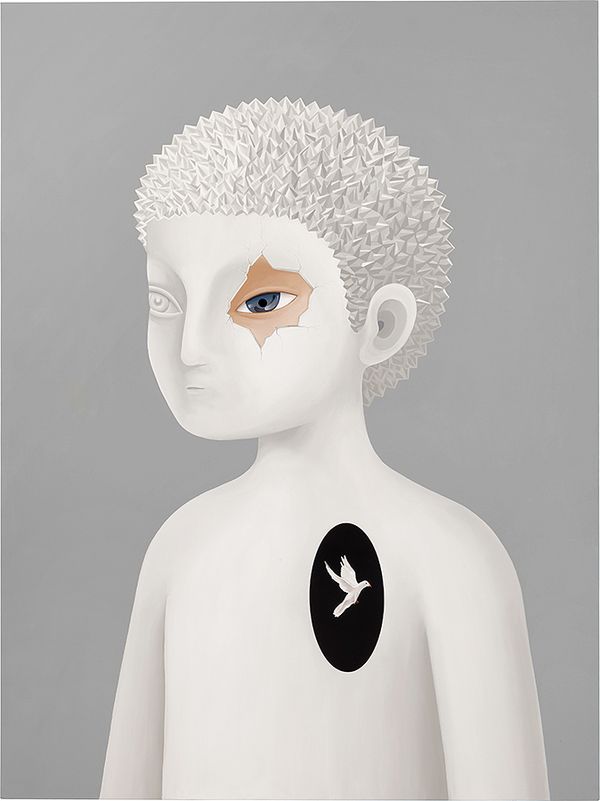 Kantapon Metheekul, professionally known as Gongkan (b. 1989), resides and works in Bangkok, Thailand. Celebrated for what he calls "Teleport Art," his works are often centred on human figures and nestled with a plethora of symbolic and introspective motifs such as doves, keys, and eyes. His distinctive style is further characterized by flat and highly graphic strokes. Freedom features a recurring element in Gongkan's work: the black hole. Placed where the heart is positioned and literally pierced out of the canvas by the artist, it showcases Gongkan's exploration into themes of self-acceptance and societal pressure.
After pursuing his studies in Fine Art at the Silpakorn University in Bangkok, the artist established a successful career in advertising and graphic design​. To further develop his knowledge and skills, Gongkan moved to New York City, where he spent three years focusing on painting. It was while in New York that he conceptualized his unique visual language and made a name for himself in the art scene. Freedom was featured in his 2022 solo exhibition Inner Place, at Tang Contemporary Art Beijing. Further recent solo exhibitions include Introspection: Gongkan Solo Exhibition at Tang Contemporary Art Bangkok in 2021, and Tip of the Iceberg at Over the Influence, Los Angeles, 2021.
Kelly Beeman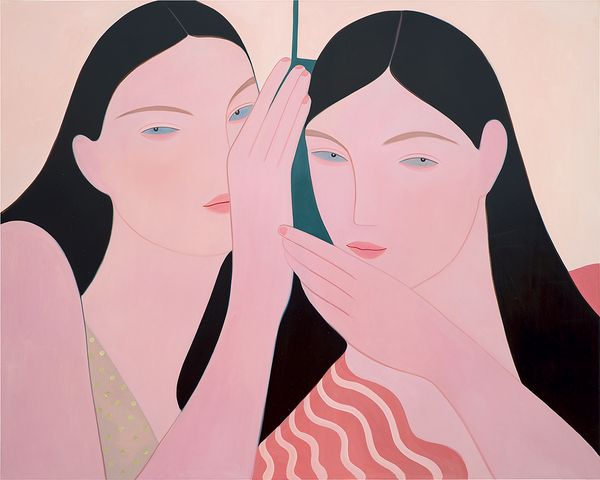 Known for her subdued and figurative style, New-York-based contemporary artist Kelly Beeman (b. 1983 in Oklahoma City, USA) pursued drawing and watercolour from a young age. Recognition of her works began to soar in 2015, and led to key collaborations in the fashion industry and exhibitions at a number of prominent galleries such as Thierry Goldberg Gallery, New York and Perrotin Seoul, who currently represent the artist. Beeman recently held her first solo exhibition Summer at Perrotin New York, which was widely received by an international audience. Best known for her oil paintings, she brings her experience to the medium to form a personal and alluring visual language that invites contemplation. In Cordless Phone, the delicately patterned clothing is reminiscent of fashion illustration, and we see the artist's masterful handling of oil paint where clean, fluid lines flood into fields of soft colours, akin to watercolour techniques.
Jade Ching-yuk Ng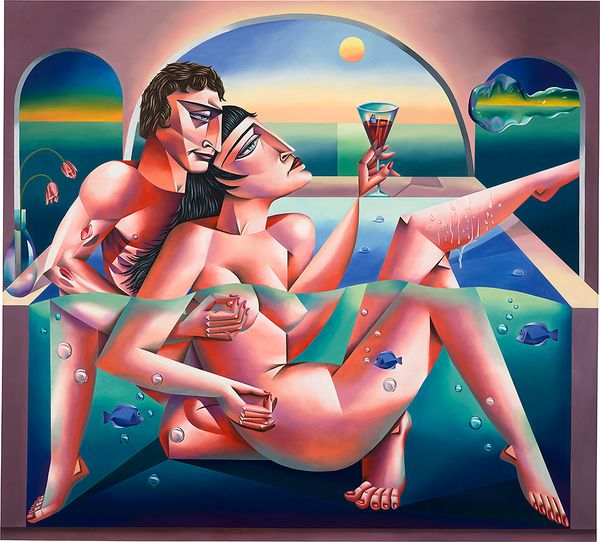 Hong Kong-born artist Jade Ching-yuk Ng (b. 1992) currently lives and works in London. Her educational journey is deeply rooted in fine arts, having earned a Fine Art Foundation Diploma from Central Saint Martins Art & Design in 2013, a BA from the Slade School of Fine Art in 2016, and an MA from the Royal College of Art in 2018. At once romantic and mysterious, Unparalleled Horizon captures the spirit of the artist's creative vision — a landscape where the physical and metaphysical, the real and the surreal, the individual and the universal merge into a harmonious and thought-provoking symphony of colour, form, and concept. The present work was included in the artist's recent solo exhibition GUSH at Tang Contemporary Art, Hong Kong. Jade has been recognized for her artistic prowess with awards such as the Cass Art Painting Prize (2016), Travers Smith Art Award (2018), and the British School at Rome Abbey Major Painting Award (2018)​.
Mehdi Ghadyanloo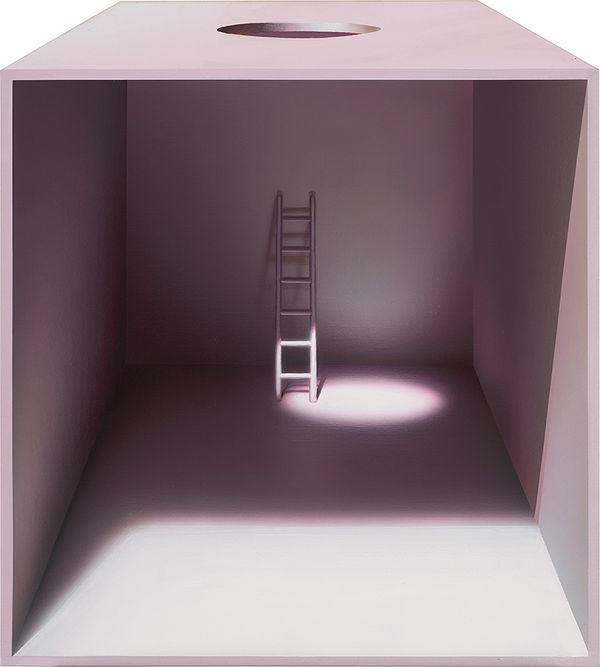 Born in Iran, Mehdi Ghadyanloo (b. 1981) began his artistic career creating extensive public mural paintings across Tehran between 2004 and 2011. Since then, he has gained critical acclaim for his illusionistic works on canvas that explore a plethora of motifs. Highly regarded for his surrealist yet contemplative works, The Eternal Gate is a superlative example of Ghadyanloo's practice. Here, he transforms a three-dimensional structure onto a two-dimensional canvas, creating a surreal plane that plays with the viewer's sense of perspective. Taking inspiration from Giorgio de Chirico's metaphysical paintings, Ghadyanloo's style is characterized by his masterful ability to capture the contrast between lightness and darkness through his implementation of the chiaroscuro technique.
The interplay between light and shadow rendered within The Eternal Gate further recalls the architectural masterpiece Concrete Dreams by Japanese artist Tadao Ando, displayed permanently at the Chateau La Coste. Rather than depicting human figures, the artist typically renders his utopian compositions with the simple structure of four walls and injects commonplace objects from his daily encounters as the main focal point. The present work was also featured in Ghadyanloo's solo exhibition Portals of Light at Galleri Golsa in Oslo in 2019.
Gao Ludi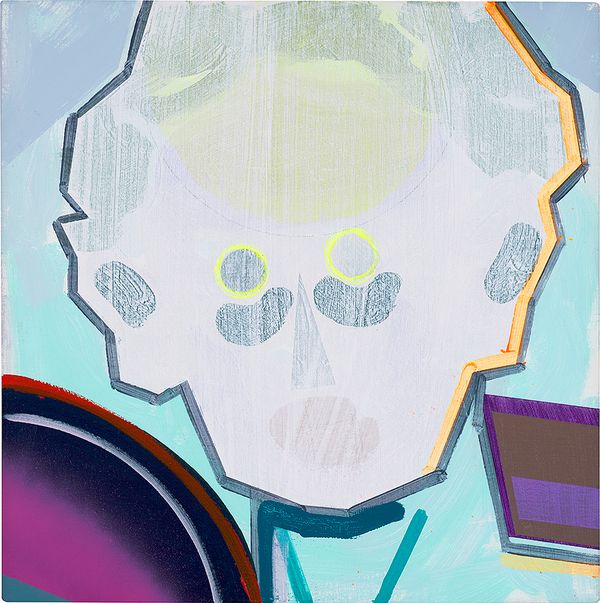 Rethinking the concept of the image through his fluorescent appropriations of found imagery, Beijing-based artist Gao Ludi's (b. 1990) practice is heavily informed by social media and how individuals insert themselves into the digital sphere. While his neon palette mirrors the abundance of artificial light in modern society, the superimposition of images from various visual sources mimics the speed of information processing made possible by technological progress, offering a contemporary exploration of appropriation and art history in the digital age. Gao has had recent shows with galleries across China, including White Space Beijing and Qiao Space in Shanghai, and was featured on the list of "30 Under 30 Asia 2019" by Forbes. Overwrite, his current solo exhibition, is on view at the Long Museum in Shanghai.
Gao Hang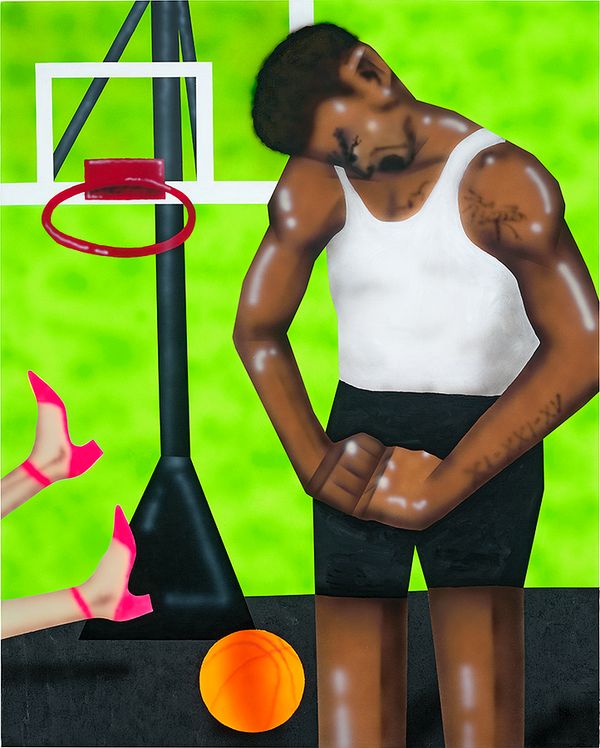 Gao Hang's (b. 1991) vibrant colour palette and subject matter are reminiscent of the neo-pop art movement, aligning with Pop Art's tradition of elevating the mundane into art. This striking visual approach is seamlessly blended with aesthetics of digital media, evident in the slightly pixelated or low-poly texture of depicted figures and objects. Such a representation harkens back to early video game graphics, underscoring Gao Hang's affinity for retro video game aesthetics. Recent solo shows of the artist include Digital Primitivism at Tang Contemporary Art in Bangkok (2023), First Contact at DUVE Gallery in Berlin, Germany (2023), and You are completely special at Breach Gallery in Miami, Floria (2022).
Du Qiurui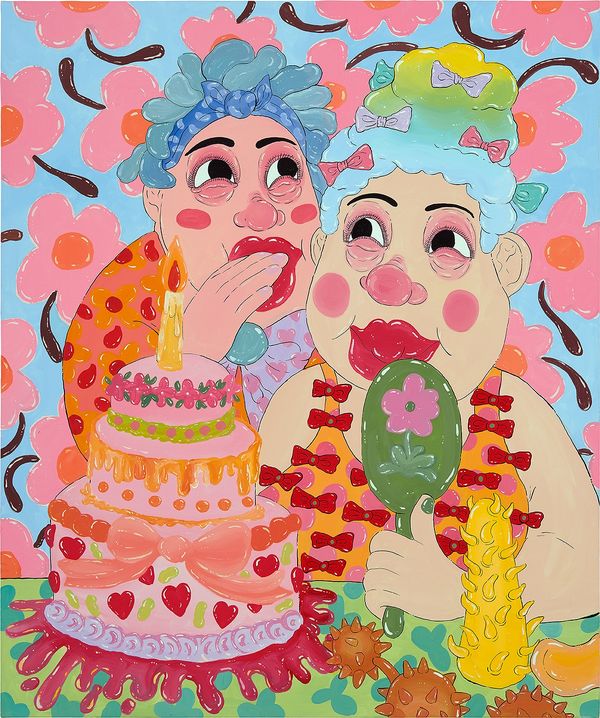 The vibrant colours and the whimsical themes in Du Qiurui's (b. 1990) works are more than mere visual stimuli; they are the channels through which he communicates the stories of ordinary people navigating the crowded streets of a fast-evolving Chinese society. They also echo his personal narrative as a queer person encountering the interwoven tapestry of life. Often filled with bright colours and flat images, his works invite viewers into an illusionary dimension where reality and imagination blend. An MFA graduate from the Pratt Institute and now based in New York, Du's works have been featured in numerous esteemed galleries and museums, including the Able Fine Art NY Gallery in New York and Eyecandies in Shanghai.
Jia Wei (KK)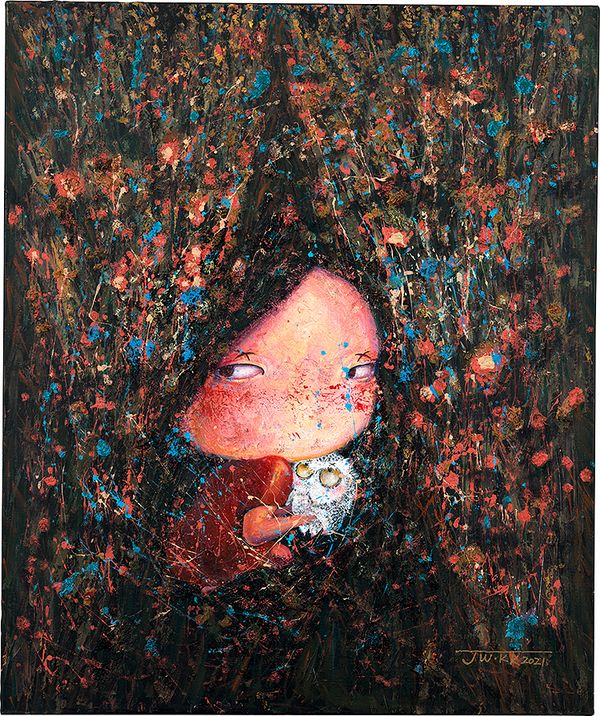 Depicting various scenes of a youthful female protagonist in a multitude of fantastical settings, the world of Ruhua was created by Jia Wei (b. 1976) as an expression of his own emotional consciousness. A decorated designer who has won numerous international awards, the up-and-coming artist had his China solo show debut in 2022, and recently held the exhibition Ruhua Wilding at Powerlong Museum, Shanghai from 15 July–6 October 2023. Showcasing Ruhua's growth across his canvases, Jia's dreamy manipulation of colour and form simultaneously represents his own maturation, as an artist coming to terms with hardships, and as an individual slowly discovering the joyous moments in life.
Discover More from New Now & Design >
---
Recommended Reading