The Hong Kong Watch Auction: XVI takes place on May 13 and 14, at our new Asia headquarters in the West Kowloon Cultural District. The auction includes more than 200 of the world's finest watches. We'll be highlighting a number of the most interesting lots and stories featured in the sale over the next few weeks, including a number of the Patek Philippe wristwatches seen here.
---
– By Logan Baker
The modern Patek Philippe identity was solidified in 1989, during the brand's 150th anniversary.
That year an internal memo was distributed across Patek's global communications teams, with the intent of solidifying a new path forward for the family-owned Geneva manufacturer. The first thematic watch auction was also hosted in 1989, dedicated entirely to the Patek Philippe brand. Current Patek Philippe president Thierry Stern was only 19 years old at the time, but his father, Philippe, the company's managing director, had taken a leading role in the family firm over the previous decade; he would eventually succeed his father, Henri, as Patek Philippe's president, in 1993.
Philippe Stern's leadership of Patek Philippe as managing director in the 1980s, and as its president for most of the 1990s and 2000s, is a principal reason for the huge amount of success that Patek Philippe continues to see to this day. And one of the key parts of Philippe Stern's strategy during his reign was to re-emphasize and build on Patek Philippe's leading history in complicated watchmaking.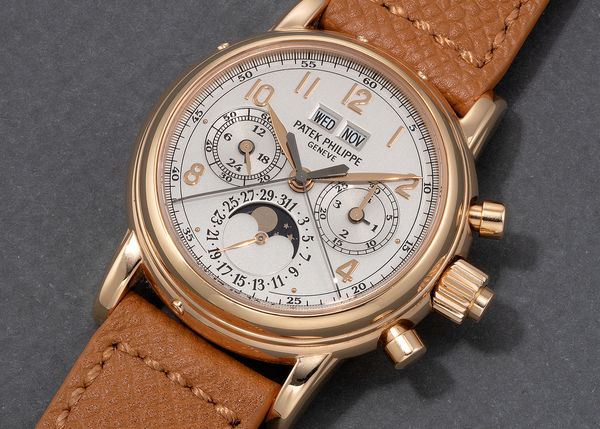 Philippe Stern was the person that, in 1979, pushed to begin a 10-year development process that resulted in the Calibre 89 commemorative pocket watch, which would become the world's most complicated mechanical timekeeper when it was unveiled in 1989. The Calibre 89 – and the subsequent auction of it – was the year's headlining release, but the undercards were no lightweights. Philippe Stern made sure of that. He introduced seven other brand-new references that year, including the Officer's Calatrava ref. 3960, the Jump Hour ref. 3969, and three different ladies' lapel watches (ref. 4760, 4761 and 4762). More significantly, Philippe Stern also brought the minute repeater back in a major way that year.
It's hard to imagine Patek Philippe without its signature chiming complication, but there was in fact a period between 1960 and the 1980s when Patek Philippe produced next to zero minute-repeating timepieces. That all changed in 1989.
Philippe Stern pushed for the creation of a pair of unique wristwatches in the first half of the 1980s. The ref. 3615 combined a minute repeater with a mono-pusher chronograph and perpetual calendar, and the ref. 3621 paired a perpetual calendar, a moon phase, and a moon age indicator with a minute repeater. In 1989, Patek Philippe would finally unveil the ref. 3979, the first self-winding minute repeating wristwatch in company history, and the ref. 3974, a minute-repeating self-winding wristwatch with perpetual calendar.
The latter stood tall as the single most complicated series production wristwatch in the world when it was introduced.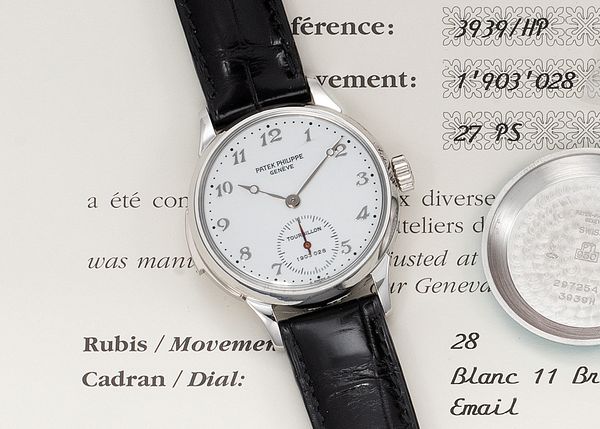 The official release of the ref. 3979 and 3974 in 1989 represents the beginning of a rather interesting and unheralded trend at Patek Philippe that continued until the early 2000s. These two new self-winding minute-repeating wristwatches were highly complex and the result of years of work for Philippe Stern and Patek Philippe's watchmakers, but that didn't mean the final product had a larger-than-life footprint. In fact, the 33.4mm ref. 3979 and 36mm ref. 3974 were positively diminutive.
The common complaint surrounding complicated wristwatches these days is focused on the added bulk that is typically required. You can't add new gears, cams, and other different mechanical systems inside a watch without increasing its total mass. Patek Philippe found a way around this problem with the 33.4mm ref. 3979 and 36mm ref. 3974 – and they continued that way of working for most of the next 15 years (with a few exceptions – looking at you, ref. 5070) until they, too, fell victim to the large-watch trend that took over the watch-buying public in the mid-2000s and early 2010s.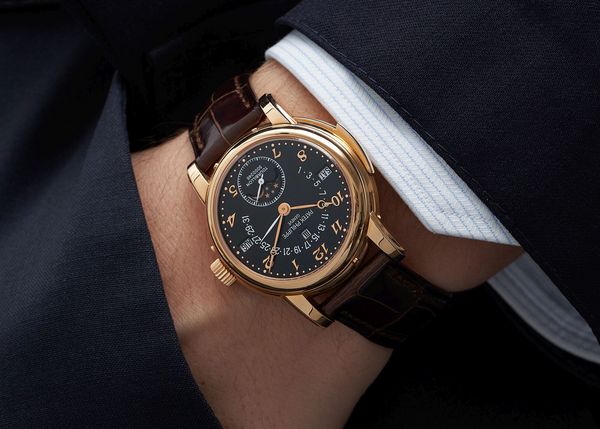 But in a handful of premier references released between 1989 and 2005, Patek Philippe achieved the impossible by offering inventive, best-in-class complicated watchmaking in highly wearable dimensions, often landing far below the typical 40mm dinner-plate diameter we see today.
Below, I've identified the most important references from this era that you should absolutely know. I've opted not to include certain seminal references, such as the ref. 3940 and ref. 3970, as they were first introduced a few years prior to what I'm describing as the "official" start of this so-called trend in 1989.
1989: The Debut Of Patek Philippe's Automatic Minute-Repeating Wristwatches (Ref. 3979, Ref. 3974)
Commemorative and special limited-edition wristwatches celebrating a brand's milestone are today common occurrences, however it was still a novel concept more than 30 years ago when Patek Philippe issued a collection of timepieces for its 150th anniversary. From this new collection came two important complicated wristwatches, the ref. 3979 and ref. 3974, a minute repeater and a minute-repeating perpetual calendar, each outfitting with Patek Philippe's first automatic minute-repeating movement.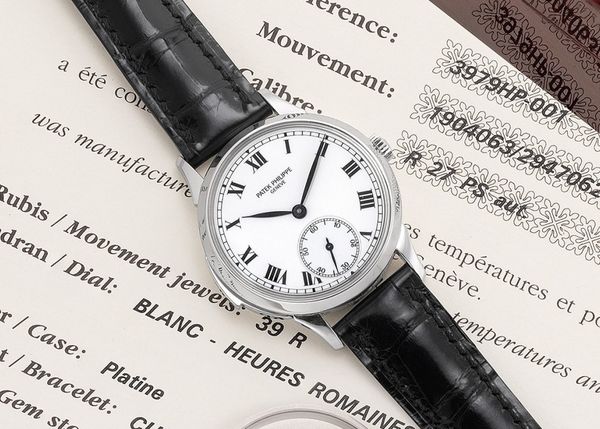 The ref. 3979 was sold with an enamel dial reminiscent of vintage Patek Philippe pocket watches. Produced from 1989 until 2002, approximately 100 examples were made, with the majority coming in yellow gold, and then approximately a dozen each in 18k pink gold, 18k white gold, and platinum. Modeled after the ref. 2524/1 from the mid-20th century, the case was built by Ateliers Réunis and measured a mere 33mm in diameter. Patek Philippe has continued to offer self-winding minute-repeating wristwatches in its catalog ever since, but every following reference owes a debt to the remarkaby small ref. 3979.
PHILLIPS has only sold two examples of the ref. 3979, a 1996 platinum example for HKD $3,437,500 during the Hong Kong Watch Auction: X, in July 2020, and a 1989 yellow gold example for HKD $1,764,000 at the Hong Kong Watch Auction: XI, in November 2020.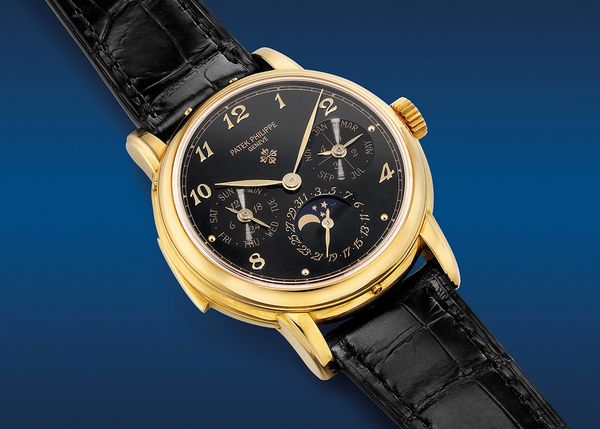 The ref. 3974, meanwhile, was produced for the same amount of years as its sister reference, from 1989 to 2002, and it's believed that approximately 120 examples were created across all metals, including 18k yellow gold, 18k pink gold, 18k white gold, and platinum. While most examples were cased in yellow gold, no more than 20 examples were built in pink gold and potentially a dozen in white gold and platinum. Inside the ref. 3974 is Patek Philippe's self-winding cal. 27RQ that has an impressively thin profile of just 6.8mm. It comprises 467 components and is stamped with the Geneva seal.
Early examples of the ref. 3974's three-piece 36mm case were built by the legendary Jean-Pierre Hagmann, with his hallmarks stamped beneath the bottom right lug. Later examples featured cases made by Atelier Réunis. Hagmann's work is now regarded as an indicator of top-tier case quality, and the "JHP" seal speaks volumes to collectors of all types.
The ref. 3974 is a rare and highly desirable watch that PHILLIPS has only had the pleasure of selling a total of nine times, with the most examples coming in 18k yellow gold. One interesting example in yellow gold that we've had the pleasure of selling twice features an extremely rare and possibly unique glossy black lacquer dial with the Calatrava cross logo under 12 o'clock, feuille-style hands, an italicized date aperture, and applied Breguet hour numerals. The typical configuration for an 18k yellow gold ref. 3974 pairs a silver dial with dauphine hands, applied gold stick indexes, a normal date window, and no Calatrava cross. The potentially unique ref. 3974 sold for the first time at the Geneva Watch Auction: THREE, in May 2016, for CHF 1,181,000, and then once again at the Hong Kong Watch Auction: XIV, in May 2022, for HKD $19,610,000.
1992: A New Flagship Cushion-Shaped Perpetual Calendar (Ref. 5040)
It's hard to imagine any perpetual calendar from Patek Philippe as underrated or overlooked, but the unusual tonneau-shaped ref. 5040 is exactly that – a QP that could today qualify as a value proposition. Patek Philippe is famous for both its complicated calendars and its shaped watches, and there's likely no other reference that combines those two separate legacies in a single watch quite like the ref. 5040.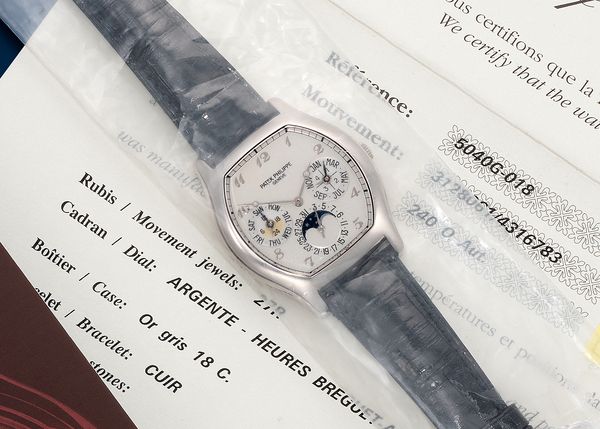 Introduced in 1992, the ref. 5040 was Patek's first-ever tonneau-shaped perpetual calendar, and it even came outfitted with Breguet numerals and Breguet hands, making it the first serial-production Patek Philippe wristwatch to include the combination. The ref. 5040 utilized the self-winding caliber 240Q with micro-rotor inside, the same perpetual calendar and moonphase movement found in the more classically styled ref. 3940.
Although it was most commonly offered in yellow gold throughout its production life, the ref. 5040 was also produced in smaller quantities in platinum and white gold cases. Despite its unconventional Art Deco-inspired profile, the ref. 5040 had very wearable dimensions, measuring 35 mm in diameter, 42mm lug-to-lug, and 9mm in height.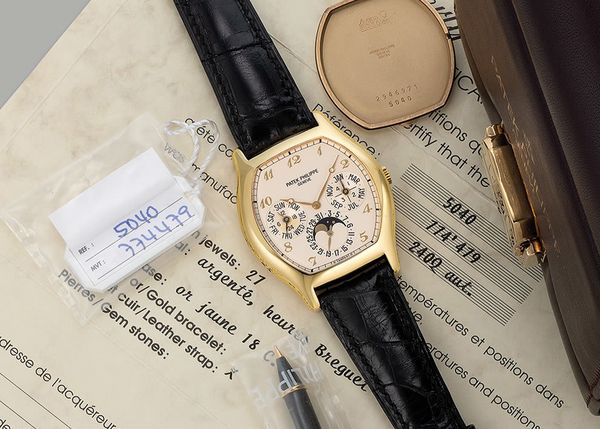 The Patek Philippe ref. 5040 was produced for approximately 15 years, between 1992 and 2007. It was joined by a sister reference, the ref. 5041, with a slightly different case and dial design, between 1995 and 2003. In 2012, the tonneau-shaped ref. 5940 was added to the Patek Philippe catalog as a spiritual successor to the ref. 5040 and 5041. Unfortunately, there is no current-generation tonneau-shaped Patek Philippe QP, so finding a mint ref. 5040 likely still represents your best chance at acquiring the unconventional shape and movement combination.
A total of 15 ref. 5040 watches have appeared at PHILLIPS over the years, including the circa 2006 factory-sealed second-series example in 18k white gold that's available in the upcoming Hong Kong Watch Auction: XVI with an estimate of HKD $180,000 - 300,000.
1993: A Tourbillon Enters The Realm Of Minute-Repeating Wristwatches (Ref. 3939)
Tiny but mighty, the minute repeating tourbillon ref. 3939 is one of the most sought-after complicated wristwatches from post-1989 Patek Philippe. An evolution of the 1989 ref. 3979, the hand-wound ref. 3939 utilized a case with the same 33mm diameter, but with the addition of a tourbillon inside the tiny case. The remarkable caliber RTO 27 PS is comprised of 336 individual components and combines two of the most difficult to master horological elements in one 28mm × 5.05mm movement.
The ability to fit a movement of such complexity into a case of such small stature is no easy feat that only few can execute. Patek Philippe was able to achieve it by starting with the self-winding caliber R 27 that was introduced inside 1989's ref. 3979, removing the micro-rotor, and filling the now-empty space with the tourbillon regulator.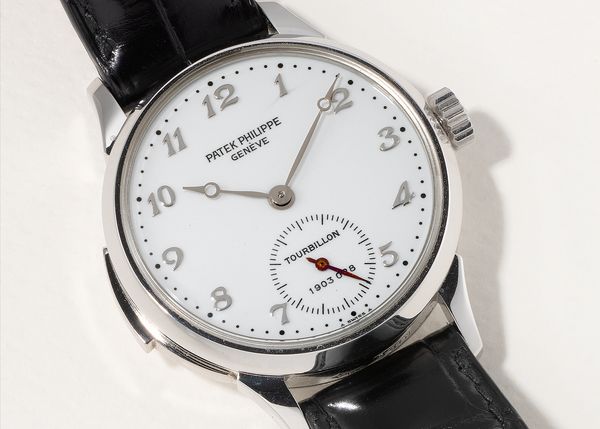 Patek Philippe offered the ref. 3939 in all three gold metals as well as platinum during its production run, between 1993 and 2009, and it's believed that no more than 200 examples were produced in all four metals. A single unique ref. 3939 was created in stainless steel for Only Watch 2011, where it ended up selling for 1.4 million euros, or more than USD $1.9 million.
PHILLIPS has had the opportunity to sell eight different ref. 3939 examples, including a circa 1998 platinum example that's included in the upcoming Hong Kong Watch Auction: XVI, where it carries an estimate of HKD $1,500,000 - 2,500,000. Other ref. 3939 examples of note that have appeared at PHILLIPS include a unique platinum example with a black dial and red dial printing that sold for CHF 370,000 during the Geneva Watch Auction: FOUR, in November 2016, and a double factory-sealed example that is one of five known in 18k white gold and that sold for USD $504,000 during the New York Watch Auction: SIX, in June 2022.
1993: The Most Complicated Watch In The World (Ref. 5016)
Patek Philippe's ref. 5016 was the most complicated wristwatch ever built when it was released. In production from 1993 and 2011, the watch combined three of the most difficult elements in watchmaking – a minute repeater, a perpetual calendar, and a tourbillon – inside a single package. Patek even included a moon-phase for good measure. It wasn't until 2001 that Patek Philippe introduced a more complicated wristwatch with the release of the Sky Moon Tourbillon ref. 5002.

Offered in yellow, white and pink gold, along with platinum, the ref. 5016 was outfitted with silver or black dials, each with the individual watch's movement number printed underneath the moon phase – an homage to Patek Philippe's past observatory chronometer pocket watches. It is believed that approximately 200 total examples in all case metals were built over the watch's 18-year production run.
Patek Philippe would eventually create a single unique ref. 5016 in 2015 as its contribution to the PHILLIPS-hosted Only Watch charity auction, where it would sell for CHF 7.3 million, briefly making it the most expensive wristwatch to ever sell at auction.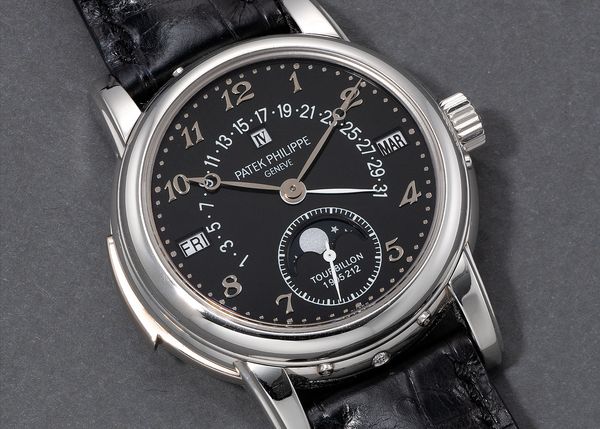 The retrograde perpetual calendar function has rarely been used by Patek Philippe in its history (typically the domain of its historic Geneva competitor, Vacheron Constantin), having only graced a few select references, including the 5050, the 5059, the 5159, and the 5160 – all released after the ref. 5016. The retrograde date hand will naturally bounce back to the first of the month, on the 28th, 29th, 30th, or 31st, depending on the month. The immediate flyback action of the date hand was accomplished using a spiral spring and a clever rebound limiter mechanism that the brand developed.
The ref. 5016's movemennt once again utilizes 1989's caliber R 27 as a starting point, with the significant additions of the tourbillon and perpetual calendar system, accounting for an updated total of 506 individual movement components inside the caliber RTO 27 PS Q R. The ref. 5016 also comes in a bit larger than the older, less-complicated ref. 3979 and ref. 3939, measuring 37mm × 13mm.
Nine ref. 5016s have appeared at PHILLIPS over the years, including the CHF 7.3 million Only Watch example in stainless steel from 2015, a circa 2001 18k pink gold example with a unique anthracite dial that sold for USD $840,700 during the June 2022 New York Watch Auction: SIX, a rare 2011 example with a black dial and 18k pink gold case that sold at this month's Geneva Watch Auction: XVII for CHF 622,300, and a circa 2010 platinum example with a black dial that's included in the upcoming Hong Kong Watch Auction: XVI and carries an estimate of HKD $3,000,000 - 6,000,000.
1993: A New Perpetual Calendar Approach (Ref. 5050)
The perpetual calendar ref. 5050 was released in 1993 as a simplified version of the more complicated ref. 5019, dropping the minute repeater and tourbillon, but maintaining the unusual perpetual calendar system with a retrograde flyback date display and small calendar apertures positioned at the traditional three, nine and 12 o'clock. The six o'clock moonphase display also remains from the ref. 5016.
The ref. 5050 was introduced at Baselworld in 1993 as Patek Philippe's first serial-production perpetual calendar wristwatch with moon-phase and retrograde date. The reference remained in production for nine years, until 2002, with 18k yellow, pink gold, white gold, and platinum options offered; all cases were built by the casemaker Favre-Perret and feature the engraved casemaker key of "115" under the bottom right lug.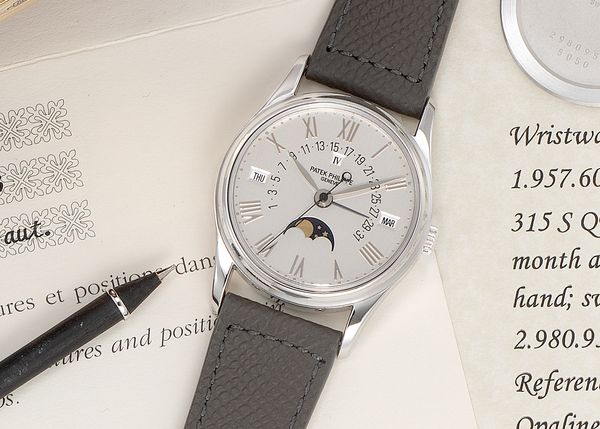 The nine-year lifespan of the ref. 5050 consisted of three different series, with the earliest examples from the watch's first two years of production featuring thin painted Roman numerals for the hour markers. The second series kicked off in 1995 with the small update of applied baton indexes and "Automatic" printed in script underneath the moonphase. The third series is the rarest, with applied Roman numerals and no "Automatic" signature on the dial. Unlike many of Patek Philippe's modern self-winding perpetual calendars, the ref. 5050 did not use the caliber 240 with micro-rotor but instead the full-rotor caliber 315 S QR.
A ref. 5050 has appeared in a PHILLIPS auction 22 different times over the years, with a serious highlight coming in the form of a third-series platinum ref. 5050P-018 with a black dial that was acquired by Reginald "Pete" Fullerton Jr. – the grandson of the legendary collector Henry Graves Jr. – in 2003, one year after the reference was discontinued.
Fullerton's ref. 5050P was first sold for USD $134,500 at a New York auction in June 2012, a few months after he died, as part of a single-owner auction dedicated to the Graves/Fullerton family collection. The watch then came to market for a second time at Phillips Hong Kong in 2020, where it sold for HKD $882,000, and it now returns to Phillips on May 24, 2023, during the Hong Kong Watch Auction: XVI, with an estimate of HKD $500,000 - 1,000,000.
1994: How Hard Could It Be To Add A Split Seconds Chronograph To A Perpetual Calendar? (Ref. 5004)
The iconic Patek Philippe ref. 5004 is distinguished by its combination of a perpetual calendar with a split-seconds chronograph, effectively a more complicated evolution of Patek Philippe's legendary pairing of a perpetual calendar and chronograph in watches like the ref. 1518, ref. 2499, and ref. 3970.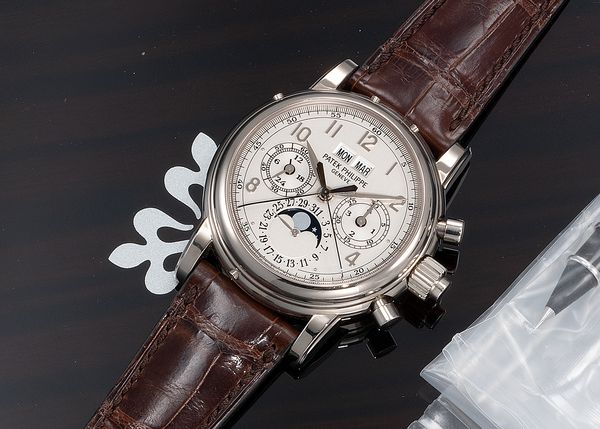 Extremely well-received at launch, the ref. 5004 was the last of its kind at Patek to be driven by a Lemania-based movement, the caliber CH 27-70 Q. It was eventually discontinued in 2009, after 15 years of production, with less than 12 examples produced in most years due to the inherent difficulty involved in making the watch. It's said that Patek Philippe even paused production once during its lifespan when working on a separate split-seconds chronograph caliber.
Although the reference was officially discontinued in 2011, an exclusive limited "final" series of 50 watches in stainless steel was released by Patek Philippe in 2010. The ref. 5004 was eventually succeeded by the ref. 5204, released in 2012 with an in-house movement. The ref. 5004 was typically an application piece during its production life, always incredibly desirable and sought-after by in-the-know collectors.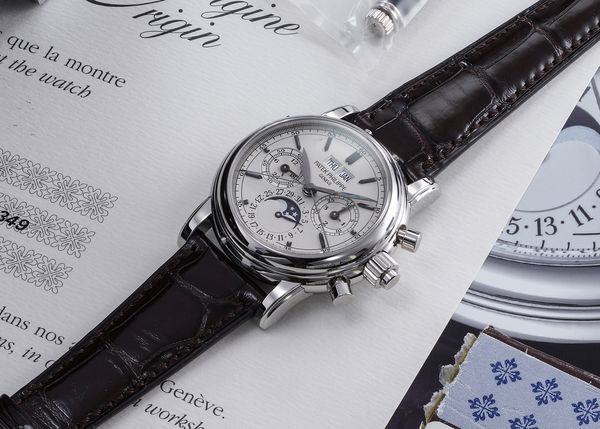 Patek Philippe produced the ref. 5004 in all its typical case metals – and even stainless steel – but the configuration believed to be the rarest is surprisngly the ref. 5004G, cased in 18k white gold. In our upcoming Hong Kong Watch Auction: XVI, a circa 2010 ref. 5004G that's understood to be only the fifteenth example with this specific dial confiduration to come to market is included at an estimate of HKD $1,200,000 - 2,400,000. An 18k pink gold ref. 5004 from 1999 is also available in the same auction, and a circa 1998 platinum example is included in the upcoming New York Watch Auction: EIGHT.
A few weeks ago, during the Geneva Watch Auction: XVII, one of the 50 stainless steel ref. 5004A ended up selling for CHF 939,800, an auction record for a ref. 5004 of any case metal. A total of 31 ref. 5004 examples have appeared at PHILLIPS ovee the years.
1996: A Whole New Type Of Calendar (Ref. 5035)
It's not hyperbolic to say that Patek Philippe's ref. 5035 occupies a special place in the history of watchmaking, as it was the first timepiece ever with an annual calendar. Until that point in time, watches either featured a simple triple calendar – necessitating a correction at the end of each month shorter than 31 days – or the more accurate, and much more expensive, perpetual calendar, which typically required no such correction.
After years of research, Patek Philippe patented and launched the caliber 315 S, the first-ever movement with an annual calendar function, in 1996 inside the new ref. 5035. It required only one date correction per year, at the end of February, and was built off a conventional date complication. They accomplished all this by swapping out the more complicated cams and levers found in traditional perpetual calendars with wheels and pinions. A 24-hour wheel with two fingers advanced the date – one finger was active in 30-day months, and the other during 31-day months. It all came together in a fairly lithe 37mm × 11mm case profile, offered exclusively in precious metals.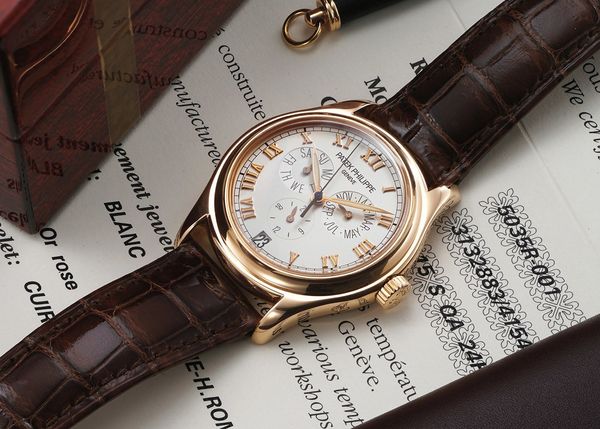 The case design chosen for the original ref. 5035 series had a very elegant and understated Calatrava-inspired style, with a touch of youthfulness via the three asymmetrical sub-dials (the one at six o' clock being smaller than the other two to accommodate for the date window) that form the dial. The ref. 5035 was produced in a large number of variants during its eight-year production period between 1996 and 2004, with a sibling ref. 5036 featuring moonphase and power-reserve displays added to the collection in 1998.
Patek Philippe would eventually expand its annual calendar designs to include variants like the vintage-inspired ref. 5396 and sporty Annual Calendar Chronograph ref. 5960, but the unique three-register annual calendar dial format has continued to hang around, found in the ref. 5035's successor, the ref. 5146 (launched in 2005), and all the way up to new-for-2023 watches like the Aquanaut Luce ref. 5261R, where it appears with a few slight aesthetic tweaks.
The annual calendar is now considered a staple of the modern Patek Philippe identity, always available in a variety of collections, and is now also employed by countless other watch brands, including A Lange & Söhne, Blancpain, F.P. Journe, IWC, Rolex, and Ulysse Nardin, among others – a testament to Patek Philippe's inventiveness.
1997: Revisiting The Travel-Time (Ref. 5034, Ref. 5134)
Patek Philippe has a long history in creating watches that show different time-zones, with the most famous examples being the company's world time watches that were originally developed in the late 1930s by Louis Cottier. Patek Philippe's other globetrotting complication is known as the Travel-Time and was also developed by Cottier and released inside the 1958 ref. 2597.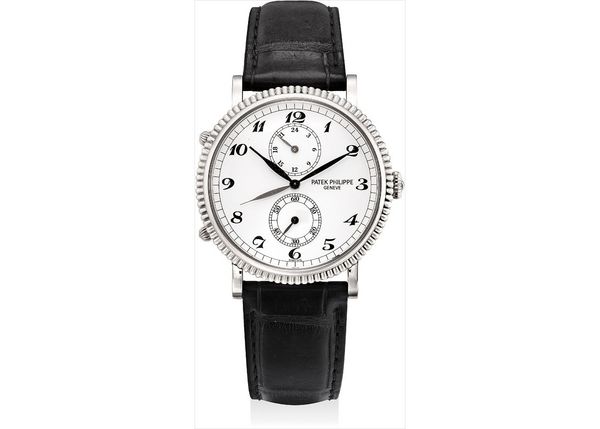 The Travel-Time ref. 2597 is similar in spirit to a conventional GMT watch with a few twists. The first version featured a single hour hand that could be updated to a new time-zone by jumping in one-hour increments without hacking the movement, using an external button on the caseband. A second edition of the ref. 2597 was released in 1961 with a secondary central hour hand to indicate a second time-zone, a system that more closely resembles the Patek Philippe Travel-Time models we know today.
The twin-hour system found in the ref. 2597 was sporadically used by Patek Philippe in the following decades, but it didn't have any serious visibility in the modern era until 1997, when Patek Philippe introduced the ref. 5034, a 34mm precious-metal dress watch available in 18k yellow, white, or pink gold with a classic hobnail bezel and black Breguet numerals. The complication was offered at the same time in the ref. 4864, featuring a 29.5mm case and marketed toward women. The ref. 5034 and 4864 both utilized the manual-wind caliber 215 PS that allowed for a pair of sub-dials at 12 o'clock, for a 24-hour second time-zone display, and six o'clock, for running seconds.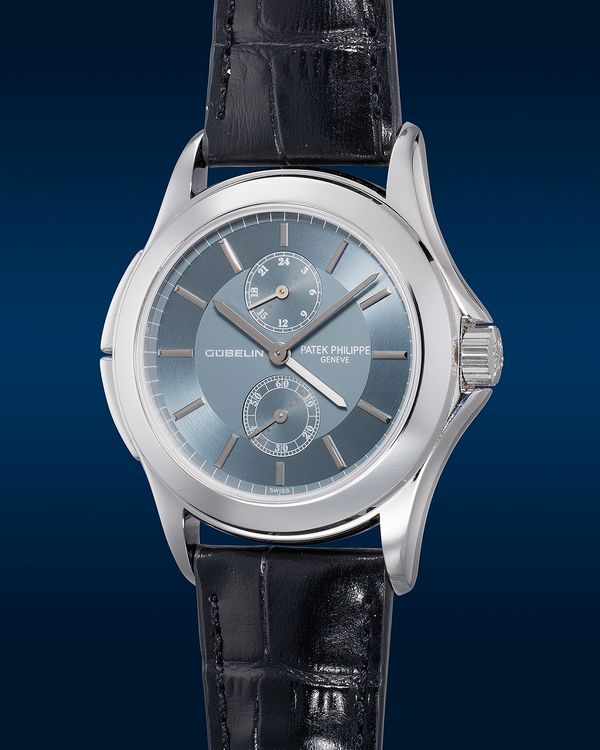 The ref. 5034 was quickly replaced in 2002 by the new ref. 5134, which used the same movement and approach, but with a more modern for the case and dial aestheti and an updated size of 37mm. The ref. 5134 was offered in more variations than the ref. 5034, including all three gold metals plus platinum, as well as the unusual tendency to show up with retailer signatures on the dial, such as Gübelin.
The ref. 5134 reached the end of its road in 2008, when Patek Philippe unexpectedly stopped all production of the Travel Time series. The hiatus didn't last long, as the Aquanaut Travel Time ref. 5164A was released three years later, 2011; it was the very first time an Aquanaut featured any sort of complication.
2005: Patek Philippe's First In-House Chronograph – And It's A Doozy (Ref. 5959)
The final watch to make this very specific list is the ref. 5959, a watch that, at first glance, looks like any old vintage watch despite having the shine and luster of a brand-new one. Patek Philippe modeled its design after the company's first-ever split-seconds chronograph wristwatch from 1923. The primary difference is that the modern ref. 5959 is a monopusher chronograph, but the use of screw bars and the oversize crown give it a timeless look fit for any era.
As does the polished 33mm case. That's right, more than a decade after the release of the ref. 3979 and 3939, Patek Philippe brought the diminutive 33mm diameter back for a very special occasion: the debut of the caliber CHR 27-525 PS, its inaugural in-house chronograph movement and a new world record for the thinnest column wheel chronograph movement at just 5.25mm, a record it held until the 2019 release of the BVL 318 caliber inside the Bulgari Octo Finissimo Chronograph GMT.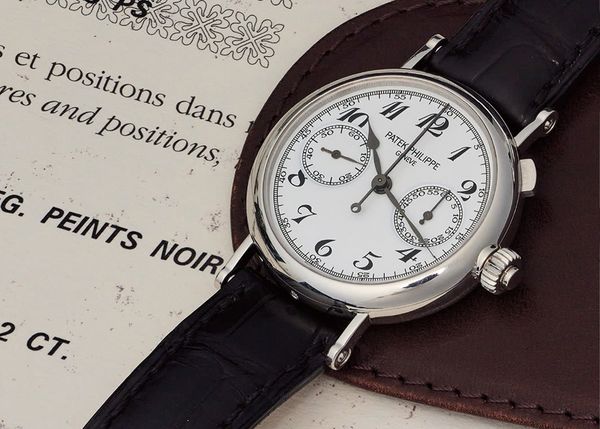 The movement represented a historic achievement for Patek Philippe, but what might be the most utterly remarkable thing about the ref. 5959 is the size of its round precious-metal case – a mere 33.20mm × 8.45, unheard of dimensions for a contemporary chronograph. Patek Philippe offered the ref. 5959 with a platinum case and white lacquered dial with painted black Breguet numerals. A platinum-cased, black lacquered dial option would follow in 2008, and Patek would even eventually release a small batch in 18k pink gold cases with black lacquer dials and gilt Breguet numerals.
The latter is the rarest variation – we should know, PHILLIPS sold one of the few known to exist for CHF 352,800 during our Geneva Retrospective auction in November 2020 – but the platinum, white-lacquer dial variant seen in our upcoming New York Watch Auction: EIGHT (Estimate: USD $150,000 - 300,000) is considered to be its most classic variation. It's said that Patek Philippe was able to create no more than 10 examples of the ref. 5959 per year, during the reference's 12-year total lifespan, with no more than 100 examples total built in platinum with either dial color.
If you love Patek Philippe, the wearability of vintage watches, and high-end complications, it's hard to find fault in the ref. 5959, or in any of the watches featured on this list.
You can learn more about and register to bid in the Hong Kong Watch Auction: XVI by visiting our online catalog.
---
About Phillips In Association With Bacs & Russo
The team of specialists at PHILLIPS Watches is dedicated to an uncompromised approach to quality, transparency, and client service. Phillips in Association with Bacs & Russo holds the world record for the most successful watch auction, with its Geneva Watch Auction: XIV having realized $74.5 million in 2021. Over the course of 2021 and 2022, the company sold 100% of the watches offered, a first in the industry, resulting in the highest annual total in history across all the auction houses at $227 million.
About Logan Baker
Logan has spent the past decade working in watch-focused media, reporting on every aspect of the industry. He joined Phillips in Association with Bacs & Russo at the start of 2023 as the department's Senior Editorial Manager. He splits his time between New York and Geneva.
---
Recommended Reading
The Imperial Patek Philippe: A Short Documentary
A Research Journey: The Imperial Patek Philippe