- By Logan Baker
What is it about François-Paul Journe and his creations that have captivated so many watch lovers for more than 20 years?
It's a question I wish could be answered so easily, but F.P. Journe, at age 65, is a man of too many skills and talents – in horology, in craftmanship, in engineering – to pin down any singular response.
He's the man that endeavored to make a sonnerie wristwatch so straightforward that an "eight-year-old child" could set it. He's the dreamer who made the phenomenon of resonance a reality in contemporary wristwatches. He's won the Aiguille d'Or, the top prize at the annual Grand Prix d'Horlogerie de Genève (GPHG) watch industry award show, a total of three times, more than any other single watchmaker or company in the event's history. He's pushed complicated watchmaking to its limit, while also developing new quartz-based timekeeping technologies (and winning over some old-school watch lovers in the process).
It would be perfectly reasonable to suggest that M. Journe is the most prominent living watchmaker today. That is the kind of perspective that sent the Hong Kong team at Phillips in Association with Bacs & Russo, led by Mr. Thomas Perazzi, Head of Watches in Asia, down the path of creating Le Concours de Complexité, an incredible online-only auction that comprises 11 exceptional F.P. Journe watches and that we're proud to open bidding on today.
It's a collection that covers a massive amount of ground, featuring everything from potentially unique executions of some of F.P. Journe's most complicated wristwatches to a few can't-miss, all-time classic references. It's a remarkable selection that showcases a bit of the brilliant diversity that can be found inside F.P. Journe's oeuvre, as well as providing insight into the mind of the solitary collector who assembled the collection over a number of years.
The Le Concours de Complexité sale opens today, Friday, January 13, 2022, at 7:00 PM HKT/12:00 PM CET/6:00 AM ET, and will end on Friday, January 20, 2022, at 7:00 PM HKT/12:00 PM CET/6:00 AM ET. You can explore the entire catalog and register to bid right here, or read on for my detailed look into all 11 of these extraordinary watches, organized by the year each watch was created.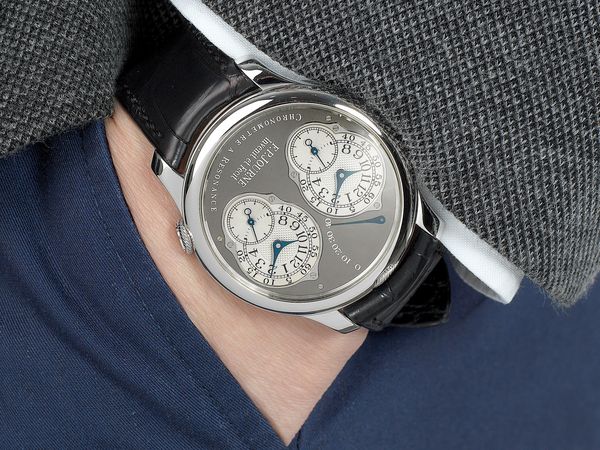 Lot 8001: Let's Start With The Second (!) Ruthenium Résonance Ever Made
F.P. Journe Chronomètre à Résonance, Ruthenium Collection, Number Two of 99 Pieces, Circa 2001
The details matter when it comes to the world of F.P. Journe – and there are very few watches where that's more apparent than this special example of the Chronomètre à Résonance. Since its debut as a souscription (subscription) piece in 2000, the Chronomètre à Résonance has arguably become F.P. Journe's most singular and identifiable creation, combining two independent mechanical oscillators within a single movement that are able to power separate time displays yet operate completely in sync, through the phenomenon of resonance. It's a true feat of watchmaking wizardry that's difficult to comprehend, but the proof is right in front of us, visible through the perfect harmonized swinging action of the movement's two independent balance wheels. It has to be seen to be believed.
The opening lot of Le Concours de Complexité is not just any Chronomètre à Résonance (if there was such a thing), it's an incredibly rare example that dates to approximately 2001 and comes from F.P. Journe's famous Ruthenium period, which represented the end of brass as the primary movement material for the watchmaker. As a sort-of brassy encore performance, Journe created a final run of 99 watches with calibers shaped out of the materual, for each of the Chronomètre à Résonance, the Tourbillon Souverain, the Octa Chronographe, the Octa Calendrier, and the Octa Réserve de Marche Jour et Nuit. He then coated the movements and dials of the watches in ruthenium, providing the watches with an attractive uniform grey appearance. Journe hasn't looked back since completing the Ruthenium Collection; he quickly moved on to 18k rose gold as the primary metal for all his in-house movements.
F.P. Journe timepieces are some of the most collectible in the world, as clearly evidenced by our willingness to dedicate an entire online sale to them, and it's the watchmaker's brass movement era that contains many of his most desirable creations. It's said that only 2,000 F.P. Journe wristwatches – in total – were produced with brass movements during his earliest years as an independent operation.
It's hard to go wrong with the Chronomètre à Résonance, but the opportunity to acquire an example from the Ruthenium run is extremely rare indeed – Phillips in Association with Bacs & Russo has only ever sold one previous example, all the way back in May 2018, during Geneva Watch Auction: Seven.
However, Lot 8001 has an ace in the hole – it holds production number two out of the 99 total pieces.
Estimate: HKD 1,200,000 - 2,200,000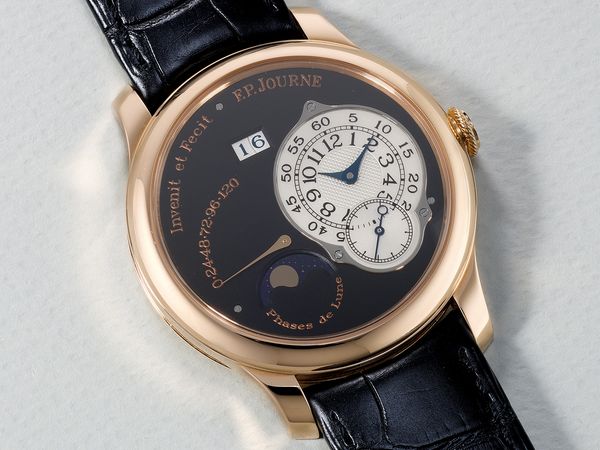 Lot 8008: The Boutique-Exclusive Octa Lune That's An Absolute Knockout
F.P. Journe Octa Lune, Boutique Edition, in Rose Gold, Black Dial, Circa 2010
Introduced nearly 20 years ago, in 2004, the Octa Lune was the fourth variation of the self-winding Octa caliber to come to market and the second Journe wristwatch to be outfitted with a moonphase complication after the Octa Divine. The Octa Lune has classic Journe styling, with an off-center time display on the right side of the dial; a floating aperture in the upper left half of the dial for the twin-disc digital date complication; a large, open retrograde power reserve near nine o'clock that highlights the Octa movement's equally large running autonomy (120 hours!); and finally, a small bosom-style moonphase display made of 18k solid gold located below the power reserve.
Lot 8008 in Le Concours de Complexité is an extra special Octa Lune, with an L serial number, that dates to the model's second production generation. First released in 2009 and discontinued a few short years later, in 2013, this version of the Octa Lune has an arresting 6N rose gold case that's complemented by a dark black dial. It was exclusively available from F.P. Journe brand boutiques.
It's a more distinctive aesthetic than you'll typically find in the realm of lunar complications, which tend to favor the subtle and poetic, but the end result looks absolutely incredible.
Estimate: HKD 300,000 - 600,000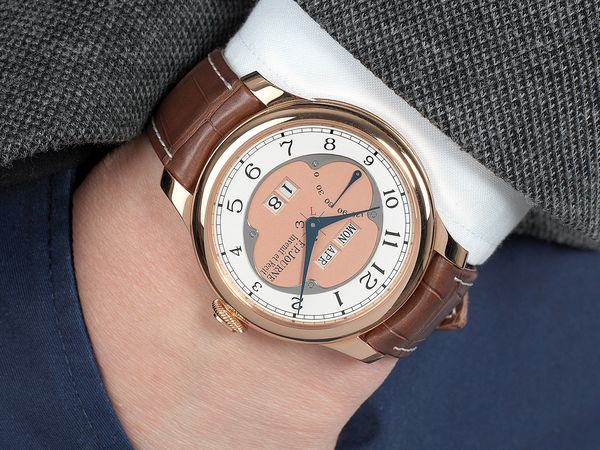 Lot 8006 And 8009: A Pair Of Perpetual Calendars That Subvert Expectations
F.P. Journe Octa Quantième Perpétuel, in Rose Gold, Circa 2016
F.P. Journe Octa Quantième Perpétuel, in Platinum, Circa 2012
The Octa Quantième Perpétuel (QP) is F.P. Journe's second take on one of the most popular high complications – the perpetual calendar. But just as with so many of Journe's creations, he ended up here in the most roundabout of ways. Journe uses zero sub-dials on his Octa QP, instead preferring to lay the information out in an unexpectedly symmetrical manner, utilizing four individual quadrants with apertures to display the day, date, and month; a small crosshair that splits the hand-set's central pinion also houses the leap-year display. The only real evidence of Journe's signature inclination for asymmetry comes via the power reserve display near nine o'clock.
The Octa QP was released in 2012, using a movement based on the company's flagship self-winding Octa caliber. It follows the annual calendar-equipped Octa Calendrier, which debuted in 2002, as well as Journe's first attempt at a perpetual calendar wristwatch, the Octa Perpetuelle, which had a short lifespan beginning in 2009.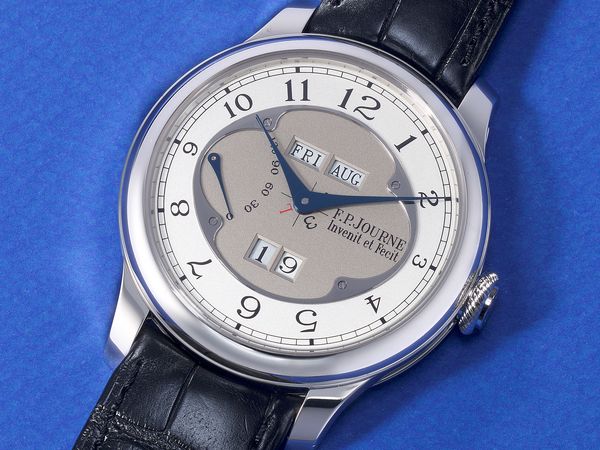 The Octa Quantième Perpétuel stands tall as the first digital perpetual calendar with instantaneous jumping day, date, and month ever. The clever engineering solutions stress usability, and all the time-setting and calendar displays can be adjusted via the three o'clock crown. There's even a hidden rapid-month adjustment pusher underneath the top-right lug that would come in handy if the watch wasn't worn for a few months.
As of January 2023, the start of Le Concours de Complexité, the Octa Quantième Perpétuel remains in production at F.P. Journe, and it hasn't seen very many changes since its debut over 10 years ago. It's still offered in the same original four variations, in your choice of platinum or 6N gold cases with diameters of either 40mm or 42mm.
Out of those four options, two are represented in the Le Concours de Complexité catalog – lot 8006 has a 42mm rose gold case and dates to circa 2016, while lot 8009 is the 42mm platinum variant and dates to the reference's inaugural production year of 2012. It even carries an early production serial number of 19 that's visible on the caseback.
Lot 8006 Estimate: HKD 400,000 - 800,000
Lot 8009 Estimate: HKD 350,000 - 650,000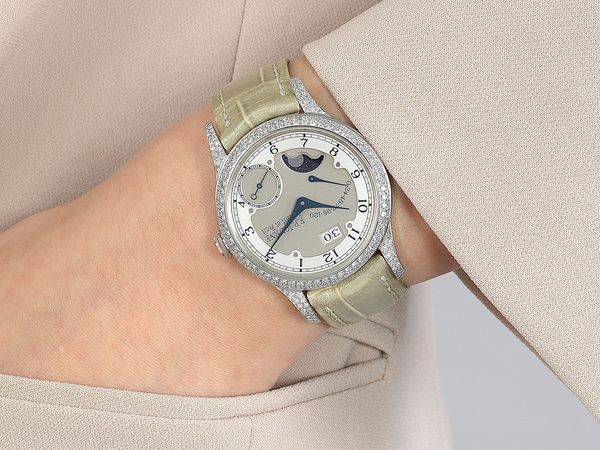 Lot 8011: When François-Paul Explored The Flashy And The Divine
F.P. Journe Octa Divine, in Diamond-Set Platinum Case, Circa 2016
Lot 8011 highlights a relatively underappreciated area of Journe's historic catalog: the Jewellery Collection. The Octa Divine, introduced in 2003, was the inaugural member of this luxe line-up, and it featured the classic self-winding Octa movement inside of a 36mm platinum case set with 184 brilliant-cut diamonds.
This specific format for the Octa Divine was recently discontinued after a long run, which means the only option to find a diamond-set Octa Divine these days is on the secondary market – and they don't come up very often. A more recent version of the Divine was released in 2016, but it only comes in 40mm or 42mm and with zero listed diamond-setting options.
Personally, if I had to choose between the original Octa Divine represented here by a circa 2016 example and the current-production piece, I think I'd have to go with the older diamond-set design – a little ice never hurt anyone.
Estimate: HKD 240,000 - 470,000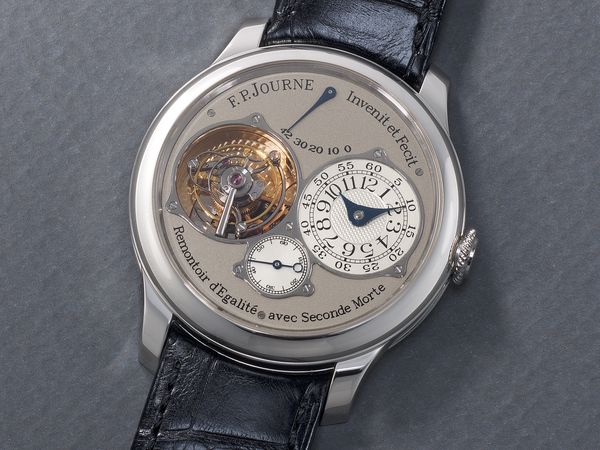 Lot 8002: The Tourbillon Everyone Wants
F.P. Journe Tourbillon Souverain à Remontoir d'Egalité, in Platinum, Circa 2017
The Tourbillon Souverain was one of F.P. Journe's first creations after launching his brand in the late 1990s. Alongside the Chronomètre à Résonance, the Tourbillon Souverain is one of the watches that F.P. Journe collectors will typically speak most fervently of – after all, it was the first-ever tourbillon wristwatch to include a remontoire constant-force mechanism.
The Tourbillon Souverain is simply the collection that has captivated the most attention from collectors over the company's 20-plus years of existence. We would know – out of the 10 most expensive F.P. Journe timepieces sold at Phillips in Association with Bacs & Russo over the past seven years, six are Tourbillon Souverain examples, including a world record.
The second lot in Le Concours de Complexité isn't quite as rare as that watch, but it is a classic example of the Tourbillon à Remontoir d'Egalité from the model's second generation of production. The first generation of the Tourbillon Souverain consists of the early brass-dial period, including the souscription pieces and Ruthenium Collection examples, and concludes at the beginning of 2004 when Journe introduced a new movement crafted out of 18k rose gold (caliber 1403) with the addition of a deadbeat seconds mechanism (avec Seconde Morte).
It's believed that barely over 100 combined examples were produced of the second-generation series, in either platinum or 6N gold, during its product lifecycle between 2003 and 2018. This specific example has a 40mm platinum case and dates to circa 2017, one of the final production years for the reference.
Estimate: HKD 800,000 - 1,600,000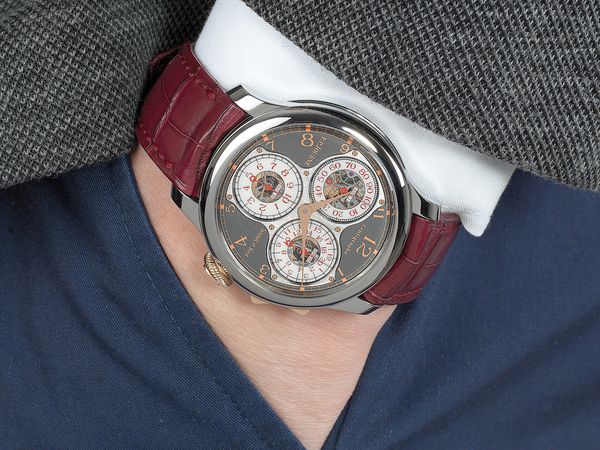 Lot 8003: F.P. Journe Knows How To Celebrate A Birthday
F.P. Journe Centigraphe Souverain Anniversaire Geneva Boutique 10th Anniversary Edition, Number Eight of 10 Pieces, Circa 2017
Watch brands love to celebrate anniversaries – don't we all? – and F.P. Journe is no different. But the sexagenarian watchmaker had a rather interesting idea when it came to commemorating the individual 10-year anniversaries of the company's nine international brand boutiques. Rather than create a new watch for each location, Journe decided it would be more straightforward to create a single limited-edition example of the Centigraphe, his remarkable take on a chronograph, and then offer it exclusively to the boutique's best clients when the end of each location's first decade came about. The Centigraphe Souverain Anniversaire is the watch Journe dreamed up to celebrate the occasion when, in 2014, the company's boutiques in Tokyo and Hong Kong became the first to hit double digits.
The Centigraphe is unique in that it can track elapsed time up to one-hundredth of a second. When the chronograph is kickstarted using the unique "rocker" switch on the caseband, the elapsed seconds sub-dial at the traditional two o'clock position on the dial leaps into action and completes a full rotation once per second. It's an incredible thing to witness, a true horological dynamo in action.
The Anniversaire edition of the Centigraphe Souverain is slightly different than the original production piece, featuring a 40mm polished titanium case with 6N gold accents and a unique ruthenium coated dial that's been partially skeletonized, revealing portions of the rose gold movement inside. Naturally, each run of Centigraphe Souverain Anniversaire pieces is individually numbered and features the name of the boutique location's city.
This example comes from a batch of 10 pieces created in 2017 for the decennial of the boutique in Journe's home city of Geneva. It's also worth noting that the Centigraphe Souverain was completely discontinued in 2018 in favor of the Centigraphe LineSport, except for the 10th anniversary boutique examples. This is the first time a Centigraphe Souverain Anniversaire Geneva Boutique Edition has appeared at Phillips in Association with Bacs & Russo; however, we have been fortunate to offer examples of the Hong Kong and Tokyo Boutique Editions at two of our recent live auctions.
Estimate: HKD 800,000 - 1,600,000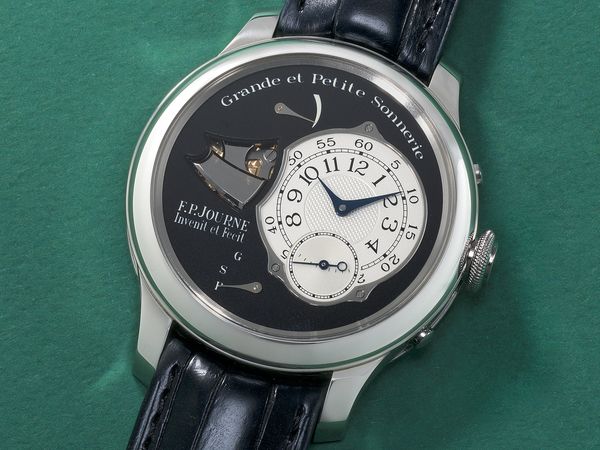 Lot 8005: The Sonnerie Souverain Is The Most Complicated Journe Of Them All – And This One Has A Custom Surprise
F.P. Journe Sonnerie Souverain, with Custom Black Dial, Circa 2018
The Sonnerie Souverain is not discussed as frequently by collectors as the Tourbillon Souverain and Chronomètre à Résonance. And that's truly a shame, because the Sonnerie Souverain is one of Journe's most – if not the most – impressive horological achievements from his entire career.
The Sonnerie Souverain consists of a grand et petite sonnerie mechanism, which is a chiming complication in the realm of a minute repeater but is actually significantly more complex. The primary difference is that a grand et petite sonnerie audibly chimes every hour and every quarter-hour without any additional engagement. If a wristwatch with a grand et petite sonnerie mechanism has enough power, it will chime every 15 minutes on the dot (unless it's been silenced). A minute repeater, on the other hand, will typically chime the hour, the quarter hour, and the precise minute – but it must be actuated by hand to do so. To make things even more impressive, F.P. Journe's Sonnerie Souverain contains both a minute repeater and a grand et petite sonnerie.
This sort of chiming complication is surprisingly a fairly recent invention – the very first grand et petite sonnerie complication to be included in a wristwatch was created by Philippe Dufour in 1992; that's practically yesterday in the history of mechanical watchmaking. And very few watchmakers have followed in Dufour's footsteps since then. But Journe is one of them. He released his version, the Sonnerie Souverain, in 2006, after just six years of development. It was officially discontinued at the end of 2018, and there has been zero communication about a replacement reference since then.
One of the attributes that makes Journe's approach to the grand et petite sonnerie so impressive is how he was able to simplify one of the most complicated mechanisms in all of watchmaking. Unlike other sonnerie wristwatches that are famous for being overly finicky and frighteningly fragile, the Sonnerie Souverain incorporates several safety systems, such as restricting the chime mechanism from functioning when the crown is not screwed in, or when there are less than 24 hours of autonomy remaining in the mainspring barrel. The watch also locks the crown when the chime is active.
Adjusting the watch is easy, too. You can set the time via the three o'clock crown, switch between sonnerie settings (grande sonnerie, petite sonnerie, and yes, silence) using the four o'clock pusher, and then to start the minute repeater, simply press the two o'clock button on the case.
It was unlike any other chiming watch on the market when it was released, but its simplicity belied its intricacies. F.P. Journe registered a total of 10 different patents during the watch's development, and it reportedly takes a single watchmaker more than three months to assemble the movement's 582 components. As such, approximately only four examples of the Sonnerie Souverain were able to be completed during each of the production years, meaning there are less than 60 examples out there in the hands of collectors.
This is the second time an F.P. Journe Sonnerie Souverain has been included in a Phillips in Association with Bacs & Russo auction, following an appearance in our November 2020 Retrospective sale in Geneva. But what makes this example extra special is its dial – it was originally outfitted with a possibly unique blue dial, which was then replaced by Journe's watchmakers, at the request of the consignor, with the beautiful black dial it's pictured with here.
The eye-catching black dial provides the Sonnerie Souverain with a look and feel that's typically reserved for owners of F.P. Journe's hyper-exclusive Black Label series of watches.
Estimate: HKD 2,800,000 - 5,000,000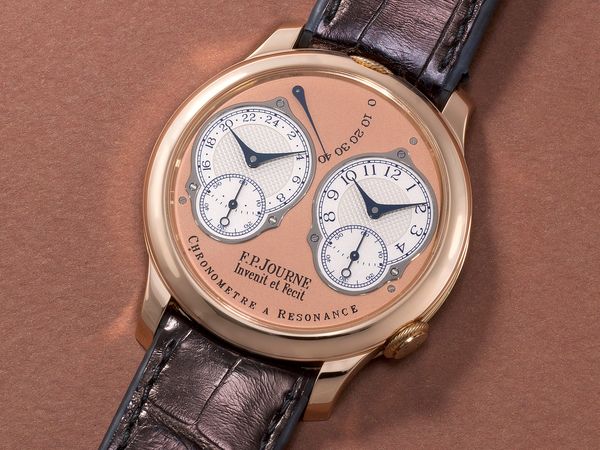 Lot 8004: The Résonance That Was With Us For One Year Only
F.P. Journe Chronomètre à Résonance, in Rose Gold, Circa 2019
The Chronomètre à Résonance has had a rather eventful production history. From the brass movement era that began with the souscription series and ended with the Ruthenium Collection (see Lot 8001 above), the Chronomètre à Résonance then moved to its second official generation, known as the "RN" series, in two different case sizes (38mm and 40mm), featuring 18k rose gold movements inside. The third generation is the "RT" series, which came about on the model's 10th anniversary in 2010; it featured the debut of an unexpected digital time indicator for one of the two time-zone displays.
In 2019, one year before the model's 20th anniversary, F.P. Journe returned once again with the fourth generation of the Chronomètre à Résonance, the rare "RT anniversary" series, which restored the dial layout to a more traditional dual analog style. The largest update here, when compared to the second generation, is a more understated one – the dial's left time display was rendered in a 24-hour format compared to the more traditional 12-hour approach.
In production for one year only, in either platinum or 18k 6N gold, this version of the Chronomètre à Résonance was the final variation to use a movement based on Journe's original legendary caliber 1499. The example included in Le Concours de Complexité marks the first time we've had the pleasure of offering an example of the 20th anniversary-series Chronomètre à Résonance at auction.
Estimate: HKD 1,200,000 - 2,200,000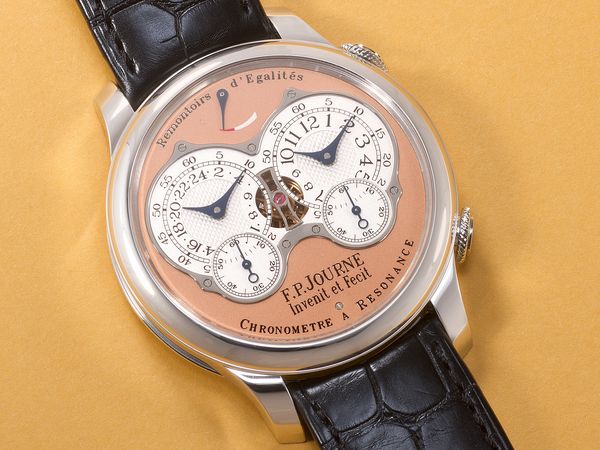 Lot 8007: The Latest Member Of The Chronomètre à Résonance
F.P. Journe Chronomètre à Résonance, in Platinum, with 'Salmon' Dial, Circa 2021
We've already briefly reviewed the first four generations of the Chronomètre à Résonance above, and here we have an uncommon version of the fifth generation that debuted in 2020 to commemorate the collection's official 20th anniversary. The newest member of the Chronomètre à Résonance family is the "RQ" series and features the major addition of a Remontoir d'Egalité constant-force mechanism, which is similar in function to the system that has accompanied Journe's Tourbillon Souverain since its earliest days.
The current-gen Chronomètre à Résonance incorporates a brand-new movement, the manual-wind caliber 1520, which utilizes a single mainspring barrel to power the twin gear trains necessitated by the resonance mechanism (previous Chronomètre à Résonance references required two barrels). Individual remontoire springs are fixed to the separate gear trains. These small supplementary springs manage the distribution of energy from the wheels of the gear train to the balance wheel in single second intervals, helping maintain a consistent amplitude in the process.
Aesthetic details that evolved for the current RQ line include an updated crown position near two o'clock, away from the original location at 12 o'clock, and there's now a small vertical opening placed in the dial's center that allows a direct view of the caliber 1520 at work. The timing displays remain identical to 2019's RN series, with a 24-hour display on the left side of the dial, and a 12-hour one on the right.
F.P. Journe currently produces a total of four variants of the Chronomètre à Résonance. There's a platinum variant available in either 40mm or 42mm cases with dials crafted out of white gold, and then there's an 18k rose gold model produced in 40mm or 42mm case sizes with dials made from matching rose gold. At Geneva Watch Auction: Fifteen, in May 2022, Phillips in Association with Bacs & Russo sold a 42mm platinum case Chronomètre à Résonance from 2021 for CHF 415,800, a figure that's nearly four times the reference's current MSRP.
What you won't find in F.P. Journe's official catalog is the combination seen in Lot 9008 of Le Concours de Complexité: a 42mm platinum case paired with an unexpected "salmon" dial made of 6N rose gold.
Estimate: HKD 1,200,000 - 2,200,000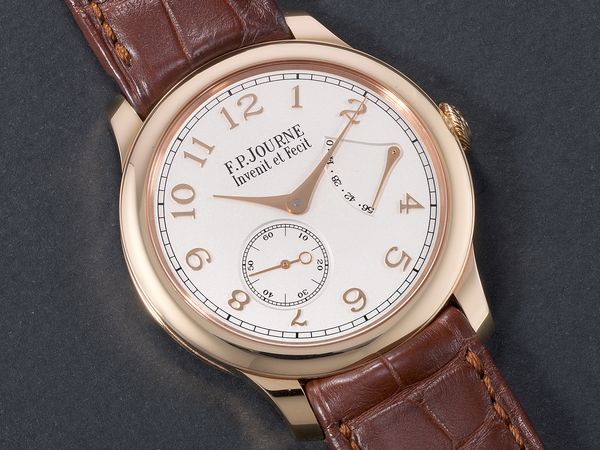 Lot 8010: The Chronomètre Souverain Is Simply Perfect
F.P. Journe Chronomètre Souverain, in 40mm Rose Gold Case, Circa 2021
The Chronomètre à Résonance and Tourbillon Souverain à Remontoir d'Egalité receive the most attention among experienced collectors, it's true, but the Chronomètre Souverain stands out as the sneaky beating heart of today's F.P. Journe brand in many ways.
In its various iterations – from the Chronomètre Souverain Havana to the tweaked format of the fan-favorite Chronomètre Bleu – the Souverain family has become the entry-point to Journe's watchmaking for enthusiasts of all backgrounds. They're the watches that come up most often in casual conversation and on social media. Despite their relative simplicity, the Chronomètre Souverain collection does an excellent job of communicating Journe's individual perspective and watchmaking views to a larger, more diverse audience.
The dial layout of the Chronomètre Souverain is influenced by the design of marine chronometers built in the late 18th and early 19th century. Just check out that unique power reserve – it's marked in a way that reveals the length of time since the movement has been wound compared to a more conventional format that would indicate the remaining hours. That means it will read "zero" hours when it's fully wound, and "56" hours when it's completely out of juice. The aesthetics might be old-school, but the movement inside is firmly of the contemporary era. First released in 2005, the manual-wind Chronomètre Souverain caliber 1304 has only ever been offered with a rose gold construction.
The Chronomètre Souverain, like the example seen here, is in fact F.P. Journe's longest-running reference – you could buy the same 40mm 6N rose gold watch with an opaline silver dial, manually polished hands, and applied Arabic numerals at its launch in 2005 as you can from a Journe boutique today. There's a reason for that.
Despite all his achievements in the realm of complicated watchmaking, the Chronomètre Souverain remains one of the watches that Journe himself is most proud of. It's no coincidence that he chose to gift a 40mm platinum example to his mentor George Daniels in 2010 (a watch that was most recently included in our New York Watch Auction: Six, in June 2022).
It goes without saying, then, that the Chronomètre Souverain is one of the best and most accessible ways to experience the Journe brand for yourself.
Estimate: HKD 200,000 - 400,000