- By Aurel Bacs

Even though my birthday isn't in the month of January, I always feel older when the new year starts. One of the unfortunate signs of aging I've noticed is that as I become older, I feel that I'm becoming more and more "selfish" regarding my choices in wrist wear.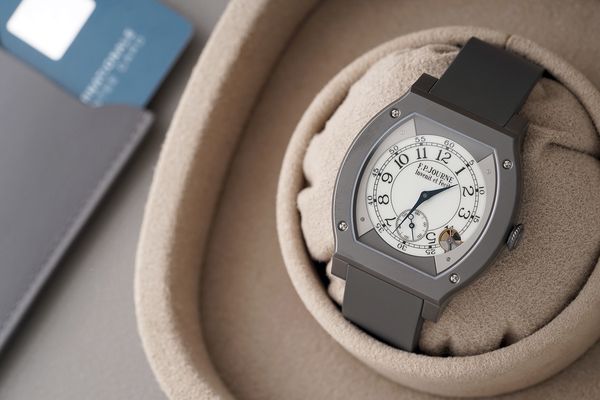 The F.P. Journe Elégante 48MM Titalyt®
In fact, I remember quite well that when I was younger, one of my concerns when buying a new watch was how it would look under the cuff of my shirt, and how my friends would react upon its reveal. Those days are long gone. Today, I'm less concerned about what people think about the watches I wear.
And this is probably most clearly reflected in my latest watch, the F.P Journe Elégante 48MM Titalyt®, which I've had the pleasure of wearing now since the start of 2019.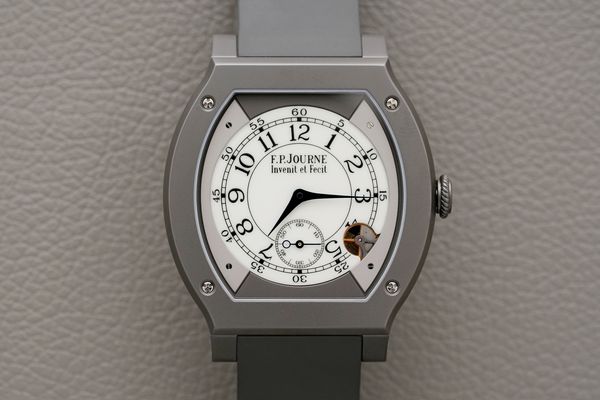 All my friends, especially those from the vintage world - where admittedly everyone sees me at home - have been utterly surprised to see that I bought a modern watch, and perhaps more scandalously, a battery-driven watch, probably the first I've owned in the past 35 years.
I can openly say that if an automatic version of the very same watch existed, I would probably be more in love with that one. But it doesn't, so why even talk about that. Instead, I followed my head – not my heart – when I decided to get this watch and I'll explain why. Remember that I wrote that I was getting lazy with age? Well, I must confess that I've never worn a more comfortable watch in my life.
The Titanium case with Titalyt® treatment not only looks warm, thanks to its matte sand-blasted appearance, but it's also very tactile and soft against the skin, which elevates the sensory experience of the watch. The medium grey rubber strap (besides my Patek Philippe Aquanaut, I haven't worn a watch with a rubber strap since the early 1980s) is thick and feels like a high quality product. The deployant buckle is really well made and produces a very reassuring click when opening and closing, so you know when the watch is securely on the wrist.
But it's not the titanium case and the rubber strap that made me fall in love with this watch (did I really just say that?), but the genius watch movement invented by my good friend François-Paul Journe which appears to stop when it is left more than 30 minutes in a resting position.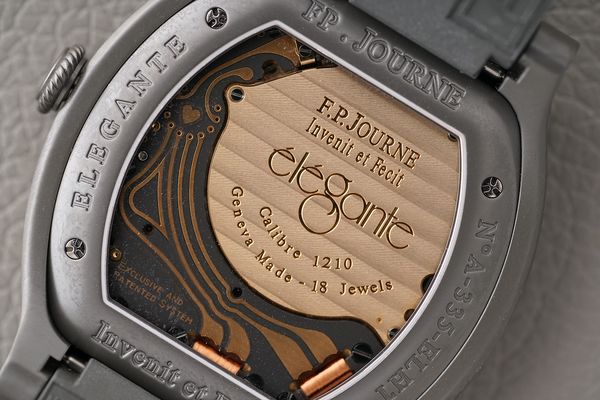 The movement guarantees a fun start to your day, as you watch the hour, minute and seconds hands begin their elegant dance across the dial to find the correct time – to the very second! – having stood still all night long. The experience is almost ceremonial, and it's a moment that everyone in my family enjoys – including my 13-year-old daughter.


This is possible thanks to a seemingly simple but in reality quite complex combination of electronics and mechanics that the always curious and creative F.P. Journe merged, first in his brain and then in his Geneva workshops.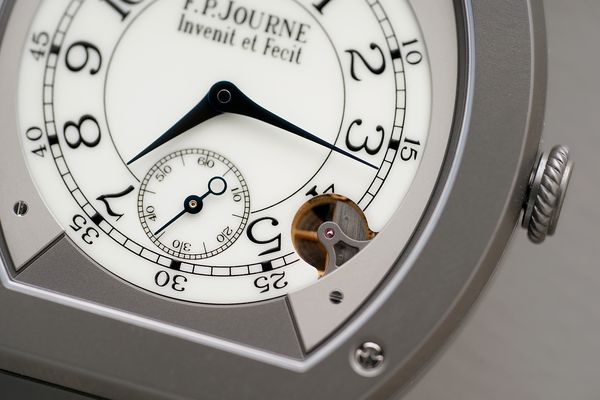 Through an aperture at 4 o'clock in the dial is a super micro-rotor (less than half a cm in diameter) that measures when one's wrist is moving and it is nearly impossible even when watching a movie or attending a meeting, not to get fixated on the movement – I sometimes have to take it off to be able to keep my focus.

Another, unfortunately inevitable sign of aging is that I was massively attracted by the extremely bright and beautiful Super-LumiNova dial. It does quite the opposite of most watches, which I'm finding quite useful.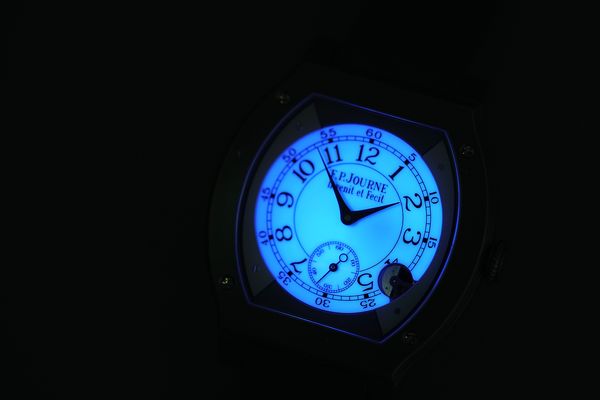 If you compare it to vintage pilot watches, which have massive numerals and fat hands filled with super bright luminescent material, Journe opted to flip the idea by making the entire dial shine, except the numerals, scales, signature and hands, that appear in contrast.

And here's a nod to my passion for vintage watches. The Elégante reminds me of an IWC deck watch from WWII that I used to own – more than three decades ago – which had a dial designed using the same logic. The only massive difference is that the deck watch was made with so much radium that probably today it would set off a hazmat alarm.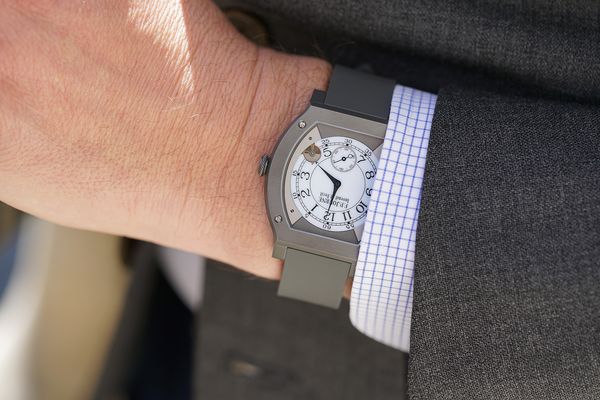 Instead, this is a watch that features a thin mechanism in a slim tonneau-shaped case that makes this a very compact, discreet and beautifully proportioned wristwatch, despite the intimidating specs found on Journe's website – the watch is technically 40mm wide and 48mm long, but doesn't feel like it. Having worn it for a few months, I can wholeheartedly say that it is possibly the most comfortable watch I have ever worn.

Does it mean that this is the last watch I ever purchase in my life, or that I'll only be buying contemporary (or "worse", Quartz!) watches going forward? Not a chance! And that's because the heart wants what it wants, and in my case, often prevails over the head.

But I'm delighted to recommend this watch to all watch enthusiasts who, like me, want a watch that fulfils their passion but who want to know what it feels like to be rational – maybe for the first time.