- By Logan Baker
Our first Watch auction of the year, Le Concours de Complexité, a single-owner online sale featuring 11 exceptional F.P. Journe wristwatches, is now live and accepting bids until January 20. You can view the complete catalog and register to bid, right here.
What's the difference between a Souscription and a Souverain? Why does a watch with a brass movement sell for more at auction than one with a solid gold movement? And what in the world is a "Vagabondage," and why is it in my auction catalog?
Confused? You're not alone. All three of the above questions are related to the watches produced by F.P. Journe, one of the world's most prominent independent watchmakers, and all three questions make absolutely no sense without having detailed knowledge of the brand's 24-year history.
But don't fret – you don't have to hunt down decade-old articles and dated forum posts in order to understand many of Journe's intricacies. You can start right here.
I've put together a short guide covering some of the most common and confusing terms that might come up when you're reading about – or bidding on – F.P. Journe watches. I won't be covering the entire history of F.P. Journe as a watchmaker and as a business in this story, and you also won't find a comprehensive overview of every Chronomètre á Résonance that has ever been produced, but I do hope this serves to clear up a few of the more notoriously complex terms that do frequently make their way into collector conversations about F.P. Journe.
And, hey, if your New Year's resolution was to learn more about F.P. Journe in 2023, we're more than happy to oblige.
Black Label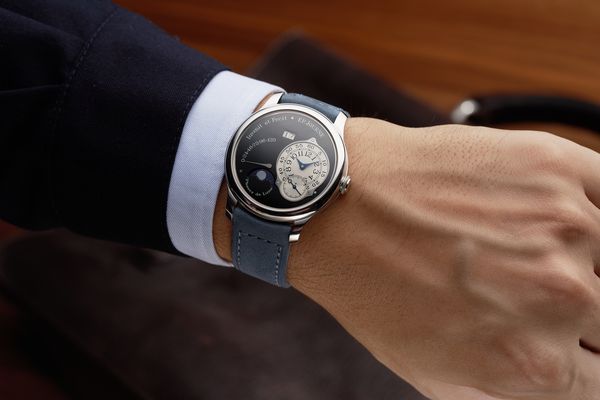 No, it's not a Johnnie Walker collaboration, F.P. Journe's so-called "Black Label" series of watches started as a way for the brand to reward existing and longtime clients with an even more exclusive watch. Available solely through the brand's boutique network, "Black Label" watches consist of two attributes – a case made of platinum and a dial coated in inky black lacquer. Outside of those elements, Black Label releases can take the shape of pretty much any of the watches in the F.P. Journe catalog.
In recent years, Phillips in Association with Bacs & Russo has auctioned off Black Label versions of the Chronomètre Souverain, the Tourbillon Souverain, the Centigraphe Souverain, and the Octa Lune.
Boutique Edition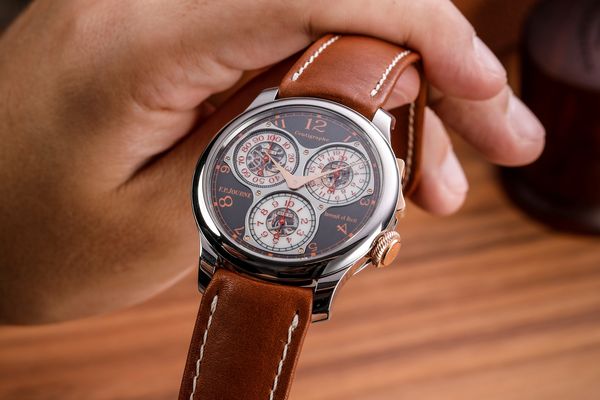 A Black Label F.P. Journe will always be a "Boutique Edition," but not every Boutique Edition is a Black Label.
F.P. Journe built a reputation a long time ago as a watchmaker that takes care of those who have supported him, something that is evident through the company's ongoing dedication to the Boutique Edition concept. Some of the best-known non-Black Label Boutique-Edition releases include the Anniversaire models and the bright-red Tourbillon Souverain that commemorated the opening of the (short-lived) Beijing boutique.
A personal favorite example is the black dial/rose gold case Chronomètre Optimum that popped up last December in our New York Watch Auction: Seven.
Brass Movements
F.P. Journe's earliest wristwatch creations all utilized movements made from brass. Between 1999 and 2003, it was all he used. That changed at the start of 2004, when Journe began to switch over to 18k solid rose gold for all of his movement constructions.
Ever the showman, Journe gave his brass movement creations one final moment in the spotlight with the release of the so-called Ruthenium Collection, which consisted of five final batches of brass movements that were coated entirely in grey ruthenium. Each batch was limited to 99 pieces total and took the form of a different well-known F.P. Journe model.
Given the huge amount of interest in F.P. Journe watches today, it makes sense that many collectors would be interested in acquiring an early F.P. Journe wristwatch with a brass caliber, which is why many F.P. Journe references with those movements have seen stronger results at auction and consistent higher valuations than their younger siblings with precious-metal movements.
Centigraphe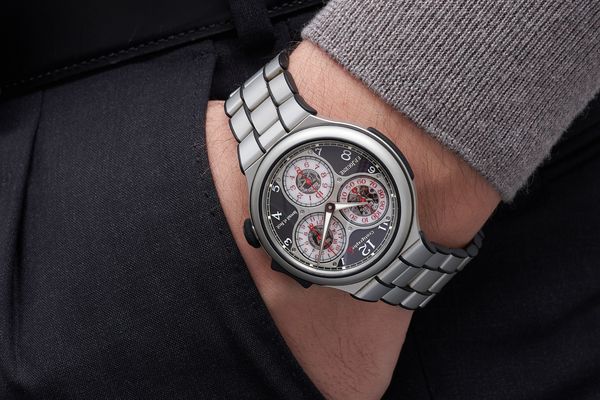 F.P. Journe introduced the Centigraphe Souverain in late 2006, causing a huge commotion in the process over its high-speed action. The Centigraphe can track elapsed time up to one-hundredth of a second, despite containing a movement that beats at a relatively unhurried speed of 3 Hz. The Centigraphe's trick is that the chronograph seconds hand in the two o'clock sub-dial is attached directly to the escape wheel, allowing it to make a full rotation every single second. The same sub-dial hand has a tiny pinion that instantly disengages from the escape wheel whenever the chronograph is stopped, enabling precise, immediate elapsed time measurement to a fraction of a second.
Chronomètre Bleu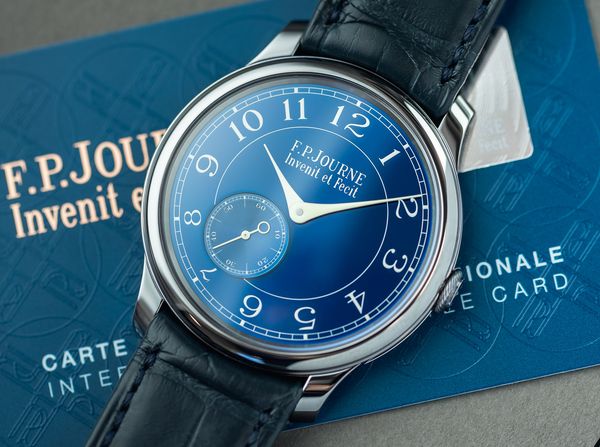 The Chronomètre Bleu, a variant of the Chronomètre Souverain family, has gained a huge following in recent years for its brilliant chrome blue dial and unusual tantalum case. The model was originally released during the late 2000s financial crisis to provide economically challenged watch collectors with a more accessible, non-precious metal alternative in the brand's catalog.
The Chronomètre Bleu spent the early 2010s as a relatively under-the-radar option, before eventually exploding in popularity in the late 2010s and early 2020s. Originally offered at an MSRP below $20,000, the Chronomètre Bleu now carries a retail price of more than $37,000 – its secondary market interest remains widespread with a valuation that consistently hovers in the high five figures.
Chronomètre á Résonance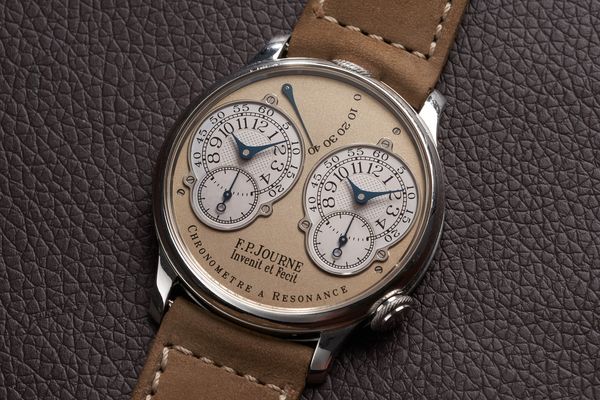 The phenomenon of resonance is all around us – just think about how you strum a guitar – and several brilliant 18th century watchmakers, such as Abraham-Louis Breguet and Antide Janvier, experimented with its horological potential. F.P. Journe, however, is the man who brought it into the world of contemporary watchmaking with the release of his Chronomètre á Résonance all the way back in 2000.
The watch utilizes two separate gear trains within its movement that power independent dual-time displays on the dial, and which gradually synchronize through harmonic oscillation enabled by their physical closeness. The constant flow of energy between the two balance wheels ensures a higher level of precision by naturally correcting any rate deviations that develop. The Chronomètre á Résonance is often considered Journe's defining creation. It's gone through several evolutions over the past two-plus decades, but it remains a flagship collectors' piece and a foundational member of the F.P. Journe family.
Élégante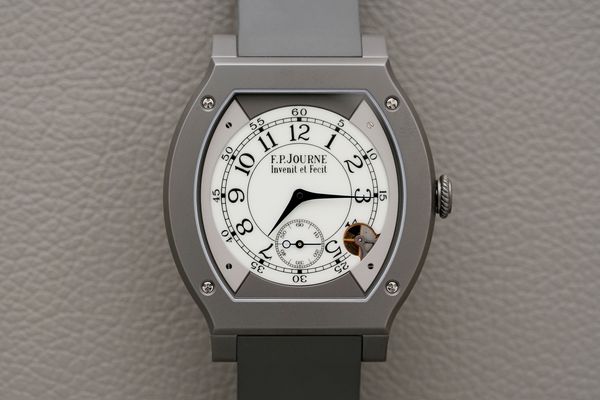 A quartz watch from F.P. Journe? No way. No one expected F.P. Journe to pivot from his bread and butter in complicated mechanical watchmaking to release the Élégante, an extra-smart quartz-powered wristwatch that Journe developed himself, in 2014. No one knew what to make of it at first, but the Élégante quickly became highly collectible – even ending up in the personal collection of Aurel Bacs.
"Invenit et Fecit"
F.P. Journe has lived in Switzerland for decades, but he's a Frenchman by birth, which helps explain his fondness for using the French language throughout his product lines. But what's the deal with that Latin phrase that ends up everywhere? Invenit et Fecit?
The famously cryptic tagline translates to "[He] invented it and made it" – a quote that signals the ownership and pride Journe feels over all his creations.
Les Boîtiers de Genève And Les Cadraniers de Genève
F.P. Journe is one of the few remaining watchmakers located in the heart of Central Geneva. The company's corporate headquarters and its primary watchmaking facility can be found inside a renovated factory that once produced gaslamps. That's likely where you'll go if you ever visit F.P. Journe in Geneva, but he also owns an additional manufacturing workshop on the outskirts of the city, in the suburb of Meyrin.
This facility houses Les Boîtiers de Genève, Journe's casemaker, and Les Cadraniers de Genève, the company's dial producer.
Octa
The first Octa was released by F.P. Journe in 2001. It was the company's third model, following the Chronomètre á Résonance and Tourbillon à Remontoir d'Égalité, and it featured Journe's first automatic movement, the caliber 1300. The Octa has always lived in the shadow of its two older siblings, but it's a deeply impressive collection, one that carries a lot of weight in the world of Journe for the remarkable adaptability of the self-winding caliber 1300.
That's right, since the Octa was first introduced, the caliber 1300 has been outfitted with all sorts of complications, including power reserves, chronographs, annual calendars, perpetual calendars, moonphases, dual-time displays, and even a zodiac indication. Journe was able to accomplish all these additions due to the Octa's unusual movement architecture, which includes an extra millimeter of space between the movement and dial – all the room Journe required to go wild with additional complications.
Remontoir d'Egalité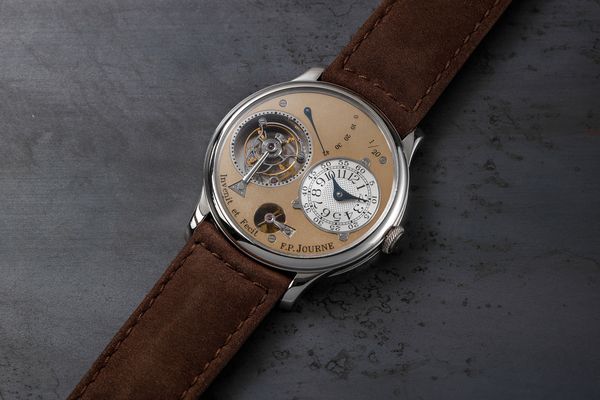 A remontoire is effectively a small spring that is included in the gear train of certain high-end watches, such as the Tourbillon Souverain and the current-generation Chronomètre á Résonance, where it acts as a constant-force mechanism. The remontoire mechanism provides a unilateral distribution of torque to the escapement, ensuring ideal amplitude for the balance wheel at all times.
F.P. Journe was the first watchmaker to combine a tourbillon and remontoire d'Egalité mechanism in a single wristwatch when his Tourbillon à Remontoir d'Égalité was launched in 1999. Five years later, in 2004, Journe introduced another surprise to the Tourbillon movement – a deadbeat seconds hand (seconde morte) driven by the once-a-second winding and unwinding of the remontoire spring.
Souscription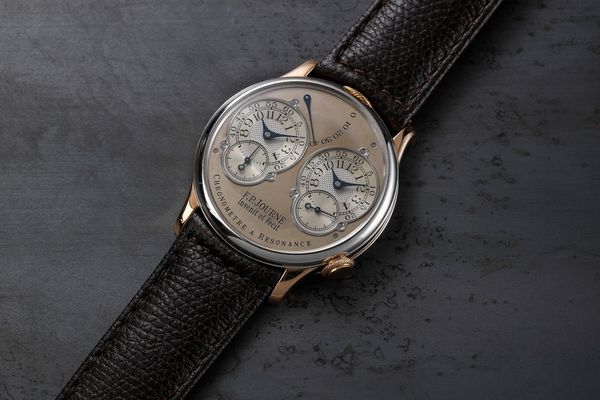 When F.P. Journe decided he wanted to start his own company, he needed financial backing to make it happen. So Journe pulled deep in his bag of tricks to unearth a unique funding strategy that had previously been implemented by watchmakers like Abraham-Louis Breguet centuries ago. The subscription series, or souscription as it's best known, was a huge success. Journe was able to find 20 backers willing to effectively "pre-order" his Tourbillon à Remontoir d'Égalité before they were physically built, in the process supporting Journe in establishing his company.
A souscription version of the Chronomètre à Résonance followed shortly thereafter, and eventually three different Octa variants were given the souscription treatment as well. Given how few were made (20 total pieces of each model) and the sheer amount of interest in Journe's watches today, it's easy enough to understand why those original souscription pieces have exploded in value.
Phillips in Association with Bacs & Russo auctioned a once-in-a-lifetime set in 2021 of all five souscription watches (in individual lots), each numbered #001 out of the 20-piece runs. The results were incredible, achieving new records at auction for the Chronomètre à Résonance, the Tourbillon à Remontoir d'Égalité, and the Octa family.
Souverain
"Souverain," which translates to sovereign from French, is generally used by F.P. Journe (but not always) in the names of his manual-wind watches, in order to highlight the use of that type of winding mechanism.
Journe watches with automatic movements, on the other hand, most often fall under the "Octa" naming convention.
Thirty-Eight Millimeter Cases
The very first F.P. Journe watches from 1999 utilized 38mm cases, and they eventually were joined a few years down the road by an alternative option in 40mm. Those two size options lasted until 2015, when F.P. Journe announced that the 38mm case would soon be discontinued in favor of the 40mm size and a new 42mm diameter option.
Journe isn't one for an abrupt exit, however, so he put together an impressive package of five watches (a Tourbillon Souverain, a Chronomètre à Résonance, an Octa Automatique, an Octa Calendrier, and a Chronomètre Souverain), all executed in 38mm stainless steel cases with bronze-tone dials. Only 38 examples of this box set, which is now known as the "Coffret Set" by collectors, were produced, each carrying an initial list price of just over $300,000.
And that is, quite literally, the last time we saw a new 38mm F.P. Journe watch. (The only F.P. Journe watch that remains in the company's catalog and is still under 40mm in diameter is the Chronomètre Bleu with its unique tantalum case.)
Vagabondage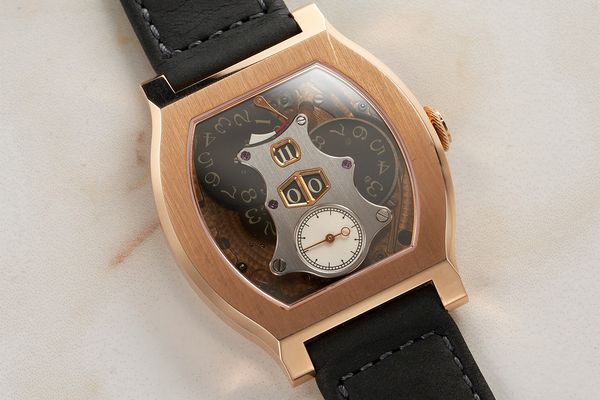 Not only does the Vagabondage have the most peculiar name of any F.P. Journe watch, but it's also almost definitely the most unusual watch that Journe has created with any sense of regularity. Journe had apparently tinkered with a wandering jump hour time system once before, in the mid-1990s, before he officially launched his company in 1999, but it wasn't until 2003 when he was asked to create a unique watch for a charity auction that Journe actually sat down and brought the first examples of what we now know as the Vagabondage to life.
He released an official run of 69 Vagabondage pieces to his collector base one year later, and ever since, we've seen Journe sporadically create new variations of the model – dropping small-batch series starting in 2010, 2017, and most recently, in 2022.