Karena Lam with Issy Wood's A Junction. Lam says she relates to Wood's "dual life" as a visual and musical artist.
On obsession
Whether it's ceramics or acting, my passions are all nearly obsessions. I think it's only through obsession that you can do it well.
I've been obsessed with ceramics for the past two years, and I came across it by chance. My girls were taking ceramics classes, and because of Covid, I started driving them instead of taking the MTR. As soon as I encountered this material, I realized how modest clay was and what little you have to do to reveal its true character.
On embracing mistakes
In the practice of ceramics and pottery, there are so many happy accidents, and if you don't take the time to observe these happy accidents, you would just look right past them.
One time, I was coiling a really large vase for an exhibition in Taiwan, and I wanted to put my arm into the vase to thin it a bit. Because I wasn't tall enough, my sleeves touched the upper part and deformed it a bit, but I left it. I just thought it became more organic and its shape was much more authentic than having just a straight vase. I left it the way it was, put it in the kiln, fired it and sent it to Taiwan.
Sometimes, you really just have to embrace these mishaps.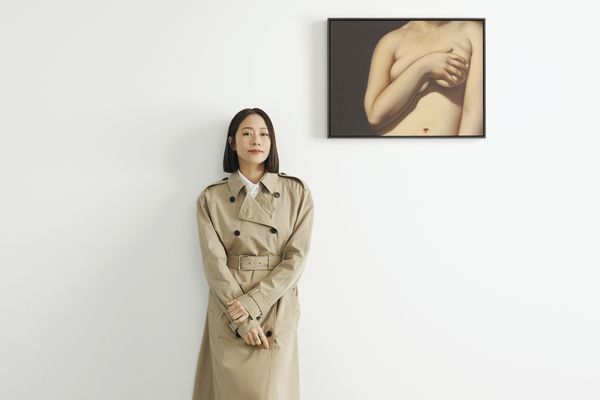 Lam with Anna Weyant's Chest. "In pictures, I always look at the hands because gestures always tell you about the subtext."
On truth
As an actress, we're always dealing with other people's truth. When you're in character, you're really dealing with that character's truth, but in the practice of ceramics, I'm dealing with my very own truth. When you're making your work, it's very honest because your hands don't lie to you.
In pictures, I always look at the hands because gestures always tell you about the subtext, the story, the person's character. With Anna Weyant's Chest, I was attracted to the porcelain skin but also the figure's hands. Who is she, who's looking at her and who is she looking at? Is she seeing that person for the first time unclothed? Is she shy? Why is she covering her nipples? I always think about their perspective.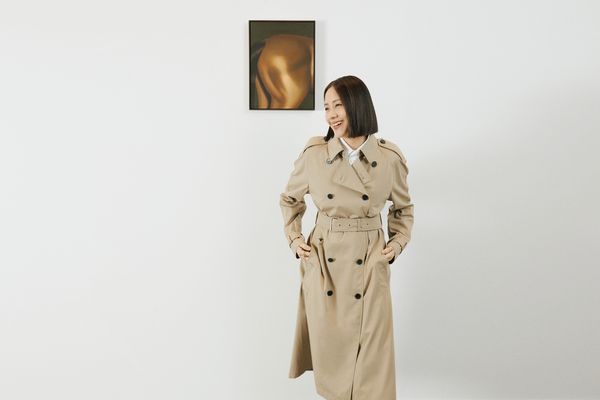 Lam with Anna Weyant's Untitled.
On dual lives
A lot of people feel like l focus more on ceramics than acting, but the two are actually similar in many ways.
With ceramics, you use your hands, and it really opens your five senses. You don't think, you just follow your hands — it doesn't stop, and you go into this trance.
Through the practice of ceramics, my five senses became much more sensitive in acting. Like if it's raining and I'm in a particularly sad scene, I just suck in all that weather — the rain, the humidity, the sadness — and I'm using all five of my senses to create that atmosphere. I think without the ceramic practice, it would have been harder to get into that mood.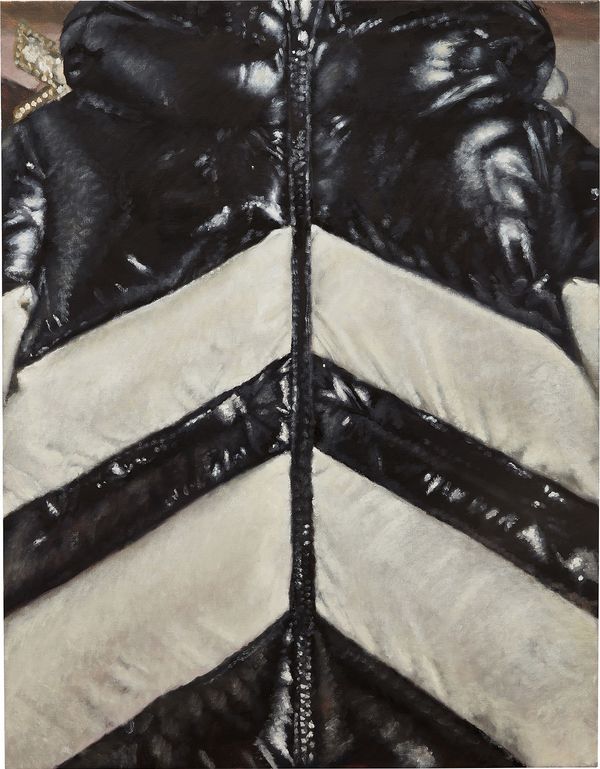 Issy Wood speaks to me in that way. I know her not through her artwork but through her music — I was drawn to her music before I actually knew she was a painter. I feel her living a dual life is like me living a dual life as a potter and actress.
On inspiration
I love Lucie Rie. She's Viennese and Jewish, and fled to London during World War II. After the war, everybody was really into the Rococo style or the very heavy, practical, functional Bernard Leach style. But Lucie Rie, she did these really delicate forms that looked very plain. Bernard Leach actually commented on Lucy Rie and said it was not very good pottery. But she was very quiet, very petite, and she just kept at the work, and in the end, Leach recognized her work.
I draw inspiration from that kind of inner strength — she was still pulling pots when she was in her 90s.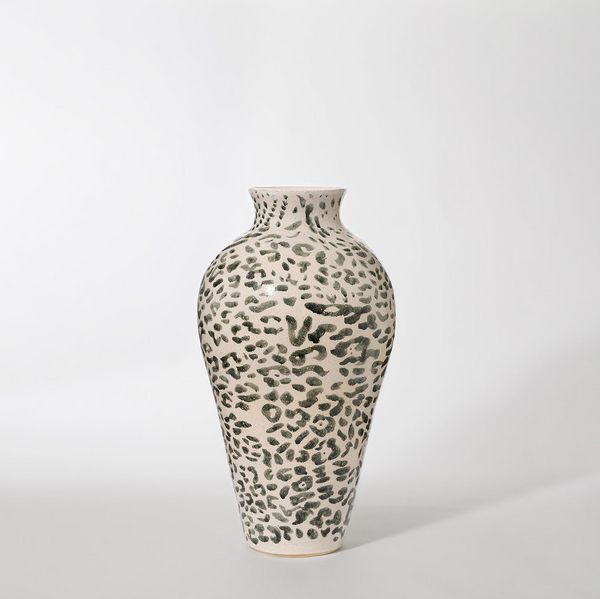 Like Rie, Shio Kusaka is known for her delicate and functional ceramic works, which combine Japanese influences from the Yayoi period with Western sensibilities. "If the Minimalist painter Agnes Martin had been a potter, she might have made vessels like these," Roberta Smith wrote in a 2011 New York Times review. Pictured above is Kusaka's (animal 3).
On broken beauty
One Sunday I brought my girls to my studio, and I asked them to help me unload the kiln. There was some glaze stuck on the top shelf because it had melted in the heat, and it broke, it chipped off. I remember saying, "Oh no, it's ugly," but my youngest — she's 7 — she said, "No Mommy, it's broken beautiful." I was like, "Wow, you're 7 years old and you're teaching me about beauty." I've learned from my daughters that beauty is in acceptance.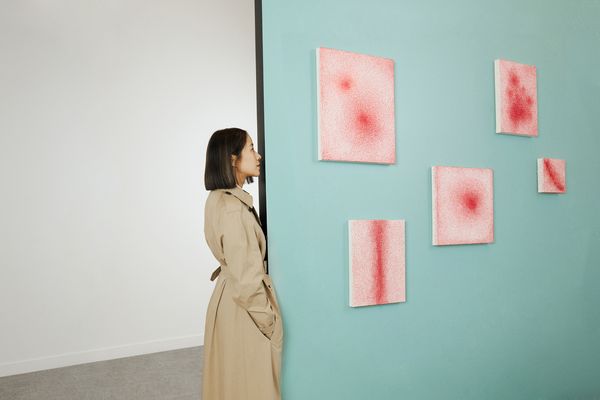 Lam with Chiharu Shiota's Skin series, executed in 2016. Clockwise from top left: Lot 205, Lot 207, Lot 209, Lot 206 and Lot 208.
As an actress, I feel like there's always a common ground with all my characters, in their beauty, in how they embrace vulnerability. There's strength in it, a quiet strength. I see it in Chiharu Shiota's work. Seeing her works — pictures just don't justify her works. It's always a lifetime theme between intimacy, sexuality and possession. The complexity of her thread weaving could represent life, people and how we're all intertwined.
On reclaiming the female body
I think it's important to be able to reclaim, through art, the choice of the way you want to live, how to present yourself, how to be identified and how to experience life to the fullest. You have to be bold about it. There's no fear in it, no room for doubts, no judgment. You have to really embrace the woman's body. You have to be honest, you have to be truthful.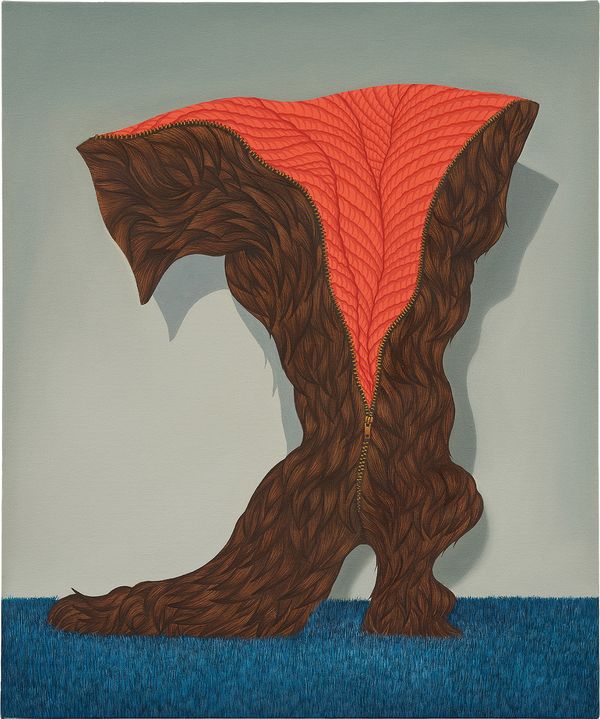 I find Julie Curtiss' work bold and daring. I like how the shoe in Funky Boots is unzipped because you could choose to not reveal what's inside but here, you see the blood, the flesh, the veins. It could be inviting you into the female body. It has no fear of showing you what's inside.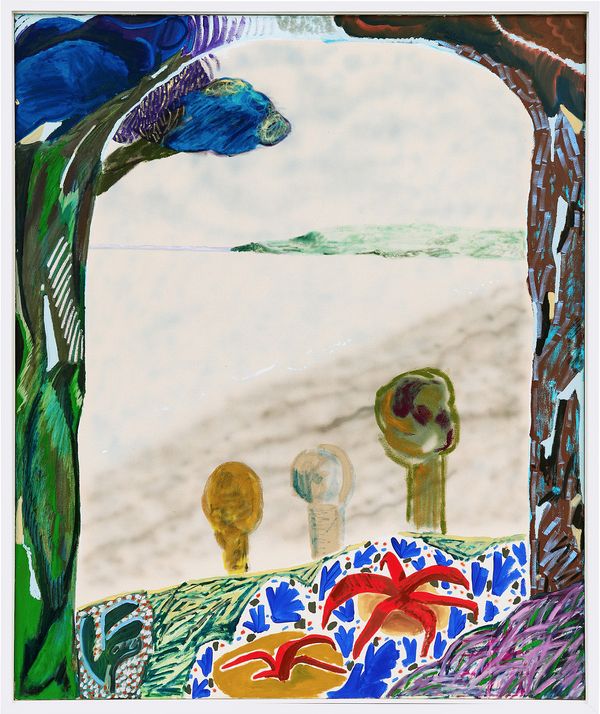 On ambiguity
There's something very tender, very sensitive about ambiguity. I like Shara Hughes' piece because she's put everything within a frame. They could even be curtains. She's only showing you what she wants you to see, but these three objects…are they people, are they trees?
On her most recent project
I just finished my first public installation, "Take Care You," at Oil Street in North Point. Basically it started with a dream where I was smashing these bowls. So I pulled 2,700 bowls and shot this 5-minute video of smashing bowls. I formed a small hill out of the broken pieces, placed it in front of a projector and made 20 ceramic stools for people to sit and watch the projection.
It's a work about resilience and hope. The reason why I had this dream about smashing bowls is because I just feel in the past two, three years, Hong Kong has been undergoing a lot of uncertainties with the pandemic and social unrest. At the end of the exhibition, I will take these broken pieces back to my studio, recycle the clay and pull new bowls that people can adopt. So even though these bowls have been broken — even though there's a lot of anger, a lot of fear, a lot of unknowns — in the very end there's hope.
---
Recommended Reading
Their Asia Debut: 5 Artists to Watch in the Hong Kong Sales >