Rafa Macarrón, Sin título (Cosmos), 2015
Estimate: HK$700,000 - 1,000,000 (US$89,700 - 128,000)
Lot 49, 20th Century & Contemporary Art Evening Sale, June 22
Last season, Phillips introduced ULTRA/NEO, a curated section within our 20th Century & Contemporary Art & Design sales featuring ultra-contemporary artists born and raised after the 1970s in a world that has witnessed rapid change, both technological and cultural.
Our inaugural series turned the spotlight on young Asian talent whose works offer fresh perspectives on globalization, national identity, surreal figurations and the human condition. The name ULTRA/NEO draws on the hyper-contemporary, liminal spaces in which artists of our generation exist.
For our upcoming 20th Century & Contemporary Art & Design sales in Hong Kong, Phillips is excited to continue this initiative by expanding the artist lineup to Spain, where a new generation of artists shares a comparable conceptual and visual approach.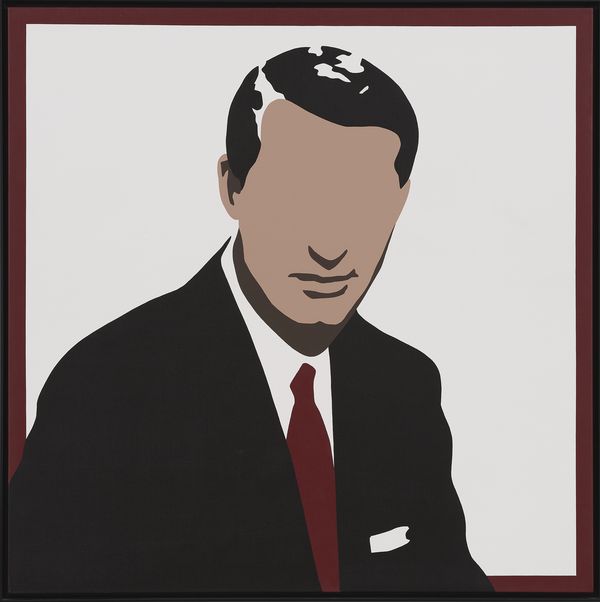 Bright pastel color palettes, bold lines and flattened forms dominate the canvases of Javier Calleja, Edgar Plans, Rafa Macarrón, Adriana Oliver, Matías Sanchez, Christine BanBan and Jordi Ribes, who are highly influenced by nostalgic reveries and childhood reminiscences. The wondrous cast of childlike characters dreamed up by these artists touch on themes of loneliness, injustice and nostalgia in a chaotic and unpredictable world.
With contemporary art constantly evolving — and set against the acceleration of our world today — ULTRA/NEO is our love letter to the artists grappling with these developments and redefining what resonates with collectors of our time. This is the Spanish New Wave.
Adriana Oliver
Adriana Oliver's pop-inspired portraits of faceless figures have earned her work instant appeal. April of 1958 (pictured above) is a prime example from her oeuvre, featuring the blank portrait of a figure dapperly dressed in a suit and tie, rendered with a refined graphic sensibility that evokes a similar pared-back approach as Andy Warhol's Marilyns.
Oliver cites film stills from the 1950s and '60s as her point of inspiration. The sharp lines and stark color contrasts owe to her skill as a painter, while the immediacy of the composition reflects the artist's background in photography. Oliver studied photography in university before later transitioning to painting for its greater degree of creative freedom and capacity for storytelling.
Characteristic of Oliver's compositions, the protagonist of April of 1958 is depicted with no eyes, a deliberate choice by the artist to emphasize the absence of identity. Olivier says she uses her silhouetted subjects to examine societal expectations in modern-day life and break down "signifiers and characters representing traditional gender construct."
"My characters exist in their worlds seeking the same as everyone else, experiencing love and heartbreak, acceptance and rejection."
"We are living In a world that is becoming more and more individualized," she says. "With social media and technology, we are more connected than ever, but at the same time more lonely than ever. It's difficult to experience deep connections as we live in a society that is extremely superficial and unsettled.
"My characters exist in their worlds seeking the same as everyone else," Oliver adds, "experiencing love and heartbreak, acceptance and rejection."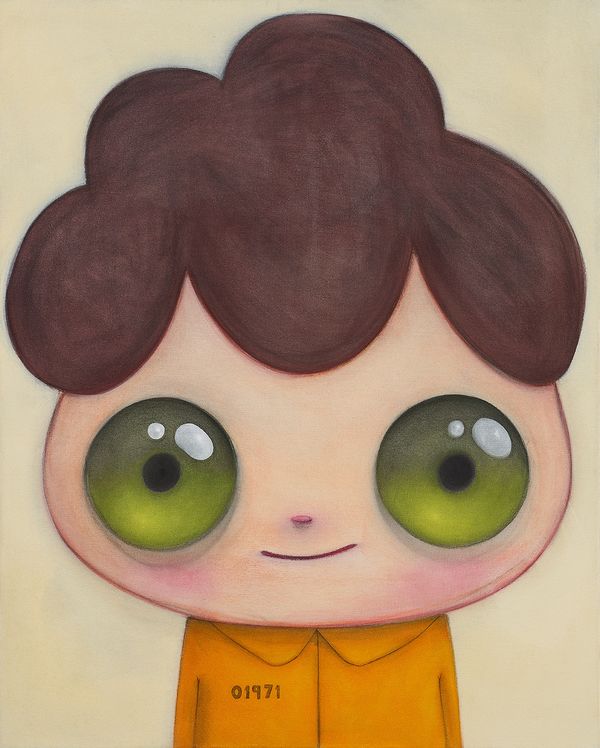 Javier Calleja
The adorable wide-eyed, rose-cheeked boys of Javier Calleja have captivated the hearts of millions around the world, who flock to galleries and exhibitions to come face to face with the watery, pooling gazes of Calleja's artistic trademark.
In coming up with the characters, Calleja was compelled to visualize the tender moment when a child stops crying and is about to break into a smile again, a delicate sensation that merges sadness and relief.
"That is the moment I paint," the artist once said. "When experiencing something bad and you just had a breakthrough. I think when a child is crying and then stops to cry — they're a hero. Because he or she decided to overcome the pain."
His characters have often been compared to the little girls of Yoshitomo Nara, for whom he apprenticed. But while Nara is known for imbuing his creations with pervading darkness and cynicism — often portrayed as angry or injured characters — Calleja has chosen to celebrate the more light-hearted aspects of growing up.
"That is the moment I paint, when experiencing something bad and you just had a breakthrough. I think when a child is crying and then stops to cry — they're a hero. Because he or she decided to overcome the pain."
1971, part of the 20th Century & Contemporary Art Evening Sale in Hong Kong, exemplifies Calleja's playfulness. The title is a reference to his birth year, 1971, and the painting is meant to be a tongue-in-cheek self-portrait doubling as a mugshot, with the boy's orange shirt reminiscent of a prison jumpsuit, an endearing toddler dressed as a criminal.
It is an early and captivating example of Calleja's visual aesthetic, which uses youthful exuberance and infectious positivity to cut through the chaos and uncertainty of our world.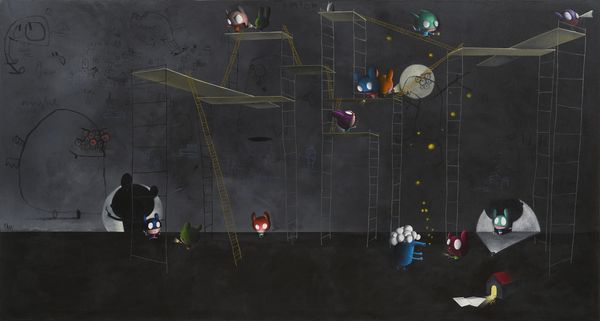 Edgar Plans
Like Calleja, Edgar Plans is known for his cast of whimsical characters that call back to more innocent times.
Dubbed "Animal Heroes," Plans's characters are defined by their mouse-like round ears and colorful masks and encompass a wide range of emotions — joy, mischief, play. Though seemingly innocent on the surface, Plans's light-hearted illustrations are in fact a commentary on sociopolitical issues ranging from racism and gender inequality to climate change.
"The Animal Heroes arise from my intention to create pictures of denunciation in favor of the environment," Plans says, "to denounce the human actions that contaminate, destroy and poke the planet. In turn these heroes have simple powers that today's society is losing as they are solidarity, companionship, respect… and these animals through art and their actions want to reintroduce people."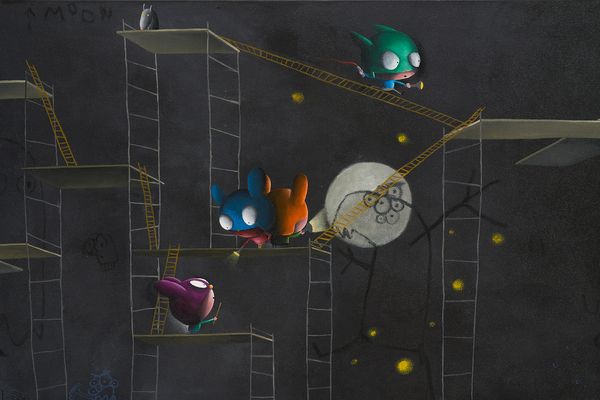 Close-up of Night Creatures.
Night Creatures is Plans's largest work to come to auction and representative of the artist's ability to harness the boundless creativity of children's drawings while demonstrating a refined practice through the intricate layering of various mediums and visual planes.
For the artist, his visual approach is a return to the simplicity and freedom of childhood. Growing up, Plans explored painting and drawing, fueled by his fascination with graffiti, urban art and comic books.
"I really like children's art," he says, "the freedom of expression, the gestures, the strokes and the free use of color. I'm worried about losing those qualities someday."
Rafa Macarrón
Rafa Macarrón's background in physiotherapy shows in the artist's tender and compassionate renderings of deformed characters. Macarrón utilizes his understanding of human anatomy in portraying his characters, showcasing his detailed observation of everyday life and existence.
"To create my elongated figures requires knowledge and respect for anatomy," he says. "I know the structure of the body perfectly. Then, I begin to try out distortions and deformations, which I think works very well. I am able to create my own characters, each with their own soul and personality."
The self-taught artist counts among his inspirations Bonifacio, Alfonso Fraile and Jean Debuffet, whose raw, child-like aesthetic Macarrón emulates. His elongated figures and pastel colors also recall the traditions of Spanish surrealism.
"To create my elongated figures requires knowledge and respect for anatomy. I know the structure of the body perfectly."
Indeed, Cosmos exudes a stylistic flair that resembles those of Joan Miró, Pablo Picasso and Dubuffet. Carrying a sense of tranquility, tenderness and wonder, Macarrón's fluid, dreamlike realms seem suspended in time, free from the restraints of literal interpretation.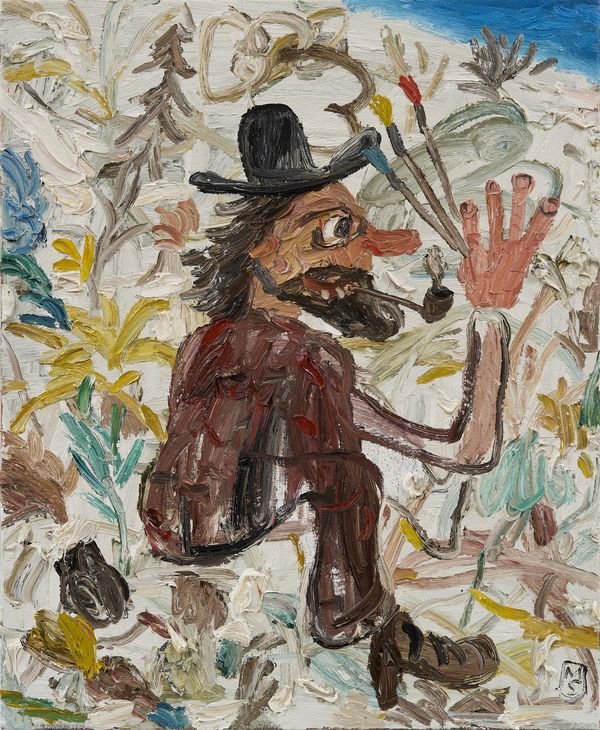 Matías Sánchez
Executed with sumptuously thick impasto, Matías Sánchez's lively compositions strike a unique balance between abstraction and figuration. Built up and manipulated on canvas as though made of molding clay, each painting can be understood as the materialization of the artist's wild and whimsical mind. Through his cast of spirited vagrants and crooks, Sánchez pays homage to artistic and literary icons such as Rembrandt, Pablo Picasso, Willem de Kooning and Franz Kafka.
Painter in the Full Sun is an example of Sánchez's playful and self-referential style. The devious-looking character is rendered in his characteristically thick layers of paint, surrounded by lush, candy-colored foliage, while the bowler hat and pipe allude to Rene Magritte's 1967 painting Good Faith.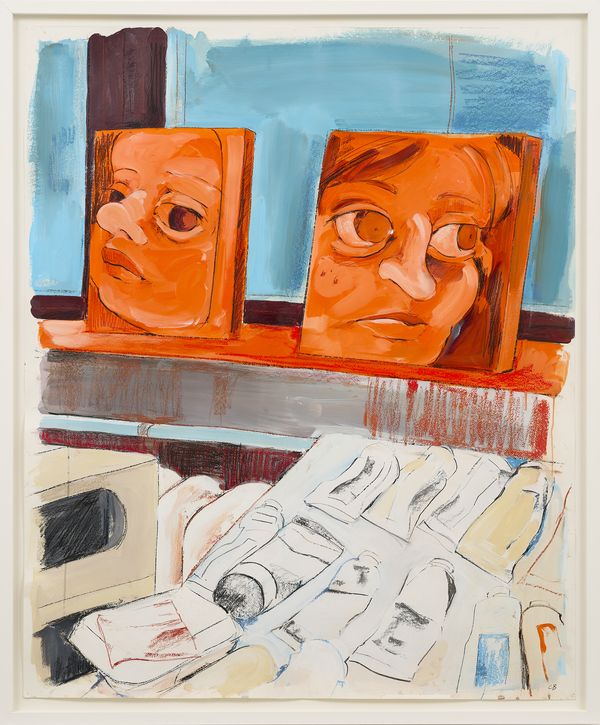 Cristina BanBan
The female body is the focus of most of Cristina BanBan's works. Her striking portraits often explore the nature and physicality of the nude figure in a raw yet delicate and expressive style inspired by Neoclassical physiques and voluptuous Rubenesque bodies.
BanBan weaves complex narratives of intimacy and nostalgia into her work. Estudio. Septiembre 2020 II stands out from the rest of her oeuvre, a still-life that offers an intimate look into her studio. It depicts two paintings in the artist's workspace, which were exhibited alongside the present work in BanBan's major dual-gallery show in New York in 2021.
The piece appears to dive into her creative process, showcasing the effort and emotion that goes into the creation of each elaborate painting. It simultaneously reflects the key themes that permeate BanBan's body of work and her method and approach to making art.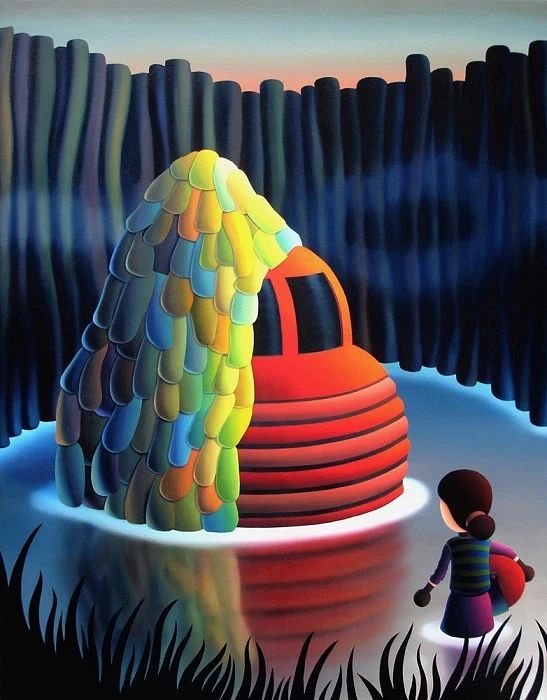 Jordi Ribes
Jordi Ribes's narrative-driven paintings transport viewers to a childlike world rich in dreams, adventure and mystery. He is known for an aesthetic that blurs the line between pictorial and digital expression. "On the one hand, my work looks like an image from a computer," he says, "with a cold and neutral finish that apparently does not exploit the properties of oils, while, on the other hand, it is a painting that can only be done with the oil technique."
Indeed, even though it renders an almost artificially polished image, Ribes's unconventional approach is grounded in traditional oil techniques. He meticulously applies very thin layers of carefully mixed pigment to achieve an impeccable smoothness of gradients. The result is a ​​fluorescent color palette that evokes the fantasy worlds of video games and fairy tales, the radiating glow of screens that bridge the real and fictitious.
Amazing Stories exemplifies Ribes's ability to tap into both digital and analogue worlds to produce mystical compositions that drive the mind's eye. Perhaps inspired by Steven Spielberg's 1985-87 science fiction series of the same name, the work's ambiguous form leads viewers to wonder about the next chapter of this painting's unfolding story.
---