Lucy Bull, 8:50, 2020
Estimate: HK$1,000,000 - 1,500,000 (US$130,000 - 190,000)
Lot 3, 20th Century & Contemporary Art Evening Sale, June 22
Asia has become a powerhouse in the art market. 2020 saw China surpass the United States as the world's largest art auction market, according to Artnet. The region continues to add prestigious events to the art fair calendar, with Frieze set to launch its first non-Western edition in Seoul this September. Last year, Phillips realized a record HK$1.3 billion (US$166.6 million) from the 20th Century & Contemporary Art & Design sales in Hong Kong, rounding out the company's most successful year.
The eclectic tastes of young Asian collectors — many of them educated abroad — are influencing not just what sells in Asia but also the rest of the world. While established figures such as KAWS, Gerhard Richter and Jean-Michel Basquiat have been some of the region's top sellers, Asian buyers have also driven demand for emerging names from outside the region.
Among 13 artists who made their Asia debut at Phillips in the past two years, five shattered records in their first sale.
They include Jadé Fadojutimi, whose Concealment: An essential generated by the lack of shade sold for HK$5,670,000 at Phillips' 20th Century & Contemporary Art Evening Sale in June, a record at the time.
Scott Kahn's standing auction record — HK$7,510,000 for Cadman Plaza at Phillips' 20th Century & Contemporary Art Evening Sale in November — predates his sold-out solo shows in Paris and New York. Other artists who notched auction records upon their Asia debut at Phillips Hong Kong include Billie Zangewa, Salman Toor and Claire Tabouret.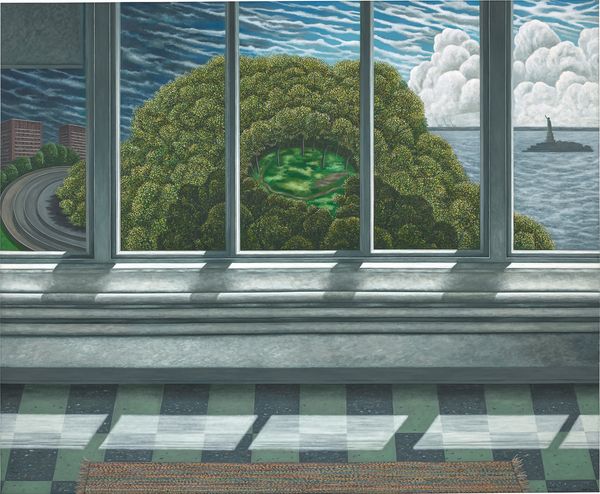 Scott Kahn, Cadman Plaza, 2002
Sold for HK$7,510,000 (US$963,000) at Phillips' 20th Century & Contemporary Art Evening Sale, November 2021, Hong Kong
As Asian collectors continue to shape global tastes and trends, Phillips is at the forefront of identifying and introducing new talent to the market. This season, five artists — Lucy Bull, Ouattara Watts, Anna Park, Trey Abdella and Jason Boyd Kinsella — will be making their Asia auction debut at Phillips' 20th Century & Contemporary Art & Design sales in Hong Kong.
Their work spans mediums from oil on canvas to charcoal on paper, but they are united by their sense of the now and the conflicts in our chaotic and divided world. As their work comes to auction for the first time in Asia, these artists will be the ones to watch in our Hong Kong sales this month.
Lucy Bull
After a breakout show at David Kordansky Gallery in Los Angeles last year, Lucy Bull has become a darling of both collectors and critics alike. Hailed as the new champion of Western abstraction, Bull splashes canvases with psychedelic scenes that tread the line between acid trip and surrealist climax.
8:50 (pictured in header) is the artist's first work to come to auction in Asia and only the second ever to hit the market. A kaleidoscope of colors and patterns, the piece stands as one of the artist's largest visions, defined by contrasts between precision and abandon, order and chaos, concord and discord.
"I want to titillate the senses. I want to draw people closer."
In a world dominated by TikTok reels and endless streams of targeted ads, Bull's practice calls for mediation through submission. "I want to titillate the senses," she says. "I want to draw people closer. I think people aren't used to paying much-prolonged attention to paintings on walls and I want to allow people to have more of a sensory experience."
Bull is currently in a group show, Women of Now, at the Plus Gallery in Denver alongside other female artists such as Anna Weyant, Dominique Fung and Issy Wood.
Ouattara Watts
In a world of compromise, Ouattara Watts has not. Boasting a prolific career spanning five decades, his practice is distinguished by monumental canvases, watercolors, gouaches, drawings and collages that connect West African aesthetics with Western modernist sensibilities.
Born in the Ivorian capital Abidjan, Watts studied at the esteemed Beaux-Arts in Paris — before a chance encounter with Basquiat took him to New York, where he has lived and worked since. The two became close friends, separated by only four years in age and their backgrounds intertwined with Watts from the Ivory Coast and Basquiat born to a Haitian father and Puerto Rican mother in Brooklyn.
Watts and Basquiat became close friends, separated by only four years in age and their backgrounds intertwined.
Naturally, Watts draws inspiration from the indigenous art of Africa but also from the pool of postwar abstraction, in particular the work of Rothko, who Watts says "touches upon the omniscient, unfolds life, death, man's place with regards to the deepest of realities."
Intercessor is an accomplished later work by the artist and the first of his to come to auction in Asia. It is a demonstration of his matured practice, as Watts has departed from the more obvious African iconography of his earlier work — tribal masks and ancient Egyptian hieroglyphics — and establishes the vocabulary that would become paramount in his late-stage career: mathematical equations (where Basquiat's influence begins to emerge), diagrams of atoms, earthly tones balanced with brighter accents and intricate cosmic bursts.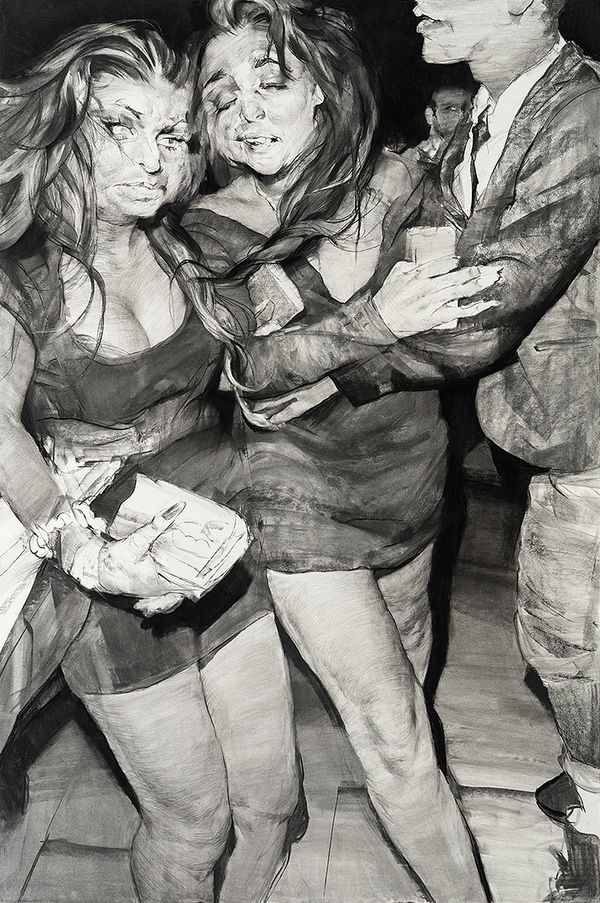 Anna Park
At 23, Anna Park caught the attention of the art world before she even graduated art school. In 2019, KAWS spotted one of her charcoal drawings at an open studio exhibition at the New York Academy of Art, where she was completing an MFA. He bought it, posted it on Instagram and soon, the market took notice.
Park is known for her chaotic scenes of figures in motion. Through her skillful use of swirling lines and charcoal gradients, she depicts late-night revelers, bar brawlers and even a press scrum in mid-action, as if drawn directly from the freeze frame of a film clip.
The kinetic energy of her imagined worlds is only matched by the frenetic pace of her meteoric rise.
In the whirlwind three years since KAWS first shared her work, Park has held acclaimed solo shows in New York, Europe and Asia, and her works are in the permanent collections of four museums. Critics have lauded her ability to capture the zeitgeist, with her scenes of dance-floor decadence reminiscent of Garry Winogrand's era-defining shot-from-the-hip photographs of the gogo '60s.
I to I, which marks her auction debut, is an example of those scenes, reminiscent of an intrusive, unplanned paparazzi-angled shot that forces its viewer to confront an uncertain setting. Are we looking at two celebrities in varying levels of inebriation firmly steered by their bodyguard, or are we to fret for the unsteady women, scantily clad, being cajoled by a male bystander? Ever so subtle, Park's work is embedded with a clever cynicism that critiques our contemporary society.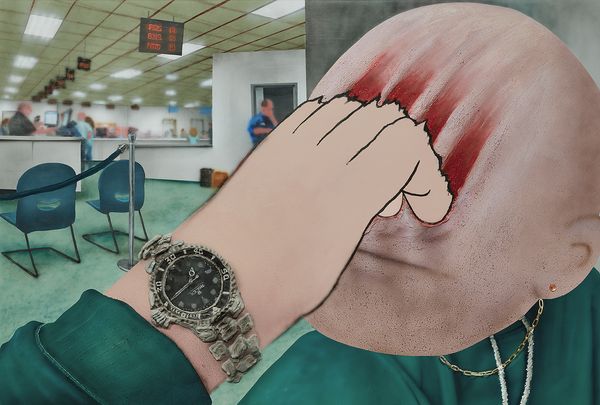 Trey Abdella
"I'm interested in exploring the misery of the American Dream," Trey Abdella once told Galerie magazine. Indeed, many of the artist's works are surreal and humorous depictions of mundane moments in American life — a backyard barbecue, a school dance or in this case, a long wait at the DMV.
Abdella's sight gags have roots in the cartoons he grew up watching. The facepalm in Some Things Aren't Worth Waiting For seems lifted straight out of a Tom and Jerry episode, the fingers digging so deeply into the eyes that they just gouge them out in frustration.
"I'm interested in exploring the misery of the American Dream."
Unabashedly irreverent, Abdella also skewers traditional figuration with his use of mixed media, plastering fabric, glitter, rhinestones and chains wherever the artist just doesn't seem to feel like reproducing the object.
Still, the current work exhibits Abdella's skillful application of painterly techniques. The figure's coarse face is illustrated with fluffy patches of thick paint, while the Rolex Submariner watch is rendered in a hyper-realistic manner and set against a highly textured sleeve that recalls the feel of actual cloth.
Some Things Aren't Worth Waiting For marks the artist's auction debut in Asia just as his first solo exhibition in China, Almost Heaven, is running at the X Museum in Beijing.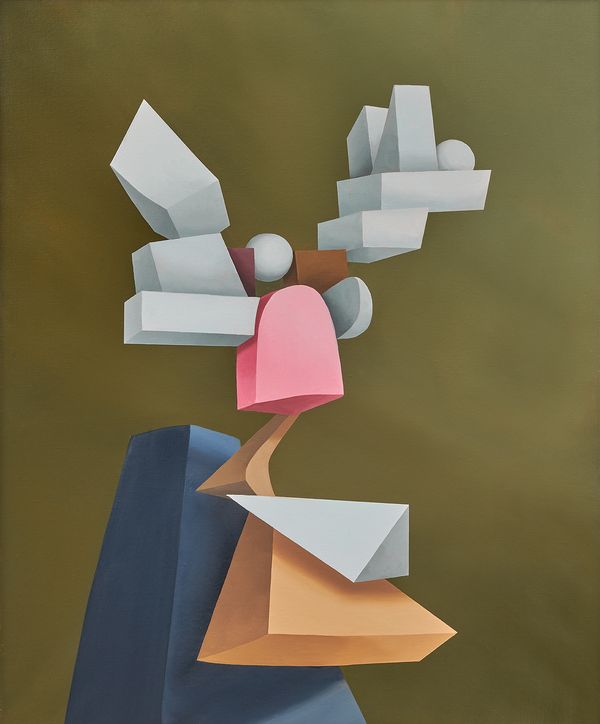 Jason Boyd Kinsella
After a 30-year hiatus, Toronto-born Jason Boyd Kinsella began painting again in 2019. Since then, he has been part of several group shows, including Galerie Perrotin's exhibition at Art Basel Miami Beach, and held solo shows in London and Paris.
His latest series, which was exhibited this year at Perrotin Matignon 8, uses geometric shapes as building blocks for portraits of abstract figures. The size, shape and color of the blocks are determined by the Myers-Briggs personality test, suggesting that human personalities, while different in their construction, are built from the same basic components.
"Each colorful building block is open to new combinations of elements — like some visual alchemy."
"My visual language telegraphs this impermanence," Kinsella says, "by illustrating our existence as a delicate assemblage of shapes unbound by flesh. Each colorful building block is open to new combinations of elements — like some visual alchemy."
Kinsella draws from several artistic traditions. While Cubism is the most apparent, the figures' poses and muted backgrounds recall the austerity of Old World portraits.
Summers (the elder) is the second work by the artist — and his first in Asia — to come to auction, just one month after Thaws sailed past estimates and sold for US$441,000 at Phillips' 20th Century & Contemporary Art Day Sale in New York.
---
Recommended Reading