Written by Seph Rodney
Can you tell a different story about Jean-Michel Basquiat? And if it were possible, how would you? His story has been told so often: a Black man, genius wild child of migrants from the Caribbean to New York, growing up in East Flatbush and Boerum Hill, Brooklyn, leaving home at 17; rocketing to the top of the contemporary art scene in New York in the 1980s with no formal training to get him there; creator of a unique style of painting that astonished by putting the street in dialogue with the white cube; friends with Andy Warhol; partied like a rock star; dead far too soon at 27; among the top ten artists in the world, according to the prices for work sold at auction.
Basquiat came into an art system that was not ready for him, and as he spun out paintings and dazzled a community that had not ever seen his like, people were staggered by the sun rising in him. And to see him — an untrained street art maker, graffiti tagger — they had to look in directions they had not thought to look in before; the Ivy League schools, the prestigious training programs. His story gets told over and over because it almost never happens. And because it is so rare, it inspires us to have ambitions far beyond ourselves. We can see our own stories in him, or at the very least we want to. With all this freight already attached to Jean-Michel Basquiat, how do you tell his story differently?
You start with the people who knew him first: his family. And you begin with an outlook of celebration, of honoring his life and work. And you follow that up with surprise, by revealing the paintings that have, for the most part, not been seen by the public yet. Jean-Michel Basquiat: King Pleasure© is organized and curated by his two sisters, Lisane Basquiat and Jeanine Heriveaux, and his stepmother, Nora Fitzpatrick. They give this new narrative room to breathe.
The exhibition is presented in a 12,000-square-foot space in New York City's Starrett-Lehigh building. The show consists of over 200 paintings, drawings, multimedia presentations, ephemera and artifacts, including recreations of his NYC artist studio on Great Jones St. and the Michael Todd VIP Room of NYC's Palladium nightclub, for which the artist created two paintings.
In the following brief interview, Lisane and Jeanine tell us about the brother they knew: the sensitive boy, the child of a Haitian father and Puerto Rican mother, the beautiful savant who was loved and valued even before he made the art that made the world take notice of this radiant child, this son of the African diaspora who came to us bearing gifts that keep rewarding us even after he is gone. As they affirm, this is a story that needs to be told now and forever more.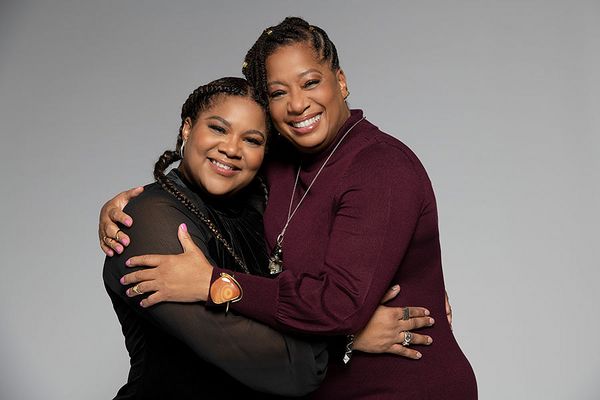 Jeanine Heriveaux and Lisane Basquiat. Photograph: Mirana Penn Turin.
SEPH RODNEY: A key thing that I found in reading about Basquiat was that Ann Temkin, who had been the chief curator of MoMA, when the museum was offered Jean Michel's work for purchase when he was still alive, she said I didn't recognize it as great, so they passed on it. She said it didn't look like anything she knew. I want to ask, does the work now look like something we know?
JEANINE BASQUIAT: That's a great question. I think it depends on the audience and who you're asking. I think that for those who have been disenfranchised, people of color — they know, but it's difficult if you are not in that group to know. However, you would hope that you can at least have the empathy to learn and gain knowledge from those that do know.
LISANE HERIVEAUX: Yeah. I think that Ann is probably kicking herself for that. I don't want to speak for her, but I think that that's part of what attracts people to Jean-Michel so much; those who have taken a deep dive into him and his work and what he's about and those who just know his name in passing. What is so intriguing about him is that he is unlike so much of what we know in the world, and he presented his art in a way that was so different.
SR: It was mentioned to me that the work in the exhibition is not going to be for sale. Is that correct?
JB: Absolutely.
LH: The work is not for sale and I'm really glad that you asked that. This effort is Jeanine's, mine, and our stepmom Nora's and the rest of our family that's been on the periphery and supportive and chipping in. This is our response to the incredible interest in Jean-Michel and to the people who admire his work and who really appreciate and resonate with what he had to say. This is not a commercial exhibition at all. Jenny can speak to how this isn't commercial. I mean, it's commercial in the way that we're selling tickets to view it but none of the works are for sale.
JB: I guess we'll get into that how and why. So, Jean-Michel passed away in 1988, and since then, my father oversaw the estate until 2013, and after kind of getting ourselves acclimated with the role of being co-executors of his estate, we were having a conversation in 2017 that we have a warehouse full of works that he left behind that have not been seen by other than by the institutions we have loaned to. And it is important for his audience, his fans, to see that work, as opposed to it just sitting there. And as we kind of started to unpack that and started to unroll some works and see how vibrant they still were — [that] solidified that need for us to show that to the world. And in 2017, we weren't quite ready. We are not curators by any means. We have two completely different careers and skills, but our passion for showing the work, giving a narrative that shows a voice of the family was so important to us.
We have the courage to get in there and say we're going to do this our way and we're not going to make it a scholarly show. We're not going to make it a white-wall gallery show. We're going to make it a show that was about the family's perspective and we believe we've accomplished that. We've been to those exhibitions. We've been very supportive, but those exhibitions [are] something very different. Lisane and I and our stepmother decided that we wanted people when they stepped into our exhibition that they felt Jean-Michel, had an experience of how he grew up, where he grew up, and all of those layers that made Jean-Michel the man he was.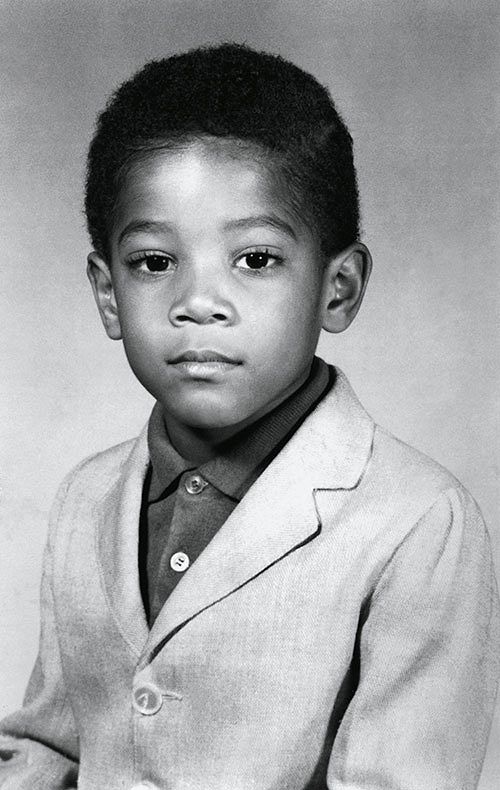 Photograph courtesy of The Estate of Jean-Michel Basquiat.
SR: Okay. When you say that you want to own the narrative and you want this show to project a certain narrative, can you summarize what that is?
LB: There are people who we experience for a moment in time, for a few minutes, for a few days, for a few months, a few weeks, whatever, a couple of years, and those people have a perspective on the experience that they shared with a person and that's fine, and we have a perspective as well, and what we own is the narrative on the context of Jean-Michel's life, and what we also own is a fierce love and passion for our family and for protecting our brother just as he would for us.
And so, it is our work as the co-executors of his estate and as the folks who are pulling this exhibition together is to really protect his legacy and to point people to his work because he said a lot in his work and through his work. It's just to point people gently to a context within which he was born, and his life in Brooklyn, and our parents, and our family, and our Haitian and Puerto Rican heritage, and the journey that Jean-Michel was on, you know, walking through all of that into a place where he began to get recognized for the work that he was doing, and of his studio, the last home that he lived before he passed away and what that was like, and then, to everything that we've all done for the last 33 years to celebrate this magnificent human being. That's what it's about.
SR: But do you think that the things that you just mentioned to me, the family life, the growing up in Brooklyn, the coming from Puerto Rican and Haitian parents, do you think that that's been left out of these other stories that generally get told about Jean-Michel?
JB: I think so. I think that the story is almost like ... a lot of people don't even know that he grew up in a brownstone in a middle-class family. It's almost like they believe it's a rags-to-riches story. They don't believe that he left home on purpose to go find that dream.
SR: Good. That's good. Jean-Michel left home at 17, do you have any idea what made him leave?
JB: When he first left home, he was out trying to make that dream of his happen. So, there were a few years when we didn't hear from him but there was one day when he showed up in a limousine, full head of dreadlocks, and he pulled up at seven o'clock in the morning when we were getting dressed to go to school. My dad was getting dressed to go to work, and he had been partying all night, and he rang the bell and said "Papa, I've made it." He said that he was not going to come any other way but that, and so, he did that, and he made that happen.
They don't know that he actually had relationships with us until he passed away, and you know, that's disturbing because we've been here. We've been around and there's many stories that we have of being with him during that time, and you know, we've lived very private lives up until this point, and we felt that it was important that we kind of come out and we give a perspective from the family. That is what we are doing.
LH: And I think part of that also is, you know, I have children and so does Jeanine, and losing a child, you know, an adult child, like any child, that is a devastating thing that creates a hole in your heart. And so, for our parents, these are people who had to process the loss of their son while also processing what he was doing during his lifetime, and then, also processing how people are so enamored with Jean-Michel and all those other things. That's a lot to process along the way, especially if you are people, as my parents were, who are incredibly private and for whom that kind of exposure or swinging the doors open is not something that comes naturally or comfortably to them.
While that was going on, there were also people who did experience Jean-Michel in some way and who copped to those experiences they shared. In the absence of voices from his family, people drew conclusions or came to draw conclusions about it. I think the important thing here for people to know is that there is a family who lost a brother, and a son, and an uncle, and a nephew, a cousin, and a grandson.
And another thing: We started this conversation back in, you know, five years ago and we got to work on it in 2020 during the summer. It was really important to us that we executive produced this and that we do it at a time when we could really focus our attention on putting our heart into this narrative about Jean-Michel.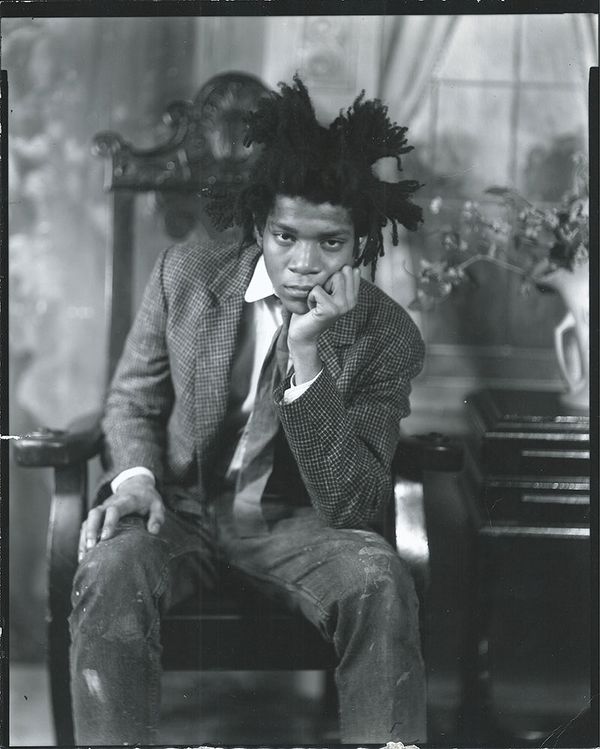 Jean-Michel-Basquiat, 1982. © James Van der Zee Archive, The Metropolitan Museum of Art.
SR: When you say executive produce it ...?
LH: We have touched every single piece of this production from the vision of what it was that we wanted to do, to directing the hanging of the work, and the placement of things, and the re-creation of his studio.
JB: And the finances.
LH: And the finances. So, executive production from the perspective of what was really important, and what is important to our family is that we own the narrative. We own this narrative. A few years ago, we weren't necessarily in the place to be able to do that because Jeanine and I and our stepmom, we were creating kind of a new process around managing the estate that our dad had managed for so many years. We did not want to do this until we could 100 percent own it. And so, this is not a situation where we just kind of sat back and did photoshoots like, "Look at us acting like we're picking things out." We touched every single thing. We spent every day up at Starrett Lehigh during this installation in sweats and sneakers picking things out, moving things around, and all of that. We've touched every part of this.
SR: That's wonderful. Okay, I want to ask you, I think it was you Lisane, who said that you wanted to make this exhibition celebratory. Let's just talk about historical context for a moment. We're not through the pandemic yet but we've been going through a global pandemic, and we all know all the other things that happened around the same time, knowing the racial reckoning, George Floyd and the subsequent cases, Breonna Taylor, Ahmaud Arbery, and all the prosecutions and imprisoning of people found guilty, and it's been a time of immense social upheaval—economic, social, political—all of it. Did you have a conversation with each other about "Is this a good time to do this? Is this what's needed right now?"
LH: Yes, to all. We're sitting there, just thinking back to the summer of 2020 and all heck is breaking loose and we're like, you know what, that project, we've sold a lot of T-shirts and what do you think, like is this the time, Jeanine? She's like, "I think we're here and this is going on, and I think this is a good time for us to do that."
JB: And also, you're planning this two years in advance. We also hoped that 2022 would be a good time when we could celebrate New York and contribute to the reopening of New York City and give a gift to the city in its reopening.
LH: I think, yeah, his is a New Yorker story.
JB: He had so many places that he frequented in New York City, you know, from Brooklyn to Harlem to, you know, down to Soho and Tribeca. He was everywhere. So, yeah, absolutely.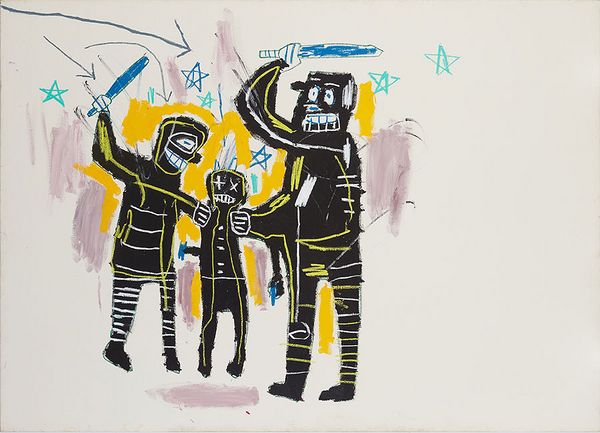 Jean-Michel Basquiat, Jailbirds, 1983. © The Estate of Jean-Michel Basquiat.
SR: There's a way in which people —I'm 51—growing up in New York around the time Jean-Michel was like exploding onto the scene, that's sort of part of my story of being in New York. Do you find that there is that kind of generational divide in terms of people who like his work or [for] people who weren't a part of that New York, or even on the periphery of it?
JB: I actually think that he is cross-generational. You have those who were there in the moment and fell in love with the work right away and purchased. You have those who love him because he reminds them of the time, the time when rents were low in the Lower East Side, when they were jumping from the Mud Club to Aria to the Palladium. And then, kind of as time goes on, and you know, hip-hop has become more of an influence on children our children's age, and they're hearing rappers speak about this man who they don't quite understand. But as soon as they Google [him], they say, "Wow, this person looks like me and I can relate to this person, so let me dig a little bit deeper."
And I think after a lot of them know the name and the face, they don't necessarily always connect it to the work, but once they do and they actually see it, I think they really run with that. So, yeah, many generations.
LH: Jean-Michel speaks to everybody about everything. It's like there's a Basquiat for that. Where it's something on racism, there's a Basquiat for that. Something on sexism, there's classes of them, politics, the diaspora, all of it. He gave insight and voice to his opinion about many different things that I think do inform the resonance that people have with Jean-Michel that is cross-generational.
JB: We hear that all the time: "He's my favorite artist." It is transforming and it is something, but you know, you can see his work in a catalogue, but you really don't get the breadth and the depth until you see it in person.
LH: Well, you'll see ours and you'll love it. It's a great show. We're really excited about this show. We poured our hearts into this one and it feels like Jeanine, Jean-Michel and I are kind of like working on this together. It's an incredible show. We're really excited for people to see it.
Seph Rodney, PhD is a former senior critic and opinions editor for Hyperallergic, writing on visual art and related issues, and has also written for the New York Times, CNN Op-ed pages, American Craft Magazine, and NBC Universal. In 2020 he won the Rabkin Arts Journalism prize and he can be heard weekly on the podcast "The American Age."
Discover More from Jean-Michel Basquiat: King Pleasure© >
---
Recommended Reading
Jean-Michel Basquiat's 'Flexible': Behind the Lens with Lizzie Himmel >