Jean-Michel Basquiat pictured in his Studio with 'Flexible' © Lizzie Himmel, 1986. Artwork © The Estate of Jean-Michel Basquiat / 2018. Artists Rights Society (ARS), New York / ADAGP, Paris.
Roselyn Mathews: Lizzie, you were the photographer behind the shoot with Basquiat and Flexible. Could you give us some insight into how these photographs came to be?
Lizzie Himmel: I was hired by The New York Times Magazine to do a cover story on graffiti artists, and Jean-Michel Basquiat was meant to be the lead picture. It was a group of portraits of Keith Haring, David Salle and Basquiat with their gallery directors.
RM: Can you take me back to the day that you took these photos and describe your interactions with Basquiat?
LH: Yes, I remember the day so clearly. There is something about being behind a camera that makes you remember all of the details so vividly. I arrived at his studio, which was on the first floor while his bedroom was on the second. Basquiat, being the celebrity he was at the time, was with this beautiful blonde bombshell, plus his studio manager. I dressed him in an Armani suit that I found in his closet. I decided to keep him shoeless because I was annoyed that he was not ready for the photo shoot. At the time, he was getting so much press as a young artist. When we got into Basquiat's studio, I placed some of the works but I wanted him interacting with the pieces. You have to remember that, at the time, he was not who he is today. He wasn't selling for millions, but he did have a great gallery. He's one of my favorite artists. It was his prime in terms of work.
I photographed Basquiat twice, once for The New York Times Magazine and a second time with Andy Warhol, which was done about six months after I shot him with Flexible.
He wasn't selling for millions, but he did have a great gallery...It was his prime in terms of work.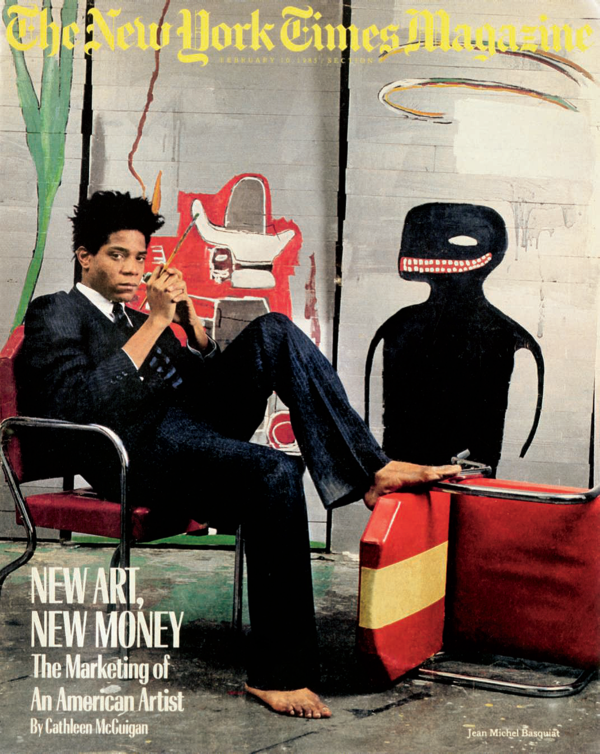 Photograph of Jean-Michel Basquiat for The New York Times Magazine (cover), February 10, 1985. Image Lizzie Himmel, Artwork © The Estate of Jean-Michel Basquiat/ADAGP, Paris/ARS, New York 2018
RM: What did you think of the studio space?
LH: As any photographer who does a cover, I tried to consider the fact that there's going to be typeface on it. I love Flexible but it was a little too strong to hold a lot of typeface on the page. The box and Basquiat were a really good combination because I loved the three-dimensionality quality of the box versus the paintings. There weren't a lot of objects and I wanted him on top of an artwork.
RM: When you google Basquiat, your pictures are the first ones that come up. They seem to have become synonymous with the artist. How does that make you feel?
LH: I understand that and it is absolutely crazy. It does make me a little uncomfortable since I've done so much work in my life that I am really proud of. It is the picture that's associated with my name...When he died there weren't many photos of him other those from The New York Times Magazine...I photographed a lot of important people who were also Times covers.
But he died really young, and there was nobody else who photographed him that much except his girlfriends.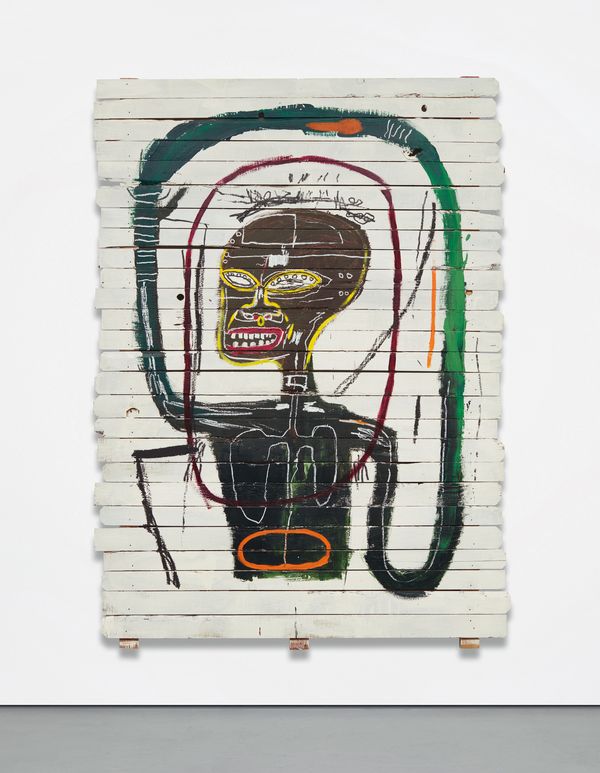 Jean-Michel Basquiat Flexible, 1984. Acrylic and oilstick on wood. Signed with the artist's initials, titled and dated ""FLEXIBLE" JMB 1984" on the reverse. This work will be offered in our New York Evening Sale of 20th Century & Contemporary Art on 17 May 2018.
RM: How would you describe Basquiat's work?
LH: His work was very graphic. It was very political for its time. I think they're incredibly bold and interesting. I think that he's a great painter. I think that the paintings themselves become beautiful fields of work. Besides all the words, he was really conscious of color. He's really conscious to form, you know.
When I first walked into his studio for The New York Times shoot, I loved seeing his works in person because it felt very different from seeing them in a gallery setting. They were big!