Jean-Michel Basquiat, Untitled, (from Famous Negro Athletes), 1981. 20th Century & Contemporary Art.
Ahead of Phillips' November 17 auction in New York, Kai Eric discusses his fortuitous meeting with Jean-Michel Basquiat that bloomed into a close friendship. Basquiat lived with Eric for about eight months in the latter's Canal Street apartment and gave Eric Untitled (from Famous Negro Athlete Series) (1981). Eric shares his insights with Phillips on his relationship with Basquiat, the flourishing creative scene of 1980s downtown New York, and Untitled (from Famous Negro Athlete Series).
PHILLIPS: Tell us a bit about how you and Basquiat came to know each other — you've mentioned that he lived in your space for a time. How was it to know him in that pre-fame era?
KAI ERIC: I met Jean-Michel at the cusp of the 80s. Each day, I would go for a wander downtown. And one pre-winter morning, I was approaching the Hudson River in an area that's now called Tribeca. The streets then were generally empty, but this street was completely empty. There was a figure backlit by a waning sun at the end of the block. That figure was Jean-Michel. He was standing there in an overcoat and I had caught him with a spray paint can, in mid tag. I walked up and introduced myself. Jean-Michel Basquiat had a perpetual smile on his face, at least during the time I knew him, and he projected warmth and optimism. He had a great sparkle in his eye.
Jean was a nomad and he had many doors that he could knock on. I offered him a space in my primitive bohemian love cave in Chinatown, at the foot of the Manhattan Bridge. He spent a significant amount of time there. Jean arrived with Suzanne Mallouk and I believe they stayed with me for about eight months. He used the apartment as a studio and meeting place. I recall that he once arrived with Henry Geldzahler, who was the art commissioner for New York City at the time. Henry inspected his work and bought a canvas for $2,000, which was a significant sale for Jean-Michel. Until that point, he had been selling pieces for 10 to 50 dollars here and there. So that sale was a turning point both financially and career-wise.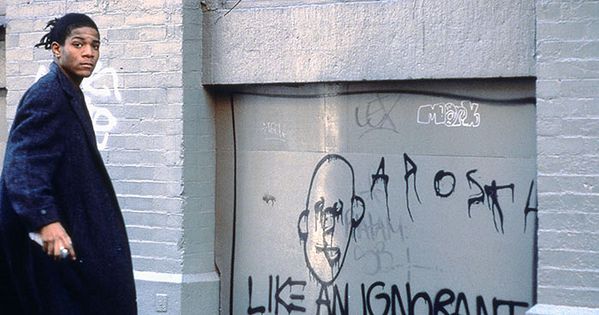 Basquiat on the set of Downtown 81, 1980-1981.
P: It seems that there was a prevailing attitude in the early 80s New York art scene of being young, broke, and open to anything — what do you think drew artists to those creative circles, and how did Basquiat emerge in that environment?
KE: At that time, New York was dark, destitute, and generally populated by an odd collection of junkies, drag queens, runaways, and worst of all, art students. They were the crème de la crumbs. I think New York was omnipresent in the general subconscious. It was a place of dark romance and mysterious futures. However, Jean was a city boy from Brooklyn, so his entree into the downtown scene was from a different angle. It seemed to me that he came in from Brooklyn fresh out of high school. He was youthful, kinetic and a true prince of the city. He was born from the city and it was his natural stomping ground.
As poor as we all were, when he got $2,000 from Geldzahler, he Immediately handed it to me and asked me to organize a dinner for all his friends. I had to tell him to just budget $500 to $800 and put the rest in his pocket. However Jean didn't think like that. His first instinct was to share the windfall with those who had supported him. When he had money, he was incredibly generous. When he didn't have it, he was uniquely humbled.
P: You have this incredible story about him showing up at Club 57 one night while you were working the bar and you buying four of his works for $25. Did you display them as well?
KE: Well one evening, Jean came to visit me at Club 57. He came with Suzanne Mallouk. Jean-Michel stood at the bar and had under his arm a roll of papers. He told me that he was trying to sell a piece of work, so he started laying out primal crayon drawings on beautiful cream-colored paper. Jean said that he would sell one for $10 as he unfurled them. He laid out one and I was immediately struck, because it was a rendering of the Marlboro Man. It was the most primitive essence of a Marlboro ad. He took out the next one, and that was a version of Famous Negro Athletes. He took out another one and then another. I was taking my time mulling over the options. Jean started to look more and more vulnerable with each passing moment. After the dramatic pause, I suddenly I looked up at him and said through downturned lips, "You know what, Jean? I'm not gonna give you $10 for this and nobody in their right mind would give you $10 for this." He frowned a bit and he looked a little crestfallen. I then said to him, "I'm gonna give you $25." The immediate smile that came across his face filled the whole room. I think at that point, we became best friends; bonded by the spirit of that moment. Jean immediately took the $25 and turned back to me and asked me to pick out three more drawings of my choice. I received four drawings in that encounter; two of the four were a Famous Negro Athletes piece and a Marlboro Man.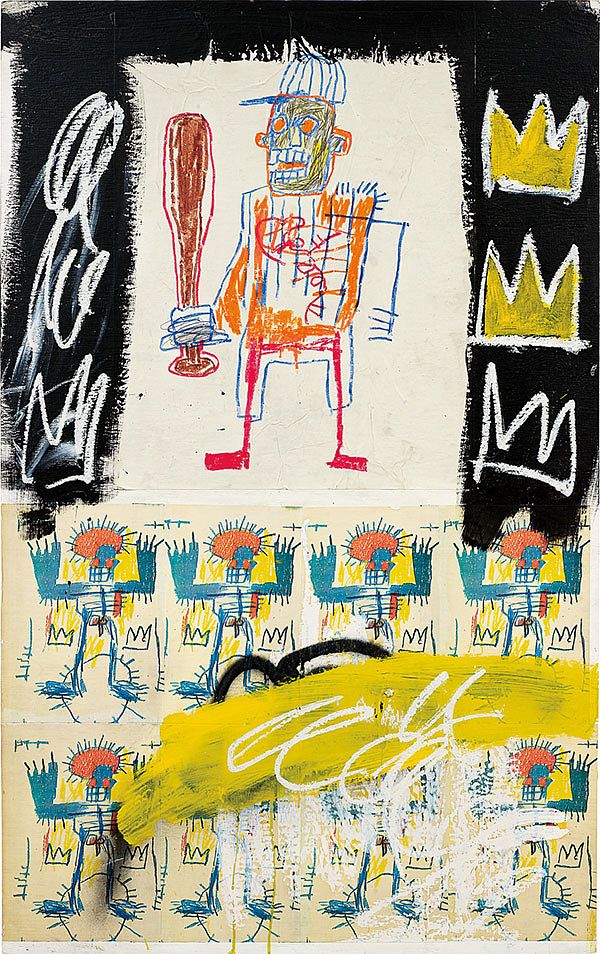 Jean-Michel Basquiat, Untitled, 1981. Private collection.
P: Can you speak a bit about the present work and the story behind it? What were your thoughts about the piece when it was gifted to you, and has your interpretation evolved over the years?
KE: Well, I sold the piece to Mary Boone gallery over 30 years ago and so my engagement with it has been minimal. The version that is up for auction is one of many pieces that he either gifted to me or that I purchased on the fly from Jean in exchange for a little walking around money. There were pieces large and small on canvases, papers, doors and notebooks. I lived in the middle of his paint splatter. I generally took his pieces at face value, but it was clear that he was often provoking deeper thought on themes of race and violence in society. The Famous Negro Athlete pieces are definitely a sarcastic comment on his feelings as a black man in America. It's a very early piece and it coincided with the emergence of Xerox machines, which inspired a period of a new art form called Xerox art. Jean-Michel also experimented with Xerox and he would take the copies and paste them into mixed media collages on canvas. Seeing this piece again reminded me of that distinct period and of his evolution.

P: The nostalgic eye tends to see the era, and Basquiat in particular, as lightning in a bottle event. As a creative yourself, and as someone who was a firsthand witness to a critical moment in his life, how do you look back at the time?
I've often described that time period in downtown New York as being a punk renaissance. Lost and searching poetic souls were drawn together for a unique moment to the creative energies of downtown Manhattan. However, there is a tendency to look back on any time period with a certain gauzy nostalgia and favor the good that happened, but there was plenty of bad then, too. AIDS also manifested at the time; many good friends were suddenly lost. So the AIDS epidemic and the Reagan era served as the backdrop and counterpoint to the relentless creativity of the time. When I look back, it seemed to me that the creativity overwhelmed—if just for a moment—the negativity. In fact, all of the art actions that were happening downtown were a push back against a larger negativity that was attempting to encroach. One must be ever vigilant.
Jean-Michel was a reflection of his time and the perpetual media bombardment. His conscious and subconscious met on the field of canvas as he channeled his frustrations on civilizations failed promises.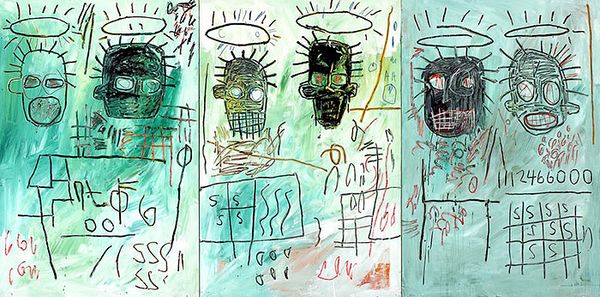 Discover More from 20th Century & Contemporary Art >
---
Recommended Reading
The Art Lover's Guide to Porto >