Benoît Repellin
PHILLIPS: What did you want to be when you grew up? How did you decide to go into the jewelry industry, and more specifically the auction world?
BENOÎT REPELLIN: I have always been fascinated by jewels. My father, as an art appraiser, received auction catalogues and La Gazette de l'Hôtel Drouot at home and I was always drawn into the jewelry sales. I tore the pages apart, drew jewelry pieces, and often went with my father to auction previews and sales. After high school, I went to university to study history, art history and law, already thinking of becoming a jewelry specialist most likely in the auction world. After a master's degree in history and art history, and a second year in law, I did my gemological course at the GIA and became a graduate gemologist. I was very passionate about my studies and looked at all the stones that were available in the building.
P: What is your favorite piece of jewelry you've ever received?
BR: After my grandmother passed away, my parents and uncles gave me her baptism medal. She was born in 1916, so in the middle of World War I. The plaque of gold is so thin, and it looks like the Virgin Mary was engraved with a knife edge on the pendant. A piece of jewelry is something very personal, charged with emotion, and often given for a special occasion. Important memories are forever attached to the object.
P: What is your favorite piece you've ever bought for yourself (or someone else), and why?
BR: I bought a special lot that is very dear to me. It included several pieces: different pairs of cufflinks, dress sets, an enamel brooch that belonged to Prince Elie of Bourbon Parma. These jewels were part of the historic sale of the Royal Jewels from the Bourbon Parma family in November 2018. I had worked on this sale for several years and found it particularly moving to see the evolution of a family jewelry collection and a princely collection from the late 18th century to the 1950s. The auction included jewels from Queen Marie Antoinette, the orders of the Holy Spirit and the Golden Fleece from the Duke of Angouleme, gifts from Emperor Franz Joseph of Austria and Queen Marie-Christine of Spain, to name a few. I remember discovering the jewels and opening the boxes with the labels noting the provenance of each piece. I was delighted to get a jewel from this historic sale, and consider it a badge of honor that reminds me of a wonderful career highlight.
P: Is there a specific style or time period of jewelry you find particularly fascinating, and why?
BR: Each period fascinates me. A jewel must be very typical of its era to illustrate the taste of the time, the fashion, and the codes of the country or area where it is coming from. Art Deco jewels are very sought-after, but we see the 1960s and 1970s being en vogue more and more. I think every period has a lot to give and offers something interesting. I wish I could build a collection of jewels from each era, each jewelry maison, or designer to show the diversity and beauty of each creation.
P: For Phillips specializing in 20th and 21st century jewels, what are the types of jewels that you'd like to find and consign for future auctions?
BR: The 20th and 21st centuries are the most prolific and probably the most interesting in terms of jewelry history. I think some 19th century jewels could still find their place in our sales, as long as the jewels are typical of the period or bear an interesting provenance. From the garland style of the Belle Époque to magnificent works created by JAR, Phillips is the auction house of choice to present these pieces to the market. The last century, in particular, has also been revolutionary for the jewelry industry: the Art Deco period, Cartier's Tutti Frutti and Panther motifs, Van Cleef & Arpels' Zip necklace and ballerinas, superb Chaumet tiaras, Bulgari's bold designs, Boucheron's Question Mark necklaces, plus designers such as Suzanne Belperron, René Boivin, Jean Despré, Hemmerle, and David Webb to name just a few.
Top quality stones, such as Burmese rubies, Kashmir sapphires, and Colombian emeralds, will still draw important prices, but clients are becoming more familiar and confident buying stones from other origins rather than just the "traditional" ones. Thai, Mozambique rubies, and Madagascar sapphires have also started to make their appearance at auction, after being used by jewelry houses for years. Alongside stones, signed pieces and jewels typical of a period or jewelry house, as I mentioned previously, reach very high prices. Provenance can also be an important factor to consider.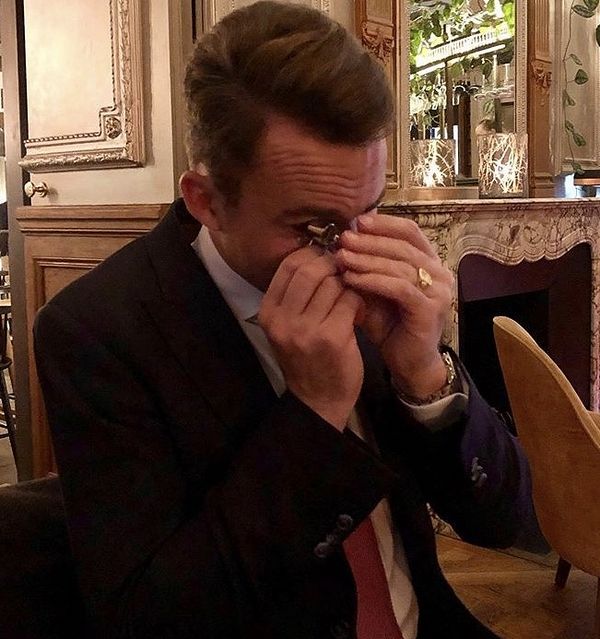 P: What are some of the designers you feel have been the most influential or revolutionary in the jewelry world?
BR: Some of the jewelry maisons have important designers that contributed to their fame. Charles Jacqueau, under Louis Cartier, created some of the most iconic designs from the Art Deco period at Cartier, including the Egyptian revival pieces, or those inspired by Indian and Islamic art. Jeanne Toussaint, also at Cartier, was the woman who made the panther three-dimensional in jewelry. Renée Puissant, née van Cleef, brought innovation and iconic designs, such as the serti mystérieux or the famous minaudière. René Sim Lacaze was another important designer at Van Cleef & Arpels.
Other independent designers have revolutionized the jewelry world. René Lalique, through his use of glass, enamel and non-precious materials combined with gold, diamonds and stones, opened a new era for jewelry in his Art Nouveau works. Suzanne Belperron, René Boivin, Hemmerle, JAR (Joël Arthur Rosenthal), Viren Bhagat are also familiar names for every jewelry lover and connoisseur. Today, the 21st century jewelry designers are realizing their vision through the use of new materials, reinventing historic designs, or drawing inspiration from nature.
P: When traveling the world searching for jewels, what are some of the criteria you look for in a piece?
BR: There are three criteria: nature, art and provenance. Nature means the quality of the stones. For colorless diamonds, we consider the "4 Cs" (color, clarity, cut, carat weight); for colored diamonds, the intensity of the color; for gemstones, the origin and the treatment. Then art: the quality of the craftsmanship, the signature, the period of the jewel, typical of the era, or jewelry house. And provenance: if the piece bears an interesting provenance, to whom did it belong? Does it add value to the jewel?
P: Thus far, what is your favorite trip or place you've visited throughout your jewelry career?
BR: I've had the chance to travel quite a lot for my job, but I think my favorite places were in Asia for a traveling exhibition. I went to Hong Kong, Singapore and Taipei and was fascinated by the unicity of each place, the warm welcome from people and colleagues, and discovering a culture that is quite different than Europe. It was also during the promotion of the sales, which is the exciting part when we see everything come together after several months of hard work.
P: What are some of the key pieces you believe anyone should have when building their collection?
BR: Every collection should reflect the owner's taste and story. So, I would say there is no guideline to follow, but some pieces are timeless and can be paired with different outfits or looks for various occasions. An Art Deco diamond bracelet is an easy go-to, a bold gold bracelet or necklace for a statement look. Brooches are also accessories that should definitely not be put aside. A brooch can be worn different ways: the traditional way on a jacket, on the shoulder, on a belt, on a bag, in the hair, to close a dress, to hold a scarf… jewels can be versatile. They can also be worn by both men and women, offering a wide range of options. We see more and more men wearing them on the red carpet, at galas or charitable events. Jewels are meant to be worn, and the wearer should be able to play with them and adapt according to their look.
P: For first-time buyers, the jewelry auction world can be quite intimidating. What are some tips or advice you would give to future jewelry collectors?
BR: Only buy what you like! Buy pieces you can enjoy, look at, wear. Do not buy something because you think it is a good investment. Jewelry is always a good investment, especially if it makes the wearer happier.
---
Recommended Reading
Jewels, Power, and Gender Fluidity >