Jonathan Crockett, Phillips' Asia chairman, views Danh Vō's We The People (detail), at the newly opened M+ in Hong Kong. / Photo: Arnold Lee
In fall 2022, Phillips will join Hong Kong's M+ when our Asia headquarters moves into the WKCDA Tower, directly across from the museum in the West Kowloon Cultural District, reinforcing our commitment to the Asia-Pacific region and to making the district a world-class destination for the arts.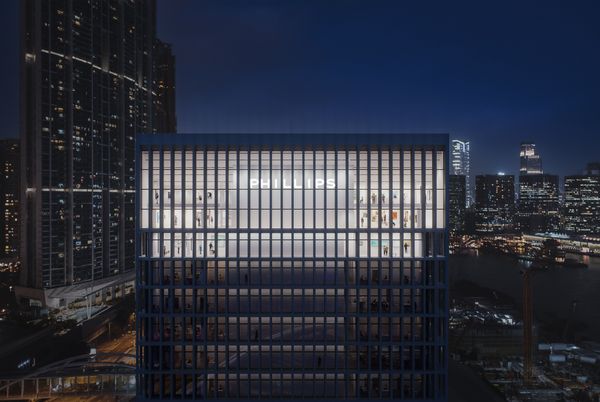 Rendering of Phillips' new Asia headquarters in the WKCDA Tower.
Since opening in November, M+ has quickly become one of Hong Kong's premier cultural destinations. The city's answer to the Tate Modern and Centre Pompidou includes four permanent collections that are "rooted in Asia but defined, developed and examined from a global perspective." The museum's Sigg Collection, for instance, is one of the world's largest and most comprehensive collections of contemporary Chinese art.
The T-shaped venue, designed by Herzog & de Meuron in partnership with TFP Farrells and Arup, comprises 17,000 square meters of exhibition space, including 33 galleries and an area known as Found Space, whose innovative design accommodates the underground rail tunnels that run below M+.
With a permanent collection of over 6,000 works — and 1,000 of them currently on view — figuring out what to see first can be daunting. Our specialists walk you through the highlights.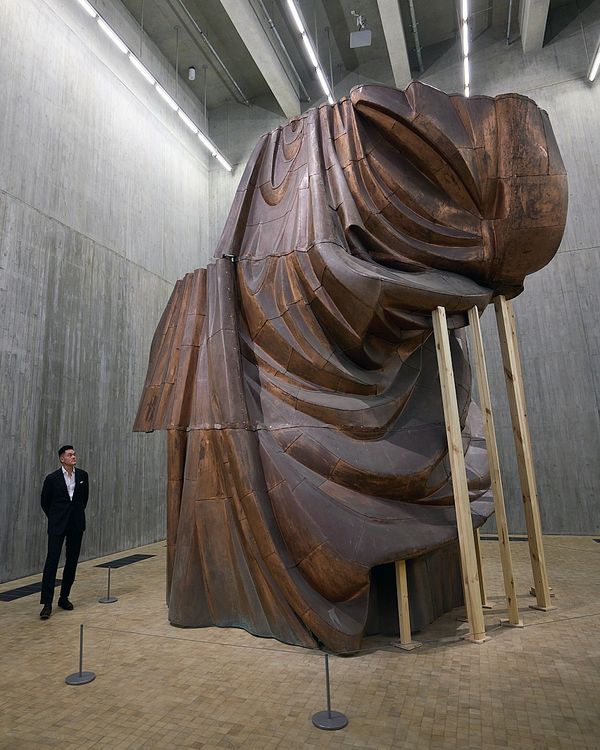 Danh Vō's We The People (detail) in M+'s Found Space. / Photo: Arnold Lee
Danh Vō, We The People (detail), 2011-16
Location: Found Space, Level B2
Inside Found Space on the museum's lower floor, what immediately caught my eye was a striking, undulating copper sculpture comprising part of Vietnamese-born Danish artist Danh Vō's We The People series, a long-term project to reconstruct the Statue of Liberty as a one-to-one replica.
Never intended to be united as a single sculpture, the 260 or so parts are dispersed worldwide and have popped up in more than 15 countries. They've been exhibited at institutions such as the Guggenheim in New York and Palais de Tokyo in Paris.
The M+ collection's example — of Lady Liberty's right shoulder and underarm — looms over viewers with its monumentality, yet the fragmented world-famous icon is also intimately human in scale, reflecting Vō's intent to reinterpret the meaning of liberty and freedom from multiple perspectives. — Jonathan Crockett, Chairman, Asia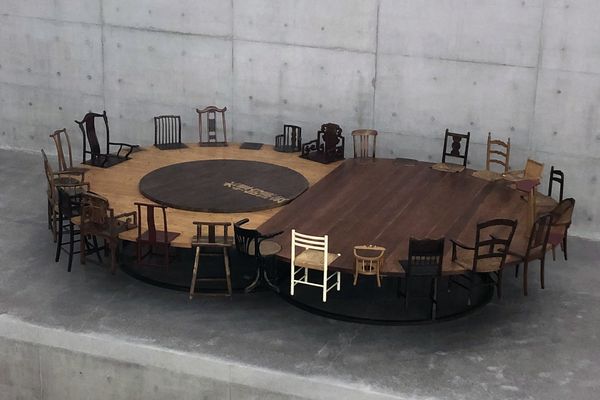 Chen Zhen's Round Table–Side by Side in M+'s Found Space. / Photo: Isaure de Viel Castel
Chen Zhen, Round Table–Side by Side, 1997
Location: Found Space, Level B2
Walking into Found Space, I was pleasantly surprised to see Round Table–Side by Side by Chen Zhen, a Chinese conceptual artist and sculptor who moved to Paris in the 1980s. Well-known in Europe but less so in China, I hope this will change with the opening of M+.
Chen passed away in Paris at the age of 45 in 2000, and although I never got to meet him in person, I did have a chance to meet his wife in their home. At 25, Chen was diagnosed with hemolytic anemia and told he had five years to live, an experience that would later inform his work. I have always been fascinated by this choice that Chen made, knowing he had limited time on Earth, to become an artist and work on issues that truly mattered to him. In France, he has become a very important artist, his works at the forefront of dialogues between cultures.
Round Table–Side by Side consists of 28 Eastern- and Western-style chairs with their seats glued to two round tables, making it impossible for anyone to sit. The Chinese phrase "eternal misunderstanding" is carved into the center, alluding to conflicts between cultures and generations, as evidenced by the presence of three baby chairs. Although we want to understand and initiate dialogue with each other, the glued chairs make that impossible, leaving us to wonder how we can succeed. As a French national in a foreign country, I feel a particular resonance with this idea. — Isaure de Viel Castel, Head of Department, 20th Century & Contemporary Art
Yeung's work forces you to reconsider alternate readings of various locales and characters in our city, perhaps an apt metaphor for M+ in its years to come.
Yeung Tong Lung, The Floor, 2014
Location: Main Hall Gallery 102, Ground Floor
Yeung Tong Lung is a new discovery of mine following Blindspot Gallery's show earlier this year. The quiet brilliance of his oeuvre really captivates me, and I love that he forces viewers to reassess various spaces and faces in Hong Kong.
The Floor really drew me in, as it's impossible to pin down the exact vantage point from which you're viewing the scene. As you're hovering above, your eyes search for something to focus on — perhaps the open window, the cart or the painting tucked to one side — but you inevitably become transfixed by the titular floor, an otherwise dull and neglected feature rendered here with exquisite depth and color. Yeung's work forces you to reconsider alternate readings of various locales and characters in our city, perhaps an apt metaphor for M+ in its years to come. —Charlotte Raybaud, Head of Evening Sale, 20th Century & Contemporary Art
Andreas Gursky, Hong Kong Shanghai Bank, 1994
Location: Main Hall Gallery 102, Ground Floor
Renowned for his spectacularly immersive panoramas, German photographer Andreas Gursky captures emblematic scenes of contemporary life in our globalized world.
Created in 1994, Hong Kong Shanghai Bank presents a tightly cropped frame of the Hong Kong bank's headquarters. Though an iconic feature of the city's skyline, the high-rise's recognizable architecture is shadowed by the darkness of night, as our gaze is instead drawn to the gridwork of windows, which are brightly illuminated to reveal the activities inside.
Up close, the work overwhelms in its magnitude and hyperreal detail, revealing tiny human figures who sit at an endless repetition of desks and computer screens. Their forms are reduced to a mass of colored dots as you step back, the micro- and macro-structures weaving together into a formalized work of abstract art — the full impact of which can only truly be experienced in person. — Anastasia Salnikow, Cataloguer
Young-Hae Chang Heavy Industries, Crucified TVs—Not a Prayer in Heaven (Traditional Chinese/Cantonese/English Version), 2021
Location: Focus Gallery, 2nd Floor
Walking into the Focus Gallery, this commanding cross-shaped video piece instantly caught my eye. The bold animated text — inspired by recurring news stories of warfare and civil unrest — flashed and changed every second, synchronized to an original soundtrack of jazz percussion, ethereal chanting and melodic Chinese strings. I was absolutely drawn to its meditative quality and the way it weaves together vignettes of everyday life, beauty and celebration with subjects such as suffering, personal relationships, politics and art.
Young-Hae Chang Heavy Industries consists of South-Korean artist Young-Hae Chang and American artist Marc Voge, two pioneers of "net art," a late-90s art movement that has since merged into broader contemporary art practice, long before the rise of digital art and NFTs. Their aesthetic has remained consistent, and this particular piece will continue to be updated every six months for as long as the artists make new work and present their projects internationally, ensuring Crucified TVs' continued relevance. —Danielle So, Head of Day Sale, 20th Century & Contemporary Art
Shiro Kuramata, Ishimaru Co. Ltd, Kiyotomo sushi bar, 1988
Location: East Galleries 213, 2nd Floor
The must-see Kiyotomo sushi bar, designed by Japanese furniture and interior designer Shiro Kuramata, was lifted off the streets of Tokyo's Shinbashi district brick by brick and reinstalled in the M+ East Galleries.
Upon entering, visitors will encounter a bright blue wall curving diagonally into a facade of steel panels, creating an intimate doorway full of intrigue. A seamless panel of cedar extends from behind the bar and reaches across the ceiling to the opposite side, backlit with a soft luminescent glow. The bold furniture, lamps and doors create a delicate balance within the interior space, a Mondrian-esque atmosphere characteristic of bars during Japan's economic boom when it first opened in 1988. The restaurant ultimately closed in 2004. — Angela Tian, Cataloguer
Antony Gormley, Asian Field, 2003
Location: West Gallery, 2nd Floor
Another must-see of the newly opened M+ is without doubt Antony Gormley's monumental Asian Field, a staggering sea of hand-sized clay figurines, which were individually molded over five days in 2003.
Upon entering, visitors are confronted with 200,000 unblinking gazes, whilst on the other side of the gallery, photo portraits of their makers — 300 villagers of all ages from Xiangshan (now Huadong Town in Guangzhou) — stare intently at the camera. This project is simultaneously a potent symbol of China's vastness and a warm reminder of the lives that flourish amidst the numbers. — Marian Ang, Cataloguer
---
Recommended Reading
The Art Lover's Guide to Seoul >
The Art Lover's Guide to Shanghai >