Roger Brown, Georgian Overview, 1976. Cooler by the Lake: Chicago Art 1965-1985.
Phillips is pleased to announce its first private selling exhibition dedicated to the artists that have come to define the Chicago art scene. Curated by gallerist Karen Lennox, Cooler by the Lake: Chicago Art 1965-1985 celebrates the vision and influence born from the artists of the Windy City during two of its most significant decades of creative output. Including works by Roger Brown, Miyoko Ito, Jim Nutt, and, Christina Ramberg, the exhibition brings together an extraordinary group in the new New York galleries at 432 Park Avenue, where the show will be on view from 10 December to 15 January. Here, art critic and journalist Judd Tully recalls the vibrant city and the artists who put Chicago on the radars of collectors and gallerists alike.
---
Written by Judd Tully
When I flew to Chicago on a brilliant summer's day in 1984 and saw from on high the deep blue waters of Lake Michigan, I knew I was back home, but this time on a mission to take the city's contemporary art pulse for Flash Art magazine. As a young freelance writer, it was a kind of dreamy junket: nine days of pounding the pavements and riding the elevated trains, visiting artist studios and galleries, not to mention the bars and restaurants. It all came about at the prodding of gallerist Phyllis Kind, who badgered the Italian magazine publishers that more attention had to be paid to the Windy City if they wanted her continued advertorial support. True to form, the late and visionary dealer who showcased both contemporary and outsider art, and who art critic and former Chicagoan Jerry Saltz characterized at her passing in 2018 as a "formidable livewire," punched hard for her roster to gain critical momentum beyond the regional shores of the city.
By the time of my arrival, two painters in Kind's bronco-busting stable had already made waves in New York, namely Roger Brown (1941-1997) and Ed Paschke (1939-2004), while Jim Nutt and his wildly bizarre yet riveting figurative style trumped his brethren with a one-off, outlying exhibition at the Whitney Museum of American Art back in 1974. Nutt had his first solo at Kind's Ontario Street salon that faced the Museum of Contemporary Art in 1970, some five years before the dealer opened a satellite space in SoHo to further groom her eclectic brood. They included Margaret Wharton and her deconstructed, ghost-like chair sculptures and the mesmerizing colored pencil drawings of Outsider artist Joseph Yoakum, who came to making art from a dream he had in 1962 at age 71 and made 2,000 works in ten years.
Nutt's ultra-precise yet zany figuration, sometimes with the cartoonish figures covered with sharp metal objects, tattoos and runny sores, sat well with Paschke's photo-derived, darkly menacing cast of characters sourced from the underbelly of Chicago's burlesque houses, circus freak shows and other sinister venues, akin in part to reading a Nelson Algren novel. Fellow stable mate Roger Brown, Alabama born and bred and harnessed to a stinging wit laced with arch-conservative values, produced flat as pancake vistas, either urban and high-rise populated or more down to earth and beautifully minimal landscapes. Unlike both Paschke and Nutt, Brown's figures were black, silhouetted shapes as if seen from afar. But the genesis as it were of what has been coined (or anointed) the Chicago Imagists, a Windy City movement that spun off or kick- started a number of others such as the Hairy Who and the NonPlussed Some, began at the Hyde Park Art Center, occupying the site of a former garage on the South Side of Chicago. Think of it as splinter groups of a Caliphate-like school, that is, The School of the Art Institute of Chicago (SAIC).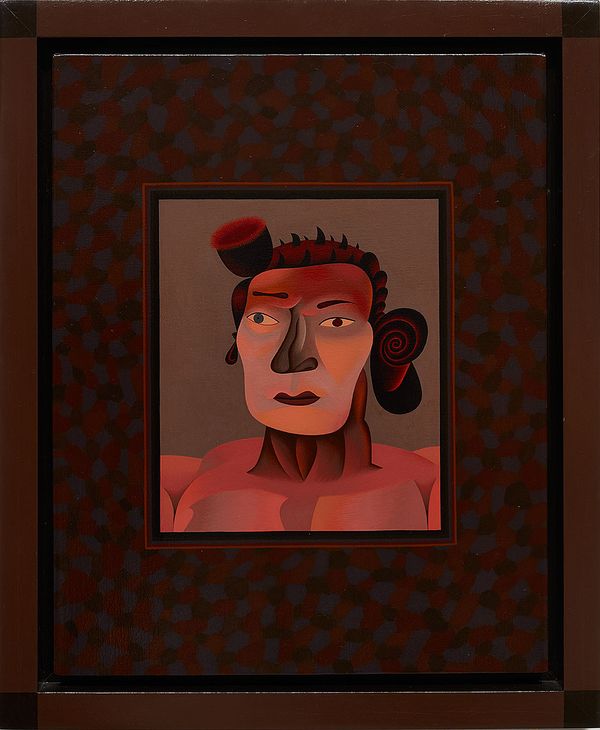 The Hairy Who name came about when fellow founding member Karl Wirsum (1939-2021) overheard the name of Harry Bouras, a Chicago radio show host, art critic and sculptor – Wirsum reportedly asked, "Harry who?" Back at the Hyde Park Art Center, maverick curator, artist, impresario and talent scout Don Baum launched a dizzying number of history-making exhibitions there, including "The Chicago School 1955-60: The Monster Roster" in 1964 that staged the tough, often grotesque and psychologically charged figurations of Leon Golub, June Leaf, Nancy Spero, Cosmo Compoli, Irving Petlin, Seymour Rosofsky, and H.C. Westermann, albeit during the monopolistic heyday of the Abstract Expressionist movement.
You might say this group that burst out of World War II and the halls of SAIC, along with Baum's mantra "to permit," became the motherboard of The Chicago Imagists. It was also Baum's self-styled exhibition at the Museum of Contemporary Art in 1969, "Don Baum Says Chicago Needs Famous Artists" that spurred the late Chicago critic and curator Dennis Adrian to characterize Baum as a "fireworks display going off all the time." If there's a quintessential image that anchors the Chicago Imagists and one that always fascinated me is Ivan Le Lorraine Albright's terrifying 1929-30 painting, Into the World There Came a Soul Called Ida, residing in the permanent collection of The Art Institute of Chicago. Known as the "master of the macabre," Albright's visage of an aging and garishly repulsive woman gazing into a hand mirror while seated in a superbly rendered domestic interior somehow epitomizes the Chicago vibe – that, along with a generous dose of European Surrealism.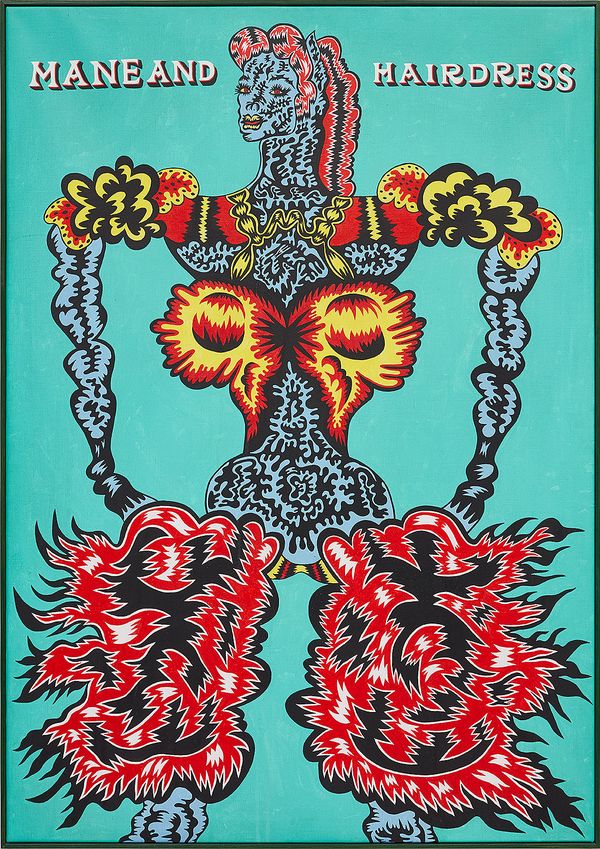 Before battening down those parameters of what makes the Imagists tick and how a city produced so many artists of note, other currents from Lake Michigan also come into play in non-figurative waves. The biomorphic forms and pastel-hued abstractions of Berkeley born Miyoko Ito (1918-1983), who spent part of her young adulthood in a California internment camp and later studied at SAIC, became part of the self-named Allusive Abstractionists in 1981. Along with fellow Chicago painters William Conger and Jeannine Cook, the mini-movement was described by critic Mary Mathews Gedo in 1982 as the "prescient prophets of the new style of abstraction." Ito also caught the eye of Phyllis Kind who represented the artist until Ito's death. In her posthumous retrospective "Heart of Hearts" at Artists Space in 2018 that echoed the influences of Paul Klee and Odilon Redon, guest curator Jordan Stein quoted the long suffering Ito, "I have no place to take myself except painting." Though stylistically oceans apart, Chicago Imagist Christina Ramberg (1946-1995), celebrated for her erotically sinister paintings of corseted and otherwise bound women and so closely allied with Brown, Nutt, Paschke, Wirsum, and Suellen Rocca, shared a close affinity with Ito since both artists spent some of their early years living in Japan. Even while Ito's mannered calm and vibrantly warm color palette that powered her paintings came about a generation earlier than Ramberg and her mates, the cross-currents from both camps intermingle and continue to vitalize that long-evolving Chicago scene.
Looking back to that long ago trip to the Windy City, those iconic skyscrapers and lakeshore art life continue to beckon.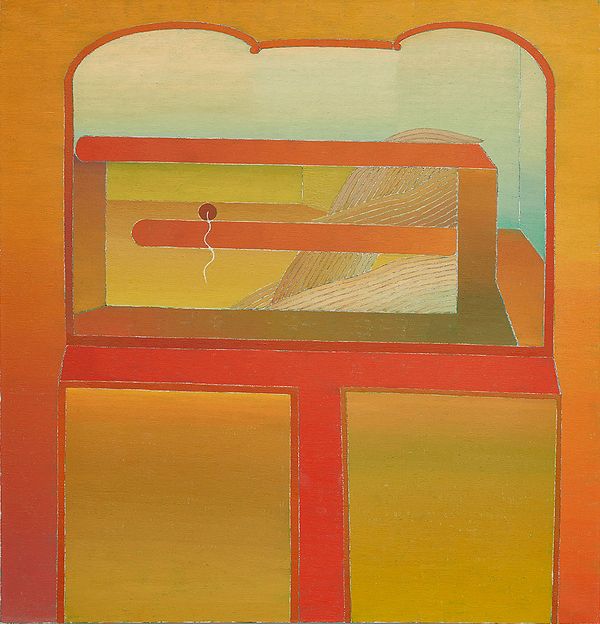 Judd Tully is an award-winning journalist and widely published art world writer and art critic, appearing in publications ranging from Artnews, The Artnewspaper, Avenue Magazine, Cigar Aficionado and Smithsonian to the San Francisco Chronicle and the Washington Post. Many of his early pieces from the 1980s appeared in Chicago's New Art Examiner.
Discover More from Cooler by the Lake >
---
Recommended Reading