Oscar Heyman & Brothers, A Pair of Multi-Colored Sapphire, Diamond, and Platinum Double-Clip Brooches/Earrclips. Jewels New York.
Written by Vivienne Becker – part of a Jewels double feature editorial with Paul Flato & Hollywood Style.
Oscar Heyman, the New York jewelry designer‐manufacturer known as the Jewelers' Jeweler (the title of a book about the company by Yvonne J. Markowitz and Elizabeth Hamilton) is a leading architect of American jewelry style, as demonstrated by a collection of exuberant, colored gem‐set jewels in Phillips' December jewelry sale. Until fairly recently, the company remained largely behind the scenes, known mainly to industry insiders, but gradually the jewels of Oscar Heyman have been recognized and revered for their superlative quality, ingenuity of craftsmanship and for refined designs that move effortlessly between elegant classicism and dynamic effervescence.
The roots of this independent family‐owned and run company reach back to 1901, to Latvia, then under Russian rule, where two young Heyman sons, Oscar and Nathan, were sent to start apprenticeships in a jewelry workshop in Ukraine, which supplied to the foremost Russian jewelers, including Fabergé. Russian pogroms against the Jews forced Oscar and Nathan to emigrate to the United States in 1906, joined later by their brother Harry and eventually by their six other siblings; in all there were six brothers and three sisters working for the company. They found work in the burgeoning New York jewelry manufacturing industry, and for a while Oscar worked for Pierre Cartier, who opened the New York branch of the Parisian Maison in 1909. In 1912, Oscar joined forces with Leopold Cohen, another manufacturer, to set up Cohen and Heyman, and when Cohen left the partnership soon afterwards, the company was renamed Oscar Heyman & Brothers. The brothers' training in Russia, particularly in the crafting of fine platinum and diamond jewelry, proved invaluable, and before long their creations were being sold by leading American retailers, including Black, Starr & Frost, Gattle & Company, Raymond Yard, Marcus & Company, as well as J E Caldwell of Philadelphia and Shreve, Crump and Lowe, Boston.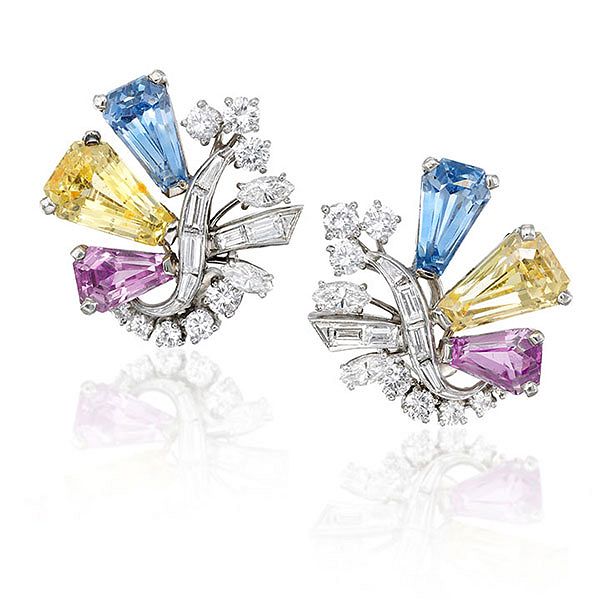 Oscar Heyman & Brothers, A Pair of Multi-Colored Sapphire, Diamond, and Platinum Earclips. Jewels New York.
The Oscar Heyman style became more assertive and innovative during the Art Deco years, as they interpreted fashionable geometric designs, or pieces set with calibrated colored gems in the Egyptian revival style made popular by the discovery of Tutankhamun's tomb in 1922, and brooches including their version of Tutti Frutti clusters of small, colored gems. In the late 1920s, a spectacular brooch, set with a Mughal carved emerald made by Heyman Brothers was sold by Marcus & Co to the avid jewel collector Marjorie Merriweather Post. As their creativity blossomed, Oscar Heyman became known for both classic diamond jewels and more whimsical designs – quirky conversation‐piece animal brooches and thrillingly detailed charm bracelets; jewels that reflected the emerging American style, with its freedom, flair and casual yet sophisticated panache. All the while, the company was refining its craftsmanship and technical skills, devising new production processes for which they were granted patents, including for hinge mechanisms, box links, and in 1933 a special construction for the fashionable double‐clip brooch. Yet it was really from the late 1930s onwards that Oscar Heyman developed its distinctive style, in tune with the bold, machine‐age modern cocktail style showcased at the 1939 New York World's Fair, with its focus on tomorrow's futuristic world of art, science and technology. Heyman Brothers was responsible for the creation of striking jewels exhibited at the World's Fair by major American jewelers, including Marcus & Co, Udall & Ballou and Black Starr and Frost. It seems likely that Oscar Heyman would have visited the Paris Exposition in 1937 which saw the first glimmerings of a new look for jewelry, streamlined, voluminous, mechanistic yet fluid, a look that evolved into the distinctive American retro style, a Heyman Brothers specialty, that won them commissions to create jewels for Tiffany & Company. In 1939 Heyman Brothers began manufacturing jewels for Van Cleef & Arpels, New York, notably their famous Mystery Settings, the Serti Mystérieux.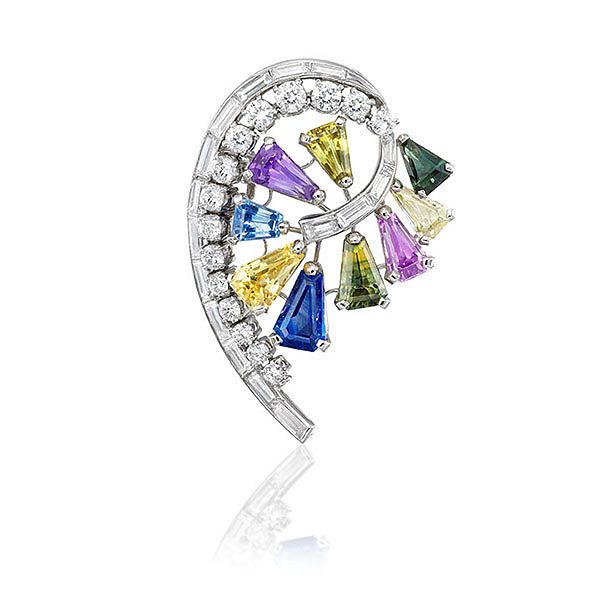 Oscar Heyman & Brothers, A Multi-Colored Sapphire, Diamond, and Platinum Clip. Jewels New York.
After World War II, when the company made components for watches, clocks and aeronautical instruments, along with patriotic jewels, Oscar Heyman was able to build on their success, excelling in both exuberant, cocktail style jewels and the more formal, supremely sophisticated all‐diamond jewelry that defined 1950s style. During these years and into the 1960s era of New York high society, with its cocktail parties and gala events, the name of Oscar Heyman began to be whispered among celebrities who owned their jewels – a flag brooch worn by Eva Peron and an imposing diamond necklace made for Betsey Whitney, wife of John Hay Whitney, U.S. Ambassador to the court of St. James's. Oscar Heyman was now celebrated for sumptuous, technically brilliant and effusive flower jewels, for ballerina rings, on which baguettes danced around a central star sapphire or ruby, and for jewels of unfettered glamour and sophistication so beloved by Hollywood stars. So much so that the company established an office in downtown Los Angeles to cater to the leading retail jewelers of Tinseltown. The Hollywood connection reached an apogee of fame, when in 1969 Cartier commissioned Oscar Heyman Brothers to create a necklace for the stupendous Taylor‐Burton diamond, purchased that year from Cartier New York. Oscar Heyman died in 1970 at age 81, and management of the company passed first to his youngest brother, George, and then into the hands of the next generation. From this time too, the name of Oscar Heyman emerged from the back room of the jewelry industry into the consciousness and collections of connoisseurs around the world.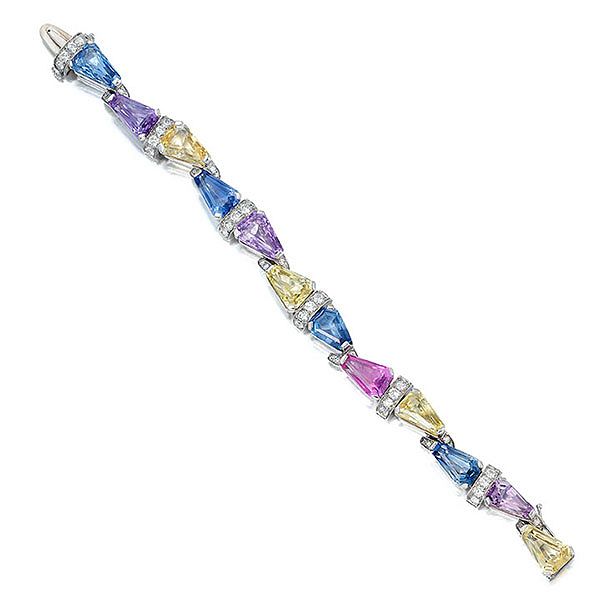 Oscar Heyman & Brothers, A Multi-Colored Sapphire, Spinel, Diamond, and Platinum Bracelet. Jewels New York.
The jewels in Phillips' December sale come from the 1950s and 60s, the years of glorious creativity, flair and originality, and of high society patronage – they were originally owned by the Kellogg family – all showing the characteristics and quality for which Oscar Heyman is justly renowned. As Tom Heyman, co‐President, explains, these jewels showcase the signature Keystone gem‐cut, specially developed for Oscar Heyman by cutters in Colombo, Sri Lanka, for the colored sapphires mined there. Tom Heyman explains that after World War II, Oscar Heyman travelled to Sri Lanka to buy quantities of beautiful pastel‐colored sapphires. He adds that the modified shield‐shape of these gems is also known within the company as the "calf's head" cut for its similarity to the pleasing shape of the animal's head, The exquisite stones were then set in their New York ateliers into dynamic designs, clustered in luscious abundance, generating a play of light and color, within swirls and curls of diamonds, especially in exuberant yet stylized flower jewels, so redolent of the cocktail age of Oscar Heyman classics, masterpieces of American jewelry.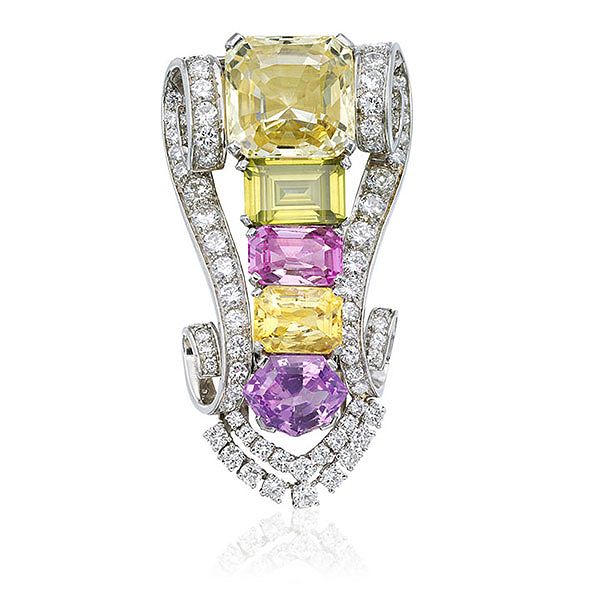 Oscar Heyman & Brothers, A Multi-Colored Sapphire, Synthetic Spinel, Diamond, and Platinum Clip. Jewels New York.
---
Recommended Reading