Patek Philippe, Ref.4321/4 1978. Sold for CHF138,600 at The Geneva Watch Auction: XIII May 2021.
Written by Vivienne Becker
It was the vision of acid-brights and micro-skirts at the Miu Miu S/S 2021 show, the slinky cut-outs at Mugler and white leather boots at Ralph & Russo, with their echoes of Courrèges, that concentrated my mind on the evergreen, ever-evolving influence of the 1960s on fashion, style and, of course, jewelry. This season's fashions are infused with youth-fueled energy and optimism, and certainly with a spirit of freedom and joyful renewal after the darkness of the past year and a half. A revival of the kind of freedom of expression that characterized the `60s youthquake, a vital ingredient of the social, cultural and artistic revolution of the swinging decade and the hedonistic, disco-dizzy 1970s.
Fashion's `60s flavor finds a parallel in today's massive resurgence of interest in jewelry of the `60s and `70s, defined as it was by the same freedom of creative expression. Just as `60s radical fashion rejected past values, rigid social rules and anachronistic formality, so the new wave of modernist jewelry design that took hold in the `60s and `70s rebelled against outdated conventions of style and material, challenging roles and rituals harking back to a defunct, elitist social order. And just as 1960s youth grabbed fashion, music, art for themselves, seeking a voice and a style of their own instead of mini-me versions of the grown-ups, so a new generation of designers found a dramatically different, relevant and provocative expression for the art of the jewel. It was a style that captured and crystallized its moment in time, that resonates today as the last cohesive, holistic jewelry style to define a decade and a cultural movement.
London was the place to be in the 60s – the Kings Road, Carnaby Street, Kensington Church Street (I remember my pilgrimages to Biba) – and so it's not surprising that the wave of modernism that transformed jewelry at that time was born and bred in London. It all started with a small group of innovative designers and artisan-goldsmiths, some art-school educated, some traditionally trained through apprenticeship. These creative craftspeople, including David Thomas, John Donald, Alan Gard, Roy King, George Weil, Charles de Temple, Gerda Flockinger, were led by the most fearless innovator and disruptor of all, the charismatic Andrew Grima. All of them found precious jewelry, still in post-war mode, out of step with the new, fast-moving, youth-driven world around them. Jewelry was caught in a timewarp, with little or no artistic value, reliant on the usual re-makes of clusters, stars or formal flowers, with no message or meaning, and ruled by an industry-generated value system that dictated an arbitrary hierarchy of preciousness of materials.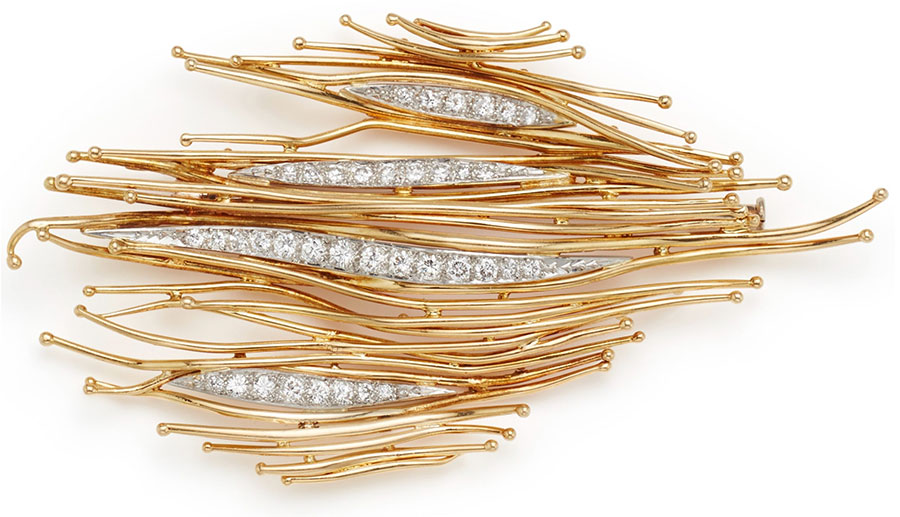 Andrew Grima, Diamond & Gold Brooch, 1964. Sold for $2,500 in New York Jewels & More December 2019.
The radical new look that emerged from this group and their ideas was freeform, organic, sculptural, offering up a potent, provocative challenge to the status quo, and aiming, as artists, like Lalique, had done before them, to elevate the jewel to the status of a work of art. Huge impetus in this concept came from the seminal 1961 Modern Jewellery exhibition, held at the Goldsmiths' Hall, London, organized by Graham Hughes, the art director of the Goldsmiths' Company, in conjunction with curators of the Victoria & Albert Museum (where the exhibition was supposed to have taken place). The exhibition traced the heritage of the jewel as work of art, from the 1890s to the 1960s, and included work by Rene Lalique, the great Parisian master jewelers, Scandinavian modernists, such as Vivianna Torun Bulow-Hube and Grima and his cohort of creatives.
The defining feature of the new style was rugged, rough-textured rich yellow goldwork; modeled and cast to resemble molten gold, volcanic magma, tree bark or the potholed surface of the moon – a reference to the space age and later the moon landing. Startlingly different from the pristine, uniform and static polished gold of traditional jewels, rather than a structural support or setting, this goldwork became a decorative feature in its own right. It also represented a fresh, new, almost hyper-realistic interpretation of the natural world, surely the most ubiquitous theme through jewelry history; And surely the best vehicle to showcase a dramatic and subversive break with the past, a crash through entrenched traditions and a lunge towards modernity. Grima loved to cast directly from nature – bark, twigs, leaves, cinnamon sticks, even pencil shavings – and to fuse textured, engraved gold wire into craggy, jagged, dynamic forms. Roy King was known to pour gold through a tea strainer, and then stretch it into organic shapes.
The goldwork was teamed with an equally subversive use of unusual, unexpected gem specimens, rough amethyst and citrine crystals, little known minerals, geodes, drusy agates, dioptase crystals, unpolished coral, turquoise matrix, watermelon tourmaline, huge crusty slabs of uncut stones, some like abstract paintings, others with an alluring sparkle like fairy-dust. As the style evolved in the 1970s, forms tended to become more geometric, more solid, again in tune with the march of modernity, with the influence of Art Deco and the original modernist movement. Goldwork remained rugged and textured, forms often looked cellular, or molecular, clusters of open circles or squares, and the repertoire of gems moved toward hardstones like tiger's eye, malachite, or coral, all strong 1970s style signatures.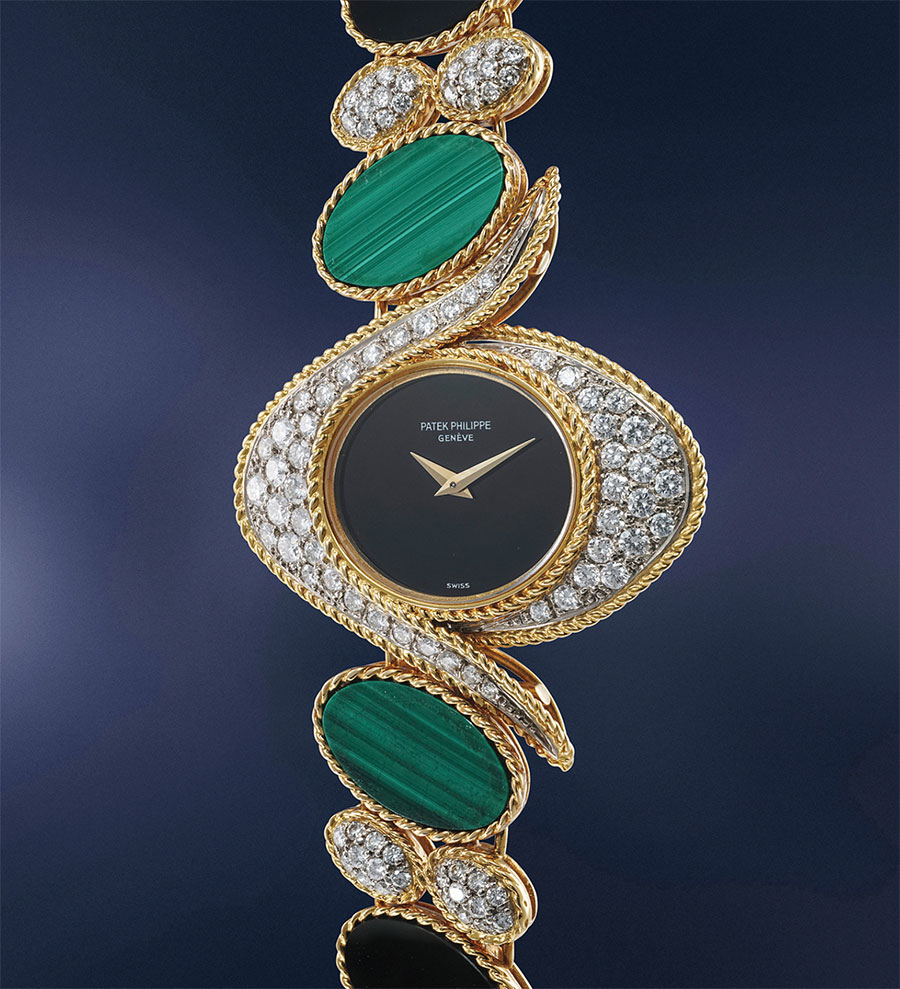 This trend began to emerge too in the particularly strong connection between modern jewelry and Swiss watchmaking during the 1970s. Watchmakers were also asking their own questions, faced with the disruption wrought by the advent of the quartz mechanism. Daringly, Omega commissioned Grima to create a series of fantasy timepieces – true collector's items today – while Patek Philippe worked with Swiss designer-jeweller Gilbert Albert, and Bueche-Girod with London-based Roy King. The Swiss master watchmaker Piaget was also making a name for itself with dramatic, fashion-forward cuff watches – jewels that happened to tell the time. And what a time it was.
There was a clear synergy with contemporary art, sculpture and architecture, a spirit of connectivity in the arts, a breaking down of borders and barriers that infused both jewelry and fashion (another factor that caught my attention as I gazed on the op-art stripes and geometric patterns of Miu Miu's designs for the season). The slate and blackened steel brutalist façade of Grima's startlingly contemporary boutique in Jermyn Street, London, was the work of sculptor Bryan Kneale, underlining the sculptural, architectural quality of the jewels on offer inside. Art Schools began to teach jewelry design, Gerda Flockinger headed up a new course in experimental jewelry at Hornsey College of Art, while a guiding influence also came from the celebrated artists who turned their talents to jewelry in the late 1950s and early `60s: Picasso, Calder, Dali, Braque. Yet more impetus came from the burgeoning crafts revival, from the Studio jewelry movement, a reinvigoration of the Arts and Crafts ideology of an object, including a jewel, that was conceived and hand-crafted by one individual with a singular vision. All elements came together to question the role or place of the jewel in the world of art and design, to ask the question – still ongoing – is the jewel art?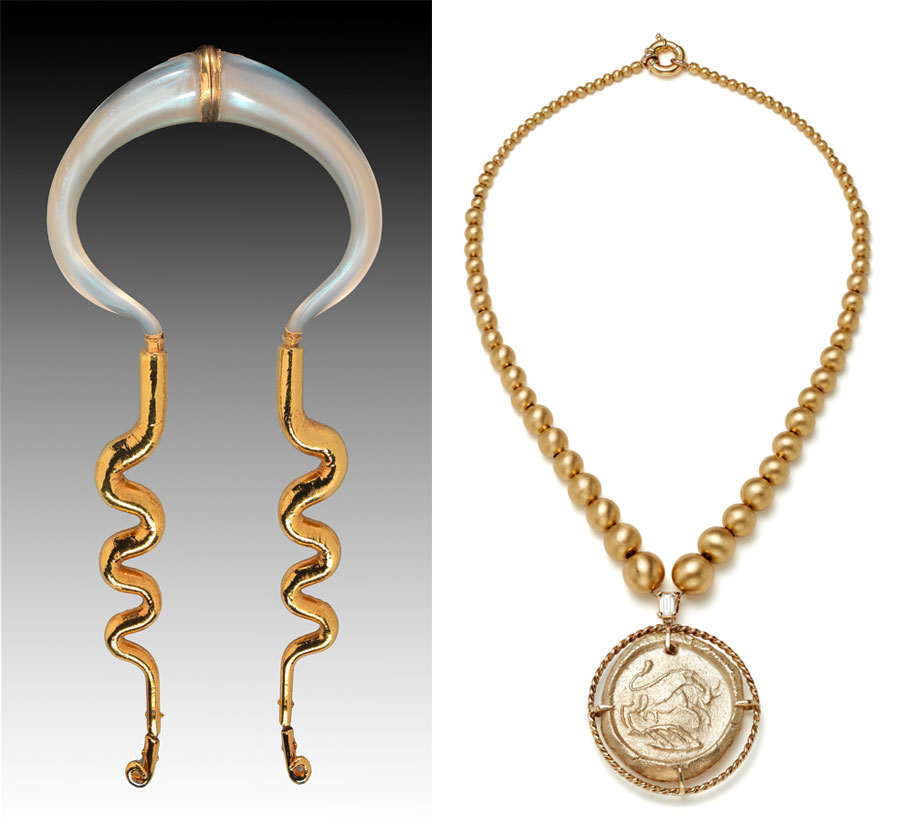 Stanley Lechtzin, Resin, Silver Plate, and 24k Gold Torque, 1972. Smithsonian American Art Museum, Gift of the James Renwick Alliance and the Smithsonian Women's Committee, 1993.10, © 1972, Stanley Lechtzin. Pablo Picasso, Diamond and Gold Necklace. Sold for $2,500 in New York Jewels & More Online Auction June 2019.
The drive for a new, more artistic, and resolutely modern expression for the age-old jewel spread out from London across the world, and in different design directions. In Switzerland, Gilbert Albert interpreted the mood in his own distinctive, sculptural style, experimenting with materials as varied as lava, meteorites, and scarab-beetle wings; in France, Jean Vendome crafted astonishing jewel-structures, veering between organic and architectural, while in the United States artist Stanley Lechtzin, conjured dream-like jewels of such organic fluidity they seemed like living organisms. Gold and goldwork became a 1970s style signature: the favorite material of seminal `70s designer Aldo Cipullo, who sculpted it into smooth, tactile yet streamlined androgynous jewels to be worn all day every day; and loved too for its malleability and richness by New York celebrity jeweller David Webb, who drew on ancient and exotic influences, while on the other side of the world, in Greece, goldsmith Ilias Lalaounis was reinterpreting his Greek goldsmithing traditions through the filter of the modern age, with collections based on geometry or the solar system.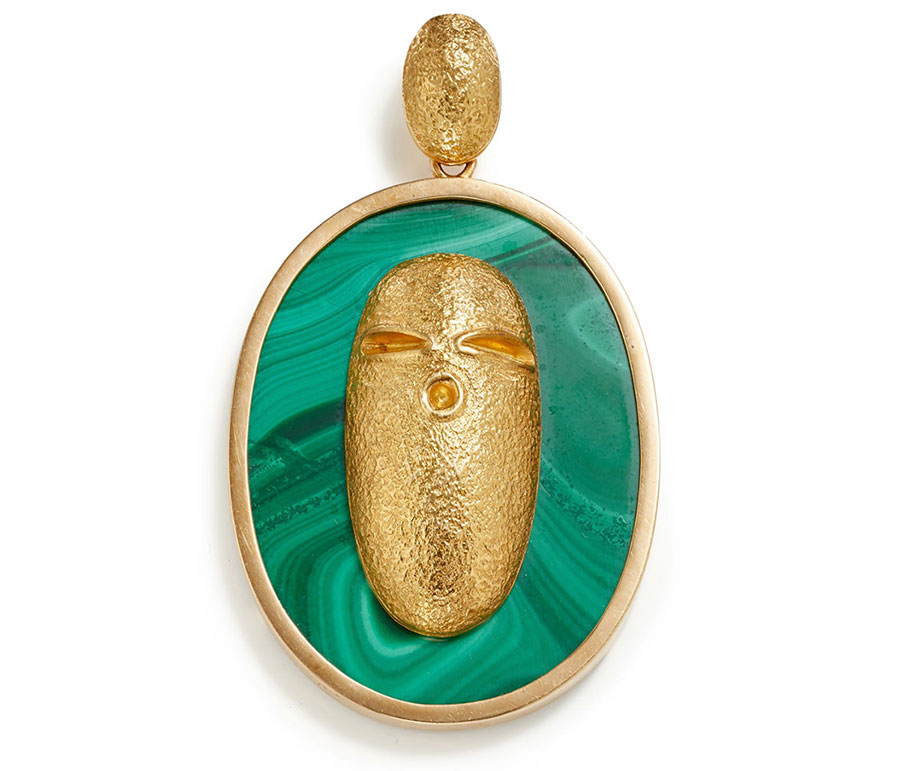 These illustrious names, along with more proponents around the world who have perpetuated the ongoing quest for the jewel-as-art, have left us with a legacy of compelling creations that tell of their tumultuous moment in time, and like those retro-60s fashions, look so perfectly right, both relevant and ravishing, today.
---
Recommended Reading
Jewels, Fashion, and Identity >
Jewels, Power, and Gender Fluidity >