Paul Flato, A Superb Carved Emerald, Diamond, and Platinum Bracelet. Jewels New York.
Written by Vivienne Becker – part of a Jewels double feature editorial with Oscar Heyman: A Home-Grown American Jewelry Style.
Paul Flato (1900‐1999), one of the architects of 20th century American jewelry style, was the first, and original, "Jeweler to the Stars." He created jewels of powerful originality, redolent of their age yet enduringly modern, injecting effortless elegance with wit and whimsy, enriching them with an eclectic array of themes and inspirations. In their casual opulence and panache, Flato's jewels embodied American democratic principles, dismantling the jewel's formality as a symbol of authority, of royal or noble elitism. Yet, at the same time, Flato's high‐octane glamour turned his jewels into the sought‐after 'badges' of Hollywood royalty and New York high society. Flato jewels were designed to grab the limelight, to be noticed, gossiped about, and today, they still exude that star quality, as shown to perfection by the theatrical bangle in Phillips' New York December auction.

Paul Flato was born in Texas to an affluent family of German immigrants. Perhaps influenced by the finery he saw around him at parties and social gatherings, he discovered his creative streak at a young age, collecting agates and watching local craftspeople handwork silver wire into ornaments. He moved to New York in 1920 and embarked on a business studies course at Columbia University but left after a year when his family stopped his allowance in the hope he would return to Texas. Instead, he took a job as apprentice to a Fifth Avenue jeweler, perhaps through a newfound friend who was a Tiffany designer. Flato was just 27 years old when he established his own jewelry business in New York, and very quickly his taste, innate charm, and society connections brought him swift success, along with a glowing reputation among the city's glitterati. At first, he specialized in fine pearls, creating rare and precious necklaces, and began to work with a relatively little‐known diamond merchant called Harry Winston, setting Winston's stones into his creations. This mutually beneficial relationship developed through the years: Flato set the famous 125.65-carat Jonker diamond into a necklace that received huge media attention when it was worn by socialite and actress Dina Merrill, daughter of Marjorie Merriweather Post.

Naturally gregarious, and a bon vivant, Flato understood the value of image, of moving in the right social circles and living the high life. He was a regular at El Morocco, at society parties and red-carpet events. He also understood the personal nature of the relationship between jeweler and client, and clearly saw the potential of the emerging concept of the individual designer‐jeweler. He was adept at spotting design talent and employed gifted designers, including George Headley, and most famously Fulco, Duke of Verdura, who was introduced to him by Diana Vreeland. Each of his designers worked in a different style, and each was skilled at interpreting Flato's often zany ideas, transforming them into jewels that were lusted after by New York socialites, fashion leaders and Hollywood stars. Flato's jewels ranged from classic yet contemporary naturalistic floral sprays, that he described as "drippy," as their sculptural leaves and petals glistened with diamonds like dewdrops, to quirky, witty gold and gem‐set daytime jewels, designed as shoes, feet, cacti, angels, money bags, and hands that spelled out the letters of sign language – perhaps to refer to his own hearing loss. His celebrated plump or so‐called 'puffy' hearts originated in a design made for and with Millicent Rogers; a luscious heart paved in rubies, shot through with a gold and diamond arrow and draped with a blue banner bearing the motto verbum carro ("the word made flesh" – a biblical quotation).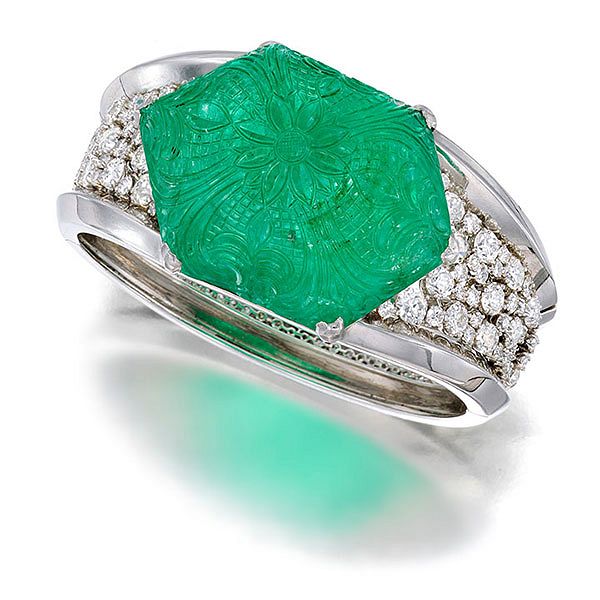 Paul Flato, A Superb Carved Emerald, Diamond, and Platinum Bracelet. Jewels New York.

In 1938, Flato opened a boutique on Sunset Boulevard, Los Angeles, his reputation boosted by jewelry he designed for Katherine Hepburn and Doris Nolan to wear in the movie Holiday, released that year. From this time, at the height of Hollywood's Golden Age, Paul Flato became the quintessential jeweler to the stars, his creations worn, both on and off screen, by actresses including Greta Garbo, Ginger Rogers, Rita Hayworth, and Marlene Dietrich, for whom he made a spectacular diamond and cabochon emerald bangle.
Twice married, Flato loved to travel, especially to Europe, to Paris, where he met Suzanne Belperron and Gabrielle Chanel, and to South and Central America, absorbing the wide‐ranging influences that gave his jewels their modernity, relevance and richness. The Mughal‐style carved emerald in the diamond bracelet coming up for auction bears testament to these influences, and to the diverse cultural inspirations that were reinventing jewelry design in the 1920s and '30s. Here Flato has set the impressive emerald, high and proud on a streamlined, graphic diamond‐paved bangle – with echoes of the famous Dietrich bangle. The bracelet is accompanied by a letter of authentication and an original sketch that shows the carved emerald in a different bangle design; very often Flato would suggest different settings for an important gem such as this, especially if the jewel was a commission or the gemstone the client's own.
Sadly, Flato's imagination and charm were not matched by his business acumen, and in the 1940s he found himself in financial difficulties which culminated in a series of prison sentences. However, he bounced back, and in 1966, moved to Mexico City, opening a boutique there, and continuing to design and create jewels, of Mexican and South American influence, until the age of 90, when he returned to Texas to spend his remaining years with his two daughters.
---
Recommended Reading