Mickalene Thomas, Looking Up (From the She Works Hard for the Money Pin-Up Series), 2004
Estimate: HK$1,000,000 - 2,000,000 (US$128,000 - 256,000)
Lot 52, 20th Century & Contemporary Art Evening Sale, November 30
Mickalene Thomas, Looking Up (From the She Works Hard for the Money Pin-Up Series)
Mickalene Thomas is deliberately subversive in her art practice, defying heteronormative discourse, redefining beauty and empowering women of color, all while blurring the divide between high and low art. Currently the subject of a global solo show, Beyond the Pleasure Principle, Thomas' body of work, with its chief concern of celebrating Black women, has been exhibited at the Guggenheim and Whitney, and collected by the Museum of Modern Art in New York.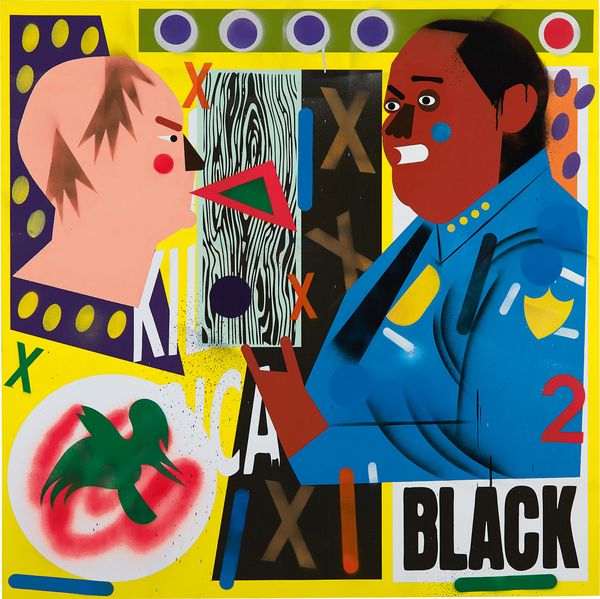 Nina Chanel Abney, Untitled (IXI Black)
New Jersey-based artist Nina Chanel Abney is celebrated for her striking, distinctive artwork that explores the complex social dynamics of contemporary urban life. As the first painting by Abney to be offered at auction in Asia, Untitled (IXI Black) is an incredibly arresting work from her oeuvre which was featured as part of her first museum solo exhibition, Nina Chanel Abney: Royal Flush.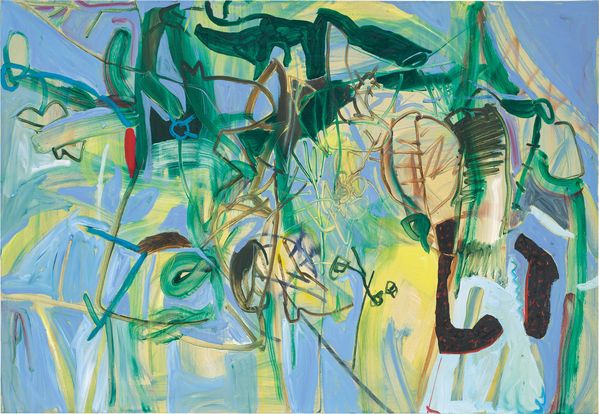 Jadé Fadojutimi, Fishing for Steps
One of the most exciting painters working today, London-born Jadé Fadojutimi has proven to be an indomitable force in the contemporary art world. Fishing for Steps was created in 2017, the same year as Fadojutimi's graduation degree show at London's prestigious Royal College of Art, where she first caught the attention of the Pippy Houldsworth Gallery, launching her meteoric rise to success. Perfectly exemplifying the dynamism and vibrancy for which she has become critically acclaimed, the work was presented at the Contemporary British Painting Prize exhibition that year.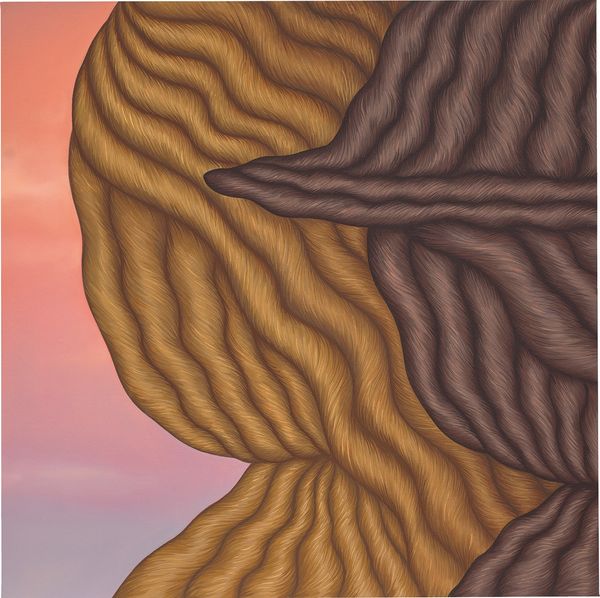 Julie Curtiss, Lateral Embrace II
Born in France to a Vietnamese father and a French mother, Julie Curtiss moved to Tokyo following her graduation from Paris' prestigious Ecole des Beaux‐Arts in 2006 and is currently based in Brooklyn. The tensions wrought by this intermingling of cultures drew Curtiss to the idea of the "other," as translated in her work through the uncanny dance between attraction and repulsion. The subjects of her figurative paintings are disquieting, utilizing the symbol of hair with a near fetishistic intensity. This motif is incorporated into oil paintings, gouaches and experimental sculptures.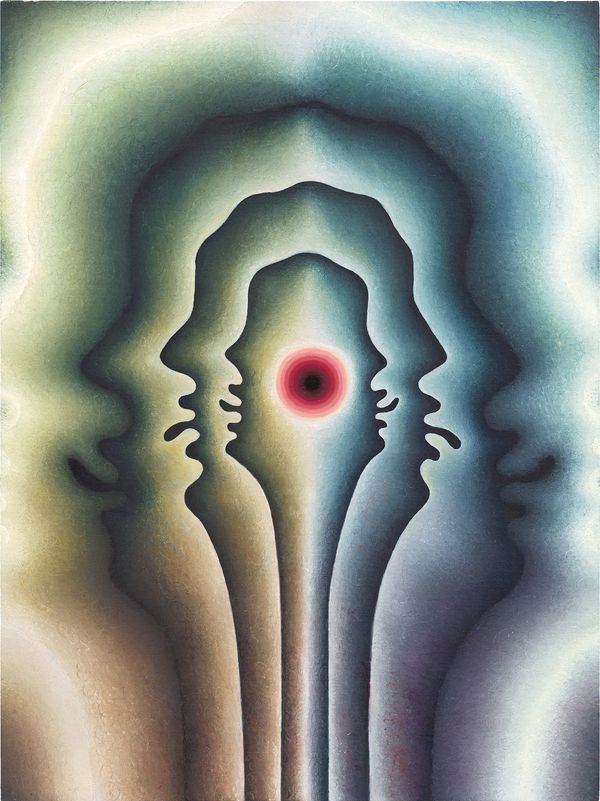 Loie Hollowell, Lick Lick in Blue, Green and Red
Phillips is excited to present the first painting from Loie Hollowell's Lick Lick series to come to auction in Asia. Known for paintings which explore the bodily landscape, Hollowell's practice lies in a realm situated between abstraction and figuration, the ethereal and corporeal, and investigates themes of sexuality, pregnancy and birth.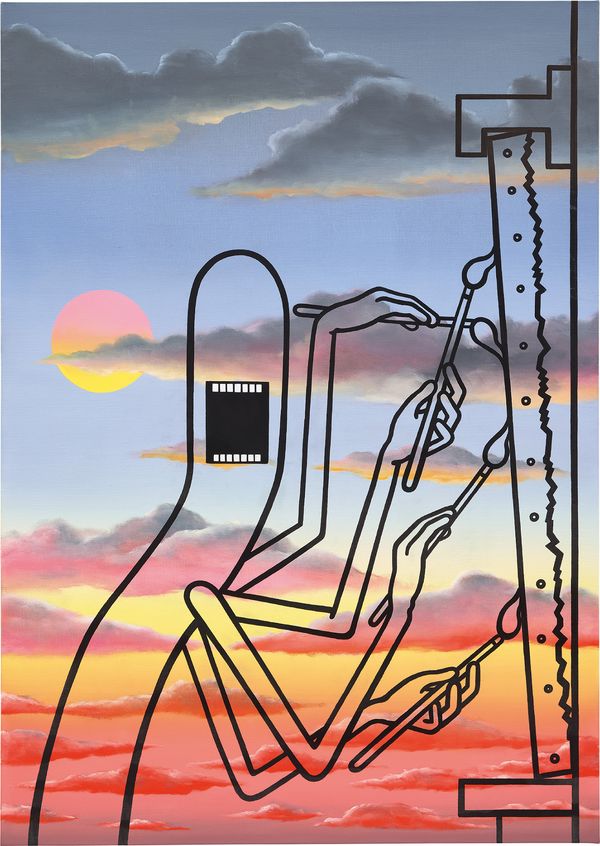 Emily Mae Smith, A Thousand Days
Tangled in symbolism, the wry and whimsical paintings of Emily Mae Smith have earned her significant international praise that only continues to grow. Looking to pop culture, surrealism and revisionist historiography, Smith devours and reformulates a wide variety of references to create her unique, intricate fantasy worlds within which her iconic Broomstick character resides. Its image nods to the artist's paintbrush and acts as a symbol of women-oriented domestic labor, with inspiration specifically taken from the dancing broomsticks in Disney's Fantasia whom Smith aims to liberate "from the film's menial labor and reproduction role."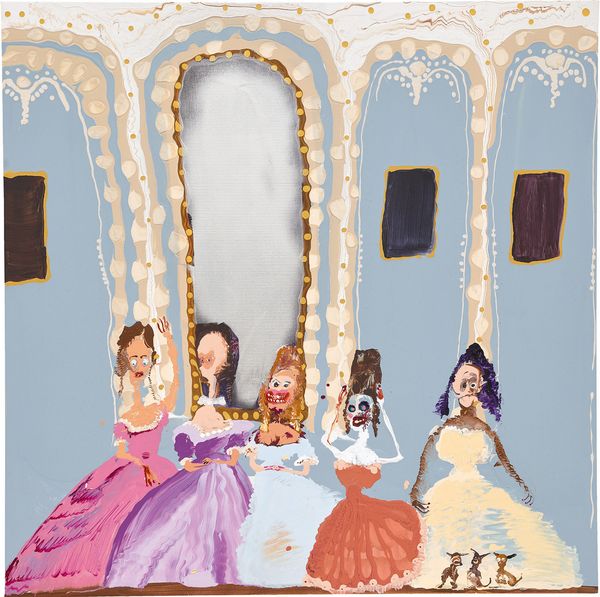 Genieve Figgis, The Powder Room
Genieve Figgis is a contemporary Irish painter known for her witty and subversive group portraits which satirize social norms of centuries past. Lampooning Western commercial consumption and the bourgeois tastes of the upper-middle class as dutifully captured by artists of the past, Figgis brings these subjects firmly into the present day with a mixture of satire and poignant depictions of real life. In The Powder Room, the hallmarks of Figgis' work — lushly painted textures and playful details — are all present.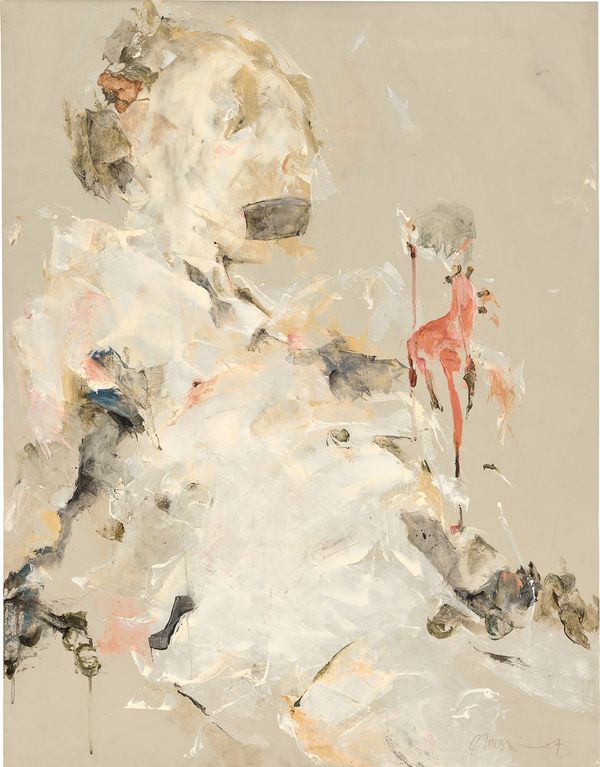 Christine Ay Tjoe, Welcome Monolog #5
Internationally recognized for her visually arresting and thought-provoking pieces, Christine Ay Tjoe is one of Southeast Asia's most prominent contemporary artists. Known for her distinctly intricate visual language, Ay Tjoe's beautifully introspective compositions are at once loud and contemplative, drawing from a diverse range of philosophical and spiritual references that simultaneously manifest the artist's inner turmoil while speaking to the universal nature of human emotions.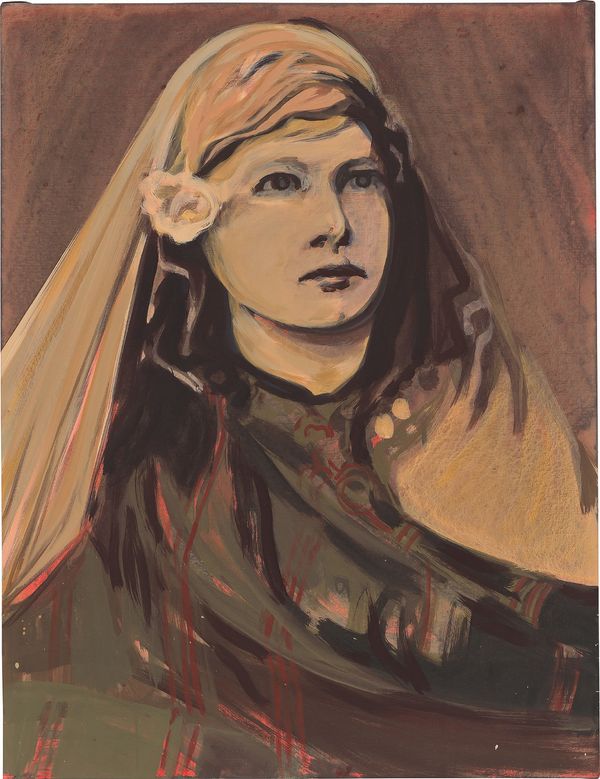 Claire Tabouret, La Revenante (The Female Revenant)
Drawing upon a personal archive of photographs and memories, the LA-based French artist Claire Tabouret creates her paintings with sweeping brushstrokes of muted blues, greens and — as in the striking example of La Revenante — yellows. The human being, often represented with evocative colors and dissonant acid hues, is at the center of Tabouret's practice. With a subtle fil rouge transcending space and time, her research puts together some key characters and moments in history, bringing them to life through her art.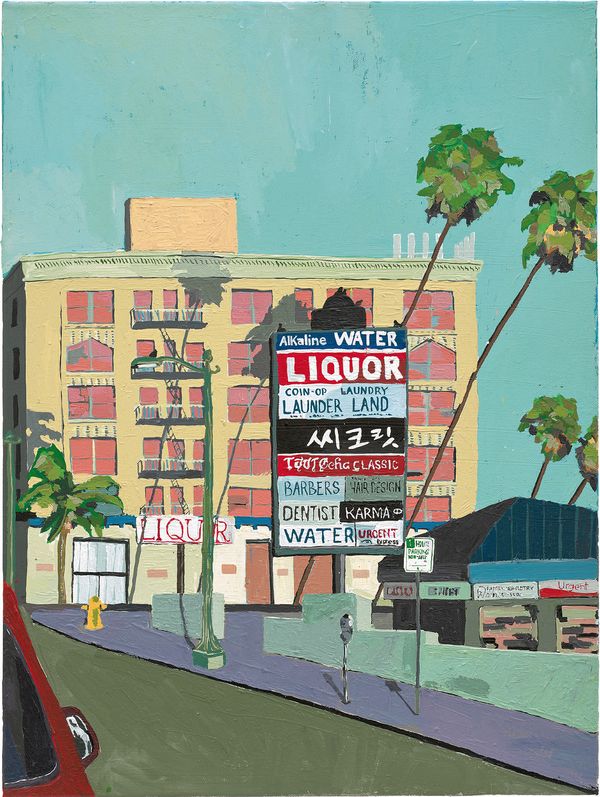 Hilary Pecis, Beverly
After balancing a full‐time job with being a new mother, Hilary Pecis only recently transitioned to art full-time in 2019. Her paintings are a love letter to sun‐drenched Los Angeles, with imagery taken from an archive of personal snapshots taken on hikes, visits with friends and from her own surroundings. Pecis crafts still-lifes and landscapes saturated with pattern and color, reproducing the essence of southern California.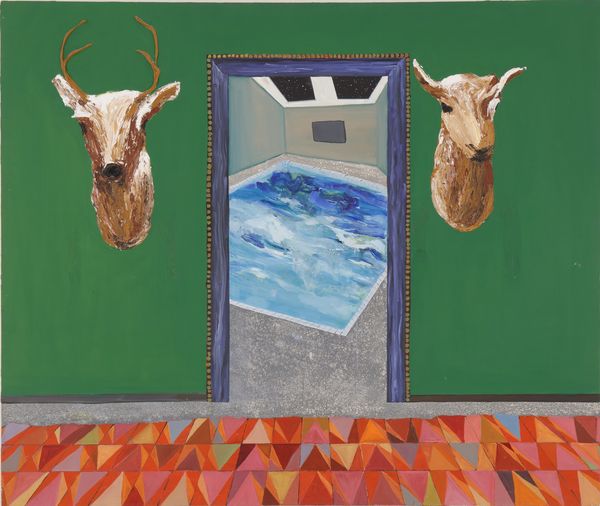 Shara Hughes,Legal Guardian
New-York based visual artist Shara Hughes is widely recognised for her surreal landscape and interior paintings that reinvigorate the viewer's perception of reality, and the intense Fauvist- and German Expressionist-inspired palette that suffuses these invented, dream-like spaces.Legal Guardian is a window into multiple phantasmagorical worlds: the woven Navajo rug placed under taxidermy deer heads which are mounted on richly textured forest green walls, whilst a modern swimming pool with churning waters lies just beyond the studded doorframe. The disorienting shift in one-point and two-point perspective between the two worlds, together with the invisible presence of the titular guardian, pulls the viewer between alternating states of enigmatic fascination and cryptic repulsion.
---
Recommended Reading