Joseph Beuys, Schlitten (Sled) (S. 12), 1969. Estimate £80,000 - 120,000. Beuys 100 London.
If you have all my multiples, then you have me completely. – Joseph Beuys
One hundred years ago, on the 12th May 1921, Joseph Beuys (1921-1986) was born in Krefeld, Germany. From this date on, the artist's biography, like his artistic output, blurred the line between fact and fiction, between truth and myth.
After a childhood spent drawing and playing the cello and piano in the small, North-West German town of Kleve, Beuys joined the Hitler Youth in the 1930's and subsequently volunteered for the Luftwaffe in his early twenties. After first working as a radio operator in 1942, two years later, Beuys was on a plane that crashed in the Crimea. He claimed his life was saved by a nomadic Tartar tribe who found and cared for the artist, putting him on a sled and wrapping his body in felt and fat to warm and regenerate it. The plane crash, and subsequent rescue story, became a fundamental and powerful myth of origins for Beuys in crafting his artistic persona. Official records state that Beuys was recovered by a German search party and recuperated in a military hospital, but the artist stuck to his story of rescue and rebirth throughout his life.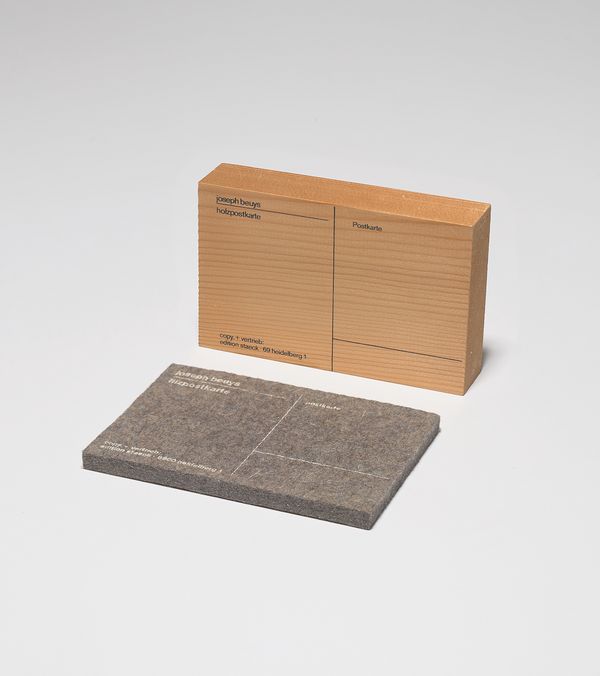 Joseph Beuys, Holzpostkarte (Wood Postcard); and Filzpostkarte (Felt Postcard) (S. 104, 539), 1974; and 1985. Estimate £600 - 800. Beuys 100 London.
Often referenced as an interpretive key for the artist's use of unconventional and visceral materials, the rescue story played a crucial role in Beuys' future artistic output the tale being widely proven as apocryphal. "Who would, or could, pose for photographs after a plane crash, when severely injured?" the Art Historian Benjamin H.D. Buchloh famously asked in a 1980 Artforum essay. "And who took the photographs? The Tartars with their fat-and-felt camera?"
Fat and felt. These materials are used repeatedly throughout Beuys' oeuvre, often bound together in alchemical constructions of found objects to create relics or tribal effigies. Painting Version 1-90, 1976 combines the opaque grey of felt with a torn circle (perhaps patiently waiting for an elbow patch) with oil and butter smeared across the surface. Postcards are rendered in wooden blocks and rectangles of felt: messages home that can never be sent. Large discs of mirrored glass and felt in Untitled, 1971 read as panelling, debris from a fallen aircraft, or as ancient shields discovered underground.
Joseph Beuys, Untitled, 1971. Estimate £30,000 - 40,000. Beuys 100 London.
Compelling and cryptic, the artworks Beuys created are like the scattered fragments of the artist's plane-crash: symbolic clues, which together form a healing myth of re-birth, both of himself as an artist, and of the German Nation after World War II.
The Schlittern (Sled), 1969, plays a crucial role in Beuys' story, and provides us with the tools we need to piece together his artistic myth: a wooden sled to carry the artist's broken body across the ice to safety, a felt blanket for warmth, a torch for sight, and fat for nourishment and healing.
Joseph Beuys, Schlitten (Sled) (S. 12) (detail), 1969. Estimate £80,000 - 120,000. Beuys 100 London; Joseph Beuys, Untitled, 1960. Estimate £40,000 - 60,000. Beuys 100 London.
These materials, the parts which make up the shrine-like Sled, and even its constructed form appear again and again throughout Beuys' work. Untitled, 1960 is an intimately daubed oil painting on paper - small enough to have been created in a sketchbook cradled in one arm. Using a leaden grey oil, the colour of felt and soot, Beuys crudely marks a design that mimics in vertical form the structure of the wooden sled, whilst also conveying a nod to portraiture: a brow, a nose, an open mouth. "If you have all my multiples, then you have me completely", stated Beuys. The Sled, this unsuspecting oil sketch, and indeed all Beuys' works can be read as self-portraits, as physical manifestations of the artist's myth.
Beuys' self-mythologising tendencies reveal an artist whose central interest was transformation, the alchemy of one thing turning into another. As a child in Kleve, Beuys had dreamt of becoming a doctor, and although art soon superseded medicine, he continued to strive in all his varying mediums to propose magical strategies of healing. His goal with every performance, carefully chosen found object, daubed painting, sketch, and meticulously composed multiple was to translate sickness into health.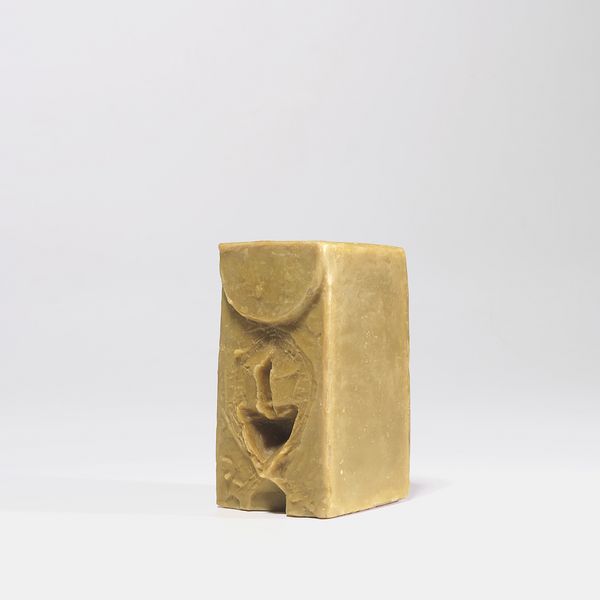 Joseph Beuys, Cuprum 0.3% unguentum metallicum praeparatum (S. 556), 1978-86. Estimate £15,000 - 20,000. Beuys 100 London.
Named after a homeopathic salve Beuys often used on himself, Cuprum 0.3 unguentum metallicum praeparatum, 1978-86 [lot 14], this beeswax multiple alludes to both literal and metaphoric themes of healing and is redolent with symbolic meaning. Originally intended to be published alongside a book about Beuys and medicine, the casting of each multiple proved tricky and the resulting totemic sculpture at first appears to deny interpretation. Like it's namesake ointment, Beuys included copper within the wax formula for this work, the conductive element warming the wax and facilitating its shaping. As beeswax is associated with natural healing remedies, so Beuys associated copper with the feminine, and the feminine with the role of the carer. The indentations forming the "image" could be archaic, pagan signs: bowl, flame, pentagram, sundial, and crystal, which converge to show the impression of a miner's headlamp. Creating a path of light through underground darkness, the headlamp echoes the torch on the Sled, symbolising hope against the human struggle with illness.
The hope of healing, of finding a cure both for human frailty and for a nation reeling from the trauma of war, is also present in Capri-Batterie, 1985. Made in the final year of the artist's life, whilst he recovered from lung disease on the island of Capri, this multiple is imbued with the sunshine of the Mediterranean. Warmth, light, medicine and humour: Beuys combines the organic with the artificial to create a light bulb with an ecologically friendly fuel source, that will nonetheless deteriorate, shrivel, and disintegrate before being replaced.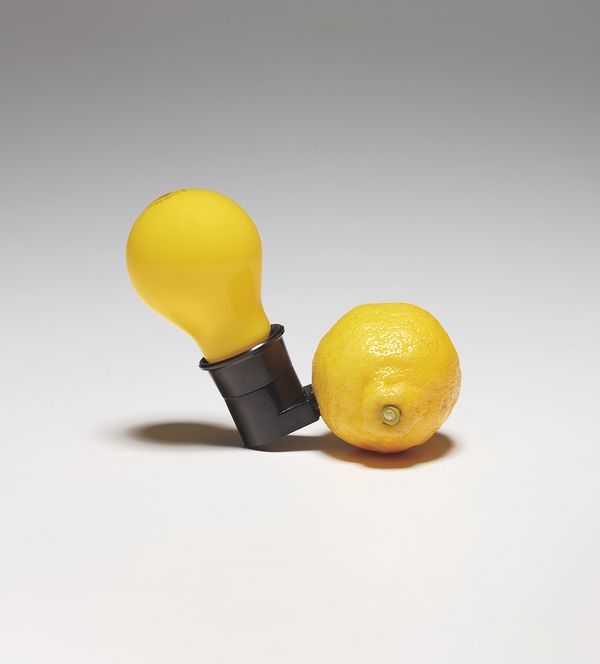 Joseph Beuys, Capri-Batterie (Capri Battery) (S. 546), 1985. Estimate £10,000 - 15,000. Beuys 100 London.
Frustrating and captivating, Beuys' weirdly beautiful, often abject body of work radiates meaning, even as it absolutely resists logical explanation. Taking humble, everyday materials and objects, the artist transformed scraps of paper, lightbulbs, the debris of a supper table, school equipment, and workman's tools into talismans and reliquaries of healing. Beuys embraced mediums of all hierarchies and his obsessive telling and re-telling of his artistic myths through all available forms has resulted in a hundred years of treasures that would take a hundred more to fully explore.

Joseph Beuys: Multiple Myths
Armed with an astounding arsenal of 60 Joseph Beuys multiples, Anne Schneider-Wilson of Editions London tackles the myth of the great artist on the centenary of his birth. Finding shared meaning between a wide array of objects, Beuys continues to show that a powerful myth can contain more truth than reality itself.
Discover More from Beuys 100 >

Recommended Reading
Specialist Picks: Unlikely Pairings, from Joseph Beuys to Roy Lichtenstein >