Milo Matthieu, Los Siete Infantes, 2021. New Now New York
The Crossover, a capsule sale in our New Now New York auction curated by Saint Fleur to benefit Project Backboard, brings together art and basketball and celebrates the ways the disciplines help build communities. Participating artists are donating proceeds of their artwork to support Project Backboard's first international project in Haiti, for which funds will directly go toward unique, artist-led renovations of community courts, as well as supporting earthquake relief efforts. Here, artist Milo Matthieu and former NBA pro-turned-collector Deron Williams speak with The Crossover curator Gardy St. Fleur about the harmonies between art and basketball.
---
GARDY ST. FLEUR: What kind of art did you grow up around? Was any specific work especially influential on you?
MILO MATTHIEU: I grew up with a lot of Haitian art throughout the house, and same thing at my grandparents' house — uncles, aunts, everyone had it hanging around, but it wasn't really until I got to Haiti for the first time when I really started to appreciate the work. As a kid, the most impactful art for me came from children's books, illustrators like Faith Ringgold and Maurice Sendak. We'd go to the museum too, so I had exposure as well to the old masters and contemporary artists, but the older I get, the more Haitian art is having a greater impact on me, and the more I become acquainted with my own culture, it becomes alive.
DERON WILLIAMS: I didn't really grow up around the art word, but I was an artist growing up. I liked to draw and art was probably my favorite subject throughout school, but obviously my focus was a little more sports-driven. My knowledge of the art world was really whatever you saw on TV and magazines, things like Van Gogh or the Mona Lisa, but I did really always enjoy drawing cartoons and animals growing up.
GSF: Tell us about your collection. What was the first work you collected and how has your collection evolved today?
DW: Well my favorite piece is actually the first piece I ever got, by Nathaniel Mary Quinn. I had gone to a few studios before and he and I connected well — I played with a few guys who came from his neighborhood. Being able to relate to him like that and it being my first piece made it feel that much more special. It made me appreciate him as an artist and what he was doing a lot more. Although now my collection's come to a halt because I don't have room for art. I'm not one to get something to store it; I like to display it.
GSF: What parallels do you see in being an athlete and an artist? How are the journeys of becoming a rising basketball star and a rising art star related?
DW: They're both crafts, and it's something you grow up loving to do — not many people get a chance to do what they love for work. And the hard work, of course. Both in the art wold and being an athlete. It's grueling. It's very hard to make it into those top galleries. It's an elite few for both.
MM: I complete agree. It takes that perseverance and discipline to stay resilient against the odds. You're in a pool of brilliant, talented individuals and you need that focus to stand out. And today especially, both artists and athletes respond to what's going on in the world around us, and we have that responsibility to be leaders in our communities.
Deron Williams. Photo by Mike Ehrmann/Getty Images.
GSF: Who or what is something we'd be surprised to learn that inspires you?
MM: I don't know how much of a surprise it is, but I love to travel and be immersed in new cultures, having to learn the language, hearing stories of the people and seeing the landscapes of new places. That's hands down the driving force behind all my painting, of coming back home to process it all; it gives birth to all of my works.
DW: For me it was the players who paved the way before me; guys I grew up watching and trying to emulate. Michael Jordan was the biggest but there were many more. Jason Kidd, Baron Davis, Allen Iverson, Stephon Marbury — they all had impacts on me as a player.
It takes that perseverance and discipline to stay resilient against the odds. You're in a pool of brilliant, talented individuals and you need that focus to stand out.

- Milo Matthieu
GSF: What do you hope to see come from Project Backboard's initiative in Haiti?
MM: I'm excited and hopeful that it'll increase accessibility and opportunity for young people. We see them going through so much on the island, so really anything that reaches those objectives would be amazing.
DW: It's about giving them an outlet, even with all that's going on around them. A basketball court and a work of art mix beautifully.
MM: Haitians are such creative, creative people. They make art out of anything, so to bring this art to them is a full circle thing for me.
GSF: Why are both art and sports important for kids? When did you personally know this was a passion you wanted to pursue?
DW: It gives a sense of passion and something to strive for. It wasn't my priority to get straight A's but I knew if I didn't pass I couldn't play, so it keeps you focused.
MM: I know we've mentioned it already but it's that sense of discipline. Also a community, which is really important. Both of them give you a way to form your self-expression, whether that's with art or it's on the court.
GSF: What's the best piece of advice you received coming up, and what would you tell a young person now that you wish you'd known?
MM: It was actually a quote I read by Hemingway, which I'll paraphrase because I don't want to mess it up — it goes, "There is nothing noble in being superior to your fellow man; true nobility is being superior to your former self." [Editor's Note: He did not mess it up.] It was important for me to know that as long as I'm continuing to evolve myself and working on my discipline, everything was going to kind of work out. It's important for us to know who we are, what our purpose is, and which path we're going to take. There's so many distractions out there, so just know yourself.
DW: My cousin coached college basketball when I was younger and I used to go to his camps. He explained to me at an early age how hard I needed to work to get to where I wanted. At the time I probably wasn't the most naturally talented player, but his words stuck with me, and I was always one of the hardest workers out there, and that got me where I needed to go. Take pride in your hard work and it pays off.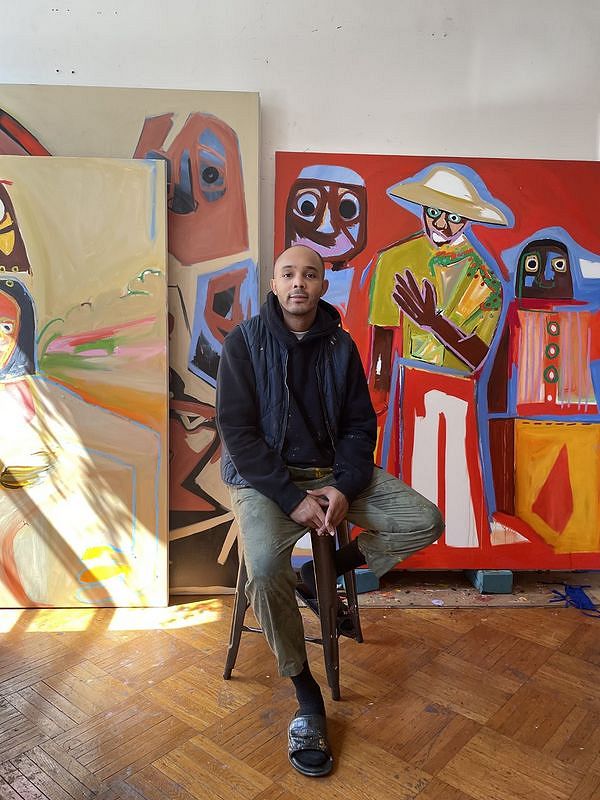 Photo: Courtesy of Milo Matthieu
GSF: Deron, If you were an artist, what type of art would you make and why?
DW: I was actually thinking about this earlier. I like Pop Art, but I honestly think it would be sculpture. I say that because I'm not great at building things, so if I had it any way I want it'd be sculpture. I'm blown away by the things people create, especially from recycled materials — some of these giant pieces that baffle me with how they stand up or hold together.
GSF: And over to you, Milo. If you were a basketball player, what position would you play and why?
MM: I did play sports growing up but I was always trash at basketball. But if I had the abilities, I would say point guard.
GSF: You're talking to a point guard.
MM: I know, I had to, but really for that position you have to be strong, a leader on the court, and also a facilitator. I played football, so it reminds me of the quarterback — not saying I was the quarterback, I played defense — but the similarities are there.
DW: How tall are you?
MM: I say 5'11 but I think it says 5'10 on my license.
DW: There you go, point guard right there.
To purchase a special edition copy of Common Practice: Basketball & Contemporary Art, please visit the book's website. 100% of the proceeds go to support the nonprofit organization Project Backboard.