Carlos Rolón, Cancha del Barrio San Jose, Toa Baja, Puerto Rico, 2019. Photo: Juan Cruz.
As part of The Crossover, a capsule sale in our New Now New York auction curated by Saint Fleur to benefit Project Backboard, Phillips will celebrate Project Backboard's mission to turn public basketball courts into vibrant and safe community spaces by transforming our new galleries at 432 Park Avenue into a fully-functioning basketball court from 20-27 September 2021. Featuring site-specific artwork by Brooklyn-based artist Steph Costello, the court will be free and open to the public. Participating artists from the capsule sale are also donating proceeds of their artwork to support Project Backboard's first international project in Haiti: funds will directly go toward unique, artist-led renovations of community courts, as well as supporting earthquake relief efforts.
---
Written by Dan Peterson

Jump Shot
In high school, art classes were my favorite, but I spent all my free time playing basketball. Growing up an hour and a half north of the city in rural New York, no kid I knew played more than me. Going into my senior year, two new, full-sized courts were built on top of a bare asphalt slab outside of our public school, and every day people would meet there after school for informal practice sessions. I would often go home for dinner and then go right back to the court to work on my game — pump fakes, one dribble pull-ups, free throws, and three-pointers — all on the unforgiving triple rims under the glow of the security lights until the local police would chase me off around midnight.
That season, our high school basketball team — a perennial loser — won half our games for the first time in a decade. Three years later, my little brother's team went 20-3 before losing the state championship game by only a few points. From those teams at least a dozen young men went on to play college basketball. As I see it, those new courts made it all possible.

Between the Lines
As a New Yorker, I was raised to understand that the highest form of basketball is played on public outdoor courts. The basketball on TV is fun to watch, of course, but it's something distant, closer to entertainment than real, live basketball. When I moved to Memphis, Tennessee, as an adult, I was shocked to find that most public park courts were bare; they didn't have game lines: free throw, three-point, out-of-bounds lines, nothing. Project Backboard started in 2015 as a simple effort then to add those lines to public courts.
That spring I was working at a court in Northeast Memphis and saw colorful shade structures along the sideline. I asked the artist, Anthony Lee, what color I should paint the game lines and key. Anthony went on to create a design for the entire surface. Looking at the finished product on the court, it was obvious something special was happening. The artwork changed the energy of the entire space. I knew then that collaborating with artists was the direction Project Backboard had to go in moving forward.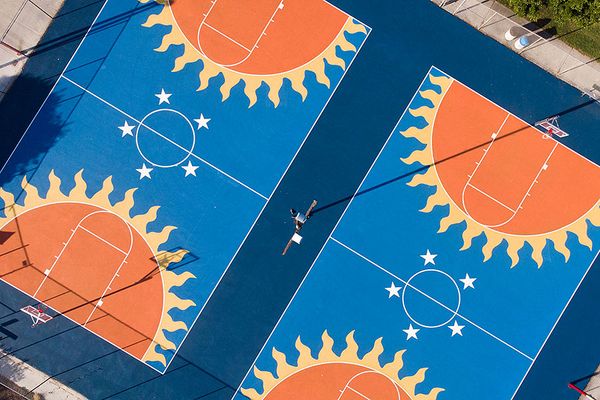 Colina Del Sol Park, San Diego, CA, 2020. Photo: Nicola Ciccarelli.
Teamwork
Since 2015, Project Backboard has worked with over two dozen artists and helped renovate many more basketball courts. What began with painting lines now involves full resurfacing (everything from patch fills, crack repairs, acrylic resurfaces, and color coating), to replacing backboards, rims, lights, and anything else the project calls for. For some, we've even included outdoor fitness zones, learning centers, and other community amenities. Collaborating with artists like Faith Ringgold, Nina Chanel Abney, Carlos Rolón, Jim Drain, and Alicia McCarthy, to name a few, has helped make the parks we work in busier, safer, cleaner, and more inviting, especially to young women and families.
At the time of Project Backboard's inception, it had been years since I had given art much thought. I didn't know anyone who owned or made art. Since then, I have gained so much from working with artists and discovered so many creators who have used basketball in their work as a way to explore important issues. I can't help but wonder how my life might have been different if I had known about these works as a teenager.
That question led directly to Common Practice: Basketball & Contemporary Art, published by Skira Editore and co-edited with John Dennis and Carlos Rolón, the first comprehensive illustrated publication to explore the relationship between basketball and the art the sport inspires. It features work from over 250 artists going back over a century. Like my work with Project Backboard, the goal of Common Practice is to encourage people to think more critically and creatively about their communities.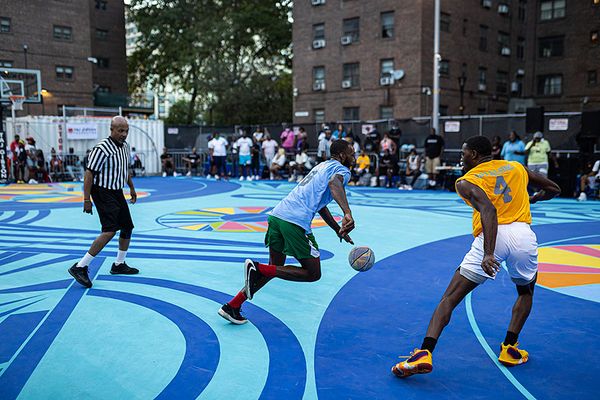 Steph Costello, Ingersoll Houses, Brooklyn, NY, 2020.
The Putback
Proceeds from the Project Backboard edition of Common Practice, which includes an exclusive poster from artist Titus Kaphar, have already funded a basketball court renovation featuring the work of legendary artist Faith Ringgold at Harlem's St. Nicholas Park. Hundreds of books have been donated to school, prison, and community libraries across the country. My hope is that people, especially young people who encounter the book or one of our courts will be inspired to start a daily creative practice of some kind, something of their own, whether that's athletic, artistic, or otherwise.
Though Project Backboard works at the intersection of basketball and contemporary art, our work is truly focused on developing creative and critical individuals and communities equipped to imagine and respond to a future that is different from the one they've inherited.
To purchase a special edition copy of Common Practice: Basketball & Contemporary Art, please visit the book's website. 100% of the proceeds go to support the nonprofit organization Project Backboard.
Discover More from Project Backboard >
---
Explore Project Backboard

---
Recommended Reading
The Starting Five: Highlights from The Crossover >
Sweet Jane in Fields of Daises: Celebrating Emerging Female Artists >