Kehinde Wiley, Rumors of War (Detail), 2019. Estimate $350,000 - 450,000. 20th Century & Contemporary Art Day Sale, Afternoon Session.
Written by Re'al Christian
Kehinde Wiley's Rumors of War was unveiled in Times Square in September of 2019. As the artist's first monumental public sculpture, the large-scale, equestrian bronze statue and its limestone pedestal measure 27 feet tall and 16 feet wide, putting it at eye level with the electronic billboards and marquees that line the city blocks. The rider—a young Black man with dreadlocks, a hoodie, ripped jeans, and Nike high-tops—turns his back to gaze over his right shoulder in solemn observation of a distant horizon. His right hand clutches his saddle, while his left grips the reins of his horse as the animal rears one of its front legs. Following its two-month presentation in New York, the sculpture was moved to the Virginia Museum of Fine Arts in Richmond. It now permanently resides amid a trove of Confederate monuments, including that of General J.E.B. Stuart, with which Wiley's sculpture bears a striking resemblance.
In both of its locations—at New York's commercial intersection, and adjacent to Richmond's contentious Monument Avenue—Wiley's statue seems to bear witness to histories both past and present. The figure's gaze and embodied gestures signify an awareness of being, an intentional centrality among our national conversations on public monuments. These debates have a long lineage, as artists, writers, activists, and intellectuals continue to grapple with the role of monuments in our country today, specifically those that correlate with the ongoing legacy of the Civil War and the statues dedicated to Confederate figures that were subsequently erected in the Jim Crow era. Wiley's sculpture offers a rebuttal to the oft-asked questions at the center of this debate: who should our monuments represent, and whose histories should be commemorated?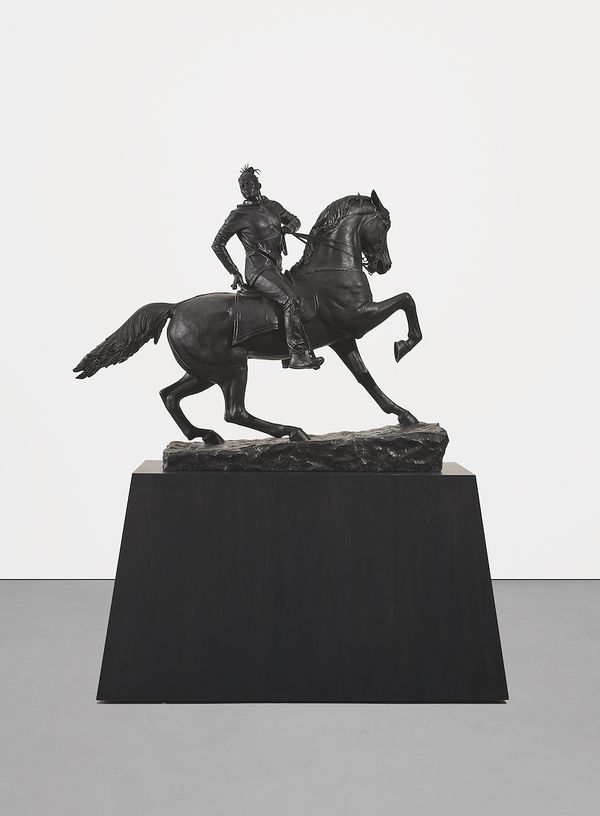 Rumors of War is part of an ongoing series of the same name, in which Wiley contends with historicized images of powerful men, from colonizers to Confederate soldiers. The series is dominated by classically-styled paintings and sculptures of valiant Black men rendered with impeccable detail and sumptuous realism, characteristic of the artist's extensive body of work. Historically, artistic depictions of powerful men have always borne a certain kind of romance, which Wiley leans into with physically beautiful, often seductive subjects. Earlier works such as Sleep (2008), for instance, demonstrate a queering of romanticized historical figure types, through the positionality of a monumental Black nude reclined against a delicate floral backdrop. The subjects in the Rumors of War series similarly loom over the viewer; in altering the scale of his figures, he creates monumental bodies that seem disproportionately large in comparison to their horses, a visual conceit that often appears in classical paintings.
Wiley notably contends with this particular canon through his painting Napoleon Leading the Army Over the Alps (2005), part of the Rumors of War series. The painting was the subject of a recent exhibition jointly organized by the Brooklyn Museum and the Châteaux de Malmaison in France, and featured Wiley's work set alongside neoclassical artist Jacques-Louis David's Bonaparte Crossing the Alps (1800–01). While David depicted his titular figure in the context of a mountainous landscape, Wiley's backdrop is comprised of a crimson and gold-enameled brocade. His subject is dressed in contemporary clothing, similar to the rider in the Rumors of War statue. The subjects gesture onward as a gust of wind whips through their capes; their horses forcefully rear their front legs, as the figures remain collected and commanding, their eyes locked onto the viewer. In conversation with other works in the Rumors of War series, Wiley points to the implausible bravado of such historical portrait-types. As the artist reflects, "Much of my work is devoted to the idea of distilling masculine power down to some of its most essential components within the history of Western painting, and in [Rumors of War] military portraiture stands in for the absolute proxy of that idea."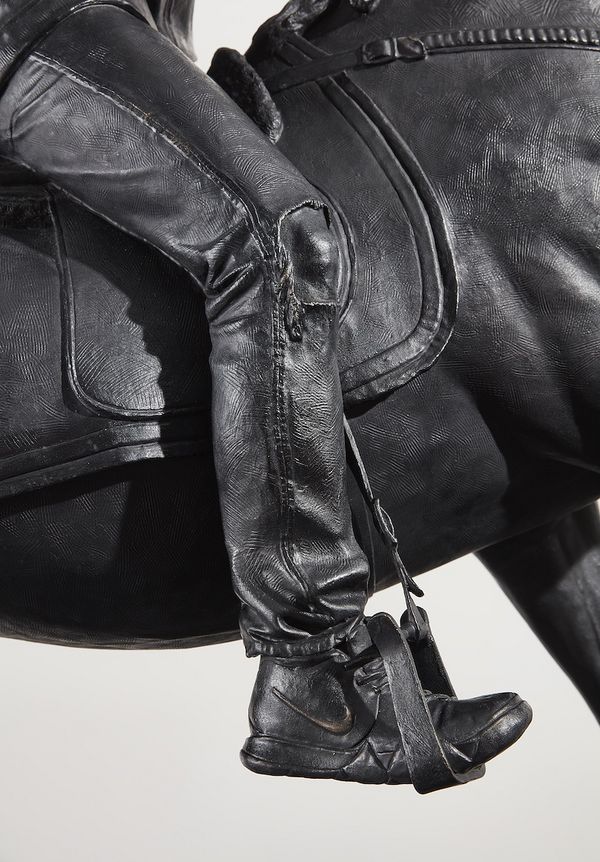 While there are visual similarities among the works within the Rumors of War series, we must ask ourselves what it means for Wiley's statue to exist in a public space, or outside of the art institution. Monuments are ultimately relics of authority, created to preserve and proselytize national narratives. Cultural historian TK Smith writes, "However true or false these narratives may be, monuments are built to grant them physicality and spread selective knowledge throughout public space. Monuments function as totems whose inclusion and exclusion of particular histories shape a narrative of national identity by which citizens are measured."
Over the past year, we've seen a growing number of empty plinths where statues dedicated to Confederate figures once stood. Organizations like the Toppled Monuments Archive and Monument Lab have engaged in critical conversations on many of these collective and individual actions, not only as a means to bear witness to this revolutionary response against the supremacy of grand national narratives, but to demonstrate the ubiquity of such actions across the world. In excluding or marginalizing specific histories (or those that contradict the mythos of American exceptionalism), monuments perpetuate ahistorical narratives. They do not represent history as a linear progression, but as a plurality of temporal connections. They romanticize the past and, by extension, the absence of the Other. In orienting us both physically and psychologically within public spaces, they have the power to co-opt the individual body into this porous temporality. When one's history is not represented through a monument, the violence of this co-option becomes increasingly felt.
But it is critical not to mistake representation for equity in the case of monuments. As Smith writes, "To put it frankly, the erecting of a Black body in bronze, alabaster, or gold does not give living, breathing Black people their full rights as citizens—a violent conflation that I battle in this discourse every day." Wiley's paintings grapple with the lack of Black figures within the canon of art history, but his singular monument—Rumors of War—demonstrates the symbolic power, the necessity, of humanizing forms in dehumanizing spaces.
Re'al Christian is a writer, curator, and art historian based in Queens, NY. Her work has appeared in Art in America, ART PAPERS, BOMB Magazine, and The Brooklyn Rail, and she has contributed texts to recent publications by CUE Art Foundation and Sikkema Jenkins & Co. She is a curatorial fellow at the Hunter College Art Galleries, and a contributing editor at ART PAPERS.
Discover More from 20th Century & Contemporary Art New York >

Global Gallery Tour 20th Century & Contemporary Art
Join us on a virtual global gallery tour of Phillips' upcoming 20th Century and Contemporary Art auction being held in our brand new, state-of-the-art gallery at 432 Park Avenue in the heart of New York City. This sale features masterpieces by David Hockney, Wayne Thiebaud, Vija Celmins, Gerhard Richter, Mark Rothko and many more.
---
Recommended Reading
The Prompt: A Neat Lawn by David Hockney >