Bill King, Halston PR Portrait (detail), 1977. The Halston Personal Archives: The Lesley Frowick Collection to Benefit the Halston Archive Fashion Scholarship Initiative.
You're Invited
Tuesday 14 September 2021 7pm–8pm
Join us for an intimate conversation with CEO and Founder of the Halston Fashion Archive Lesley Frowick; renowned fashion designer Naeem Khan; and art dealer and Frowick family friend Beau Ryan; moderated by journalist Max Berlinger.
---
Interviews conducted and edited by Max Berlinger
With his mirror-like aviators and smouldering cigarette, designer Roy Halston Frowick came to define the look of the 1970s. But to stop at the clichés is a disservice to a man that was, by all accounts, a complicated genius. Sure, it takes a steady hand and more than an ounce of nerve to propose era-defining fashions that swept away the unkempt hippie look, as he did. But look to the sleek, flowing minimalism imbued with an undeniable glamour and you get the sense that he not only understood clothing design but also how to translate the mood of the moment into, say, a floor-length bias-cut dress or a sensual cashmere set. He was as clear-eyed as he was forward thinking: Long before collaborations with mass retailers were commonplace in the luxury world, Halston worked with JC Penney (he famously said he wanted to "dress America") and before the current focus on diversity, his runways were always populated with his retinue who, while undeniably fabulous, represented a wide swath of life.
Because he was such a savvy marketer — searing that urbane image of himself into the consciousness of America — it can be easy to reduce him to a caricature. But Halston was, of course, also a human being; a man with passions and shortcomings, obsessions and weaknesses. He was an aesthete, a generous host, a family man, and a Midwesterner at heart. Most of all, he was a man who not only created beauty but appreciated it, in all its forms. That's why Phillips is proud to announce this one-time-only Halston Archives auction, made in collaboration with Lesley Frowick benefitting the Halston Archives Fashion Scholarship Initiative. In each object, we see a glimpse of Halston's life — his entourage of creative geniuses; the sketches that, with a flick of the wrist, captured his brillance; images from the Battle of Versailles, which changed the way the world viewed American fashion. It's all there.
To help fill in the gaps that these lots don't show, we spoke to Halston's inner circle, asking them to share remembrances of the man himself, on why his work still fascinates us, and what his legacy is.
---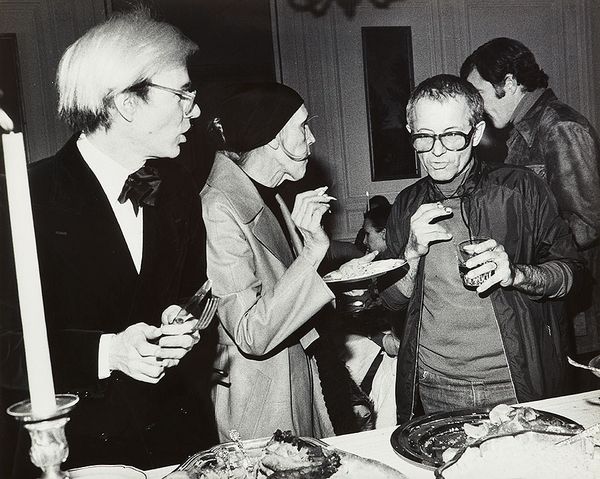 Pat Cleveland, model
All of us, we were like a little family, the whole entourage. You've gotta have your people around you. In the beginning it was just so playful, because everybody was so young, just looking forward to, you know, being successful. We all had ambition. He knew women were beautiful and he got a kick out of making women feel beautiful. He was glorious because he could just throw a bolt of fabric out on the floor and make you a dress in two seconds. We'd be really serious when the clients were around. ​He could be this childlike, creative person, but still put his foot down and be very solid. He expected that and people around him really wanted to work, to show up and do their very best. And everybody wanted to do their very best for him.
When I wore Halston, oh my God, I felt like the brightest chandelier in the room.
At the time he came along it was about society, and society ladies, and no one got to see beyond the salon doors. But he let everyone one in, he opened the doors and played good music and invited his friends to the shows and wanted people to enjoy themselves.

Naeem Khan, designer and former assistant
The first time I met him I went to Olympic Towers with my dad, who made some of his textiles. And then this very tall, handsome man opens this giant glass door and says, "Great to see you guys. Come on in." All dressed in black. I was the one explaining the fabrics to him because my father doesn't speak English that well and he was so charmed by all that. He said, "What are you going to do Naeem?" So I said, "I'm going to go to school." And he said, "No, you're not going to go to school, you're going to come work for me." And as I leave, he puts his hand on my shoulder and he gives me a copy of the Life magazine, the one where he's on the cover, and he said, "You will want to work for me because I am the best they come.
He was a great teacher. I would sit in on fittings with him. And the model would walk in with, let's say, with a jacket on. And then he would say to the patternmaker, 'Okay, let's look at the back, let's take it in and nip it up a little bit.' All that taught me how to balance something, what looks good on a body. He really taught me that fashion is not just about making beautiful clothes. Yes, that's an important aspect of being a designer. But it's also important to learn how to be socially connected, to understand the woman you're designing for.
He had amazing friends. Liza, Elizabeth Taylor, Andy Warhol, Bianca Jagger, Martha Graham. He surrounded himself with that.
My work required a lot of calculations, and then those days you used an actual Texas Instruments calculator. One day, my calculator disappeared. I don't know, somebody took my calculator. Within minutes, he had ordered me a calculator from Cartier — a pure silver calculator. That afternoon, a Cartier calculator was sitting on my desk. He said, "Naeem, you need this. And this is my gift to you for making the most beautiful things." He was so, so generous.
He was a true American. When I would go up to Montauk, and he didn't have anybody here — he was literally like a parent to me — and it would be just him and me and my dog. And in the evening, the flag had to be brought down. And he taught me how to fold the flag in the triangle. I mean, we almost needed a bugle! We would fold up the flag and put it into a box and put it away. And then next morning, we would hoist the flag again. He was a true American, who loved this country. And that is reflective of even what he wanted to do with JC Penney — to dress the rest of the country that couldn't have his clothes.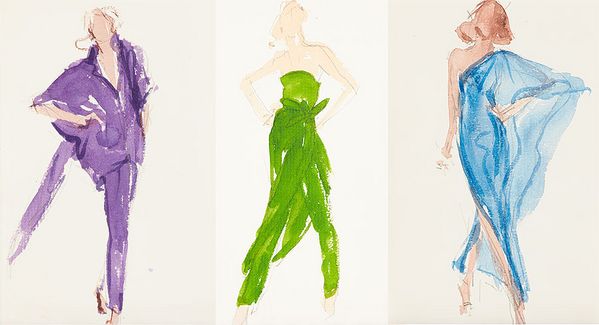 Ralph Rucci, couturier and former assistant
He was it, in the United States. He brought uptown and mixed it with downtown. He would have women like Mrs. Paley [socialite Babe Paley] sitting next to Potassa, or other drag queens. And that was his genius. He understood that he was the chemist of the new society. He was just hip, really hip.
Balenciaga never really attended fittings or even gave interviews. Halston made sure he was present, even though it was so arduous. That's something I learned, you have to touch the woman in order to create made-to-order. He never procrastinated. His deadlines were always dealt with. That work ethic, taken from his Midwestern family, coupled with the genius of his technical ability and his impeccable taste was who he was.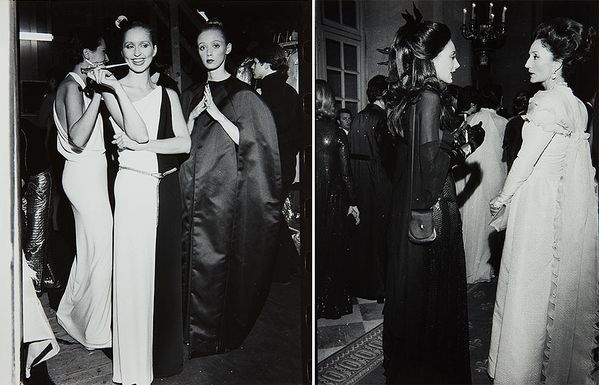 Nancy North, model
The clothes were gorgeous. They were beautiful. You know, silk jerseys. We were coming out of the Vietnam War and Nixon was being impeached and people needed something new and clean, and Halston was the right man for the moment. What he did was so modern, he was the originator of everything being so pared down. Remember, everyone was in hippie clothes.
When I wore Halston I felt so sophisticated, like I belonged to the elite world. He enhanced the way women looked. The clothes were just wonderful, they were dreamy, comfortable, caring, cocoon-like. And he always said, it has to be something no one's ever seen before.
I think what happened from the Versailles show is that this sense of elegance was used as a gateway to show sensuality and sexuality. These fabrics he used, the way they moved, they were very seductive. These were simple, wearable, classic clothes they would wear forever. He was a great visionary and when he knew the direction he wanted to go in, he would get very focussed.
I'm grateful to him for holding up a mirror and showing me who I was. I pay attention to what I see now, I see things differently because of him. He changed my eye. And I'm so grateful for that.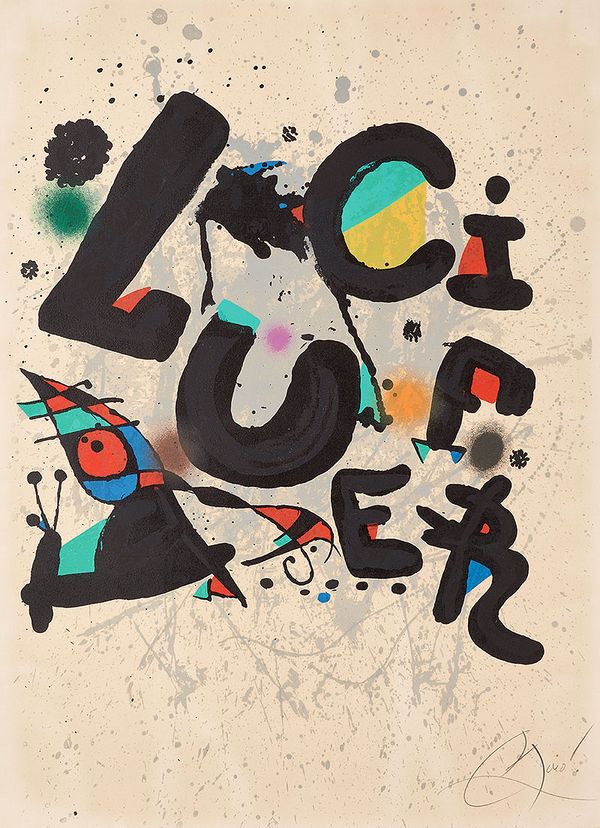 Lesley Frowick, Halston's niece, and CEO and founder of his archive
He was always superbly elegant, a gentleman. He was always dressed impeccably. And he was a loving, fun, funny uncle… He was a family man, he was an older brother. He was about 16 when his youngest brother was born. So he was used to babysitting and being around little kids, and he loved little kids... We all loved and adored him and he was very much a part of our lives all the time.
He used to call us every Sunday and he'd call his mom. He'd have me over for Sunday dinner when he was available, just the two of us. And it was always something delicious that he cooked, he was a wonderful cook.
He was an artist. Before he became a designer, he was an artist.
He was a Midwestern guy, you know? He couldn't lose it completely. He hung out with all these New Yorkers and they had this way of talking, almost British, and he would say "tur-qwahz" (turquoise) or "bayje" (beige), but he would pronounce milk as "melk" and I was like, Ah! That's so Midwestern.
He had magic hands. He could create an origami pattern in his brain and get the fabric and cut and boom, boom, boom, it would be hanging on the model. He could make the most difficult pattern look easy. I remember my mom said he came to visit us in Connecticut and he brought a piece of silk jersey because he was starting to work with that and he sort of just tweaked it with pins and popped it over her head and she couldn't believe it, it was suddenly this beautiful evening gown. It was like he snapped his fingers and there it was.
Karen Bjornson Macdonald, model
I would be standing there for a fitting and he'd be sketching at his desk, and I remember this one black silk chiffon dress that Jackie O eventually bought and wore … it was a wrap and he cut the collar on me and his eye … he just knew exactly where he wanted the ruffles to go. He wanted to know how everything worked, he wanted you to walk across the room, to sit down, so he could see how it moved and ask you how you felt in it. He wanted to know everything.
The simplicity of his designs really showed the woman, it was a background for the woman to shine. When I wore his clothing, you know I was in my early 20s but I felt so sophisticated, glamorous, and grown-up. I think he changed fashion with his show at Versailles, he simplified fashion with those cashmere dresses. And by him going to JC Penney, that's what allowed designers today to go to H&M. He wanted to dress everyone.
I loved to make him laugh, he had the best laugh, it was sort of horsey from all the smoking. He was definitely a guy from the Midwest. He would say things like, "the bee's knees" and "one gimmick per dress." I still have a black cashmere coat from him that I wear every winter, it's magical.

Hillie Mahoney, socialite and friend
The clothes were just so simple, and everything floated. You know, they didn't feel structured. They were just so floaty and glamorous. And they were comfortable! There's nothing more luxurious than feeling comfortable.
He was very kind, very thoughtful. And it was just a laugh a minute, we would laugh about everything. He was a very down to Earth person. He could be imperious if he needed to be, that was really just an act.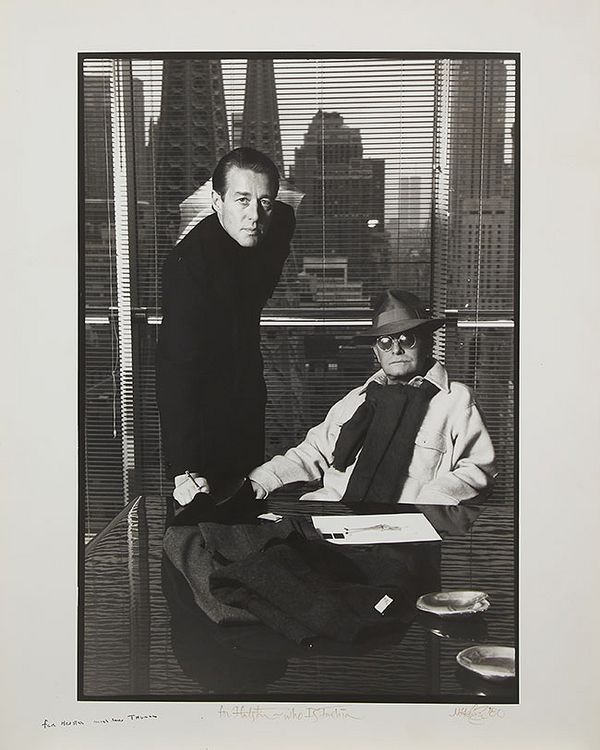 Beau Ryan, family friend
He was kind, he was generous. He was supportive of his friends… Both my parents were involved in show business, they were involved in the arts, they were involved in the literary community. Steve Sondheim is my godfather. And I think of him in very similar ways to Halston in, you know, that he's also a genius. I mean these people are able to see the world, and be creative, in a way that the rest of us aren't able to.
I think Halston really paved a way for Americans to succeed in high fashion.
He didn't really surround himself with people who were afraid to say what was on their mind. A lot of celebrities — whether they're designers or actors or musicians — they surround themselves with people who just say yes to whatever, whether they disagree with it or not. And I think that, you know, his crew, people who were really close, like Nancy, and Bill and my mother, they were fiercely protective of him... there would be these knockdown, drag out arguments over stuff! But I think that was a really positive environment [for his creativity].

Marylou Luther, fashion editor
He knew how to make news. There had never been an American designer that traveled like that, with his entourage. I remember one time, when I was at the Los Angeles Times, he called me up and said, I have a story for you, and he did. He had photographed all his models in his collection on the Great Wall of China. No one had ever done anything like that. He had a presence.
You know, he was one of the only designers who was also his CEO. He told me once that on the days he designs, he only designs. And on the days he does business, he only does business. He was very good at separating his time spent on both. I just thought it was a brilliant thought. I think more designers should do that.
Max Berlinger is a freelance reporter and writer whose work has appeared in the New York Times, GQ, Los Angeles Times, New York Magazine, Men's Health, Bloomberg and many other outlets. He covers the intersection of fashion, culture, entertainment and lifestyle. He lives in Los Angeles.
Discover More from Gallery One >
---
Recommended Reading
Stella McCartney's Artist Alphabet >
5 Things to Know About Bill Smith >