Bill Smith for Cartier, An Onyx and Gold Brooch, Circa 1970. Sold for $10,710. Jewels New York.
Written by Vivienne Becker
1. He studied dance
Probably the least known of 20th century Black Jewelry designers, Bill Smith was born in 1936, in Madison, Indiana, and studied art and dance at Indiana University, where his design talent was first spotted. In 1954 Smith moved to New York to study dance.
2. He started with costume jewelry
He was designing jewelry as a sideline while studying dance, but gradually his design work took more of his attention, obviously winning critical acclaim, and in 1958 he opened a workshop in Manhattan. He designed costume jewelry for Richelieu, and also for Coro, two of America's leading fashion Jewelry manufacturers. In 1968, he was appointed Vice President of Richelieu.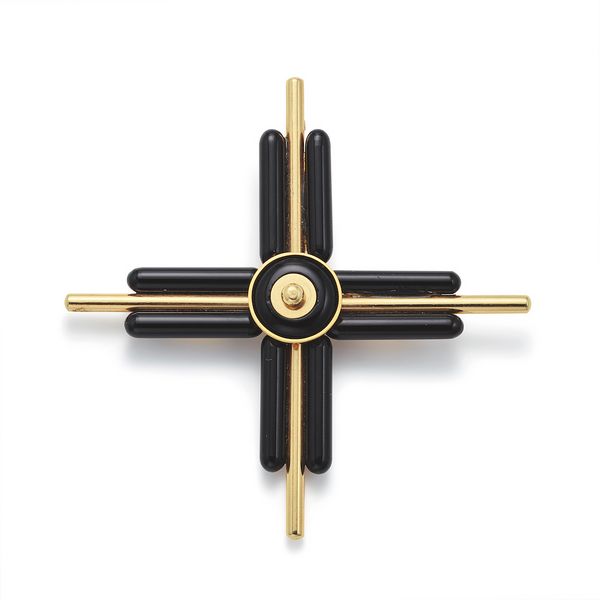 Bill Smith for Cartier, An Onyx and Gold Brooch, Circa 1970. Sold for $10,710. Jewels New York.
3. He was the first Black recipient of the Coty award
In 1970 Smith became the first Black recipient of the Coty award. He was recognized for his style of powerful, uncompromising, architectural modernism, for his geometric, linear structures and for his introduction to American jewelry of African-inspired themes. Smith was inspired by an eclectic mix of influences, including cinema and theatre, and was known for his in-depth research, and his frequent visits to New York's Cooper Hewitt Museum.
4. He designed for Cartier
In the 1970s, Smith designed jewelry for Cartier, one of very few "named" designers from this time; designers, like Aldo Cipullo, who brought a fresh, new, dynamic modern aesthetic to Cartier America updating the traditions of this heritage Maison. As well as the carved black onyx and gold cross brooch in the sale, Smith designed wide gold cuffs. Smith was close friends with the model Naomi Sims, for whom he designed bespoke jewelry, and it's thought that Sims introduced him to the Kenton Corporation which owned Cartier America at the time. The Corporation enabled him to set up Bill Smith Studios.
5. He designed for Katherine Hepburn
Smith designed all the jewelry for Coco, the 1969 stage musical based on the life of Coco Chanel, with lyrics by Alan Jay Lerner and music by André Previn, and starring Katherine Hepburn in her only role in a stage musical.
---
Jewels Preview
Meet the talented team responsible for curating our upcoming jewels auction as they take us on a virtual tour of select highlights of the approaching sale. Our offerings feature exceptional pieces from Harry Winston, Bulgari and Cartier, to name a few.
---
Recommended Reading
Jewels, Fashion, and Identity >

Unlikely Pairings: Woman to Woman Edition >