Aristotle Onassis' yacht, the Christina. (Photo by Ron Galella/Ron Galella Collection via Getty Images)
Written by Andrew Paine Bradbury
With news breaking this spring that Amazon founder Jeff Bezos is commissioning a $500 million, 417-ft superyacht—and that it won't even be the largest in the world—it's safe to say we've passed the golden age of yachting and have firmly entered the Baroque period. And though Bezos's behemoth will surely have every bell and whistle a modern billionaire could ask for, it's doubtful it will ever attain the style, the star-wattage or the place in the popular imagination held by the world's first superyacht, Aristotle Onassis' Christina. As a boat, the 325-ft Christina was never lacking in size. But as a symbol of a more glamorous and halcyon era, it looms much larger. This month, one of the Christina's greatest treasures—an original oil painting by Sir Winston Churchill—will hit the auction block at Phillips.
The Moat, Breccles, which Churchill gifted to the Greek shipping magnate around the summer of 1961, was thought to have been lost. Recently discovered by the Onassis family, the impressionistic landscape will be auctioned in New York on June 23 as part of Phillips' 20th Century and Contemporary Art Evening Sale. "It's an exceptional painting," says Jean-Paul Engelen, Phillips' Deputy Chairman and Worldwide Co-Head of 20th Century & Contemporary Art, "that comes with an exceptional story, and celebrates an exceptional friendship. We are all inspired by world history and art history, but it's only on rare occasions that these two things come together so spectacularly in one painting." Previously, the only way to have seen the painting was to have been one of the lucky guests aboard Onassis' famed Christina.
The most beautiful structure I have seen afloat. —Sir Winston Churchill, in a letter to his wife Clementine, February, 1956
Originally the HMCS Stormont, a Canadian, WWII-era anti-submarine frigate that aided the Allies during the Normandy landing, the vessel was purchased by Onassis for the scrap value of $34,000. After a $4 million renovation, it was rechristened the Christina, in honor of Onassis' daughter. Aboard the yacht, Onassis entertained countless luminaries and dignitaries from the worlds of politics, business, and the arts, including Franklin Roosevelt, John and Jackie Kennedy, Frank Sinatra, Cary Grant, Ava Gardner, J. Paul Getty, Eva Perón, Elizabeth Taylor and Richard Burton, and many more. "I don't think there is a man or woman on earth who would not be seduced by the pure narcissism shamelessly flaunted on this boat," Burton said, obviously one of the seduced. Ironically, one might say that the seafaring Christina symbolized "the jet set" far more than any actual plane.
It was a heart-stoppingly glamorous affair, boasting a Minotaur-themed mosaic swimming pool that could be drained and turned into a raised dance floor at the touch of a button, a dazzling blue lapis lazuli wood-burning fireplace in one of the indoor lounges, a children's dining room hand-painted by Madeline illustrator Ludwig Bemelmans, frescoes by Marcel Vertes, an office with a Louis XV desk, marble bathtubs, an elevator, 42 telephone lines, and a landing pad for Onassis' Piaggio seaplane.
A spiral staircase connected the various decks that were flush with indoor and outdoor areas to relax and entertain. There were ten impeccably appointed staterooms (not counting Onassis' lavish suite), a library, a salon, a plush den and the intimate Ari's Bar, which at that time was probably the most exclusive boîte in the world. The staff was roughly the size of an army battalion and equally well-trained. Someone had to empty all those gold and silver ashtrays.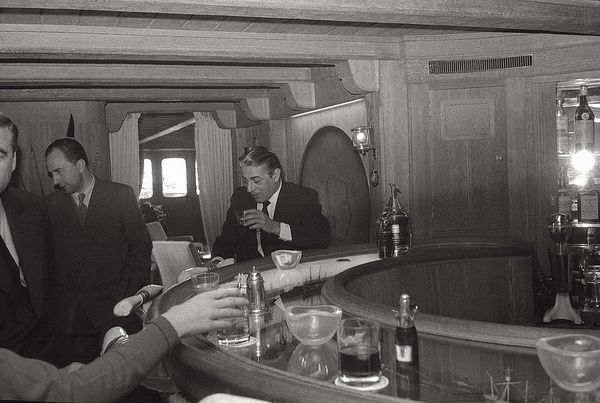 Aristotle Onassis at the circular counter of "Ari's Bar" aboard his yacht, the Christina. Montecarlo (Principality of Monaco), June 1961. (Photo by Carlo Bavagnoli/Mondadori via Getty Images)
Jamie Niven, a senior advisor to the CEO of Phillips and the son of the Academy Award-winning British actor David Niven, bore witness to the luxury of the Christina when he was a teenager living in the south of France. "Until he and [Prince] Ranier had a falling out, the Christina was always in the Monaco harbor," Niven says. "It was by far the biggest boat." As a friend of Onassis' son Alexander, Niven was invited aboard on multiple occasions and saw firsthand the transformation of the pool into a dancefloor. "These sailors would rush out with rags and mop the surface of the pool," he says, "and so you're dancing on the surface of the pool. It was all looking great: the furniture, the waiters running around. It was very glam, and very impressive to an 18-year-old, I can tell you that."
The yacht was a total reflection of Onassis's personality: the strive for perfection, the unabashed pleasure-seeking, and his notorious ribald streak. Indeed, the most infamous feature of the Christina were the barstools in Ari's Bar that were upholstered with the foreskins of minke whales. And though it was called "the height of opulence" by no less than the former King Farouk of Egypt, there was one detail of the Christina that Onassis was most proud to show off to his guests—an oil painting by Sir Winston Churchill, gifted by the man himself as a token of appreciation for time spent cruising the Medditerranean and Carribean seas.
As always, I greatly enjoyed your company and your hospitality. —Sir Winston Churchill, in a letter to Aristotle Onassis, May, 1962
Churchill and Onassis struck up a fast friendship, having met at the famed La Pausa villa in the south of France. (Originally designed and built by Coco Chanel, La Pausa was bought by Churchill's publisher, the Hungarian emigré Emery Reves). The two titans shared a love for the finer things in life and the mechanizations of global power; it was on these two points their mutually beneficial relationship was founded. Onassis had the honor of hosting the elder statesman of European liberal democracy and Churchill—who could never be called destitute, but whose appetite for the good life always tested the limits of his own finances—got to enjoy the lifestyle of the .0001%.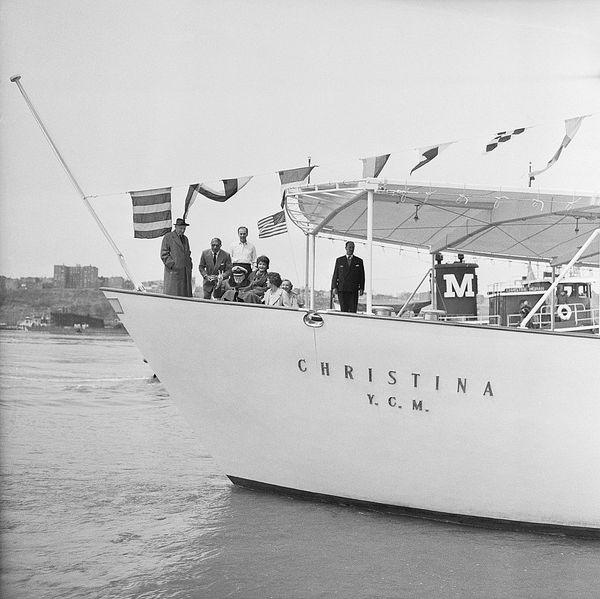 Winston Churchill and Aristotle Onassis arriving on the Christina. (Getty Images)
"There were all these photographs of Churchill sitting on the stern, with a cigar," Niven says. "They were published all over the world. Onassis must've loved the fact that he had Churchill on his boat. It was a statement. It's no different than today. People try to invite famous people on their yacht. [Onassis' rival and fellow Greek shipping tycoon Stavros] Niarchos didn't have Churchill on his boat."
But despite this seemingly symbiotic nature, the two men, by all accounts, genuinely enjoyed each other's company, and their correspondence reveals great warmth and affection between them.
Onassis went above and beyond to ensure that Churchill—who was in his 80s during the eight cruises he took aboard the Christina from 1958 to 1963—was comfortable during their voyages. He would give up his own suite for Churchill to stay in while he was aboard, a luxury that was afforded to no other guest. And of course there was the limitless supply of champagne, caviar, martinis, brandy, and cigars for Churchill to enjoy. And by all accounts, he enjoyed them with his typical gusto.
Churchill, in turn, was grateful for the hospitality. A letter from Churchill to Onassis from December, 1960 reads: "My dear Ari, I am most grateful to you for sending the beautiful cigar case and for the trouble you have taken with the inscription. I admire it greatly, and it reminds me of that wonderful and sunny cruise to the West Indies. You have done so much to make my travels abroad happy and enjoyable and I am indeed indebted to you. I shall think of you whenever I take a cigar from the case. Yours, WSC".
He showed Onassis his gratitude with a gift of his own—an original artwork. An avid painter for the last 50 years of his life, Churchill produced some 500 canvases in his lifetime and began gifting them after 1950 as a sign of particularly close friendship and admiration to the likes of Queen Elizabeth II, Harry Truman, Dwight Eisenhower and others. Prior to that Churchill had said of works that "they are too bad to sell and too dear to me to give." Despite the self-effacing estimate, they really were dear to Churchill, and to be the recipient of one was the sign that you meant a great deal to him. Besides, what else could one gift a man like Onassis, who had, as the saying goes, everything.
Just to paint is great fun. —Sir Winston Churchill, "Painting as a Pastime"
The painting in question is an evocative landscape that depicts a wooded area bisected by the moat that borders the eastern edge of the south lawn at Breccles Hall, a 16th-century Elizabethan manor house located in Norfolk, England and the 20th-century home of Venetia Montagu, the cousin of Churchill's wife, Clementine. The Moat, Breccles was originally painted in 1921 and was prominently featured in Churchill's personal essay "Painting as a Pastime" that was published in the December 1921 issue of The Strand magazine. (A pretty stellar issue if you can get your hands on it, featuring original stories by Arthur Conan Doyle and PG Wodehouse, as well as a companion essay to Churchill's titled "Singing as a Profession" by the great Enrico Caruso).
In the essay, Churchill relates how painting came into his life at one of his darkest moments. In 1915, he was ousted from his post as Lord of the Admiralty (the political head of the Royal Navy) following the disastrous Gallipoli campaign and given a token bureaucratic job as the Chancellor of Lanchester, an awful blow to a man of Churchill's talents and bluster. Despondent, he found the surrounding gloom lifted when his sister-in-law suggested he join her painting in the garden. "And then it was that the Muse of Painting came to my rescue — out of charity and out of chivalry," he wrote. He went on to extoll the benefits of having a creative hobby and how far they outweigh the pleasures one might find in traditional pursuits such as hunting, billiards or golf. "There will be sunshine there even in the winter-time," he wrote, "and cool shade, and the play of shadow on the path in the shining days of June."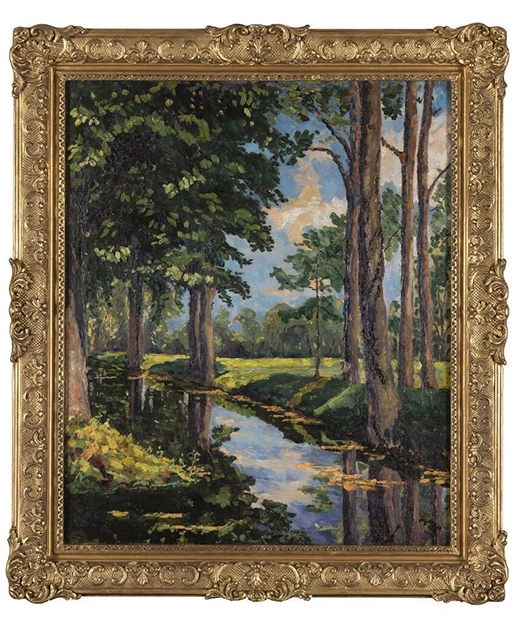 Property from the Onassis Family Collection, Sir Winston L.S. Churchill, The Moat, Breccles, circa August 1921. Estimate: $1,500,000-2,000,000. 20th Century and Contemporary Art Evening Sale.
Though he never advanced beyond amateur status as a painter, his work could hardly be called middling. Inspired by Impressionists like Monet and Cézanne, he possessed a keen sense of color and a strong sense of place. Surveying Churchill's work in 1982, the president of the Royal Academy of Arts, Sir Hugh Casson, called him, "an amateur of considerable natural ability who, had he had the time [to study and practice] could have held his own with most professionals … especially as a colourist." Of course, winning a World War tends to limit one's time for study and practice.
In recent years, the value of these works has increased greatly—multiple paintings, including "The Goldfish Pond at Chartwell" have fetched seven figures at auction—and interest in his art has never been greater. The popularity of Netflix's The Crown, which featured several scenes of John Lithgow's Churchill, besmocked with brush in hard, has played no small part. And while Churchill's artistic endeavors will never outshine his political accomplishments and legendary oratories, they provide key insight into one of the most towering figures of the 20th century.
"I think this heightened sense of observation of Nature is one of the chief delights that have come to me through trying to paint," Churchill wrote, and it is with that heightened sense that he painted The Moat, Breccles. From his eyes to his hand and his brush and then onto the canvas, before traveling through the pages of the Strand all the way to the walls of the salon aboard the grandest yacht in the world, trailing with it a history that spanned from the bloody aftermath of WWI to the go-go optimism of the jet-set '60s.
After Aristotle Onassis' death in 1975, his daughter Christina inherited the namesake yacht and later gave it to the Greek government to use as a presidential yacht before her own untimely death. The yacht fell into disrepair and could have easily met a scrapyard fate. However it was rescued and (quite extensively, as well as expensively) refurbished to its former glory by Onassis family friend and fellow shipping magnate John Paul Papanicolaou in 2011. The minotaur-themed swimming pool still turns into a dancefloor, and it's currently available to charter for the handsome sum of about $650,000 per week.
Original Churchill landscape not included.
Andrew Paine Bradbury is a writer and musician based in New York City.
Discover More from 20th Century & Contemporary Art >
---
Out at Sea: The Playlist
Inspired by Sir Winston Churchill's painting The Moat, Breccles, discover the music from Ari's Bar aboard the yacht Christina in celebration of our New York 20th Century & Contemporary Art Evening Sale.

---
Recommended Reading
The Prompt: A Neat Lawn by David Hockney >
Whose Histories Should Be Commemorated? >