Marina B, Detachable Double Row "Kar" Choker Necklace in 18k Yellow Gold and Black Enamel. Price Upon Request. Flawless X Vivarium: Woman to Woman.
Written by Vivienne Becker

When Marina Bulgari took the momentous decision in 1976 to leave the family business and strike out on her own, she knew only too well that she would be a woman in a man's world. Her cousins, Paolo, Nicola, and Gianni Bulgari headed up the celebrated Roman jewelry house, and while she had taken her father's place in the company, after he passed away in 1973, her role in the business, as a woman, was confined to organizing the accounts. Any creative or directorial contribution was unthinkable at that time, especially within a patriarchal and patrician Italian family-owned business. Even though the feminist movement was gaining traction across the world, Rome remained steeped in old-world, tight-knit family traditions. Times have changed, it must be said, and now a woman, Lucia Silvestri, a protégé of Paolo Bulgari and a gemstone expert, is at the creative helm of Bulgari in Rome.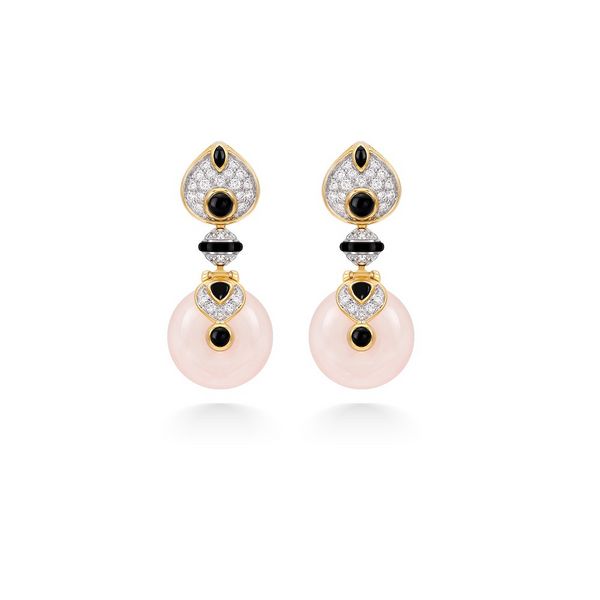 Marina B, "Baby Pneu" Earrings with Black Jade, Diamonds and Rose Quartz set in 18k Yellow Gold. Price $3,720 USD. Flawless X Vivarium: Woman to Woman.
However, in the 1970s, Marina Bulgari had to forge her own identity as a designer, find her own path forward and build her own brand in the patriarchal, largely dynastic jewelry industry. Guy Bedarida, now Creative Director of Marina B, explains, "At that time, the gem dealers were all men, the workshops were run by men, and the artisans, bench jewelers, setters and goldsmiths were exclusively male." He continues, "Women only had two options; polishing jewels or stringing pearls." Marina Bulgari was quietly determined to show that a woman could become an innovative designer-jeweler.
In 1978, she opened a showroom in Geneva where she launched her first collection and her own brand; initially called Crisart, it was renamed Marina B a year later, showing that she was ready to take ownership of her own creative vision and her own story; even though she was prevented from using her famous family name. She was a woman designing for women, at a time of dramatic, tumultuous social change, when women were fighting for independence and equality, for the freedom to forge their own paths, particularly in the business world, where they were on a mission to break the glass ceiling. Style-wise, in some circles, the feminist and back-to-nature mood meant that jewelry was sometimes perceived as a symbol of frivolous, decorative femininity, and it is no coincidence that the decade saw the rise of minimalist or androgynous jewels. But extravagant jewelry-wearing burst back with renewed vigor and vitality in the post-feminist 1980s as working women reclaimed their right to femininity, and when jewels—so often unashamedly fake costume jewels—were once again worn, with pride, as signs of strength, power, and individual style.
In her own way, Marina B was following in the footsteps of fearless pioneers such as Jeanne Boivin, who dared to take control of her husband's successful and renowned Parisian jewelry Maison, Boivin, after René died in 1917; she was the first woman to head such an illustrious jewelry business. Or Jeanne Toussaint, who became Cartier's Head of Jewelry, in 1933, taking over from Louis Cartier, her mentor (and lover), or Suzanne Belperron, who not only nurtured her own distinctive style that shattered the status quo of mainstream jewelry design, but took over the company, Herz-Belperron during World War II when Bernard Herz was imprisoned by the Nazis.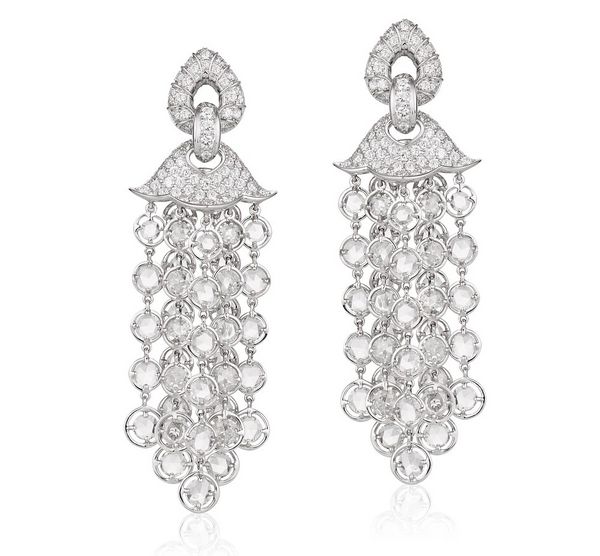 Marina B, Original "Pampilles" Earrings with Diamonds set in 18k White Gold, circa 1978. Price $40,800 USD. Flawless X Vivarium: Woman to Woman.
To bring her ideas to life, in the exact way she envisioned them, Marina Bulgari knew that her jewelry had to be crafted in Paris, where the very best ateliers were situated and had been for a century or more. At the time, in the 1970s, High Jewelry could only be made in France, but of course this meant that Madame Bulgari had to battle masculine predominance over workshops, artisans and artisanship. She was extremely courageous in taking on the jewelry establishment, in tackling prejudices, and in pushing forward her design innovations. Amongst the workshops she chose to fabricate her jewels, one atelier was managed by a woman, Brigitte Péry. Having started out working with her father as a secretary in the family firm, Brigitte became the director of Péry & Fils, a revered High Jewelry workshop founded in 1875, by her great-grandfather, Lucien Péry. The atelier worked with the most celebrated Maisons, but was most closely connected to Van Cleef & Arpels, for whom Péry & Fils created, amongst other iconic designs, the ingenious Zip necklace.
This fusion of design and craftsmanship was crucial to Marina B, who had very specific and innovative technical ideas, again something unusual and unexpected in a woman. She was fascinated by engineering: preoccupied with the way in which a jewel was made, the way stones were set, the articulation, the clasp or fastening, the way it moved and worked with the body. She devised a spring mounted mechanism for her signature collars and cuff bangles, for seamless simplicity of line, and for comfort and effortlessness, so that they could be put on and taken off easily—particularly important as she liked her collars to be versatile, worn singly, or two or even three at a time, building up the look, from day to night. Later she used the same spring mounting for pearl chokers. She engineered designs composed of triangular motifs and triangular diamonds and designed her own Marina B gemstone cut—poised between a triangle and a pear-shape, the perfect confluence of geometry and fluidity. Most famously, though, she was adamantly opposed to the convention of connecting or "stringing" beads or pearls, which she considered banal and boring. Instead, she invented a whole new visual identity for the bead—the earliest of jewel components—as in the Pneu earrings, in which the center hole, or "bellybutton" of a bead becomes a focal point and decorative feature (as in Woman to Woman), even in her strands of square pastel-colored synthetic quartz beads.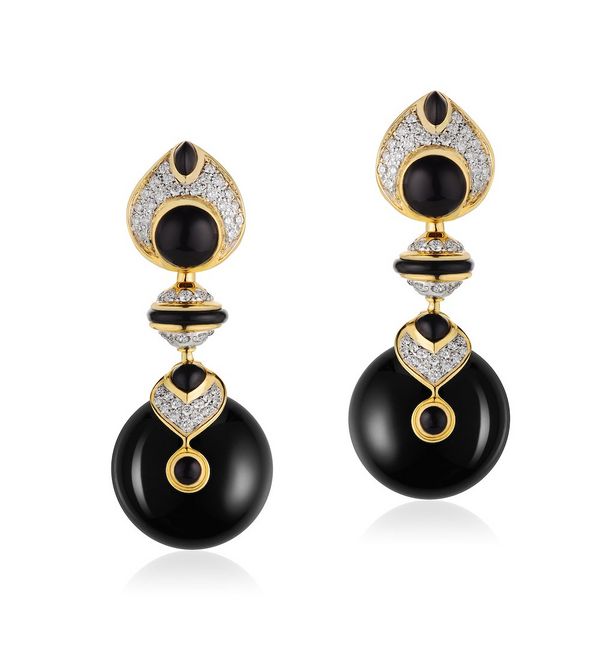 Marina B, Original "Pneu" Earrings with Black Jade, Diamonds and Interchangeable Quartz "Pneus" in 18k Yellow Gold, circa 1978. Price $8,100 USD. Flawless X Vivarium: Woman to Woman.


Like her indefatigable predecessors, Marina Bulgari understood what women wanted from their jewelry, what jewelry meant to them. She knew how and when and where the modern woman wanted to wear jewelry, how she wanted it to feel, or make her feel, what she wanted her jewels to say about her, her style and lifestyle. She created diamond necklaces for daywear and earrings with interchangeable colored beads. Marina B designs, so quintessentially 1980s, captured their moment in time, encapsulating a mood of power, freedom, and femininity, through innovative designs that were strong and graphic, yet fluid and voluptuous, glamorous yet joyful, serious yet playful. The 1978 Pampilles diamond earrings, in Woman to Woman, for example, with their stylized floral surmount and silky cascades of bezel-set diamonds, brought new life, light and sensual movement to an all-time classic. While the citrine and black gold ring of the late '80s combines her innate Italian sense of color with architectural rigor, and shows her signature use of blackened gold, an audacious way of subverting tradition and challenging perceptions of preciousness.
It is fascinating, says Bedarida, that the distinctive Marina B style, so exuberant, abundant, colorful and extroverted, was in opposition to her own character. Marina Bulgari, he explains, was and is still, reserved, shy, introverted, with a personal style he describes as austere, and a preference for clothes of simple, clean lines; it's tempting to think this reserve stems from her Roman upbringing, and that through her jewelry she channeled a wayward gregariousness. Bedarida says, "Her jewels were a way for her to realize her dreams." And the dreams of so many women around the globe, for generations to come.
Discover More from Flawless X Vivarium: Woman to Woman >

Recommended Reading
Jewels, Power, and Gender Fluidity >
Influencers Before Influencers >