Aldo Cipullo at his dedicated vitrine in a Cartier boutique, c. 1970. Courtesy Renato Cipullo. All Rights Reserved.
The Cartier Love Bracelet—the plain gold band dotted with screwheads that locks around the wearer's wrist—is arguably the most famous 20th century jewelry design, a jewel that has transcended the rarefied jewelry world to become an icon of modern design. Yet until recently, the name of its creator, Aldo Cipullo, was little known, whispered only among bookish jewelry cognoscenti. Even less was known about the man, his life, and his story. That is until, in 2012, Cartier decided to revive another of Cipullo's seminal 1970s designs: the Nail, the gleaming golden twist of hard-edged hardware, renamed "Juste un Clou" ("just a nail"!). It was only then, after a major launch event in New York, that Cipullo's story began to emerge, as Cartier attributed these two game-changing, barrier-breaking jewels to the man, who, quite simply, made jewelry modern.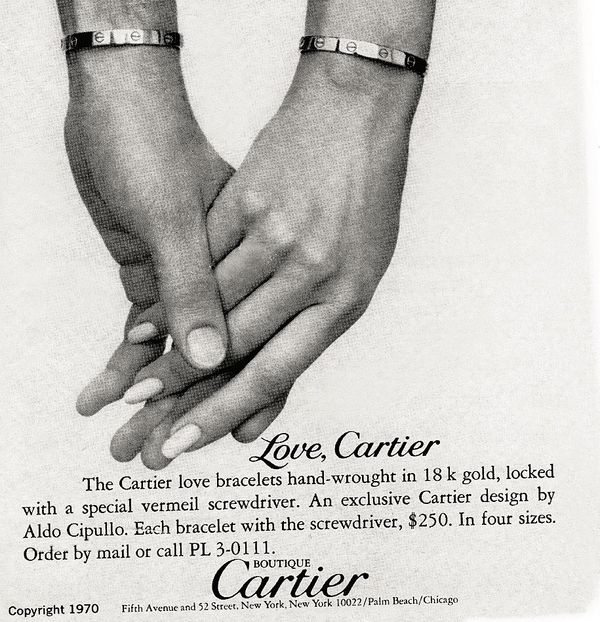 Cartier advertisement for the Love bracelet, early 1970s. © Cartier.
I had known something of Cipullo and admired the purity, modernity, and wit of the Love bracelet and the Clou. But I was also intrigued by other powerfully graphic jewels that I occasionally came across. I included a striking 1970s gold and carnelian necklace, in my book, The Impossible Collection of Jewelry: The 100 Most Important Jewels of the 20th century. Yet Cipullo remained a shadowy character, a designer who exploded onto the New York scene in the late 1960s, and passed away tragically young, in 1984, a sudden meteoric bright light of talent, just as suddenly extinguished.
So when I was asked by Aldo's brother, Renato, to write the book on the designer's life and work, I jumped at the opportunity. Privileged to be entrusted with the family story, I discovered a captivating character of immense sensitivity and cultural depth, a hugely talented designer who changed the course of 20th century jewelry history. I came to understand that behind the streamlined simplicity and effortless purity of Cipullo jewels were layers of complexity, and that most of all, the modern world was his driving force.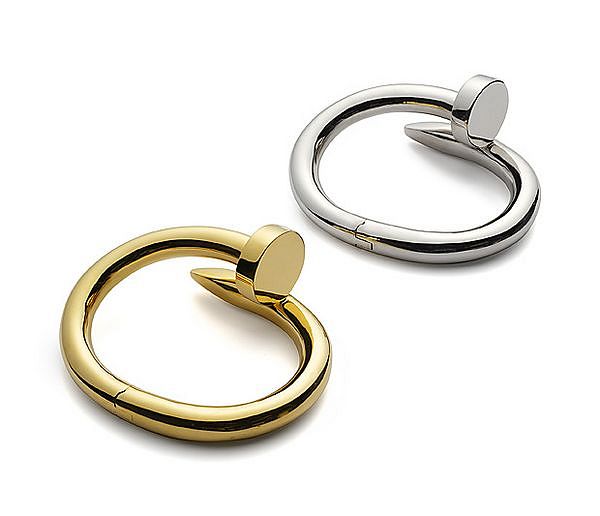 Aldo Cipullo for Cartier, Juste Un Clou bracelets. Image courtesy of Obsidian, London.
Aldo was born in Naples in 1935 but grew up in Rome, the oldest of five children. His father, a strict disciplinarian, had a costume jewelry business, and as Renato related, he sent Aldo out, after school, with a bag full of jewelry to sell, an experience that taught him the art of salesmanship.
Artistic, imaginative, creative, and blessed with movie-star looks, Aldo was obsessed with all things American, as in the post-war years, American culture infiltrated the deeply traditional Italian way of life. His blue jeans and Stetson hat earned him the nickname, "Aldo Americano." Aldo was determined to move to the United States, and after much plotting and planning, arrived there in 1959. He fell in love with New York City, where he settled and found his first job with the jeweler David Webb. After a few years, he moved to Tiffany to work with Gene Moore, alongside a group of young designers, including Donald Claflin. At this stage of my research, there was a major revelation. Together with Tiffany archivists and using Renato's archives of Aldo's designs, we were able to re-attribute some Claflin designs to Cipullo. I also learned more about Aldo's themes and inspirations, notably his interpretation of regional African masks traditionally used for social, ceremonial, and religious purposes. This told me that Aldo understood the most powerful roles of the jewel to protect, communicate, and commemorate.
Aldo Cipullo for Cartier. A Rock Crystal, Onyx and Gold Bracelet. Sold for $30,240. Jewels New York.
When Tiffany turned down his concept for the Love bracelet, Aldo left the company and offered the design to Cartier. At the time, Cartier New York was independent from the Parisian maison, and under the dynamic direction of Michael Thomas, who immediately saw the massive potential of the Love Bracelet to appeal to a new generation with entirely new values, lifestyle, and attitudes.
The stories behind the concepts for both the love bracelet and the Nail were the next revelation for me. It was in 1969, that, lying awake at 3 am tormented by a broken love affair, Aldo was gripped by the impulse to keep hold of the memories that were all he had left, obsessed by the need to lock them up and keep them safe forever. Drawing on his growing fascination with hardware, tough, gleaming symbols of New York's industrial core, and his determination to democratize and modernize jewelry, he came up with the design for the Love bracelet, a jewel that would become intimately connected, physically and emotionally to the wearer's persona. Aldo wanted to recalibrate perceptions of preciousness and reinvent the age-old love token for a new age.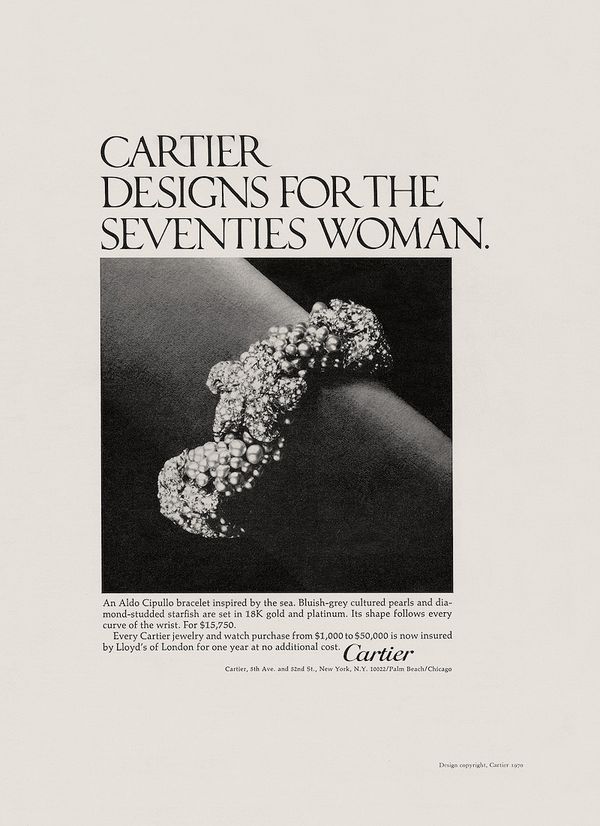 Cartier advertisement for the bracelet, 1970. Cartier Archives, New York. © Cartier.
Two years later, Aldo's Nail bracelet again fused the hardware theme with ideals of love. One night, again sleepless, while reading a book on Christianity, he found himself consumed with the idea that the greatest gift a man can give is to lay down his life for a friend, or, in Christ's case, for the good of mankind. The story was amplified by the success of the rock opera, Jesus Christ Superstar, and within twenty-four hours he had designed a collection centered on the humble nail, with satellite motifs of nuts, bolts, screws and wrenches. Woven into these emotive stories, was Aldo's instinctive talent for distilling his moment in time, the energy of New York in the late 1960s and 70s, the beating pulse and soul of the city he loved, into the purity and perfection of these minimalist masterpieces.
Aldo went on to design more collections for Cartier: the Seventies Woman with its Stairs and Flowing Forms designs; the Rounds, exploring the shape that caresses; the graphic hardstone earrings; the Hand of the Heart, worn by Ellen Burstyn in The Exorcist; the playful Backgammon board pendants, and playing card motifs, which represent Love as a Game of Chance; and the silver collection inspired by the anatomy of the quintessential American motorcar.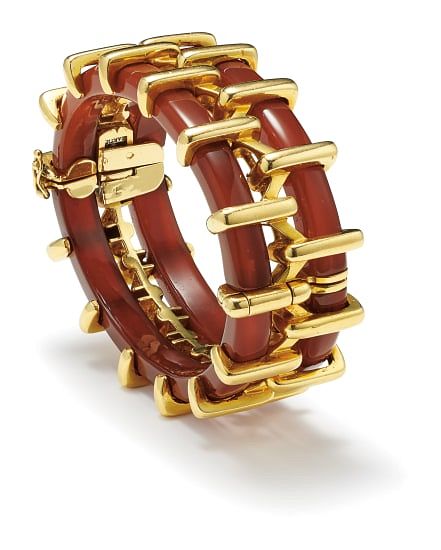 Aldo Cipullo for Cartier. A Carnelian and Gold Bracelet. Sold for $44,100. Jewels New York.
Throughout his time under contract to Cartier, Aldo had worked independently in his own studio, and in 1974, he decided to dedicate himself to his own collection and company, Aldo Cipullo Limited. He made the most of his freedom, designing whimsical jewels, a pasta collection, the dollar sign motif, a friendship bracelet, and branching out into accessories and furniture. He was focused on jewelry that could be worn day and night, that would become part of the body, jewels with function, purpose and meaning. In 1978, he reached another major milestone in his career: celebrating the country he had made his home, when he was invited by the American Gem Society to create a collection set entirely with gemstones native to the United States. A high-profile triumph, the collection toured America and found a permanent home in the Smithsonian, Washington D.C.
All the while, Aldo had been developing into what he called an "environmental designer," working with his environment, the world around him. The prevailing social and sexual revolution led him to concentrate on jewelry for men, another way that Aldo worked to make jewelry modern. From Renato's extensive archive of articles and television interviews—in which, by the way, I witnessed Aldo's ineffable charm, engaging sensitivity and humility—I learned that the designer had so many more ideas and ambitions, including the creation of a modern "movement," like the Bauhaus, a community of forward-thinking artists and designers, all, like him, exploring expressions of modernity. Sadly, this ambition remained unfulfilled. In 1984, aged 48, Aldo Cipullo died of a double heart attack in a New York hospital. Perhaps this explains his restless quest to achieve, perhaps it means Aldo remains forever young. In any case, I hope the book will shed light on Aldo's protean talent, on the inspirations and profound meanings that underpinned his famous designs, and that it demonstrates his immeasurable influence. I hope too, as I say in the book, that the man who only wanted to live in the present, who believed passionately in tomorrow, will be remembered for jewels of love that will undoubtedly live on into the future.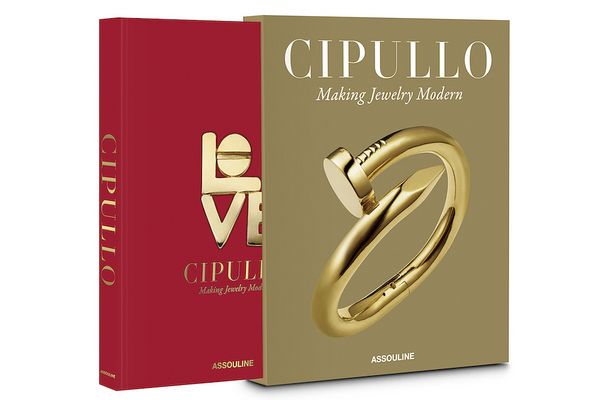 Cipullo: Making Jewelry Modern. Written by Vivienne Becker. Published by Assouline.
Discover More from Cipullo: Making Jewely Modern >

Recommended Reading