Fabio Salini. Shanghai earrings in titanium, white gold and diamonds.
Written by Vivienne Becker
In 2021, Modernism is a century old but still very much alive and kicking jewelry into a new mood of avant-garde, abstract sophistication. There are distinct parallels between the original 1920s modernist movement and our 2020s vision of modernity. Amongst the most striking of these similarities are the pervasive influence of technology on our lives (artificial intelligence and robotics), plus fabulous new wealth (as in Asia), and a renewed focus on a new generation of potential jewelry buyers and wearers. There's also the echo of the new generation of artist-jewelers—such as Jean Fouquet and Raymond Templier—determined to find a new, relevant expression for the art of the jewel. Phillips understands this reinvigoration so well and explores in its presentation of contemporary jewels as an essential part of 21st century art and design.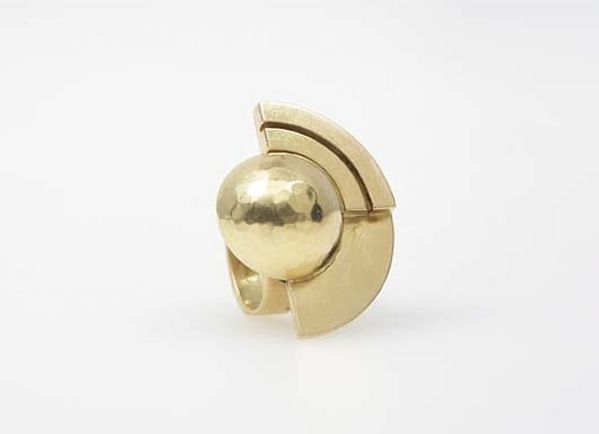 Jean Després, Important Ring, ca. 1930. Sold for $67,000. Jewels New York.
A multitude of social, cultural and technological influences, from Japanese art and design through cubism and futurism to Adolf Loos's manifesto, Ornament and Crime, nurtured the original modernist movement that emerged after the First World War, although the idea had been brewing since at least 1910. Jewelry of the period absorbed these overarching cultural influences, but was most powerfully influenced by specific inspirations, namely the classical 18th century revival "Garland" style of the 1910s and the sensuality, stylization, and vibrant colors of the Ballets Russes. Added to this heady mix were the dramatic changes to ideals of to women's roles, fashions, lifestyles and hairstyles. By 1920, women drove, drank, danced, worked, and played sports. They cut their hair, making room for long earrings, wore short, sharp, tubular-shaped dresses that allowed more movement and invited self-expression. Jewelry too reflected a new vision of freedom.
In its early phase, the style we know as Art Deco was characterized by geometric classical motifs—stylized flowers, urns, garlands, the lingering figurative remnants of Belle Époque style—and by luxurious opulence—exoticism and color, turquoise, coral, with flashes of onyx and lashings of platinum-set diamonds. Then from the mid-1920s, a small group of avant-garde designers, Jean Fouquet, Raymond Templier, and Gérard Sandoz, all from long-established families of jewelers, began to apply modernist principles to jewelry: purity of line and form, rejection of surface ornamentation, the influence of the machine, of speed and travel, of mathematics, engineering, and African art.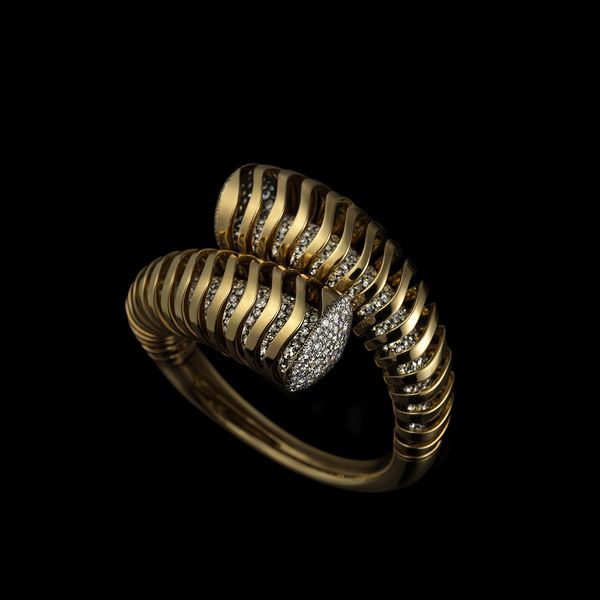 Lauren Adriana, Wave Cuff, diamonds in blackened gold and yellow gold.
The new-generation artist-jewelers aimed to elevate jewelry to an art form, but also to break completely with the past, to reject nostalgia and the usual, well-trodden themes, to look forward and bring jewelry into the modern world. They worked with pure, strong geometric forms, rectangles, circles, triangles, emphasizing angles and rigorous lines, juxtaposing and interconnecting the shapes to create perspective and powerful, abstract, linear compositions. In their choice of materials, they challenged conventions and perceptions of preciousness, preferring low-key grey gold, matt metallic surfaces, and sharp chunks of stones such as aquamarine and citrine, often with black lacquer accents. Studio-goldsmith, Jean Després worked in darkened, textured silver, with occasional lapis, onyx, or overlay of gold, to convey the impression of the machine, which was the dominant influence. Artists found a certain lyricism in the rolling rhythm of the assembly line, taking the ball bearing as a favorite recurring motif.
While avant-garde creations were exhibited at the 1925 Paris Exposition Internationale des Arts Décoratifs et Industriels Modernes, the modernist jewelry movement gathered momentum afterwards, reaching its fullest expression in the late 1920s. In the 1930s, more shapely movement, curves, and curls crept into design, capturing the curvaceousness of Hollywood stars.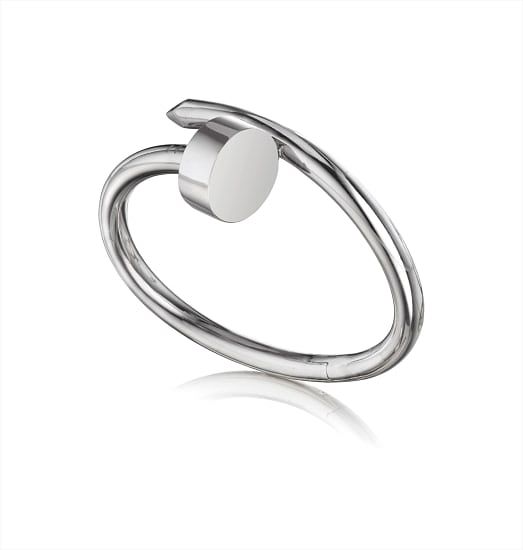 Aldo Cipullo, A Gold Nail Bangle. Sold for $10,000. Jewels New York.
In our jewelry world, modernism surfaced again in the late 1960s, with a rediscovery of Art Deco style (this was when the movement acquired its name) and huge impetus from the space exploration, and the futuristic fashions of Courrèges, Pierre Cardin and Paco Rabanne. In England, London specifically, a modern design movement, led by individual designer-jewelers, notably Andrew Grima, nurtured a rebellious style: organic, free-form, hyper-natural, characterized by rugged textured gold, set with rough crystals. Around the same time, in New York, Italian-born designer Aldo Cipullo rocked the status quo and captured the pulsating beat of New York in the 1970s with his resolutely modernist hard-edged, hardware-inspired jewels for Cartier NY, most famously the Love bracelet and Nail.
Now, after some two decades when jewelry reveled in cultural and historical references, in the figurative and narrative, we're seeing the emergence of a new powerful interpretation of modernist design. Just as 100 years ago, it is aimed at taking jewelry into a new age, making it relevant once again for a new generation and a new world, by rejecting clichés of flora and fauna, sentimentalism and nostalgia, in favor of powerful abstract and architectural compositions of line, form, color, texture, of volume, sheen and shine. Phillips highlighted the new contemporary movement, with the exhibition in 2018, "Jewels Now," of work by young British designer, Lauren Adriana; it was a landmark event in showing jewels by such a young, contemporary designer, aligning precious jewelry within contemporary art and design. At the time, Adriana said the exhibition offered "an opportunity to reposition contemporary jewelry in the context of its time."
Aldo Cipullo for Cartier, A Rock Crystal and Gold Bracelet. Sold for $52,500. Jewels New York.
In similar spirit, Rome-based designer-jeweler Fabio Salini has spent twenty years leading the way forward into a complex, highly sophisticated and individualistic expression of jewelry modernism. Salini has spent 20 years formulating an entirely new visual language for jewelry. His powerfully graphic, stylized designs, playing with form, light, movement, and color, are underpinned with profound and considered concepts, and it is this element of meaning and message, that both connects his jewels to 1920s modernism and sets them firmly in the 2020s, in their moment in time. It's this strength of underlying concept, too, that Salini believes lifts the jewel into the realm of 21st century art.
It's interesting to see how modernist jewelers, in the 1920s and 2020s, are grounded in jewelry traditions, understanding history, and knowing the jewel-rules well enough to break them. For Salini, who spent years training in the jewelry world, this means a blend of the resolutely, barrier-breaking contemporary thought with a reverence for classicism and superlative craftsmanship. His exploration of materials has taken him from the ancient and organic, stingray skin and coral, to futuristic, industrial carbon fiber: in this dark, matte, rebelliously non-precious, velvety material, he found the perfect medium for his particular vision of modernity. He combines and contrasts its velvety opacity with the light and exuberance of colored gemstones, or with the luster of pearls creating a new interpretation of 1920s monochrome. Most innovative and individualistic of all, perhaps, is Salini's use of reflective surfaces, highly polished gold—turning gold from a support act to a main event—and adding the intrigue of optical illusion, drawing the view inwards, inviting conversation, and as Salini hopes, encouraging personal profound reflections—a play on the meaning and the beauty of these light-filled, new-generation masterpieces of 21st century modernism.

Recommended Reading