Jan Banning, Moroccan girl (Nissrine) reading an application form for an "inburgeringscursus" (citizenship course) at a closed window from National Identities, 2007. Sold for £23,750. Photographs London.
As much as the market has supported masterpieces by household names this year, 2020 has also witnessed the growing prominence of a new generation of artists, designers, and makers. Although many have been working for years (even decades), these are artists who speak to the times in which we currently find ourselves, who have discerned quite precisely how to capture, reflect on, escape from, and challenge our present moment.
Shaun Leane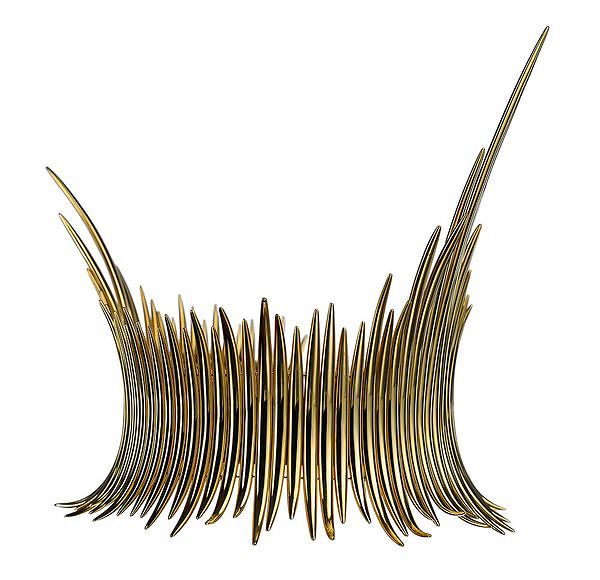 Shaun Leane, Couture Quill Choker. Courtesy of Shaun Leane. Flawless.
This season, Phillips collaborated with two stars of jewelry: Shaun Leane and Feng J. Shaun Leane is hardly a new name—he famously combined his mastery of centuries-old techniques with an ambition to redefine the very concept of jewelry. Over the past two decades, he has infused his designs with drama and beauty, perpetually balancing the delicate and the theatrical. During this precarious year, his thoughtful, emotional jewelry—presented on our private sales platform, Flawless—seemed even more powerful.
Feng J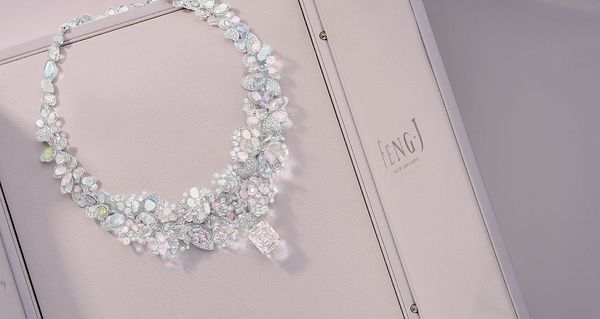 Feng J. A Fancy Light Pink Diamond and Gem-set 'Les Jardins de Giverny' Necklace/Bracelet/Ring. Sold for HK$ 20,215,000. Jewels & Jadeite.
Chinese designer Feng J captured a more escapist element. Her "Fountain of Diamonds" and "Les Jardins de Giverny" designs evoked the fountains scattered around Paris and the incomparable gardens of Claude Monet, respectively. The "Fountain of Diamonds" ring has been compared to sculpture, with its meticulous replication of water, bubbling up from a fountain.
Zanele Muholi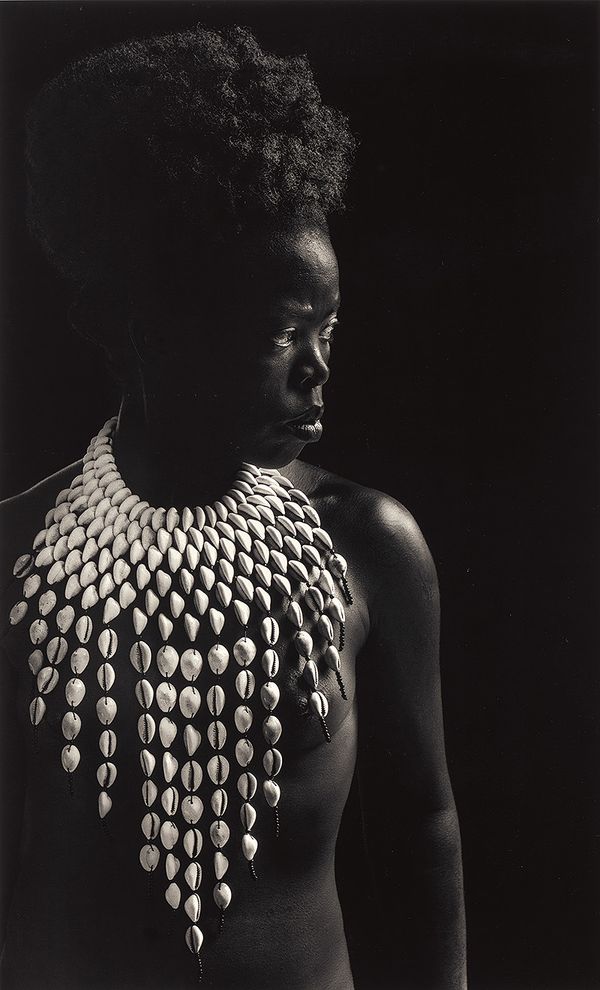 Zanele Muholi, Zodwa, Paris from Somnyama Ngonyama, 2014. Estimate £10,000 - 15,000. Photographs London Auction.
Zanele Muholi, here as Zodwa, is strong and composed, emerging from the shadows with a powerful contemporary application of chiaroscuro. This reflective work is from the ongoing series Somnyama Ngonyama, translated from the Zulu language as "Hail, the Dark Lioness." Turning the camera on themselves, Muholi explores different characters and archetypes to confront the politics of race, gender, and sexuality. Muholi is a 2016 recipient of a Chevalier from l'Ordre des Arts et des Lettres and an Infinity Award from ICP, and their work resides in such prominent institutions as New York's Guggenheim Museum and MoMA, Boston's Museum of Fine Arts and London's Tate Modern, which will open the visual activist's first major UK survey in November 2020.
Jan Banning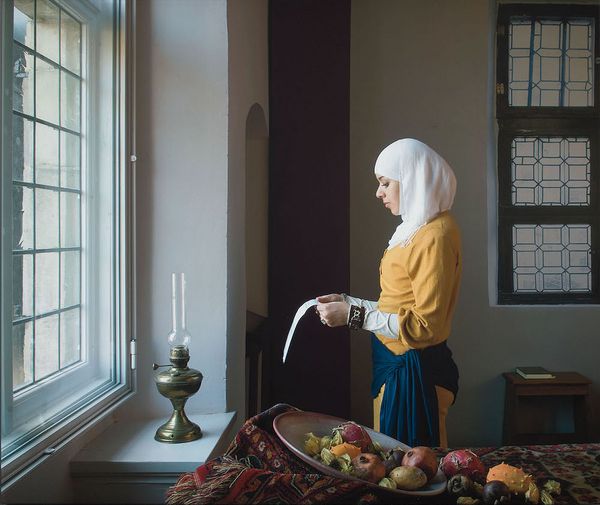 Jan Banning, Moroccan girl (Nissrine) reading an application form for an "inburgeringscursus" (citizenship course) at a closed window from National Identities, 2007. Sold for £23,750. Photographs London Auction.
Banning's reinterpretation of Vermeer's Girl Reading a Letter at an Open Window (in the Dresden State Art Museums), poignantly reacts to right-wing populism in Europe; his photograph was taken in a nun's cell at the Catharijneconvent Museum in Utrecht with his Moroccan cleaning lady's daughter as the model. As the artist, who was born to immigrant parents, has said, he "wanted to question the idea of a clearly defined national identity... propagated to exclude migrants using iconic works of art."
Amoako Boafo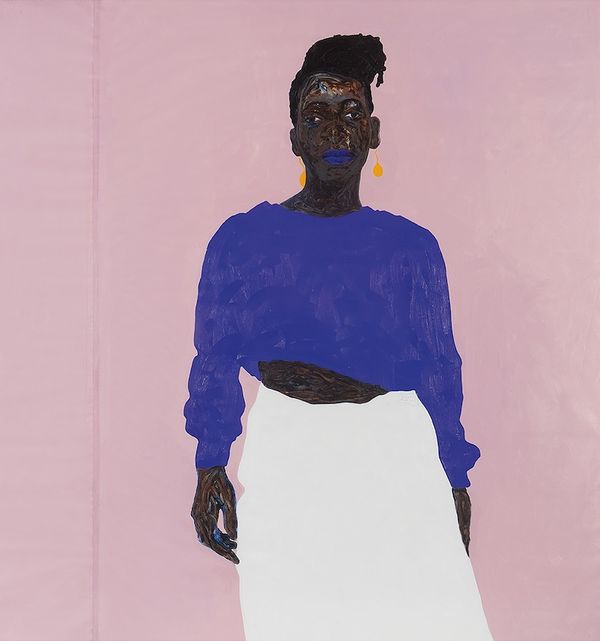 Amoako Boafo's work questions contemporary misunderstandings of Blackness by contrasting personal and structural perceptions and portrayals of Black people. His heavily expressionistic and sensitive portraits of friends and acquaintances highlight their self-perception and beauty while challenging the misconceptions of Blackness that objectify and dehumanize Black people.
Amy Sherald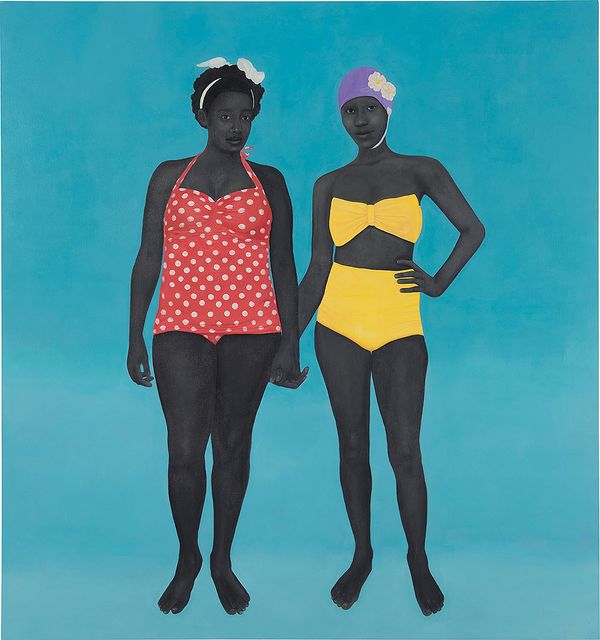 Amy Sherald's paintings of everyday African Americans subvert the conventional genre of portraiture to show a more complete picture of humanity. Her figures — in this case, two young bathers — gaze directly at us with a confident disposition that exudes timelessness, asserting their presence in a medium and traditional subject matter that has historically ostracized non-white artists and sitters.
Jonas Wood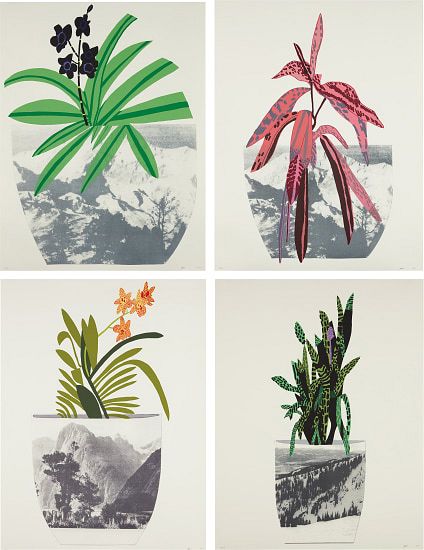 Boston-born, Los Angeles-based artist Jonas Wood is best known for his colorful, semi-abstract interior scenes and still-lifes. Both in style and subject matter, Wood evokes the work of his predecessors Henri Matisse, Alex Katz and David Hockney. The artist is known to produce paintings, prints, collages and even sculptures with the help of his wife, ceramicist Shio Kusaka.
Urwerk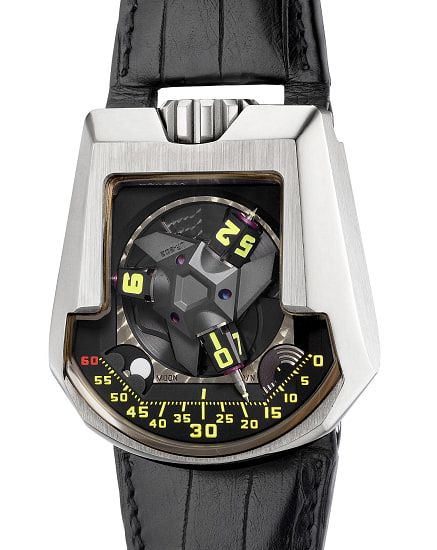 Urwerk, Ref. UR-202 WG, A fine and unusual titanium and white gold wristwatch with revolving satellite complication, telescopic minute hands, twin-turbine winding system, moon phases and day/night indication, circa 2010. Sold for HK$350,000. Intersect: Online Auction.
The Swiss firm's name "Urwerk" is a play on the German word meaning clockwork. "Ur" is an ancient Sumerian city in which the populace used sundials for timekeeping, while "werk" is German for creation. The company started by Felix Baumgartner and Martin Frei is known for their innovative avant-garde designs inspired by space travel. With their own take on time indication, like many of their contemporaries, their futuristic timepieces are rooted in high-end traditional watchmaking. Their signature floating method of time indication using rotating satellites traces back to a watch made in 1656. Producing only 150 watches per year, they have impressed connoisseurs with their innovativeness and cutting-edge technical prowess.
Studio Job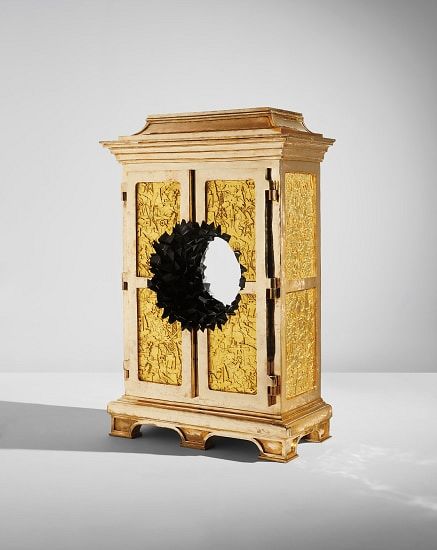 Studio Job, Cabinet, from the "Robber Baron" series, 2007. Sold for $150,000. Design New York.
The United States' Gilded Age symbolized rapid economic growth and increased industrialization throughout the country. As the name suggests, it also ushered in a public taste for the country's elite that favored glamorous and excessive design, often reviving historical design motifs and trends. Though created over 100 years after the Gilded Age's apex, Studio Job's Robber Barron series draws on some of the same conceptual and aesthetic ideas that tycoons such as Rockefeller, Vanderbilt, Carnegie, and Frick now symbolize in today's public imagination.

Phillips 2020: Year In Review
In a very challenging year, Phillips rose to the occasion, fully embracing our digital-first ethos to hold an extraordinary set of live auctions which exploded company records across the globe. We brought new artists to auction, supported the charitable causes we care about, and launched the next-generation auction experience, Gallery One. We look forward to a bright 2021.

Recommened Reading
Phillips 2020: Editor's Picks >
Phillips 2020: Your Favorites >