Fernando Campana and Humberto Campana. Cartoon chair, 2007. Estimate $25,000 - 35,000. Gallery One.
Katherine Lukacher, Head of Online Sales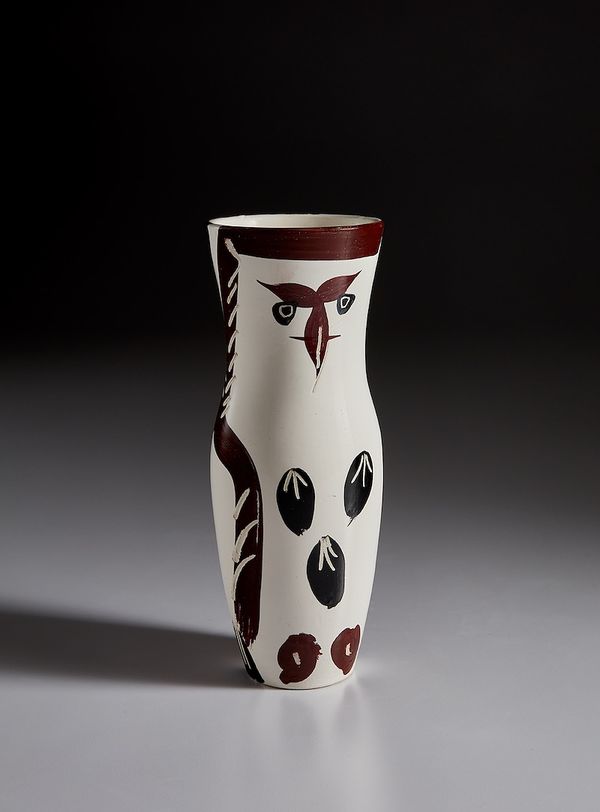 Pablo Picasso, Chouetton (Young wood-owl), 1952. Estimate $6,000 - 8,000. Editions Modern.
To Give
I would give Pablo Picasso's Chouetton (Young wood-owl) to my sister; she and I love the whimsical nature of Picasso's ceramics. The owl was a re-occurring motif in Picasso's work as it is the symbol for Athena, the goodness of Wisdom. Picasso also had a real-life happenstance with an injured owl, as Françoise Gilot described "…one of his claws had been injured. We bandaged it and it gradually healed." The healing of owls seems to be a theme of 2020 as this vase also reminds me of the tiny Saw-whet owl that was found in the Rockefeller Christmas tree this year who had survived a ride on the tree and persevered with such resilience in 2020. A nice gift to remind her of one of the happier moments of hope in a challenging year.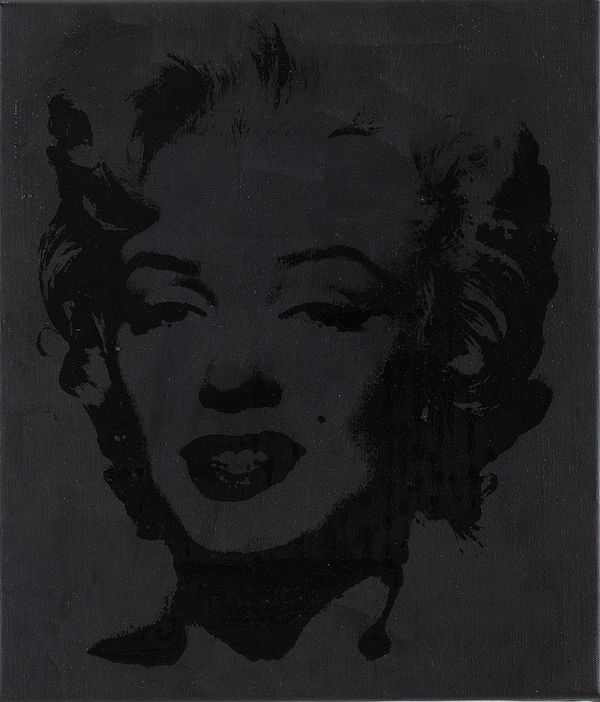 Sturtevant, Warhol Black Marilyn, 2004. Estimate $200,000 - 300,000. Gallery One.
To Keep
I would keep Sturtevant's Warhol Black Marilyn. I've always loved Sturtevant since we offered her piece Stella Tomlinson Court Park (First Version) (Study) back in 2014, the same year she passed away. At that time (2014-2015) her retrospective up was up at MoMa and she was reemerging as an important artist on the forefront of the appropriation movement. The curator of the retrospective, Peter Eleey remarked that "In some ways, style is her medium," I always found that very intriguing as a concept, that she created by culling premade imagery and therefore as an artist could not be pinned down.

Fred Blauth, Registrar, Online Sales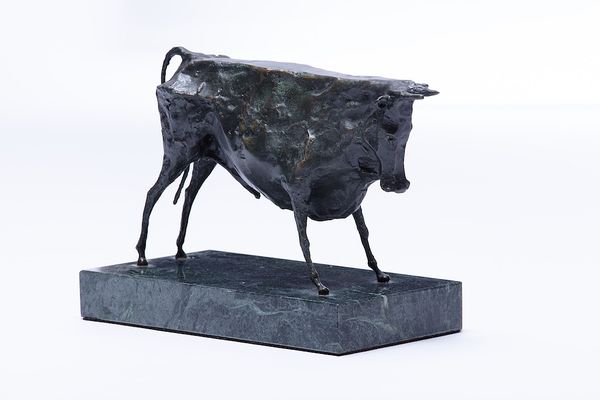 Elie Nadelman, Standing Bull, 1915/cast after 1946. Estimate $3,000 - 5,000. Editions Modern.
To Give
I would give Angus, my best friend, Elie Nadelman's Standing Bull. I laugh the hardest and smile the biggest whenever I am with him. Being a Taurus myself, I also connect with the animal and can appreciate what it has come to represent throughout history. Angus is an incredible Spanish professor that has lived all over the world and cares deeply about language, so a pun or play-on-words seems like the perfect gift to me.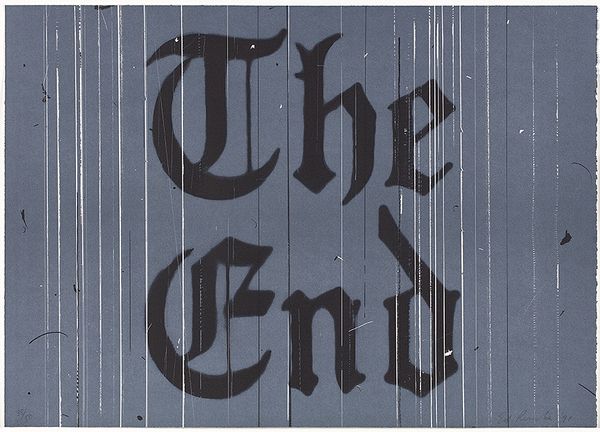 Ed Ruscha, The End, 1991. Estimate $20,000 - 30,000. Gallery One.
To Keep
I have to keep The End print by Ruscha! In 2018, I curated an exhibition in Pittsburgh, PA. by the same title that featured artists who reflected on the concept of finality, loss, break-ups, death...and change, rebirth and resurrection too. I have to hope that when the clock strikes midnight on January 1, 2021, we all can move forward from this trying year (or at least begin to). Let the credits roll!

Alexis Vourvoulis, Senior Specialist, Vice President, Jewels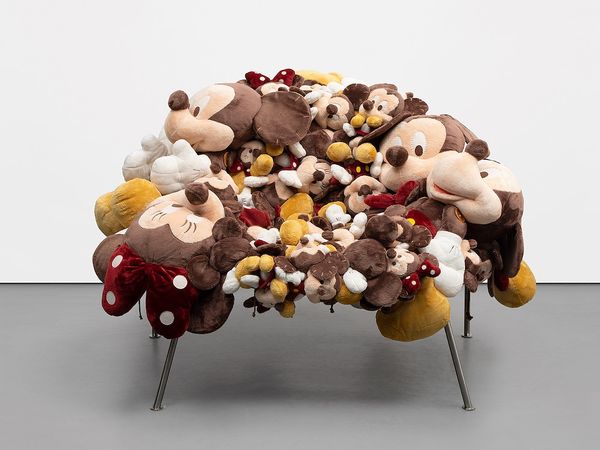 Fernando Campana and Humberto Campana. Cartoon chair, 2007. Estimate $25,000 - 35,000. Gallery One.
To Give
I would love to give the Minnie and Mickey chair by the Campana brothers, from Gallery One, to my stepdaughter. She lives in Paris, has impeccable taste and appreciates contemporary furniture and design. She's always on the hunt for a cool chair; this would be it.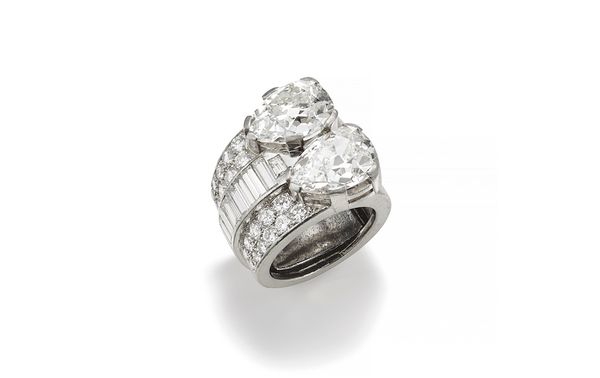 An Art Moderne Diamond and Platinum Ring. Estimate $30,000 - 50,000. Jewels New York.
To Keep
There are several special pieces in our December New York Jewels Auction that I would love to own, but there is one piece that I would absolutely love to wear and that is Lot 35, An Art Moderne Diamond and Platinum Ring. A dramatic pinky ring is highly underrated and incredibly chic. The bold, clean lines are contemporary and edgy in contrast to the sweet, old pear-shaped diamonds set side by side. For me, this ring is as good as it gets.

Anne Mock, GG, Associate Specialist, Jewels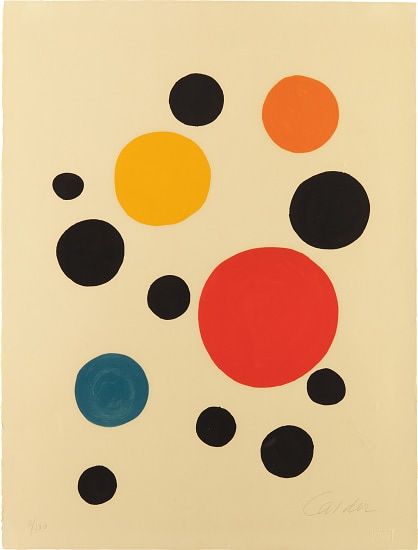 Alexander Calder, Polka Dots, circa 1970. Estimate $3,000 - 4,000. Editions Modern.
To Give
Simple yet bold and playful, Alexander Calder's Polka Dots would make the perfect gift. Even if the recipient is not an art aficionado, it's easy to appreciate this piece, which evokes a sense of childlike joy. I love mixing clean, modern pieces with traditional, ornate ones—I think this work would pop in a cozy study!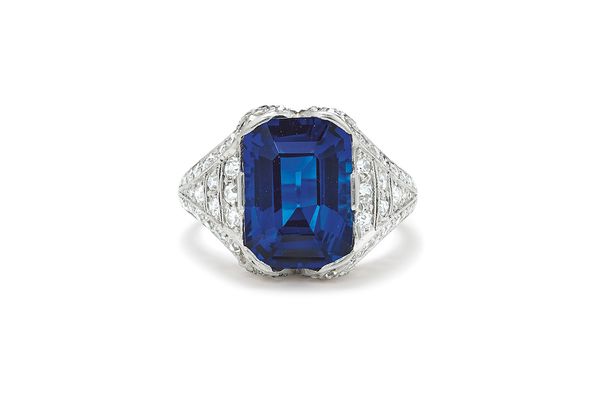 An Art Deco Sapphire, Diamond and Platinum Ring. Estimate $50,000 - 70,000. Jewels New York.
To Keep
I would happily take ownership of this Art Deco Sapphire, Diamond and Platinum Ring. Weighing in at approximately 4.00 carats, this Burmese beauty is a deep, velvety blue color, free from heat treatment and inclusions, a gemologists dream. The delicate platinum mounting is encrusted with single-cut diamonds and intricate detailing; a little piece of history on the hand. I would have no problem wearing it with my quarantine jammies or a cocktail dress in the (hopefully near) future!

Kelly Troester, Worldwide Co-Head, Editions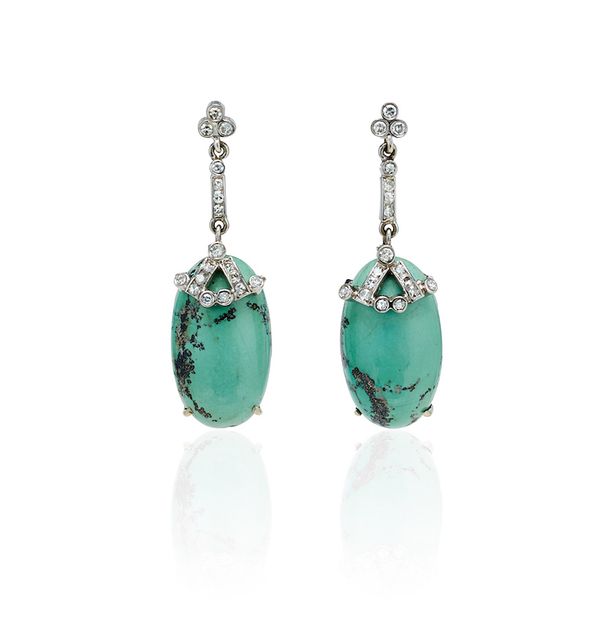 A Pair of Turquoise, Diamond and Platinum Plated Silver Earrings. Estimate $1,500 - 2,500. Jewels & More.
To Give
This holiday season I feel like giving small, precious or intimate objects more than anything else. My colleagues' Jewels & More auction is filled with wonderful things at attractive price points, many at no reserve, hooray! These turquoise and diamond earrings (Lot 205) caught my eye as a beautiful gift to a beloved friend or dear colleague such as Sarah Browne, specialist in the Editions department. They are an elegant mix of stones and eras—Art Deco design but contemporary. Sarah and I share a love of Navajo, Native American, and vintage jewelry, so the turquoise and the Deco form a symbolic combination (with a ton of character). I hope she likes them!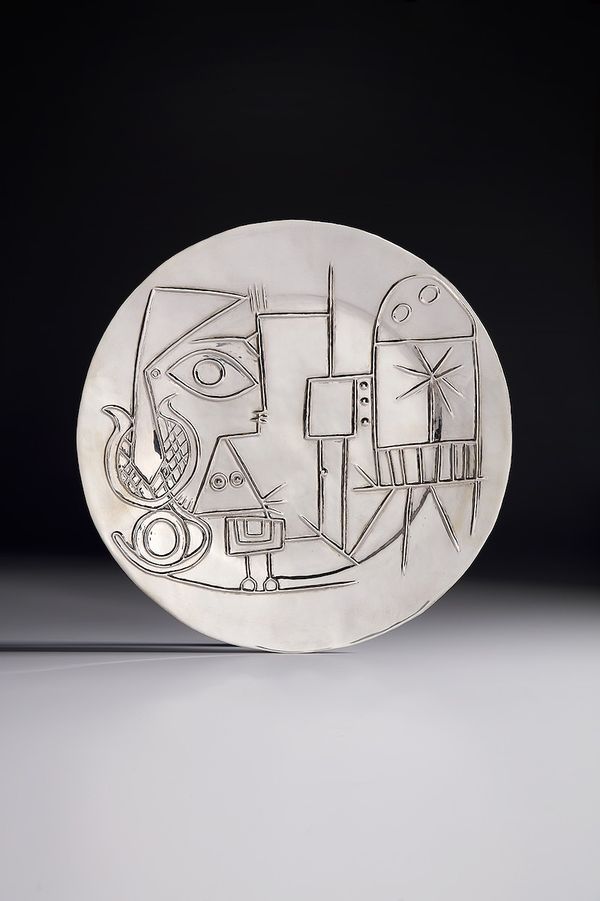 Pablo Picasso, Jacqueline au chevalet (Jacqueline at the Easel), 1956. Estimate $30,000 - 50,000. Editions Modern.
To Keep
This solid repoussée silver platter just radiates a shimmering holiday gift—example of an objet d'art someone gives another as a completely wonderful surprise. In 1956 Picasso wanted to translate a small group of his Madoura ceramics into opulent silver plates inspired by 16th and 17th century chased silver and gold Venetian and French plates. He chose metalsmith François Victor-Hugo to create small editions. It's a wonderful collaboration. I find it to be one of those rare, festive, luxe pieces that would have been sourced for a Neiman Marcus Christmas Book, the ultimate holiday wish-book back in its day. It is my grand little sports car. I would not chance someone missing it in this auction; I'm keeping it for myself to make sure it finds its way to me!

Patrizia Koenig, Associate Specialist, 20th Century & Contemporary Art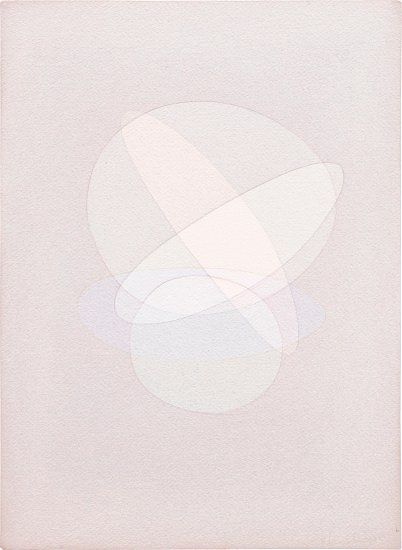 To Give
I would gift Olafur Eliasson's The hue of the void to my best friend who recently moved to Los Angeles. When I think of Los Angeles, I think of light and space—and in many ways this watercolor poetically captures this. I love the work's poetic title, the delicacy of its composition and the subtle shift in colors that reveals itself to you the longer you stand in front of it. And importantly, this work in itself is a generous gift by the artist, who donated it to the Hall Art Foundation, which is donating all proceeds to the Alexander W. Dreyfoos School of the Arts in West Palm Beach for low-income Black students who wish to pursue a career in the visual and performing arts.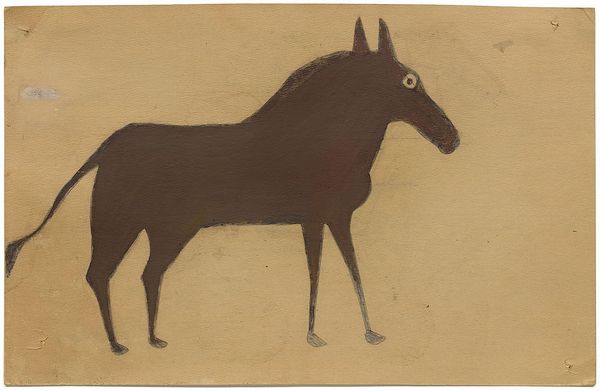 Bill Traylor, Untitled (Black and Brown Horse), circa 1941. Estimate $40,000 - 60,000. 20th Century & Contemporary Art Day Sale.
To Keep
I'd have to keep Bill Traylor's Untitled (Black and Brown Horse) without a doubt! Traylor is arguably one of the most important American artists of the past century, and this work is of a caliber that's extremely hard to come by. Not only is it rare for its large scale and the singular imagery of the horse, it was notably done on the back of a poster related to the African American community (in this case a 1941 The Ink Spots poster). Traylor's works are politically and artistically assertive; they speak of an artist seeking self-definition, a visual storyteller recording a segregated country at the precipice of the Civil Rights movement.

Annie Dolan, Associate Head of Day Sales, 20th Century & Contemporary Art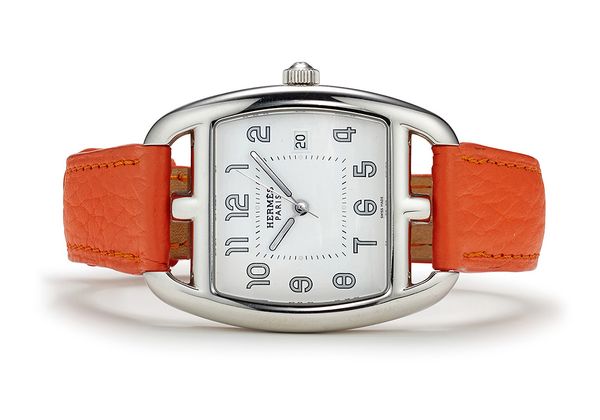 Hermès, A Stainless Steel 'Cape Cod Tonneau' Wristwatch. Estimate $1,500 - 2,500. Jewels & More.
To Give
I would gift the Hermès Cape Cod Tonneau wristwatch to my mom this holiday season. She has amassed a large watch collection over the years, and this stainless steel watch with the orange band is definitely the missing link! She loves a pop of color with an all-black outfit, and I have no doubt that she would want to wear this watch every day.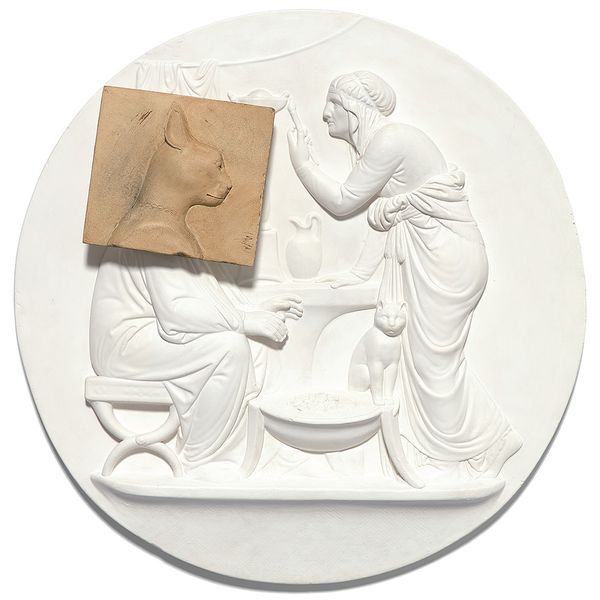 To Keep
If I had to pick one work on offer right now to take home for the holidays, I would pick Fred Wilson's Untitled (Bast). I've always loved Fred Wilson's work, and especially love this plaster wall-bound work. The plaster cast relates to those found in ancient Greco-Roman culture, specifically those cultures with Egyptian origins. It reminds me of the reliefs seen on my countless visits to the Metropolitan Museum of Art growing up just outside of New York City. Wilson has appropriated art historical objects like these throughout his practice, re-contexualizing them in profound, and sometimes satirical ways. I love that here, Wilson has taken the bust of a cat in profile and placed it atop the left figure (admittedly, as a cat lady myself!).

Sarah Browne, Associate Specialist, Editions
Coralynn Pence, A Diamond, Aquamarine and Gold Brooch. Estimate $4,000 - 6,000. Jewels & More.
To Give
I inherited a love of brooches and lapel pins from my grandmother. She was known to adorn all coats, hats and blazers with pins ranging from Tiffany classics, political buttons and museum souvenirs, to rhinestone creations purchased at thrift stores around the world. Coralynn Pence's modernist inspired silhouettes remind me of my grandmother's collection. Pence was also a known world traveler and often brought back materials to include in her work. A Diamond, Aquamarine and Gold Brooch would make a great gift for my colleague Kelly Troester; a lover of antiques, a savvy thrifter and a collector of all things eclectic and beautiful.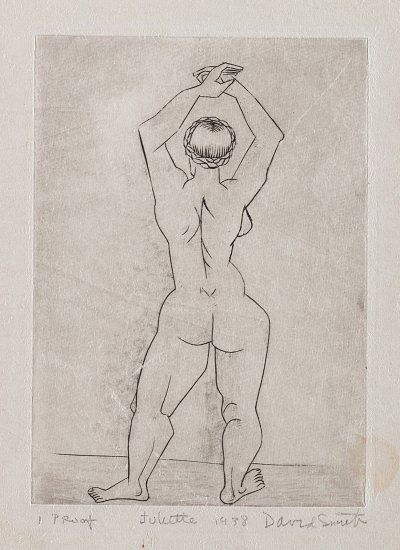 To Keep
This uneditioned proof of David Smith's Juliette is packed with print history! I am always drawn to these gems that lead you down a rabbit hole of discovery. Besides, who wouldn't love to own a rare piece of Smith's print history?! This elegant, strong female form is presumably a ballet dancer, as drawing dancers from life was part of Smith's studio practice. This proof was printed on what looks to be found paper and is the first of three states. With each state, Juliette's form is further embellished and in the final state, which is an edition of just 10, Juliette is depicted in front of an elaborately detailed fireplace setting. For me, I like the simplicity and crispness of this version most.

Recommended Reading
Splurge vs. Steal: A Jewelry Gift Guide >
Your Year in Art: 2021 Horoscopes >
​​​​​​​