Morris Louis, Beth Sin, 1958. Estimate $4,000,000 - 6,000,000. 20th Century and Contemporary Art New York.
Clyfford Still (1904 – 1980)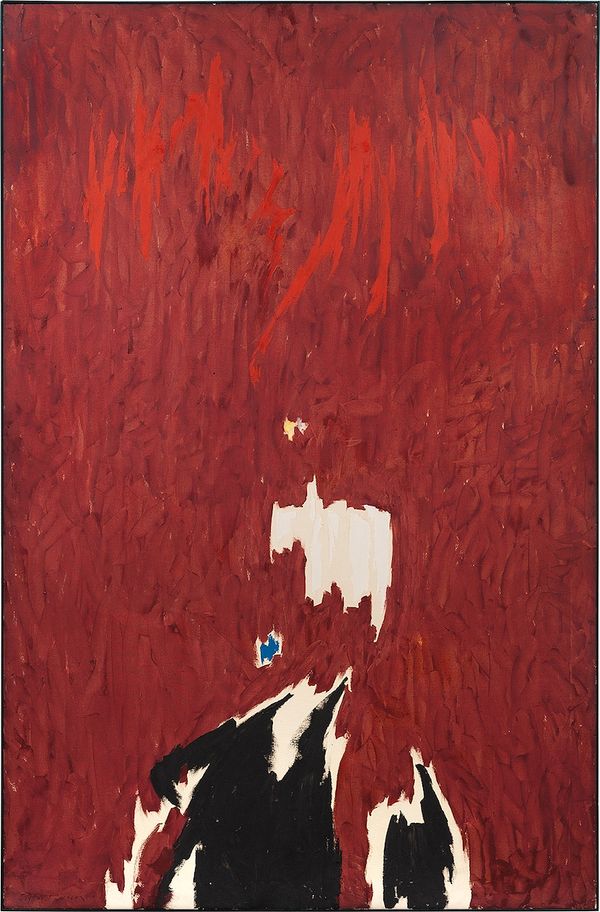 One of the pioneering forces of Abstract Expressionism, Clyfford Still strove to retain complete control over every work he executed—betraying a steadfastness and dedication that are often attributed to his harsh, physically taxing upbringing as the son of a Canadian farmer in Alberta. As a result, he withdrew all of his work from public exhibition in 1951—with very few exceptions for galleries and museums—and Still's paintings rarely enter the market: only a few dozen are estimated to still be in private hands.
Featuring a chromatic intensity and emotive depth characteristic of Still's finest works, the incendiary crimson expanse and jagged black and blue forms of PH-407 pulsates with an enigmatic energy. Painted in 1964, three years after Still left the New York art world for good for the tranquility and quietude of the countryside, this monumental masterpiece stands as a superb example from the artist's previously overlooked chapter in Maryland. This period was recently the subject of a 10-year long research project by some of the most prominent experts on Still—and is currently being celebrated in the exhibition Clyfford Still: Late Works at the Clyfford Still Museum in Denver. Formerly housed in the collection of the Museum Frieder Burda, Baden-Baden, PH-407 arrives on the market during an auspicious moment in scholarship that indexes a larger art historical reconsideration of the artist's mature period.
Morris Louis (1912 – 1962)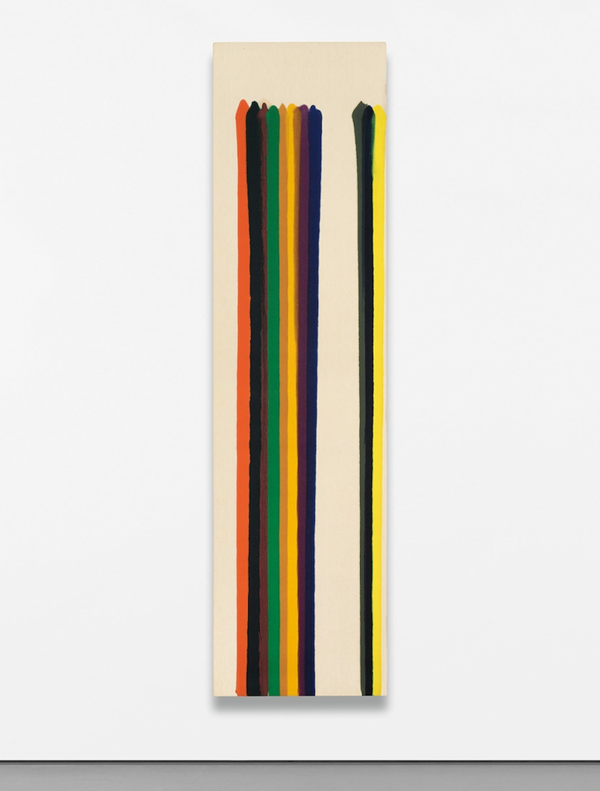 Exceptionally prolific yet meticulous over the course of his all-too-brief career, Morris Louis cemented a status as one of the most important proponents of Color Field Painting and one of the leaders of the Washington Color School. Working with such figures as Kenneth Noland and Sam Gilliam, Louis pioneered a greatly simplified form of abstraction that served as a stylistic conduit between Abstract Expressionism and Minimalism. By pouring greatly thinned washes of paint over the surface of unprimed canvas, Louis alternately achieved luminous, cheerful ribbons of color and an eerie and ethereal effect, marked by the use of chance and the participation of atmospheric elements such as gravity in the creation of his paintings.
Titled after two letters from the Hebrew alphabet, Beth Sin is a monumental masterpiece from Morris Louis's first mature body of work. Belonging to his Veils series, which he executed in two distinct spurts in 1954 and 1958-1959, the work is comprised of translucent washes of cerulean, violet, and moss green that gloriously flow down the surface of the work as overlapping waterfalls. One of the most refined and vibrant of its kind to come to auction, Beth Sin is an exquisite example from the pivotal series that would launch him to international acclaim.
Joan Mitchell (1925 – 1992)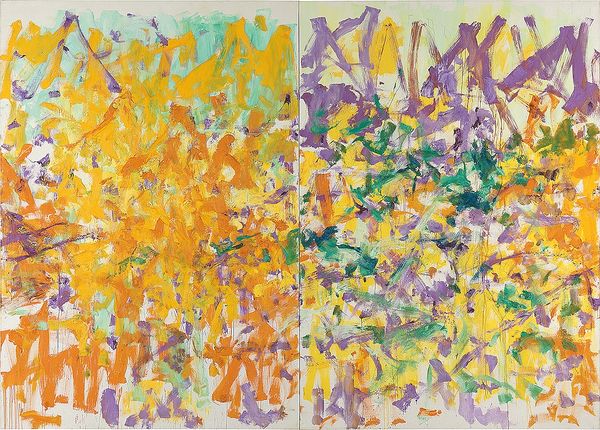 Known for her highly emotive gestural abstraction, Joan Mitchell was one of the most prominent members of the second generation of Abstract Expressionists. Mitchell painted highly structured, large-scale compositions featuring vibrant, violent bursts of color and light, often influenced by landscape painting and informed by her emotional understanding of the world around her. Mitchell was one of the only female artists of her generation to achieve critical and public acclaim, and her work was featured in the famous Ninth Street Show of 1951, which introduced the world to the emerging American avant-garde.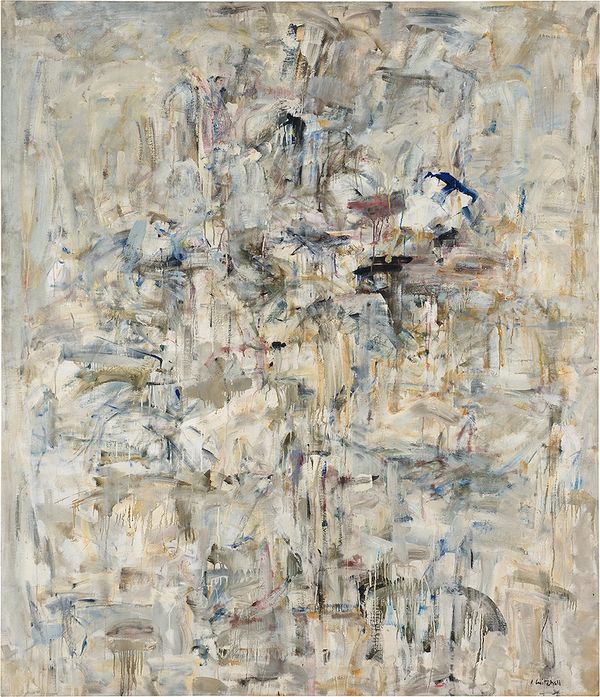 A scintillating explosion of painterly fireworks, Untitled is a ravishing masterpiece in which Joan Mitchell explored her signature gestural physicality through the delicate and tender hues that characterize her late period. This important diptych from the pivotal year of 1979 is composed of impasto-rich passages of orange, yellow, lilac, and turquoise, evoking prismatic images of wildflowers and sunlight flickering across a body of water. Made during a time when many artists and critics internationally were proclaiming the end of painting and conceptual art had long eclipsed the medium as the dominant force in the post-war art world, Untitled foregrounds subjectivity, showcasing the expressive potentiality of painting.
Helen Frankenthaler (1928 – 2011)

Helen Frankenthaler, Off White Square, 1973. Estimate $3-4 million. 20th Century & Contemporary Art New York. © 2020 Helen Frankenthaler Foundation, Inc. / Artists Rights Society (ARS), New York.
Helen Frankenthaler was one of the most influential members of the second generation of Abstract Expressionists and had a considerable impact on the transition from the prevailing New York School sensibilities to the subsequent Color Field style. Frankenthaler first achieved widespread praise for the opaque, floating fields of color of her 1952 painting Mountain and Sea, created using a technique that involved pouring thinned paint onto untreated canvases that had been laid on the floor of her studio. This so-called "soak-stain" technique was an acclaimed overture to Frankenthaler's tireless experimentations with other styles and media throughout her career, including work in ceramics, sculpture, and printmaking.
One of her largest paintings Helen Frankenthaler ever made, Off White Square features the expressive expanses of pure color which characterize the highly-acclaimed body of work she created during the 1970s. The work is a masterpiece of her mature style, showcasing her transition from thinned acrylics to diluted oil paints during one of the most pivotal decades of Frankenthaler's career. Having arrested viewers for decades, the work was deemed by The New York Times as the "centerpiece" of the exhibition at the Clark Art Institute, As In Nature: Helen Frankenthaler Paintings.
Discover More from 20th Century & Contemporary Art Evening Sale >

Recommended Reading
Joan Mitchell in Another Dimension >
David Hockney's Wiggly Lanes >