Titus Kaphar, Memory Fails, 2010. Estimate $80,000 - 120,000. 20th Century and Contemporary Art New York.
The internationally distinguished collection of pioneering philanthropists Pamela and William Royall — prominent collectors of 20th century and contemporary art in the American South — reflects their broad interests, from well-known artists of the 20th century to emerging and established Black artists. Committed arts patrons and forces of change in Richmond, Virginia, the Royalls spearheaded the Virginia Museum of Fine Arts's recent acquisition of Kehinde Wiley's sculpture Rumors of War as board members of the institution and were instrumental to the museum's expansion of the diversity of its collection. Believing in a vision of greater inclusivity for Richmond, the Royalls established a non-profit art gallery for the collection, Try-me, which was open without charge to the public to foster a space for local artists and education. Here, five key works from the Royall's personal collection spotlight some of the last century's most influential names in depicting the contemporary Black experience.

Amy Sherald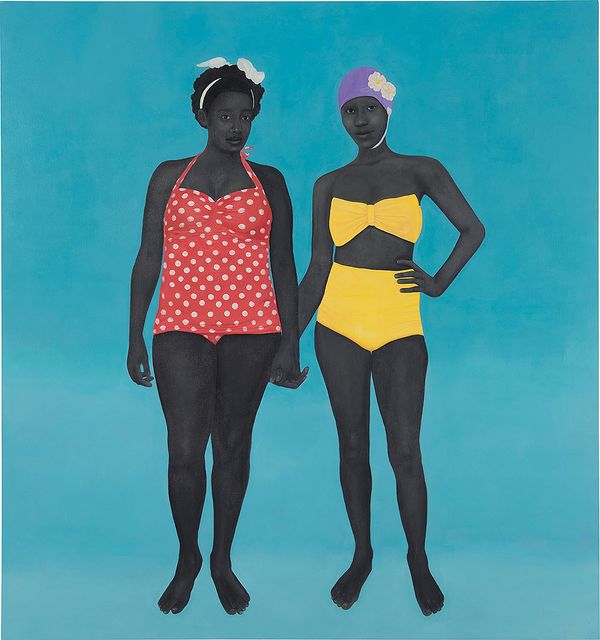 Amy Sherald's paintings of everyday African Americans subvert the conventional genre of portraiture to show a more complete picture of humanity. Her figures — in this case, two young bathers — gaze directly at us with a confident disposition that exudes timelessness, asserting their presence in a medium and traditional subject matter that has historically ostracized non-white artists and sitters. A rare image for Sherald in that it depicts two sitters, The Bathers is one of the finest works by the artist in private hands, showcasing her idiosyncratic aesthetic of fashionable gray-scaled figures represented against Barkley Hendricks-esque monochromatic expanse.
Barkley L. Hendricks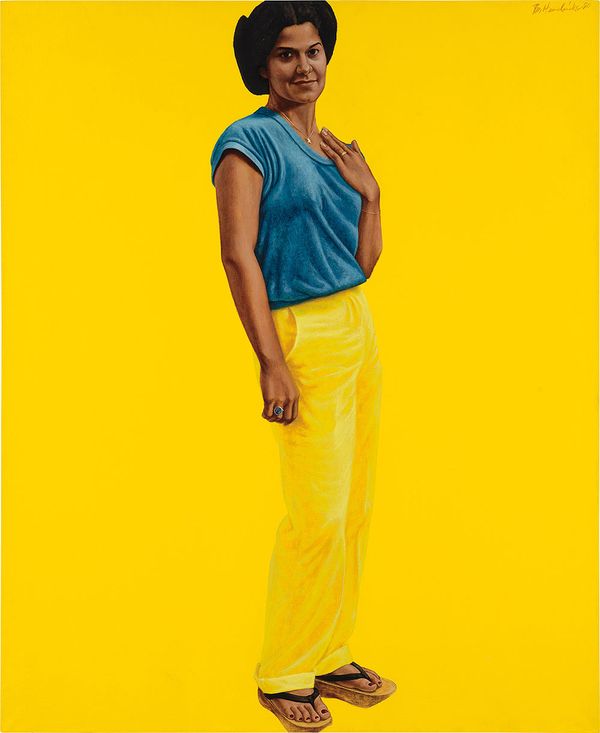 This work epitomizes Barkley Hendricks's arresting portrayals of fashionable, super-cool Black and Latino subjects, which revolutionized contemporary figurative painting. A superb example from the artist's more celebrated bodies of work — nearly life-size portraits that were executed between the late 1960s and early 1980s — it showcases his unrivaled ability to capture not only the personality but the inner spirit of each of his sitters. Though Hendricks is known for the wide array of vibrant colors he employed throughout his oeuvre, he often revisited his favorites: the palette of Selina/Star is redolent of the brilliant yellow he used seven years earlier in Woody, 1973 and which he would use two years later for his subject's attire in Icon for Fifi, 1982. This mastery of color and faculty for encapsulating such a distinctive sartorial individuality has left an indelible mark on art history, and has influenced a generation of artists — from Kehinde Wiley to Mickalene Thomas to Amy Sherald.
Beauford Delaney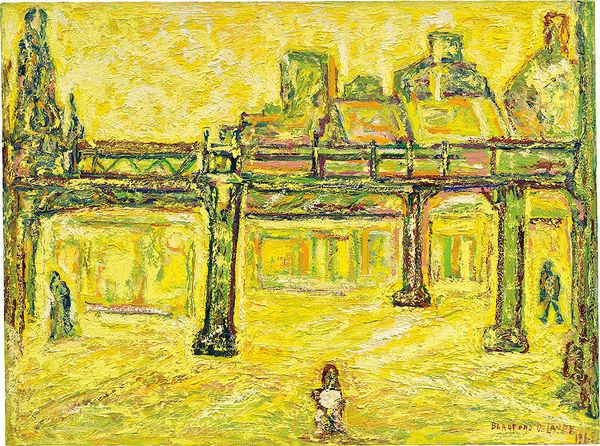 Street Scene (Paris) is a quintessential work that Beauford Delaney created in Paris, having moved from New York in 1953. Whilst Delaney had established himself as a central figure in the Harlem Renaissance in the decades prior — gaining widespread recognition for pastel portraits of prominent African Americans figures such as W. E. B. Du Bois and Duke Ellington — he decided at the age of 52 to move to the French capital. Blurring the boundaries of abstraction and figuration in a manner evocative of such artistic forebears as Claude Monet and Vincent van Gogh, Delaney here offers a work that at once harkens back to his street scenes of the 1940s and exemplifies his painterly investigations of color and light.
Bill Traylor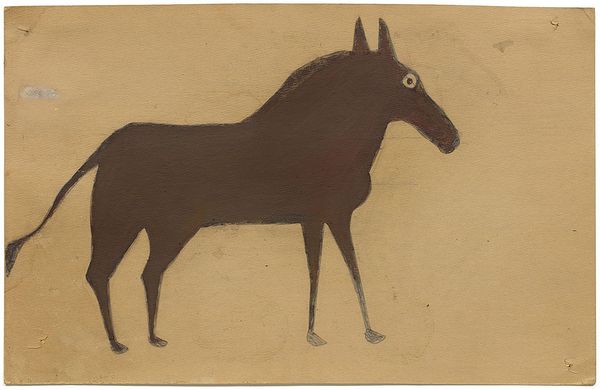 A work by one of the most important American artists of the 20th century, Untitled (Black and Brown Horse) was executed on the verso of a poster advertising The Ink Spots, the famed vocal jazz group who was regularly featured in the U.S. Pop Charts in the 1940s and collaborated with the likes of Ella Fitzgerald. Advertising an upcoming June 4, 1941 concert in Montgomery, Alabama, this poster offers insights into a unique moment in time in which Bill Traylor was creating his distinctive art from often modest materials while sitting on a wooden box on the sidewalk of Monroe Avenue, the center of Montgomery's African-American community.
Henry Taylor
Henry Taylor, Noah was here and obviously Thelma too, 2014. Estimate $150,000 - 200,000. 20th Century and Contemporary Art New York.
Having a zeal for exploring the stories of people from various walks of life, Henry Taylor is known for his particular skill in unraveling his subjects' personal character through an idiosyncratic painterly aesthetic. In Noah Was Here and Obviously Thelma Too, the artist portrays two subjects that have played a particularly intimate role in his life and career — Noah Davis, a close friend, fellow artist and significant creative influence and Thelma Hudgins, a patron of Taylor's work. Having many odd jobs before pursuing his career as an artist, Taylor's first paintings depicted family members and patients he met while employed at a mental hospital in Camarillo, California and later began inviting local waitresses, cashiers and homeless people into his studio to sit for portraits. The present painting is an exquisite example of Taylor's larger body of work focused on relationships, history and the contemporary human experience.
Discover More from 20th Century and Contemporary Art >


The Illustrious Blacks x The Royall Collection
Your favorite NeoAfroFuturisticPsychedelicSurrealisticHippys, The Illustrious Blacks (Manchildblack x Monstah Black), take on Phillips Southampton on their mission to save the world one beat at a time! Join them on a wild, haunting tour of The Pamela and William Royall Collection featuring extraordinary works by artists Titus Kaphar, Amy Sherald, Mickalene Thomas, and more.

Recommended Reading
Emerging Talent: 12 Artists to Watch >
David Hockney's Wiggly Lanes >