Aaron Siskind Terrors and Pleasures of Levitation, 1972. Estimate: $30,000-50,000.
Photographs, New York.
One especially rich subset within Phillips' upcoming Photographs auction in New York is a group of images, composed by a single collector, which shows the diversity of American photography in the post-war era. At the heart of the collection is Aaron Siskind's Terrors and Pleasures of Levitation, a portfolio of 10 photographs, each capturing a diver in mid-air, floating exuberantly in space. Siskind's career is, in many ways, a template for post-war photography. He began as a social documentarian and created a significant body of work on Harlem. Beginning in the late 1940s, his work took a more formal turn as he began to use photography as a tool for personal expression, incorporating abstraction into his images while at the same time holding true to the reality in front of his camera. A similar progression can be seen in the work of Harry Callahan, whose two views of telephone lines stretched across a blank sky are simultaneously abstract and purely photographic. This application of photography's documentary nature to a personal vision is a trend we see again and again in the 1950s and beyond.
Robert Frank Rodeo - New York City, 1954. Estimate: $30,000-50,000.
In the early 1950s, Robert Frank won a Guggenheim grant to create a photographic document of America. Much of Frank's work from this project was created in reaction to the sanitized view of the country to be found in the many picture magazines of the day. Frank's view of America was highly personal and he focused on those subjects not addressed by other photographers —the interstitial aspects of American life that, to Frank, made the country truly distinctive. For this reason, his images have a timeless, sometimes uncanny quality. This is apparent in Rodeo—New York City in which a lanky cowboy strikes a classic pose and lights up a cigarette, seemingly unaware that he is on the busy streets of New York City. Frank's photograph of a doll maker, Benny on 11th Street, is a rare example of his pre-Americans work.
It is of course true that all good pictures contain unfinished meanings: only perfect clichés are perfectly complete. Nevertheless, good photographs are often more richly unfinished than other pictures, are wilder, in the sense that they have in them more elements that are not fully understood and domesticated.
– John Szarkowski, 'Photography Until Now'
Garry Winogrand's Fort Worth, Texas, and Bruce Davidson's Brooklyn Gang, Coney Island, can be seen as extensions of Frank's work, and show two distinct takes on post-war America, as does Stephen Shore's Sunset Avenue, Palm Beach, which shifts the commentary into color. Steve McCurry used color to great effect in his now-famous portrait of Sharbat Gula, Afghan Girl, an image that graced the cover of National Geographic magazine and set the standard for journalistic portraiture.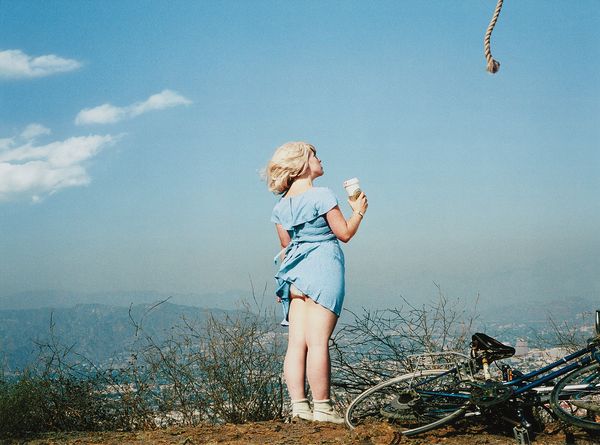 Alex Prager Molly from Week-End, 2009. Estimate: $12,000-18,000.
Alex Prager's hyper-saturated images document a dramatic narrative seemingly in mid-flow. Prager acts as a master director and stylist and is utterly in control of what's happening in front of her lens and how it is captured by her camera. Prager's Molly from Week-End harnesses photography's unique documentary and creative facets and represents a fascinating and enigmatic progression from the work of the other photographers in this grouping.