Liu Ye, Girl!, 2004, Estimate: HK$ 3,800,000-4,800,000
20th Century & Contemporary Art and Design Day Sale, Hong Kong
Phillips Hong Kong is excited to bring to this season Playtime, a storied glimpse into the sexual intricacies and fantasies of artists like Liu Ye, David LaChapelle and Tomoo Gokita. Connecting the dots between art and sex, love and eroticism, this spotlight spans across our auctions while encompassing a range of mediums and practices, from painting and sculpture, to prints and photography.
Leading Playtime is rare piece by the eminent Chinese artist Liu Ye – Girl! (2004) – one of only six nude portraits produced in this period. Exhibited at his landmark 2007 solo exhibition at Kunstmuseum Bern, the work is a visual valentine for his lover and muse at the time; an ode to the mystical preoccupation with female beauty which in itself holds a myriad of subtleties and nuances. Employing a gentle yet sumptuous order of color and brushwork, Liu Ye builds a visceral narrative through the composition by presenting us with a single figure – a forlorn, almost surprised girl with wide-set eyes, her juvenile expression contrasting against her breasts and suggestive, simple outfit. Through this solitary figure, the artist coaxes us into a simple understanding of her innocence, though at the same time begs us to ponder her ambiguous whereabouts and true intentions – the wooden cane held behind her back perhaps indicative of something more sinister at play.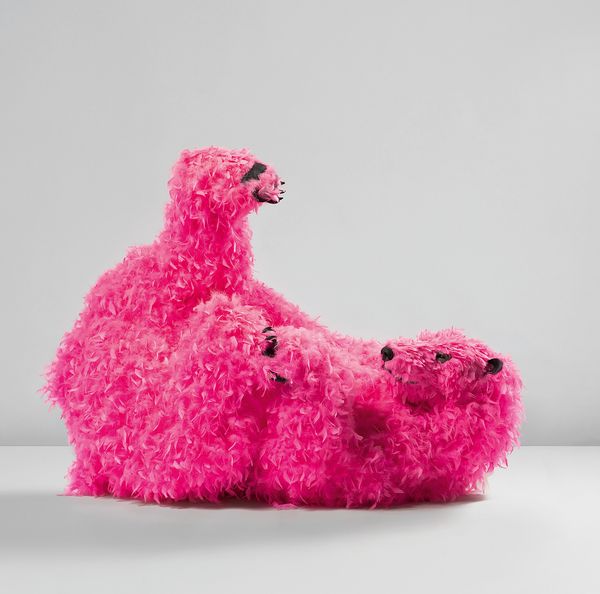 However, Playtime is also injected with a sense of light playfulness with the work of Paola Pivi, an artist fresh to auction in Asia, and whose large teddy bears are the epitome of innocence and nostalgia. Embodying this section's title quite literally, Mama No More Diapers, Please, is a reflection of the artist's own personal narrative with motherhood, creating miniature bears fashioned in a brilliant palette of neon colors, all the while rollicking in acrobatic lunges or yoga poses. Layered with foam and feathers, the bear is imbued with a tactile quality of infantile playthings, as well as evoking the vivid kaleidoscopic colors of the Hindu festival Holi – itself a celebration of love, and fertility.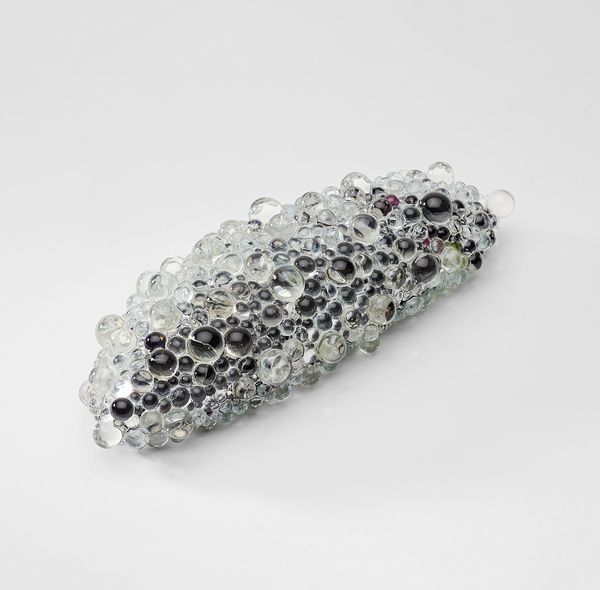 The work of Kohei Nawa is a further extension of these ethereal qualities. In PixCell-Toy-Egg Plant, Nawa employs his signature practice of covering found objects with intricate layers of glass beads, prisms, glue and plaster. Within its facsimiled forms the artist explores the perceptions of virtual and physical space, while investigating how a balance of the artificial and natural come together to form complex, cellular structures. Using refractions of light Nawa allows the sculpture to function as a real life analogue to a digital image.
Barbara Kruger, Untitled (Shove it, starve it, blind it, choke it, drown it, shame it, buy it, fuck it), 1986, Estimate: HK$2,000,000 - 3,000,000
20th Century & Contemporary Art Evening Sale, Hong Kong
By pairing found images with confrontational text, Barbara Kruger creates a powerful artistic vernacular; an ultimate critique of the Western system of sexism, corruption and consumerism. Untitled (Shove it, starve it, blind it, choke it, drown it, shame it, buy it, fuck it), the first of her work to be presented at auction in Hong Kong, is a resonating visual synergy whose lenticular dimensions chronical the darker aspects of female sexuality. Simultaneously challenging and subjugating the spectator, the interchanging messages of 'if it screams' and 'shove it' force us to question the tendency to silence a female voice when it becomes vocal and seen, while the words 'choke it', 'shame it' and 'fuck it' allude to the dominance, and supremacy of male sexuality in the modern world. In this piece, Kruger presents an empowering vehicle that bestows the all too often subjugated female voice with damning authority.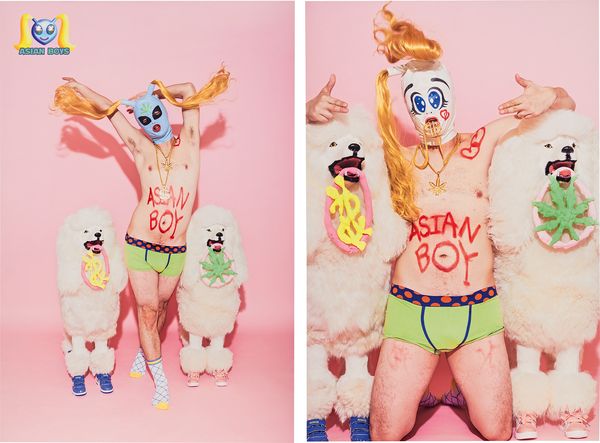 Perhaps the most sensuous of mediums, photography features heavily in Playtime, with works from the likes of Chen Tianzhuo, David LaChapelle and Nobuyoshi Araki providing a striking insight into the multifaceted lens of masculinity, homosexuality and sensuality. Fusing religious iconography and pop culture with drag and rave cultures in a kind of wild abandonment, Chen juxtaposes seemingly entirely opposite tendencies in his aim to transcend the superficial states of body and spirit – achieving what the artist refers to as a "state of madness". His work, and its domestic and international celebration, is indeed a reflection of a Chinese society that is becoming more culturally flexible and open to distinct originality and individualism.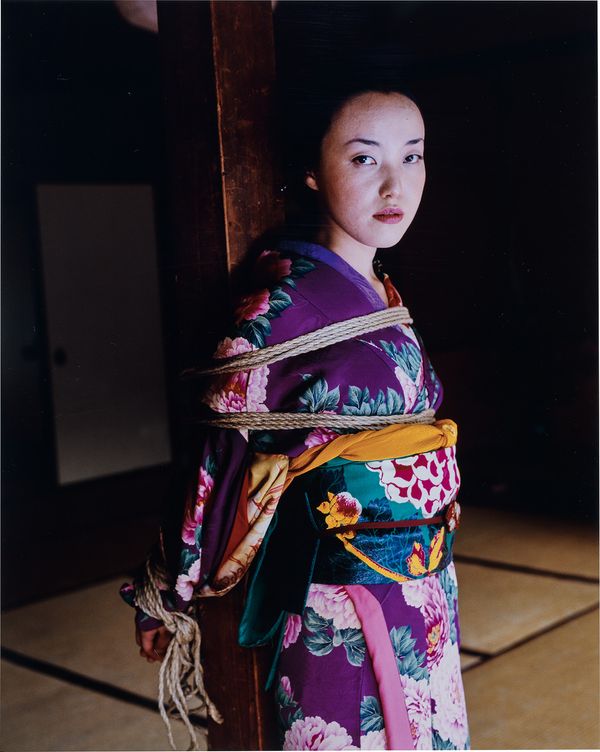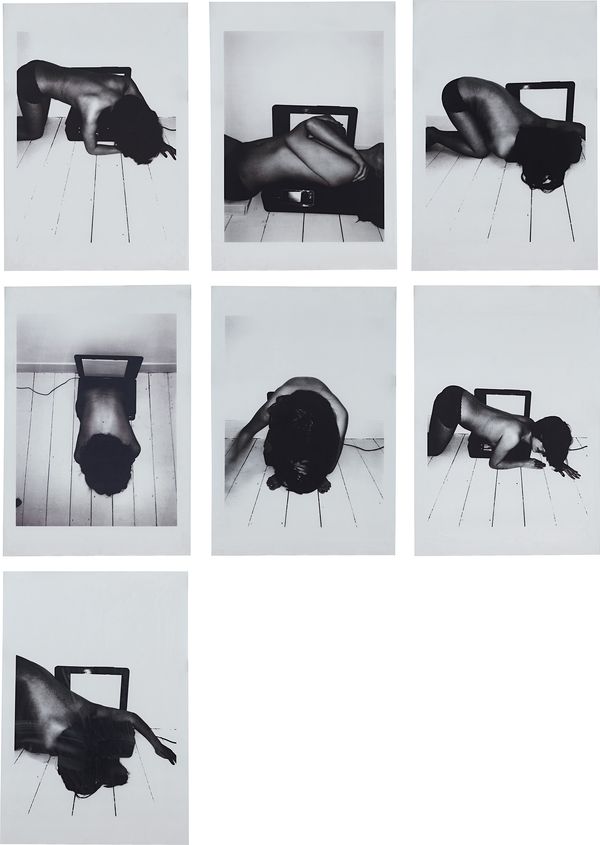 Nobuyoshi Araki, Seven Works: (i) LM22871; (ii) LM22872; (iii) LM22873; (iv) LM22874; (v) LM22875; (vi) LM22876; (vii) LM22877, 2014, Estimate: HK$10,000 - 20,000
20th Century & Contemporary Art and Design Day Sale, Hong Kong
If Asian Boy by Chen is a product of this cultural illumination, then the work of photographer Nobuyoshi Araki is a sharp denunciation of the suppression of sexuality in Japanese society. Contrasting the floral elegance of a kimono with the eroticism of kinbaku (the art of rope tying), Araki delivers in Untitled ('67 Shooting Back) an uncompromising vision of beauty and provocation, blending titillation and bondage in a fine art context. His astounding vision has led to widespread international acclaim and collaborations with Björk and Lady Gaga. With previous exhibitions at the Victoria and Albert Museum in London and the Caitlin Art Prize under her belt already, Zhu Tian is already an accomplished artist beyond her years. Balancing provocative and humor within her work, she intends to interrupt and disturb societal norms, in her words a kind of communal "hiccup".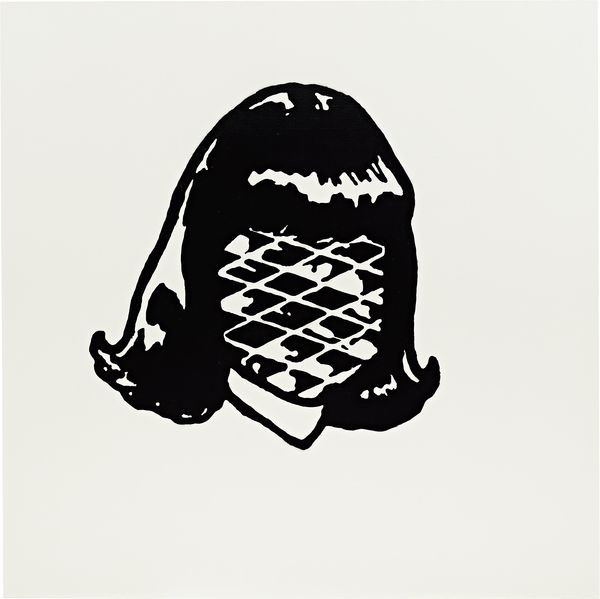 Further taken into consideration with the array of works is the portrayal of sex in the digital world, and how it is formed through the complexities of web-based lexicons. Known for his grey-scale paintings that combine abstract and figurative elements, Tomoo Gokita draws from an assortment of kitsch-pop references while deconstructing them into a compelling artistic vision. With Mask, Gokita lifts from his past as a commercial graphic designer to fashion a dark projection of a 60s-style femme fatale, with her youthful bob haircut contrasting against the metal grate superimposed over her face in a denial of the male gaze. Seductive and mysterious yet tempered with a kind of malevolent sensuality, in this work the artist delivers a startling inner vision of velvety forms, and nightmarish premonitions.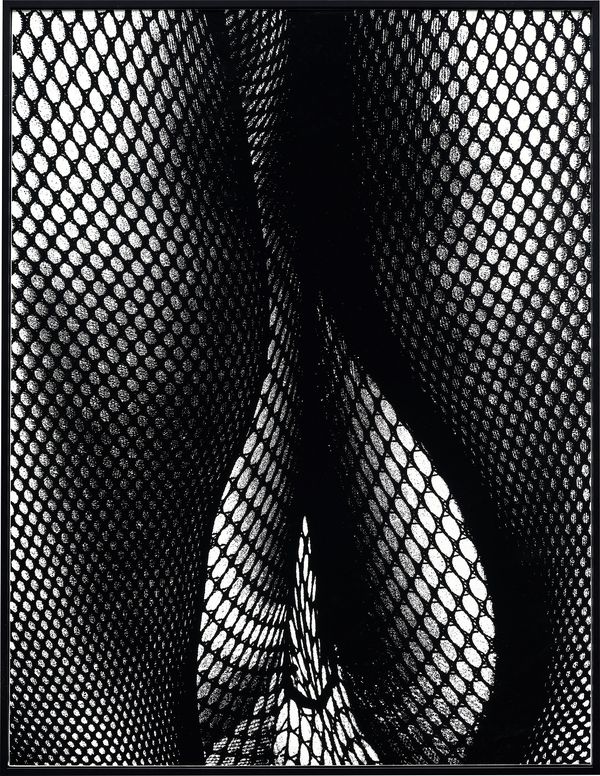 Sharing in the monochromatic palette of his compatriot, Daido Moriyama refracts the fragmentary nature of modern life in the creation of a kind of Op-Art photograph. The seemingly computer-generated tessellations of the fabric's interlocking hexagons lead our eye through the woman's voluptuous forms in a dance between geometry, illusion and sexuality.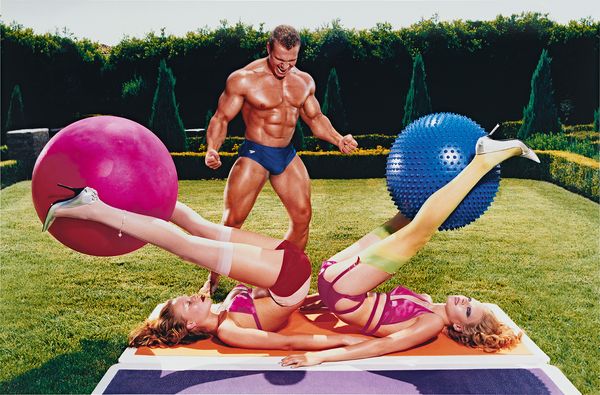 On the contrary, the bizarre, hyper-realistic style of David LaChapelle brings an explosion of color in Steroids Shrink Balls. In this photograph, he brings a dramatic, Baroquesque style of composition while referencing the sly subversion present in Cindy Sherman's work. Fluorescent exercise balls are held between a heavily built man, the figures suspended in a kind of impossible surrealism that allows LaChappelle to question the supposed duality of masculinity and athleticism, especially within the LGBTQ community.
Also included in Playtime are works by Ed Ruscha, Robert Indiana, Key Hiraga, Li Qing and a collaboration between Tim Noble and Sue Webster.