Liu Ye Choir of Angels (Red), 1999. Estimate: HK$20,000,000-40,000,000.
20th Century & Contemporary Art Evening Sale, Hong Kong.
In the post-Mao era, China's peculiar social and political environment birthed a group of symbolic artists that would come to redefine Chinese art on the global stage. Among others, these artists include the core nucleus of Zeng Fanzhi, Liu Ye, Zhang Xiaogang and Yue Minjun. Most of these artists came of age in the wake of the state's "Opening of China" period of the late 1970s and early 1980s, and their works from the following decades reflect on China's evolving social and cultural traditions. These key Chinese contemporary artists have since become sought-after by established collectors, both in Greater China and abroad. In the last decade, a number of cultural institutions and private museums arrived in China, further elevating these contemporary works of art. With a growing understanding of their relevance, these works are becoming increasingly scarce. However, these blue-chip works still remain significantly undervalued compared to Western contemporary art. This season, Phillips Hong Kong offers an array of Contemporary Chinese Art across our Evening and Day auctions. Below, we explore just a few of the artists and works not to be missed.
Liu Ye
Liu Ye is well-known for his dreamlike imagery. This season, Phillips is honored to present a rare, fresh-to-market work - Choir of Angels (Red). It is one of Liu Ye's earliest paintings and part of his iconic 'red curtain' series, which was executed shortly after his return from Europe to China. The curtain is a symbol with a dual meaning: it can both reveal and conceal. In this scene, the emotionless singing cherubs are arranged neatly to project a sense of order and discipline, rather unusual among a group of boisterous children. Rich in evocative mystery, the curtain becomes an enduring motif in Liu's works, creating a profound sense of spatial and temporal dislocation. The interplay of truth and illusion teases with preconditioned perceptions of reality and conventional ways of seeing.
The rich crimson red, which colors the backdrop and subjects of Choir of Angels (Red) adds another layer of meaning. A signifier of joy and luck in Chinese culture, the color red was also transformed irrevocably into an ideological color, monopolized by communist revolutionary propaganda. Liu recalled, "I grew up in a world that was covered up in red – the red sun, the red flag and red scarves. As for green pines and cedars, or sunflowers, they were usually just foils for the symbolism of red." Associating the color red with the prevailing visual emblem of his childhood days, the singing cherubs in Choir of Angels (Red) subtly references the rosy-cheeked children featured in popular propaganda, while the stage setting and the deployment of a rounded spotlight dramatically amplify the theatrical effect of the imagery.
I am open to interpretations of my work, and I welcome the layers of understanding diverse individuals might have.
— Liu Ye
Choir of Angels (Red) does not exclusively dwell on the past. Liu's time in East Berlin came at a crucial moment, allowing him to develop his work independently of the changing political situation in China. The stage, once associated with the plays of his father and subsequently the "red" propaganda of revolutionary operas, is instead concealed in Choir of Angels (Red) by a curtain which draws a symbolic close on history. Liu Ye liberates symbols of the past using the power of imagination and fairy tales, allowing new meanings and associations from both Eastern and Western cultural traditions to interact freely in the theatrical red-curtained setting. In this sense, Choir of Angels (Red) is a symbol for the artist himself – liberated to investigate the intersections of history and representation, Liu Ye has developed a distinct visual vocabulary that transcends traditional Eastern and Western art-historical categories. Explaining why he was drawn to these artists, Liu Ye elaborated: "In my earlier days, my art was more about the imaginary. Symbols present in my paintings are polysemous or ambiguous with no causality, which resembles surrealism."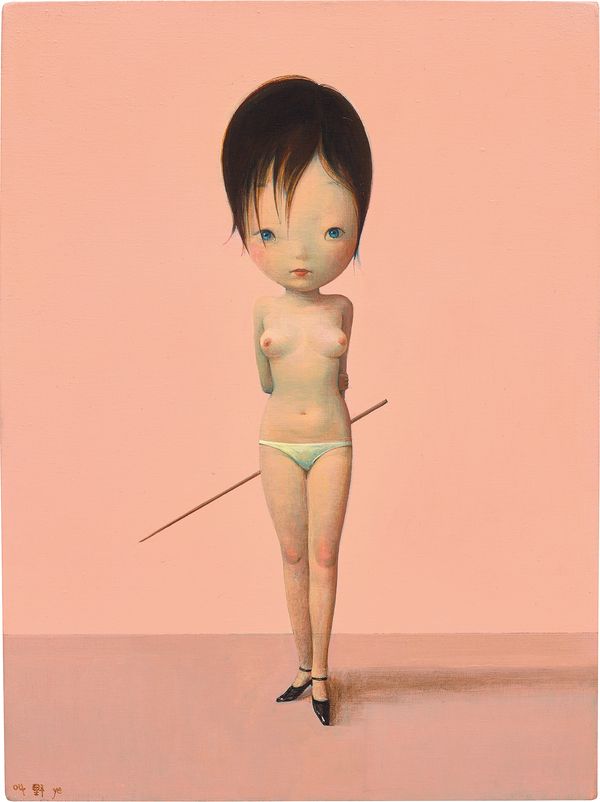 Reflecting Liu's propensity to straddle the divide between East and West, in January 2020 his solo show Storytelling opened at the Fondazione Prada in Milan, after originally being shown two years prior in Shanghai. His work can be found in the permanent collections of the China Art Museum, Shanghai, the M+ Sigg Collection, Hong Kong, and the Philadephia Museum of Art.
Zhang Xiaogang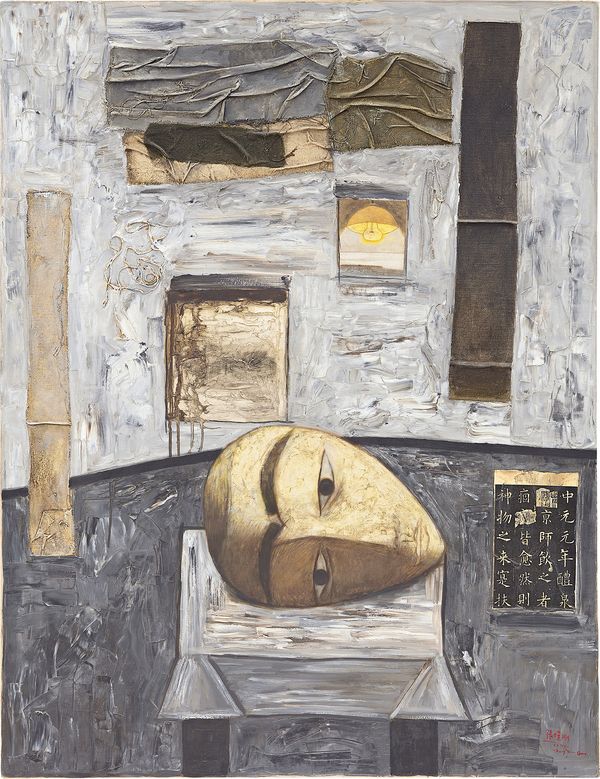 Zhang Xiaogang Duplicated Space No. 14 (Divided Dream), 1990.
Estimate: HK$6,000,000-8,000,000.
20th Century & Contemporary Art Evening Sale, Hong Kong.
Zhang Xiaogang's exceptional portraits epitomize the development of Chinese Contemporary art, making him one of the most established artists of his generation. The political events at the conclusion of the 1980s shook Zhang Xiaogang out of a period of hermetic introspection. As a response, he created a series of works to reference the psychological impacts of such tumultuous times, which left him with an emotional void. In Duplicated Space No. 14: Divided Dream, the artist constructs an airless interior that is detached from reality. In the center atop the table, he places a truncated head with a pair of unusually large eyes, looking inexplicably empty and lost. The arrangement appears similar to ritualistic offerings at an altar, imbuing this somber scene with an unmistakable sense of mourning. A drastic change in the socio-political environment propelled Zhang to shift from his more romantic and fantastical themes, this profound emotional impact is first captured in the Black Trilogy: Terror, Mediation and Melancholy (1989). The present work belongs to a body of 13 works from the Duplicated Space series that serves as a continuation to Black Trilogy as the artist searched for the strength to overcome his own demons.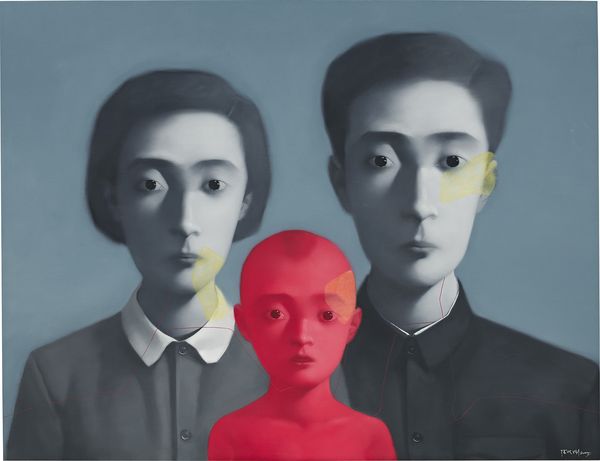 Zhang Xiaogang Bloodline Series: Big Family No. 3, 2005.
Estimate: HK$10,000,000-15,000,000.
20th Century & Contemporary Art Evening Sale, Hong Kong.
Our upcoming Evening Sale features another piece of Zhang Xiaogang's work, Bloodline Series: Big Family No. 3. This piece depicts two adults and a child staring solemnly ahead toward the viewer, the vivid lighting effects illuminating the subjects against a flat background, deliberately reminiscent of carefully retouched black-and-white family photographs from the 1950s and 1960s. Although the group is situated together, confined within the parameters of the large rectangular canvas, they stand rigidly with vacant stares that emotionally isolate them from each other as well as from themselves. They are connected, however, via barely perceptible crimson bloodline threads that link the child to his parents behind him. The central child is rendered in a pronounced shade of brilliant red that starkly contrasts the greyscale pair behind. In exploring the notion of identity in relation to the Chinese culture of collectivism, as embodied in the present work, Zhang confronts the viewer with a strikingly archetypal face from a turbulent time of historical suffering.
Zeng Fanzhi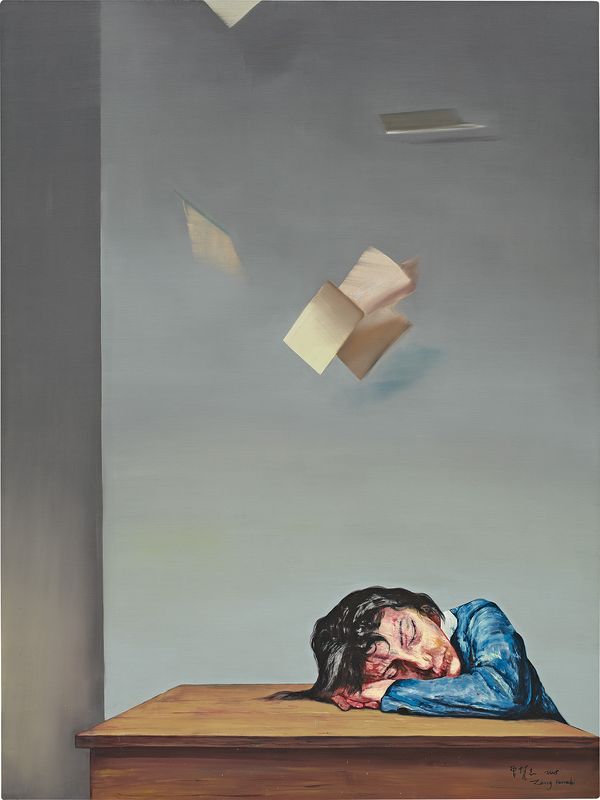 Among the most globally-collected Chinese contemporary artists, Zeng Fanzhi has created a diverse body of work that earned him the recognition and esteem from prestigious museums and collectors. Executed in 2005, Untitled marks the end of the Mask series as the artist started to create works with more unrestrained gestural movements. The present work depicts a girl apparently asleep at a table and resting her head on her hand, with skillful and concentrated oil strokes vividly outlining the ruddy complexions of her skin. The subject displays no clear countenance, without any contextual clues or references, a sense of mystery permeates the pictorial space, leaving the viewer to rely on his or her own visual instincts. Untitled reflects Zeng's own endeavor in translating his growing understanding of human emotion as he transitioned from the Mask series to explore a new horizon in his aesthetic inspirations and artistic directions.
Yue Minjun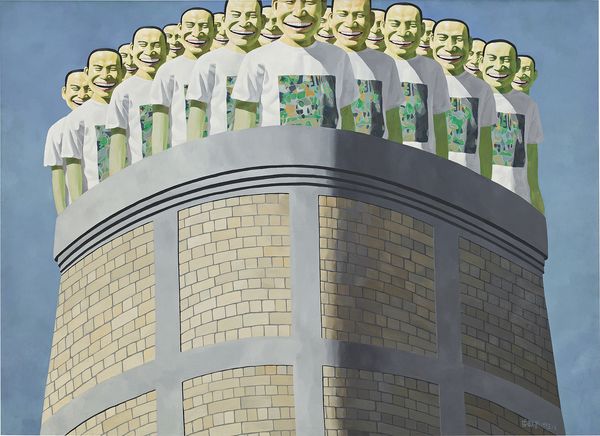 Very few artists in China today have managed to bring into existence an icon as captivating and universally-recognizable as the "smiling man" who populates Yue Minjun's oeuvre. Chimney offers a particularly captivating example of Yue's legendary line of work, featuring a battalion of frozen-faced clones, who bear a resemblance to the artist himself, staring out atop a towering brick factory chimney. Claustrophobically confined within the architectural structure of a factory tower, a symbolic image that both represents modernization and evokes the present painting's title, the cloned portrait of Yue's toothy alter-ego is duplicated across numerous rows. Their skin tone is articulated in a neutral tone of khaki that is reminiscent of the Terracotta Warrior army from the Han Dynasty (206 BC–220 AD), as well as the color scheme of Mao's China, which saw the population uniformly dress in army green, navy blue, white, black and grey. Yue's indistinguishable figures in Chimney, although smiling, appear to bear lock-jawed expressions that allude to a forced sense of happiness. The present work was created during a pivotal year in Yue's esteemed oeuvre when the artist began including his signature smiling features regularly. Yue's grinning protagonists, as embodied in Chimney and the later Self-portrait, below, "[laugh] to mask feelings of helplessness," as they conceal the heavy shared burden of trying to make light of China's deeply complex history. Self-portrait exemplifies the emotional ambiguity of Yue's work, as the figure's true state remains unknowable: Is he falling down or standing up? Laughing or grimacing?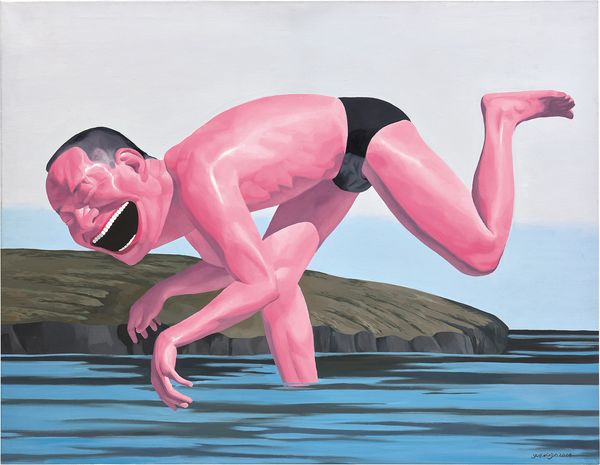 The group of blue-chip Chinese contemporary artists has been acknowledged by both public and private collectors for their remarkable skill and command of narrative. The curated selection of paintings from these artists, offered at Phillips' Spring sale series this July, is representative of the art world's embrace of these key artists and the international appetite for exceptional examples of their work.