- By Tiffany To, translated to Traditional Chinese by Jill Chen
We speak with Auro during this period of confinement to learn what he's doing, and to discover more about the inimitable multi-hyphenate: whether it be the collector, writer, entrepreneur, scholar, aesthete, and much more. Accompanied by photos taken by Auro himself, this series is divided into four sections: Writing, Living, Learning, and Collecting. Today, in the final part of the four part series, we speak to Auro the collector, and discuss his thoughts about watch collecting today, what he loves, and watches that fascinate him. Click here for Part One, Two and Three.
Tiffany To: What kind of watches do you collect?
Auro Montanari: Oh…[there are so] many. I look for watches that I would like to own. In terms of brands, I collect Omega, Longines, Cartier, Patek Philippe and Rolex. I'm passionate about large split seconds, oversized chronographs for aviation and auto use as well. I like good-looking watches-not banal or common timepieces. My approach to collecting has grown and matured into collecting via sets, types and themes. I love the feel, look and intricacies of watches - what they can do, stand for and for the enjoyment I get from holding and studying them. There's a wide range…my collections spread from a small elegant Cartier wristwatches to an oversized chronograph.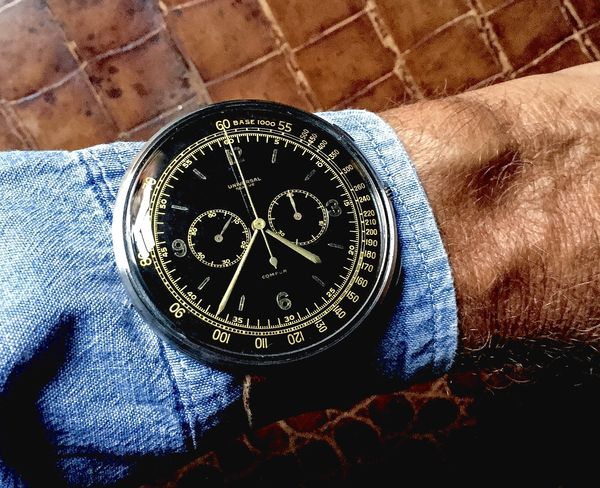 Auro's very rare stainless steel Universal Genève oversized chronograph with black dial
TT: Why watches?
AM: Because I think it's the best possible collection a man can have! I love the mechanical aspect of them, the intriguing details on the dials, and I like the periods from which they were produced, particularly the 1950s and 1960s.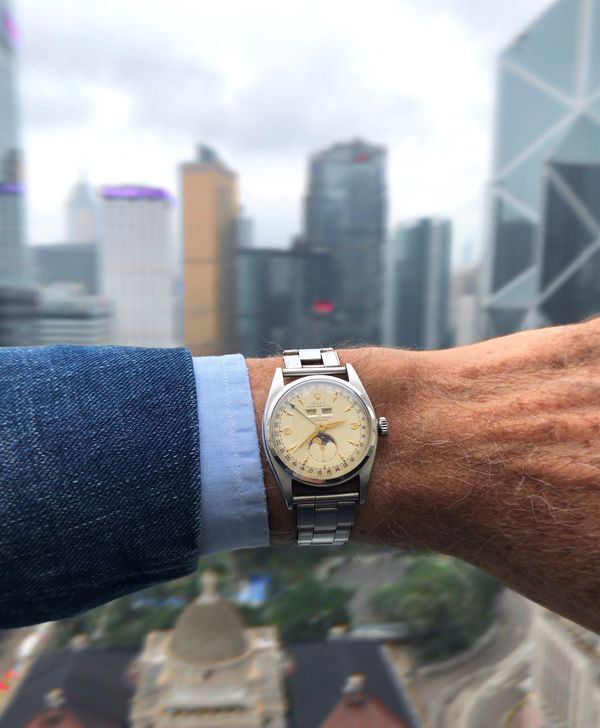 Auro's stainless steel Rolex Reference 6062 triple calendar wristwatch with luminous dial and hands and Gay Frères bracelet
TT: What's the first watch you bought?
AM: The first watch I bought was in 1978. It was an old chronograph by Rolex. I was around 20 years old and I found it in an antique shop in Bologna with my mother.
TT: Which watches have the most meaning to you in terms of sentimental value?
AM: My father gave me a watch when I was 8 years old for my communion. It was a gold plated calendar Seamaster from Omega. It was a vintage watch manufactured in 1957, which was my birth year. I still have it; it's in my safe. For my 18th birthday, he also gave me a stainless steel Hamilton Pulsar P3 sold at Tiffany & Co. with the retailer's signature on the crystal. He bought it in 1976 on a business trip in New York and presented it to me in 1976.
TT: Which brand for you is the most interesting to collect and why?

AM: Probably Rolex and Omega. For more than one century, they produced a great variety of references. Their portfolios are so wide and they produced everything, from pocket watches, to sports watches, elegant dress watches and even complicated models. You can collect so many types of watches from these brands.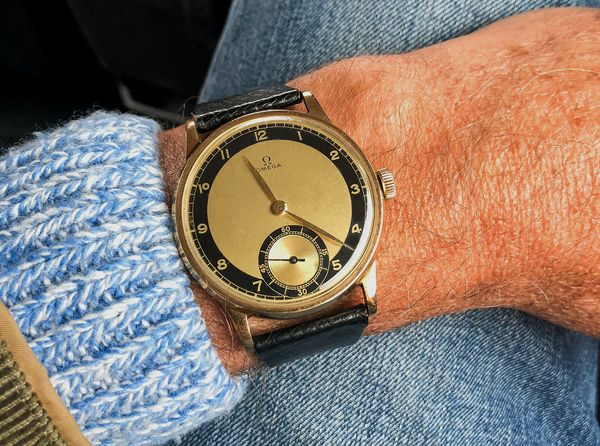 Auro's very rare 14K yellow gold Omega Reference 2039 oversized wristwatch
TT: From Omega and Rolex, which models are interesting to collect for their depth and variety?
AM: From Omega, there is the iconic Speedmaster, of course. But there are also early chronographs with the caliber 33.3 that are very interesting. From Rolex, I like all the tool watches such as the GMT-Master, Milgauss – there are some very rare variants - as well as the Cosmograph Daytona and Submariner. Bubble backs are very interesting as well. They have nice dials, and a nice variety of references.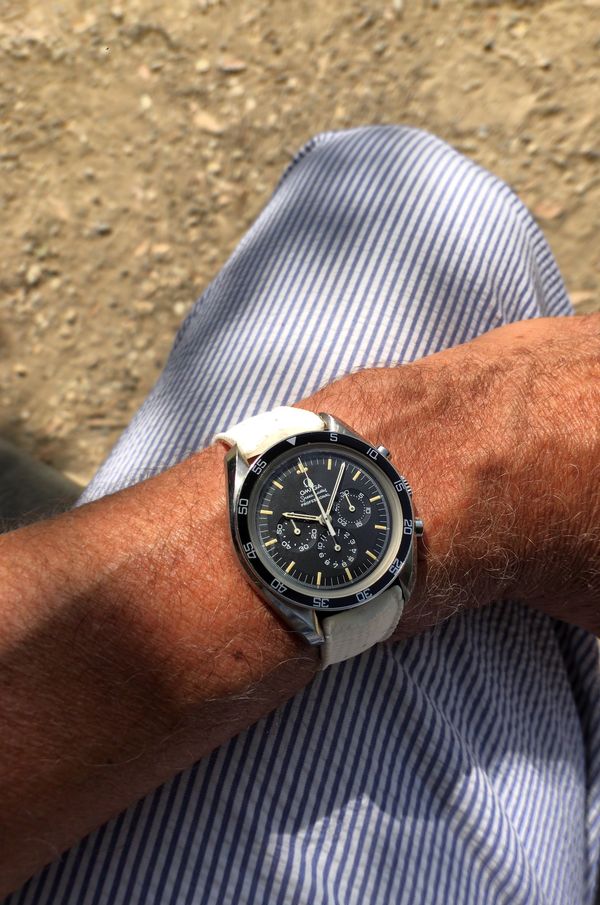 Auro's stainless steel Omega prototype Speedmaster Reference 145.022 chronograph wristwatch with radial dial, made for NASA
TT: When purchasing a watch, which elements are the most important to you?
AM: For me, a great aesthetic, which goes hand in hand with quality and condition. Then, there is rarity. Condition is very important to me. But above all, it's about the aesthetics, the beauty of the watch – the case, dial and its wearability.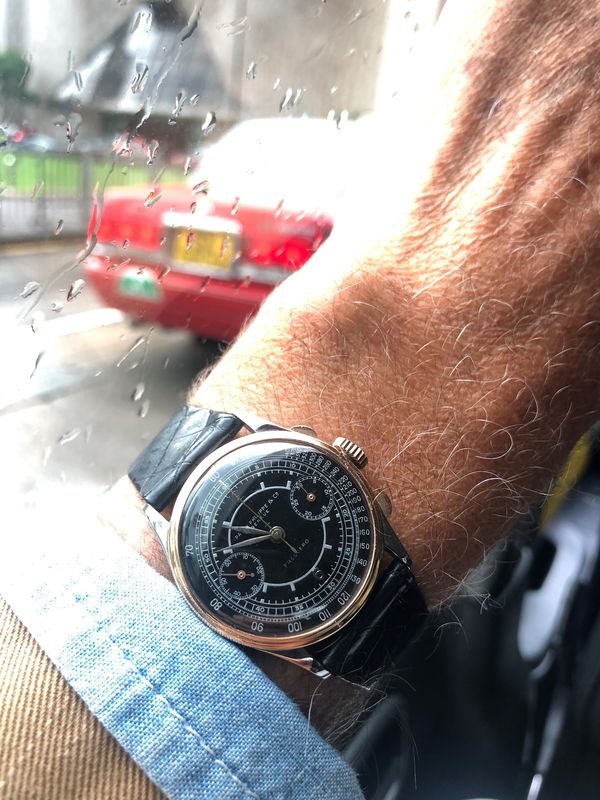 Auro's stainless steel and pink gold Patek Philippe Reference 130 chronograph with black sector dial, retailed by Freccero
TT: Was there an evolution in your collection?
AM: Yes…there were changes throughout time… lately condition and provenance has been extra important for me. But above all, buy the seller, buy quality and condition and have fun in the journey. Then, take care of them well. That's it.
TT: Did you always have this kind of focus? Or have you changed strategies over time?
AM: Since the first day, I was always striving for quality, even at the start. It wasn't easy to find great quality watches in the beginning.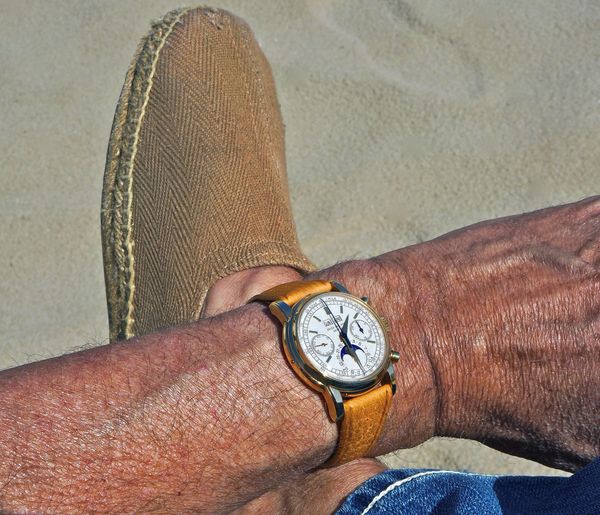 Auro's yellow gold Patek Philippe Reference 2499 second series, perpetual calendar chronograph wristwatch
TT: Would you buy a watch that has been heavily restored?
AM: No, I like watches in original condition. However, in the past I've also done restorations myself on watches already in great condition, small things such as sourcing the right hands.
TT: So, everything needs to be period correct?
AM: Yes.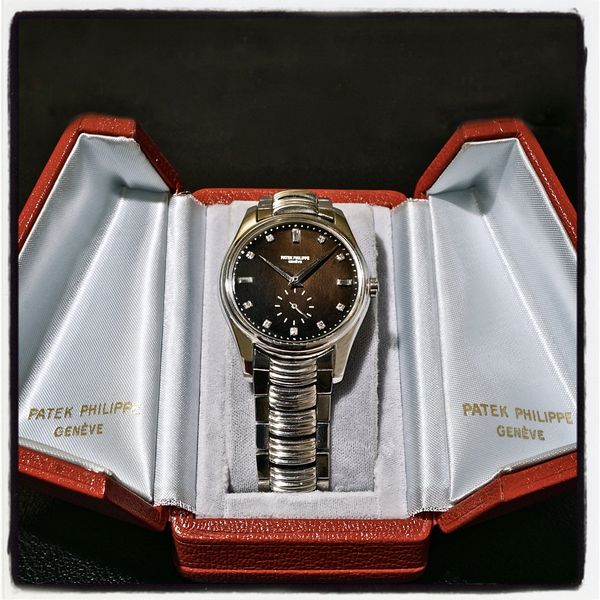 Auro's platinum Patek Philippe Reference 2526 with diamond-set black lacquer "tropical" dial and bracelet
TT: Do you have a collection of parts?
AM: No, I never bought separate cases, movements, dials and parts like that. But I do love bracelets and I collect those, steel bracelets, gold bracelets…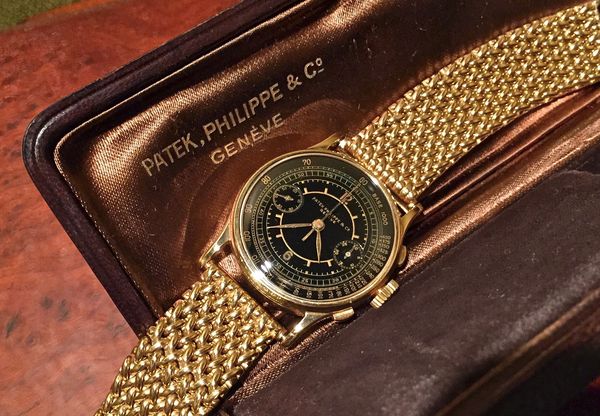 Auro's yellow gold Patek Philippe Reference 130 chronograph wristwatch with black sector dial and Gay Frères bracelet
TT: Is there a type of watch you wished Patek Philippe ever made but never did?
AM: Perhaps I wish that Patek Philippe made a real tool watch, such as a diving watch. I'm surprised that Patek Philippe didn't produce tool watches in the 1960s and 1950s. They made anti-magnetic watches and strong complications at the time, and it would have been nice to see them do a tool watch. I think they were more focused on the quality of the movement, case and dial, and they didn't really care about sports watches.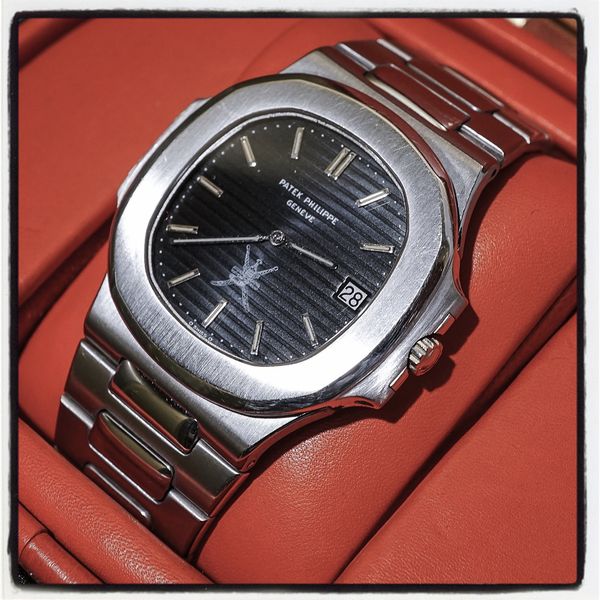 Auro's white gold Patek Philippe Reference 3700 wristwatch, made for the Sultanate of Oman
TT: What's the craziest auction you've ever been to? Any funny anecdotes or shenanigans?
AM: In November 2013, The Daytona Lesson One in Geneva, spearheaded by Aurel.
TT: Why?
AM: Well, it was a great auction. It was a white glove sale. We also saw the increase of prices of Daytonas on the market. These were real prices, not made up. It was an interesting and passionate auction. It changed everything. Watches became more broad, rather than a niche topic.
TT: Today with the internet, things have changed. Back in the day, how did you discover new treasures?
AM: I've always purchased watches in same manner, through a good relationship with dealers and auction houses. That way, you know immediately the price of timepieces, rather than through connections with other collectors or the owners of watches on the Internet or social media. With the latter, you do not know the true price - you have to deal every time as if you were in a souk and I do not like it at all! My trips are very fast and I don't like to lose time. I don't like discussing and going back and forth on prices.
TT: So, you're quite decisive then?
AM: Yes, I know what I want. I have a very clear idea when I purchase watches.
TT: Where is the most exotic place you've travelled to in chasing down a watch?
AM: Nowhere too exotic, I've bought watches in Brazil, Hong Kong, Bangkok, London and New York…but nowhere too strange.
TT: You're most associated with vintage watches. Any new releases or watchmakers the excite you?
AM: Not so much…but I like few wristwatches by Rolex, Omega and Cartier.
TT: For example?
AM: From Cartier, I like the Crash Radieuse, as well as the platinum Tank Cintrée with the ruby crown. The Tonneau in platinum is not bad either. [As of time of interview] The Cartier Tank Asymétrique and La Demoiselle was just released, and they're great as well - though I don't like all the variations of the latter. From Rolex, I like the Daytona, Pepsi GMT-Master and Submariner with ceramic bezels, they're all very nice watches. The Omega Speedmaster Apollo 11 50th Anniversary Limited Edition was nice as well, with the burgundy bezel. Omega made a few Seamasters that were nice as well in platinum.
TT: Do you own any?
AM: No [chuckles].
TT: What about independent watchmakers?
AM: I like Philippe Dufour, as well as Laurent Ferrier.
TT: What's the last modern watch you purchased? And vintage?
AM: [I bought] A Bulgari titanium Octo Finissimo, as well as a pink gold Longines Conquest with its original pink gold bracelet, respectively. I love the design and the affordable price of the Octo Finissimo.
TT: Where do you see your collection heading? Are you narrowing down or expanding further?
AM: No, I'm trying to shrink down my collection and to reduce by quantity.
TT: What are your thoughts on more "avant garde" watches, for example a Richard Mille with a sapphire crystal case?
AM: I am also very fond of Richard Mille's creations. He is very innovative and has not copied anything or anyone. His watches are truly machines. The brand's portfolio is very contemporary. It's a celebration of technology, masculinity and engineering - that's his style. The problem is that I can't afford them! The watches are too expensive for my pocket [laughs]! I like the classic early ones. I like the tonneau shapes as well as the innovative materials. The Bubba Watson is nice as well. I love this watch!
TT: You've seen it all, done it all – do you ever get jaded or bored?
AM: A little bit, I am getting older.
TT: Do you think that watch collecting will follow the trends of the art market? For example today, people aren't as interested in 1800s furniture anymore. In that same logic, will watches from the 1950s and 1960s eventually fall out of style?
AM: I do think that pre-war watches and pocket watches will no longer be as sought-after as they used to be, apart from the big names. They're smaller as well and don't look contemporary. But the post-war watches will continue to be relevant, as they look modern still.
TT: What do you think about pocket watches - do you think the market will come back for them?
AM: Who knows? Maybe we will see a new, young generation of collectors who wear an apple watch and a beautiful pocket watch in their pocket. Maybe [laughs]. But the wristwatch will always be more popular because you can wear it, show it. It's similar to the post 1920s, when the manufacturers' production of wristwatches exceeded that of pocket watches.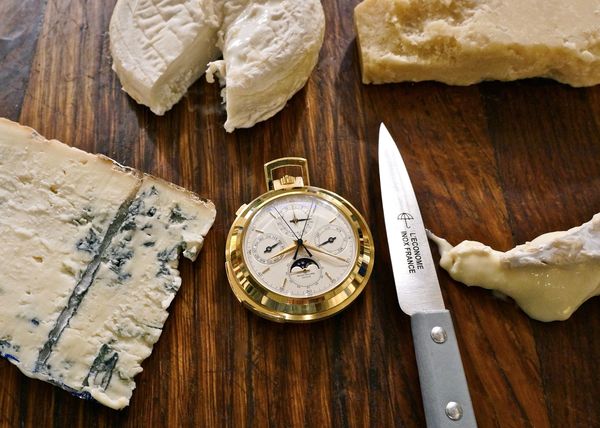 Auro's yellow gold Patek Philippe Reference 658 minute repeating perpetual calendar open face watch with split seconds complication
TT: What kind of technique do you enjoy the most on pocket watches? Enamelling? Complications? Minute repeaters?
AM: With pocket watches, I like those with either a modern case or art deco aesthetics. Aesthetics are the most important to me.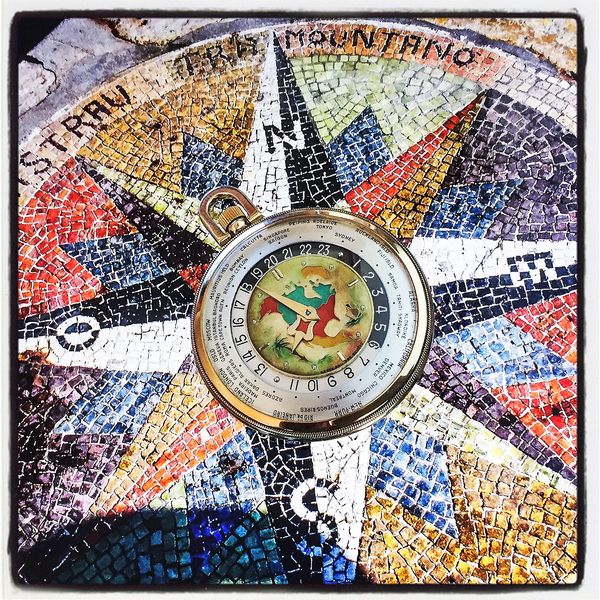 Auro's yellow gold Patek Philippe reference 605HU world time open face watch with cloisonné enamel dial depicting North America
TT: Are you the kind of person who enjoys the hunt more, or the ownership?
AM: I love to hunt and discover something new. A successful collector is often an innovator - the person who falls for something that many others may have overlooked.
TT: What is one watch you've read about in the past that has been lost, which you hope resurfaces on the market?
AM: Well, I'll tell you the truth. There is actually a holy grail for me. It's the James Schulz platinum perpetual calendar minute repeating chronograph wristwatch. I would love to see this watch on the market again. It is one of the most important wristwatches ever made due to its aesthetics, provenance, unique features and complications. Actually, at the time, it was the most important and expensive wristwatch in the 1930s. For me, it's an important watch, and there's not even a brand on the dial! I love this. It could be a Patek Philippe, it could be an Audemars Piguet, Vacheron Constantin or Cartier. It appeals to the inner snob in me [laughs].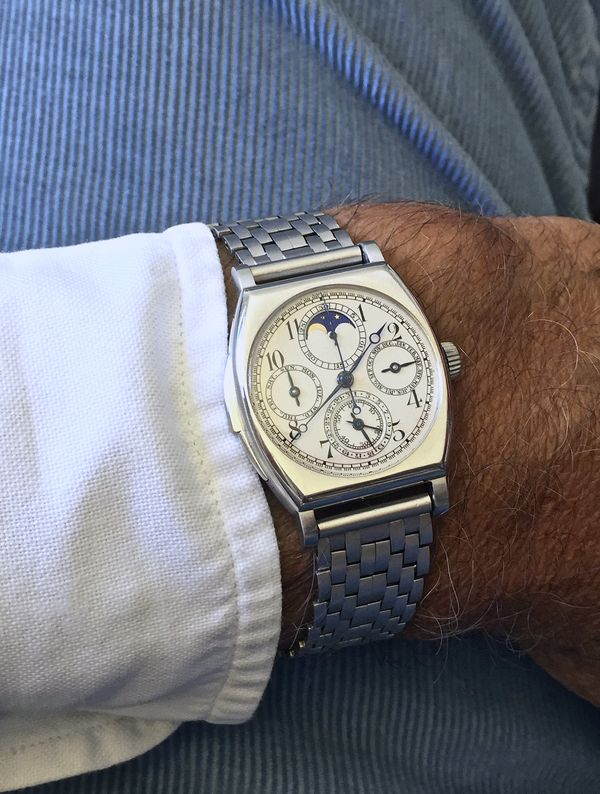 Auro's holy grail, the unique James Schulz platinum perpetual calendar minute repeating chronograph wristwatch with moonphases
TT: I completely agree, it's important – for its looks, and particularly what it meant for horology at the time. But do you think the market could appreciate it today?
AM: I think there are a few connoisseurs who could still appreciate it. But for the mass market, probably no. It's small, there is no brand…who knows. But you know – since its original sale, an important collector has always bought it every time it has appeared on the market. Most likely, the next owner will also be an important collector - maybe in 20 or 30 years.
TT: What's the most important wristwatch and pocket watch that has been sold on the market in the past decade?
AM: Surely, the Henry Graves Super Complication that Aurel bough on behalf of a client and the stainless steel Patek Philippe reference 1518!
TT: How was collecting like, in the beginning?
AM: Well, I remember when the first auction catalogue came out in the end of the 1970s, there were no books, no information, I knew a few collectors buying in Italy and Germany. The community today is wide worldwide, and has spread particularly in the last 15 years thanks to the Internet.
TT: Building on that…how do you think collecting has evolved over the years?
AM: Old watches represent great value. They present a chance to wear a piece of history and, if you're lucky, are good investments. Originally a passion pursued by adventurous treasure hunters, watch collecting today has become a very serious business, with collectors affecting the market in ways that are more subtle and far-reaching than merely driving up the prices of certain rare timepieces.
The Internet and particularly the appearance of EBay in the mid-1990s have profoundly changed the world of watch collecting. In the last 15 years with the Internet, the community of the watch collectors and dealers is closer and more woven together, with a great exchange of information readily available. The Internet has also enabled a significant percentage of the world's population access to relatively arcane and esoteric watch information.

Thanks first to discussion forums, then blogs, and now social media, there is a potential global online audience for anything interesting, informative, or entertaining enough related to wristwatches. So thanks to the Internet, digital photography and smartphones, we have an educated audience for appreciating wristwatches.

For me, speculation and investment is often a mirror in which the buyer wants to see a confirmation of his intelligence and abilities, just to gratify his own ego. In any case, high quality watchmaking and the market have always gone hand in hand. No one can predict the future of watch collecting with 100% certainty of course, but a smartly built collection of watches will at least do better than the current interest rates of your savings accounts.
TT: Finally…what's missing in the collection?
AM: Well...! Apart from the Schulz…I'm looking for a great Patek Philippe reference 1463 in stainless steel. I have one in another metal, but not in steel. For a very long time, I have not seen a great condition steel Patek Philippe reference 1463.
TT: Any special features you're looking for?
AM: No…an original reference 1463 in stainless steel with a silvered dial is enough for me. A black dial or luminous dial….those are almost impossible to find.
In closing, I would like to say a huge thank you to Auro for his participation in this series, particularly during this busy time where he was doing the final edits on his book, Time to Race. Thank you for your generosity, patience, time and willingness to share knowledge. Over the past few weeks, there were many emails back and forth, as well as discussions, photo requests and clarifications over small details and never-ending questions from my side! A big thank you as well to Arthur Touchot for putting together the articles and his late nights, as well as Jill Chen for the translation and support.