- By Tiffany To, translated to Traditional Chinese by Jill Chen
We speak with Auro during this period of confinement to learn what he's doing, and to discover more about the inimitable multi-hyphenate: whether it be the collector, writer, entrepreneur, scholar, aesthete, and much more. Accompanied by photos taken by Auro himself, this series is divided into four sections: Writing, Living, Learning, and Collecting. Today, we speak to Auro, The Scholar.
The past few weeks, Auro Montanari has been spending a lot of time organizing his many watch books and catalogs. Today, we sit down with Auro, The Scholar, to learn about his archival process, how he documents his vast information, thoughts about watch scholarship, and more specifically about his research on Cartier.
Tiffany To: How many old watch catalogs do you have, Auro?
Auro Montanari: I don't remember…too many to count! I have a complete collection of all the catalogs from the big auction houses starting from the 1970s until now, as well as the small local ones.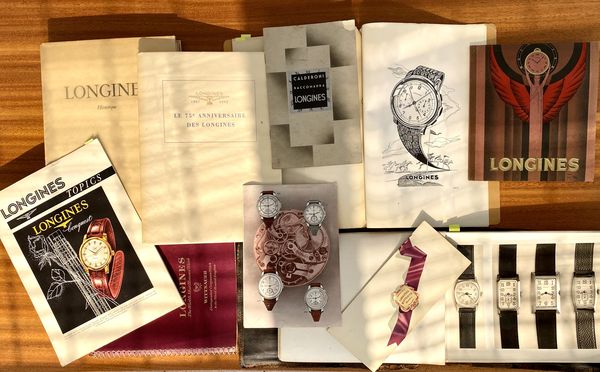 Sample of Auro's catalogs
TT: What is the archival process like?
AM: I have a good memory. I study catalogs, old books. I've visited old museums in Switzerland…I have many archive photos as well. This is the journey.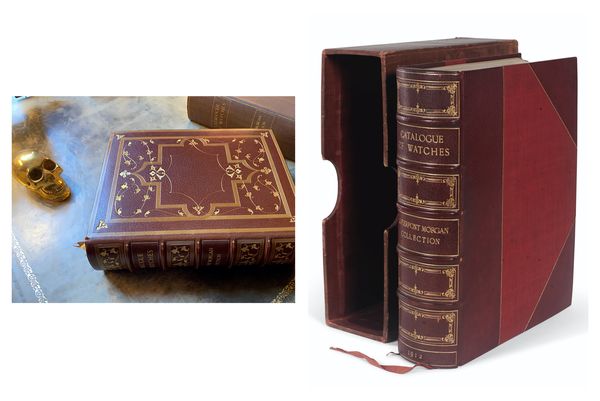 Scenes from Auro's Catalogue of the Collection of Watches from 1912, commissioned by J. Pierpont Morgan
Writer's note: For Auro, the Catalogue of the Collection of Watches commissioned by J. Pierpont Morgan is the most beautiful and important watch book in existence. The book is a catalog of banker J. Pierpont Morgan's horological collection. Printed on Japanese vellum, the present book is a deluxe version of a first edition that was produced in 15 pieces in red leather. It displays exquisite hand-painted gilded reproductions of watches embellished with thick gold and silver leaf. It is said that the book was so laborious and expensive to make, that production of the book was cancelled upon Morgan's passing. For more information on the topic, please see: https://watchesbysjx.com/2019/07/j-player-son-jp-morgan-watch.html
TT: And is everything in your famed – almost mythical- iPad?
AM: My iPad is almost full with 120,000 photos! I put everything there.
TT: Do you have a photographic memory? If you see something, do you never forget it?
AM: Yeah [Laughs dryly]. Ok ok… this is the problem. In the past in the 1980s, it was difficult to take photos with a heavy analogue camera. Now, with the phone, you can take photos easily and put them in the archives. In the past, I saw many rare watches, but I didn't take many photos.
TT: Do you collect only catalogs from the Western World?
AM: No, I have catalogs from all over the world. I have a big collection of Japanese catalogs and magazines about watches. They were very well made, particularly in the 1980s. They did an excellent, good job.
In German, I have many catalogs as well. I found in the flea market in Geneva and Zurich many original Longines, Patek Philippe, Rolex and Omega catalogs as well. And I put them away.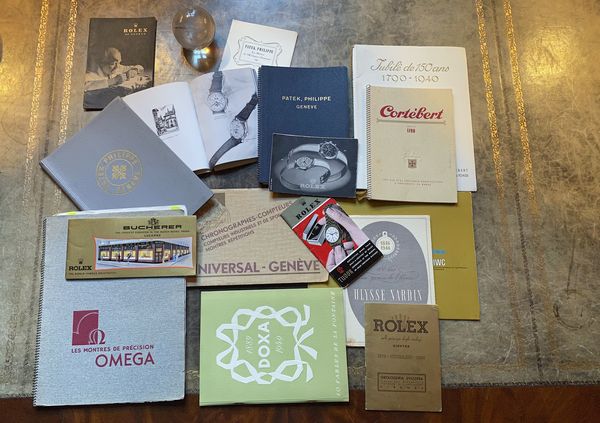 Sample of Auro's catalogs
TT: Are there any particular catalogs that stand out in your mind? Most impressive sale you have seen?
AM: For me, there have been a few auction catalogs that were done well in the 1980s. I also particularly love the catalogs from manufacturing companies. I have a few Patek Philippe catalogs from the 1940s and 1950s. They're simple black and white images but it's interesting to see the retail price lists.
TT: Do you have the old Phillips catalogs from the 2000s?
AM: Sure…they were great! So well-made. I'm sure they were expensive to make. I love the silver background and thin, transparent paper showing the certificates. What a good layout. Very well done.
TT: What's been your most surprising discovery so far through reading and looking through period documents?
AM: I found a few photos of some strange watches by Omega and Longines.
TT: Is there a particular watch that stunned you?
AM: No, not in the manufacturer's catalogs. If you read auction catalogs well and closely, you can find many watches that are unknown in the market.
TT: Were there new Patek Philippe pieces you discovered in catalogs?
AM: Yes ! You remember…the Patek Philippe reference 2499 sold at Phillips in New York [With round pushers and a Vichet case]? I made the research, and I found another watch at a local auction house from the 1980s with the same lugs, the same case and the same pushers. It was an interesting discovery [GAME CHANGERS 10 December 2019, lot 40].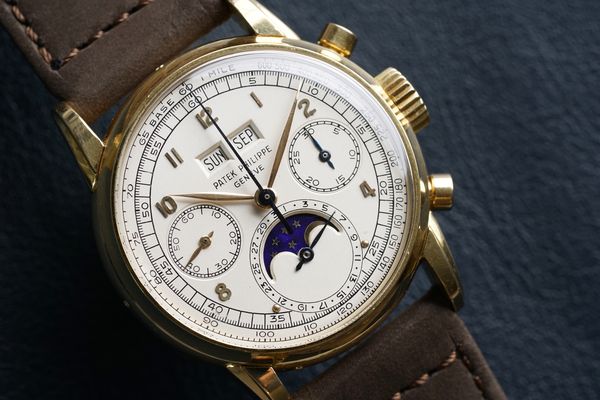 ​ A Patek Philippe reference 2499 with Vichet lugs and round pushers, GAME CHANGERS, 10 December 2019, lot 40
TT: It's important because discoveries like these, they change our idea of collecting and scholarship, right?
AM: Right. Especially if you look at the catalogs from the 1980s, you can make very interesting discoveries. The problem is accessing these catalogs, especially those from smaller auction houses and not just the big names. Through catalogs, you can find many watches that are not known in the market, particularly in the States in California.
TT: Looking through the catalogs, do you see any trends for special, unusual models?
AM: Hmm…it was more prevalent during the 1930s to 1950s for Patek Philippe to make an order upon special request, such as changing the dial, or making the watch in a different metal, for example – platinum or white gold, instead of yellow gold.
TT: Can you pinpoint a geographical region that ordered more unusual models than others?
AM: Well, in the 1970s, the Swiss manufacturing market struggled with the Quartz crisis. To continue business, a number of manufacturers accepted special requests and made dials for countries and clients in the Middle East. They ordered watches from Rolex, Patek Philippe, and others. It was healthy for the market, and helped a lot.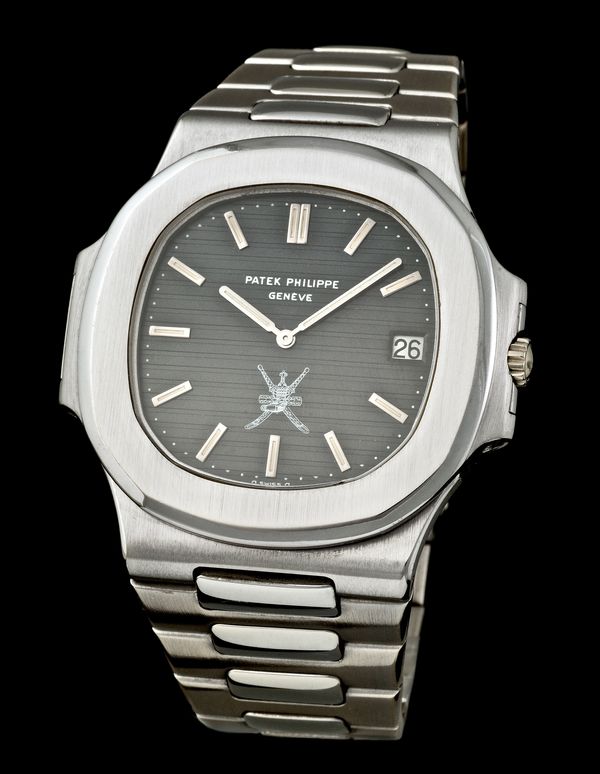 A Patek Philippe reference 3700 in white gold, made for the Sultan of Oman and produced in a few pieces only from 1978
TT: Changing the topic a bit… are you doing research on Cartier at the moment?
AM: Yes ! I'm trying to study Cartier, because it's an interesting brand and also, I am a big fan in general. I collect a lot of Cartier.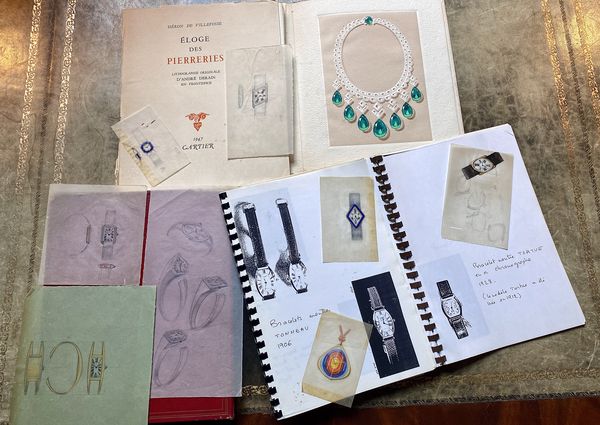 Cartier catalogs, original design drawings and archival information
TT: Why do you love Cartier?
AM: Cartier is very simple, very classic and the design is very clean. The brand made very few pieces only, especially in the 1920s and 1930s. Back then, if you wanted to buy Cartier, you had to travel to Paris, New York or London. Or maybe Côte d'Azur, but there was no other way of buying Cartier anywhere else. For the time, the products were very expensive. They're special watches, so elegant on the wrist and very simple. The time only watches in particular have great dials. They were all hand made as well, from the dials to the movements.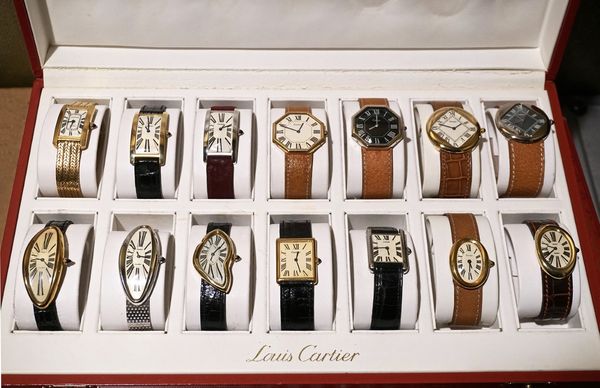 A sample of Auro's collection of Cartier London wristwatches
TT: Cartier is notoriously secretive, how is the process of documenting their pieces?
AM: I bought many old catalogs and also old drawings – the latter from Phillips actually, a long time ago. I try to study them…there are so many watches around the world. I know two or three really good collectors with great pieces, as well as a few dealers. There are not so many, but they all have good knowledge.
TT: For example? Who do you go to for information about Cartier?
AM: For dealers, there is Davide Parmegiani, Eric Ku and Matt Bain as well as Massimo Baracca. Massimo's father, Jader, published a book on Cartier, Le Temps de Cartier, in the 1990s. In London, there is Harry Fane and George Somlo.
TT: Do you have access to the Cartier Archives?
AM: No…not anymore. Cartier decided not to produce Extracts anymore because they wanted to focus their knowledge on their own special vintage watches and departments inside the Cartier shops around the world.
TT: I've heard there is a copy of the old Cartier ledger floating around somewhere…is this correct?
AM: Ah…yes yes... it's a long story. A long time ago, they [unnamed] found in a flea market the old European Watch Clock & Company office books with all the information about Cartier. The models, the numbers…everything. Somebody [unnamed] used this kind of information to make some wrong watches.
TT: Does this book still exist?
AM: Yes, but it went back. They sold the book back to Cartier. Before selling it, they took the information and made photocopies, but the book itself is back at the manufacture.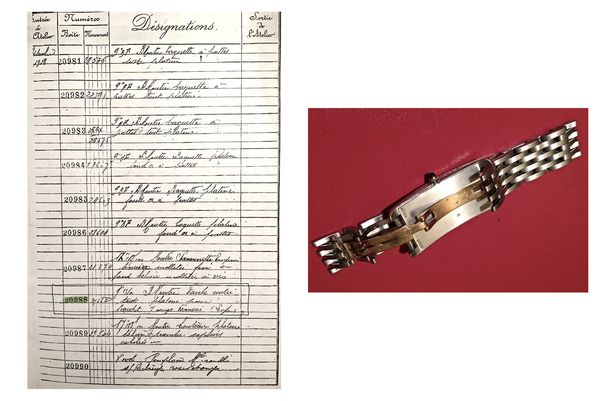 Left: A copy of the ledger with Cartier movement number 27662 and case number 20988
Right: Auro's Cartier Cintrée sold by Cartier Paris indicating stock number, movement number 27662 and case number 20988
TT: For you, what was the biggest difference between the three Cartier branches (Paris, London, New York?)
AM: Ok…so…Paris was very strong in the 1920s and 1930s – those were the golden years. Especially in their use of platinum. Their models were very particular, and these models were also sold in London and New York.
In London, Jean-Jacques Cartier decided to make a different line. In the 1950s and then the "Swinging Sixties", London was the center of the world. During this period, Cartier produced new models with very simple dials and a cursive Cartier signature – this was only in London. They also invented the Baignoire Allongée Maxi and Crash – before that, there was the Tank, Tank Cintrée,Tank Obus and so on, so these two models completely differed from the past. It was very innovative under Jean-Jacques Cartier.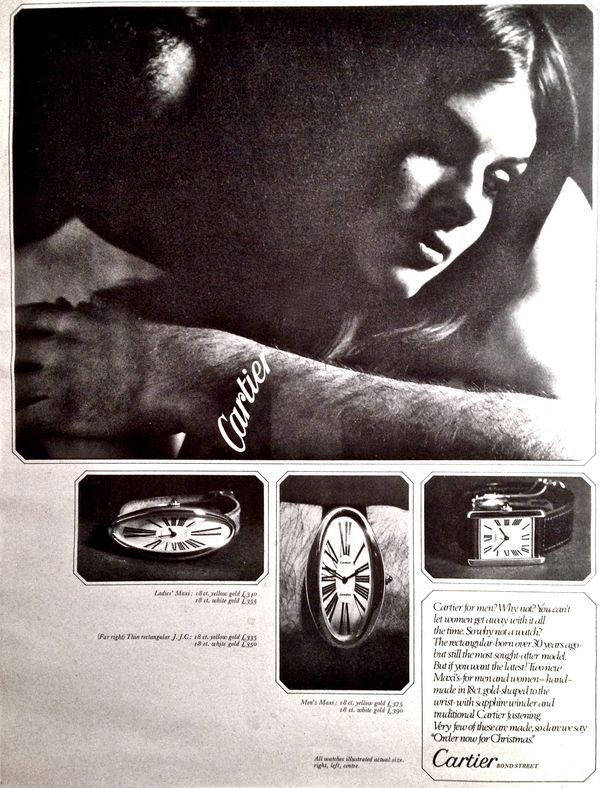 Auro's Cartier Advertisement from the 1970s, depicting Maxi watches for both men and women
In New York, during the 1960s, Cartier changed the marketing policy and introduced less expensive watches, such as a collection of gold plated, along with silver, watches. That was popular and represented a different approach to the market. America was a very different market. And when Cartier was bought out in the 1970s, it was Paris that was first sold, then London, and then finally New York, which had other investors at the time. The whole company was reunited in the end of the 1970s.
TT: How do you identify the watches from the different branches?
AM: In Paris, from the 1920s until the 1950s, there was a stock number, then a case number, and movement number, all on the caseback. For the case number, sometimes you had two or three digits repeated inside the case. After the 1950s, there was just one serial number plus a little hand engraved stock number located under the lugs. Today, many Cartier movements have been changed, particularly by the manufacture in Paris. They changed it because of the lack of parts. And many numbers don't match with the number on the case back.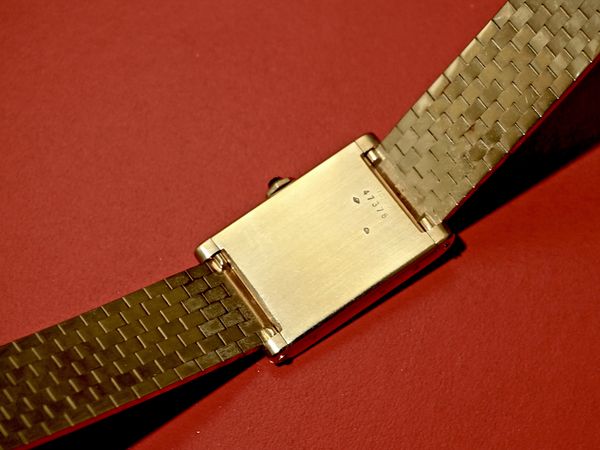 Auro's very rare Tank Magnum sold by Cartier Paris from 1964, indicating only the stock and case number
London always had a case number on the back and the buckle. Most often these numbers corresponded with each other. The case had British hallmarks, and then London hallmarks as well, indicating the year of production.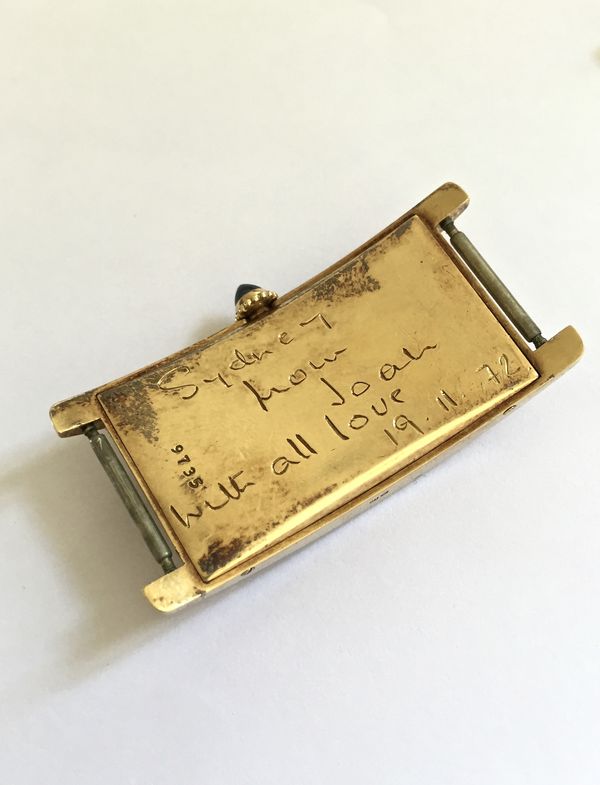 A Tank Cintrée sold by Cartier London, with a caseback number and English hallmarks on the caseband
New York had small numbers on the lugs. You also see double signed watches prior to Cartier being sold – sometimes on the dial, other instances stamped on the movement. Universal, Movado, Audemars Piguet, Concord and Bouche Girod supplied parts. You also see Patek Philippe and Rolex watches with the Cartier signature on the dial as well.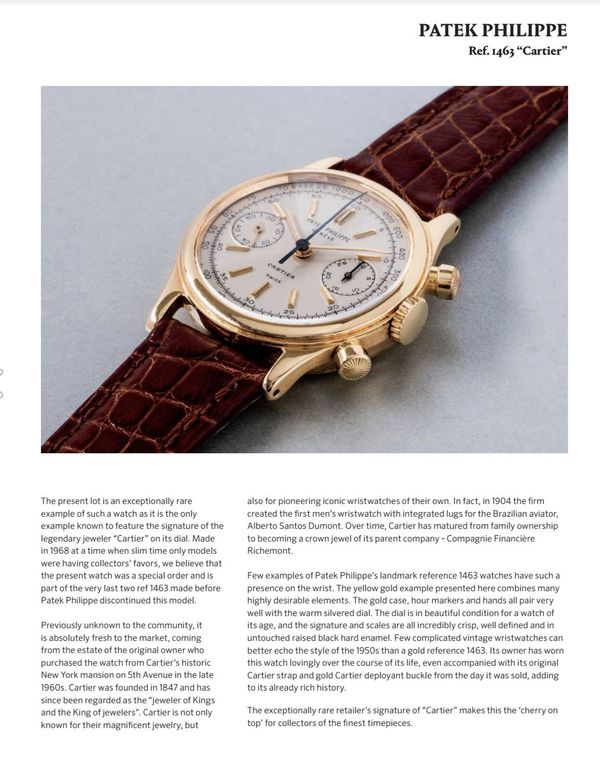 A Patek Philippe reference 1463 retailed by Cartier, Geneva Watch Auction: FOUR, 13 November 2016, lot 191.
TT: Which branch do you enjoy the most?
AM: For me now, I love Cartier London for the design, but I also love platinum watches from Paris - they're great.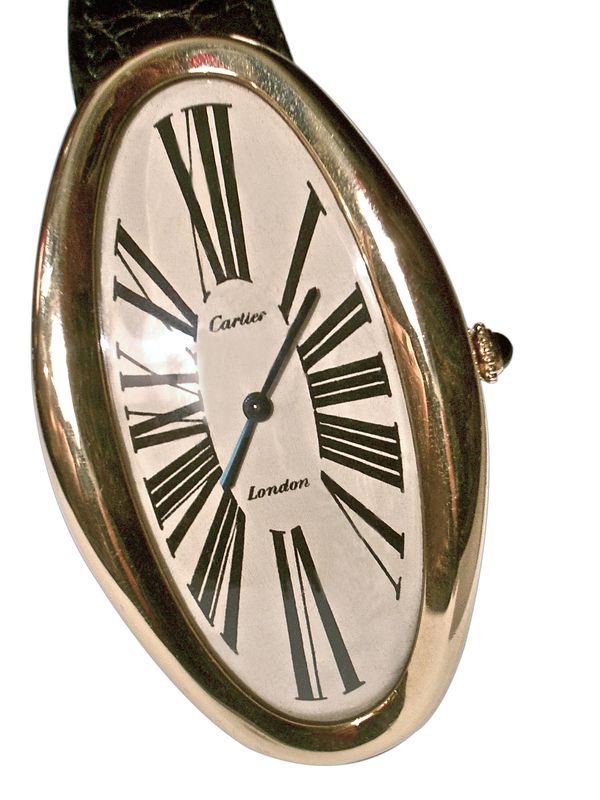 Auro's exceedingly rare and massive yellow gold Allongée Maxi sold by Cartier London from 1969
TT: For you, is design as important as horology and chronometry? Is everything equal?
AM: Ah no, on a scale, I would put design first. There should always be design and beauty on the wrist. Second, I would put chronography, then horology in terms of complications and then chronometry, [I value] less on chronometry.
TT: Beauty is the most important, then.
AM: Yes, the beauty, the design, this is very important.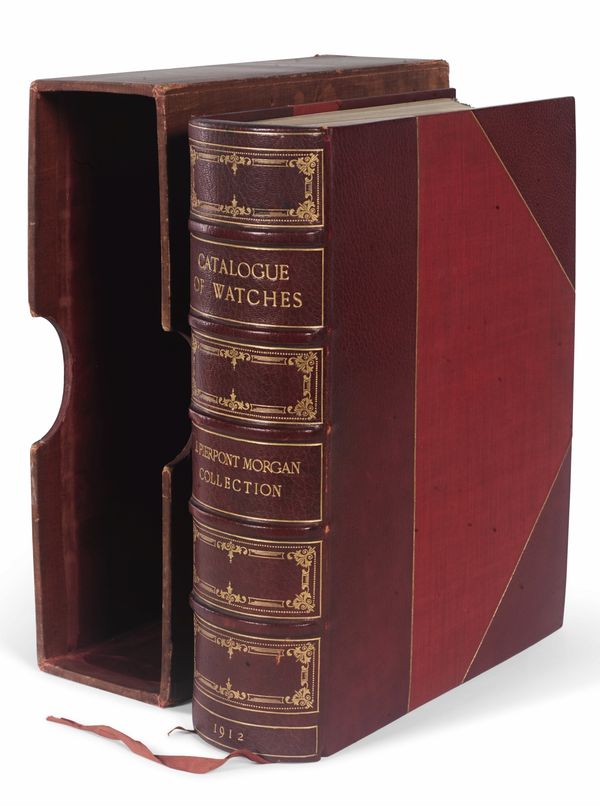 Auro's Catalogue of the Collection of Watches from 1912, commissioned by J. Pierpont Morgan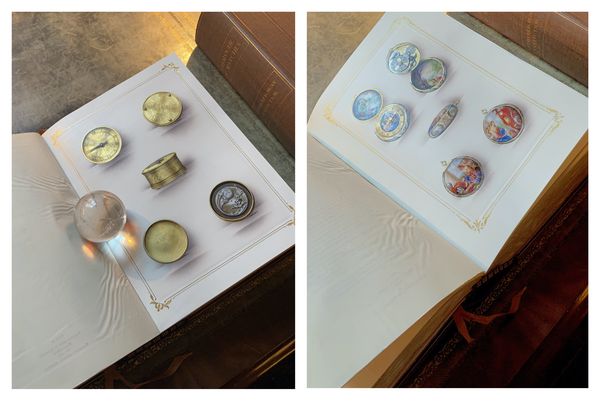 Scenes from Auoro's Catalogue of the Collection of Watches, commissioned by J. Pierpont Morgan
TT: Any models you think are underrated, that have not received the recognition they deserve?
AM: Lately, Cartier is back on the market for me. But I love the Tank Normale – it's very beautiful, very simple. You can find good examples, with the original crown and original dial. The movement, everything, it's good.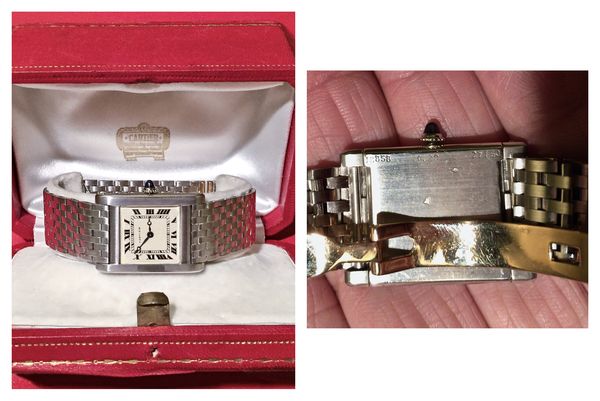 Front and back of Auro's platinum Tank Normale sold by Cartier Paris, from 1927