- By Tiffany To, translated to Traditional Chinese by Jill Chen
I first met Auro in September 2016, having traveled to Geneva for the cataloging and organizing of ROLEX MILESTONES: 38 Legendary Watches that Shaped History. At the time, I was less than one year into the job and felt like a fish out of water. In the ensuing weeks, I sat down with Auro to discuss his curating of the sale, select and research the pieces, and finally condense his thoughts in the catalog. To this day, it is one of the most meaningful and memorable projects I have ever had the pleasure of participating in. Not only did I learn an incredible amount, I was also stunned and humbled by Auro's patience, kindness and willingness to share – all with a young specialist who was over her head. Today, as an advisory board member of Phillips in Association with Bacs & Russo, Auro generously imparts his knowledge and experience to the whole team and is the first person we reach out to for unbiased advice and guidance on all matters, even beyond watches.
While he is more commonly known as "John Goldberger" - the writer and authority on a number of topics relating to vintage watches - this project aims to peel back the many layers that make up "Auro Montanari". We speak with Auro during this period of confinement to learn what he's doing, and to discover more about the inimitable multi-hyphenate: whether it be the collector, writer, entrepreneur, scholar, aesthete, and much more. Accompanied by photos taken by Auro himself, this series is divided into four sections: Writing, Living, Learning, and Collecting. Today, we speak to Auro the author, and discuss his newest book, Time to Race.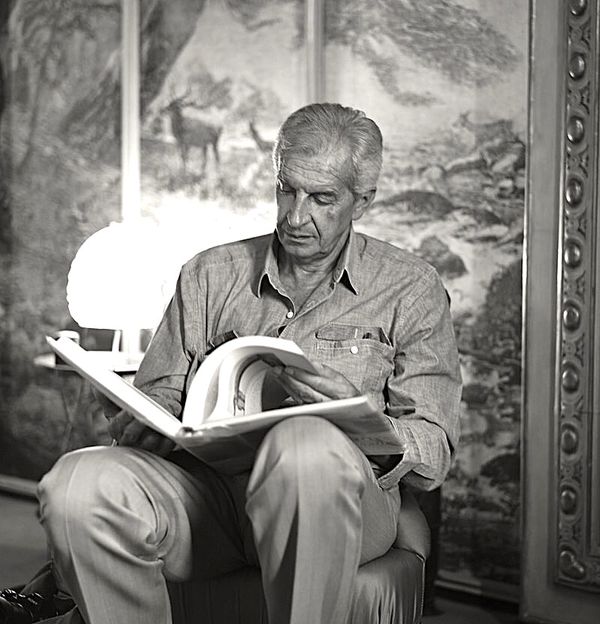 Tiffany To: Hi Auro, how are you? What are you doing?
Auro Montanari: I'm fine thank you. I'm in my apartment in Bologna, doing many things. I'm writing, doing photography, reading, researching, cooking...I don't go out now - only to walk the dog and sometimes to buy essentials.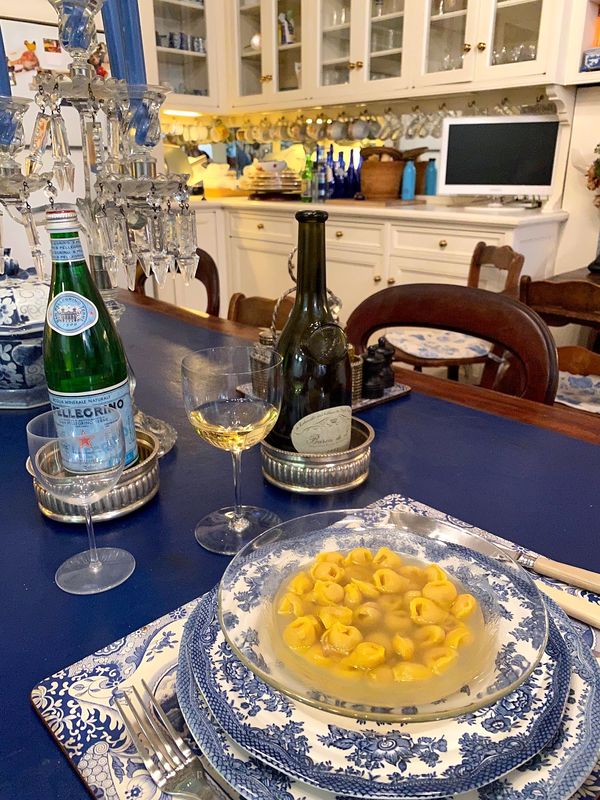 TT: Can you tell us a bit about your new book?
AM: Right now, I've just finished the corrections and English text of Time to Race. All 496 pages. It's a book about drivers and their relationship with racing and watches. I've made this book with a good friend of mine, Cesare Maria Mannuci, who is an important motor racing journalist, and we've divided the work. He wrote the stories about drivers, and I wrote the footnotes about the watches and the technical information. The book will be ready in the first week of May, in English, with 1500 copies. There are two interesting forewords by Piero Ferrari and TK Mak.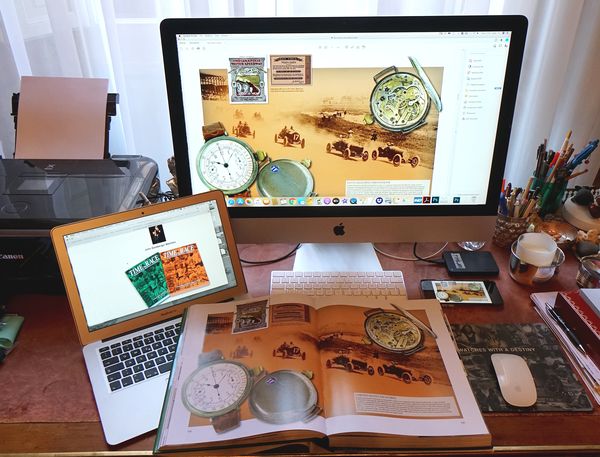 We've checked many photos, books and old archives. We also purchased many images. We tried to build a story on drivers. The book is divided into sections: Characters, Time Keepers, Circuits and Watches, Cars and Watches and Watch Manufacturing.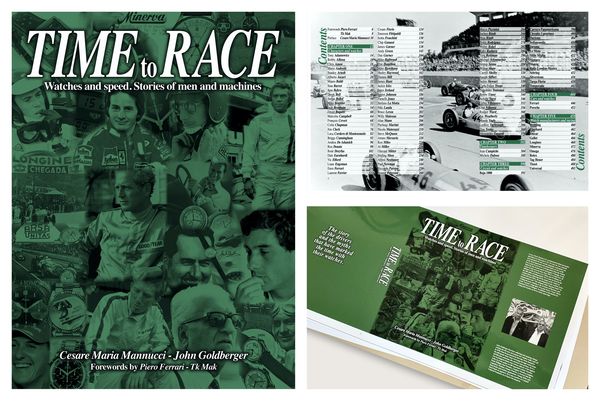 TT: How did you get the idea of producing a book on racing – do you have any personal ties to the subject? Do you race yourself?
AM: It was an old idea between Cesare Maria and me. We've always discussed about watches and drivers. I don't race, but I love the car-racing world. I'm a fan of the Formula 1 Grands Prix. I love oversized watches, particularly pilot watches, split seconds chronographs - these kinds of pieces.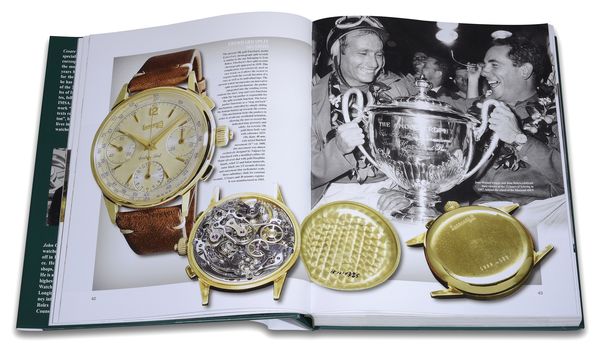 TT: Beyond just speed and time, are there overlaps between car lovers and watch lovers?
AM: Yes, I know many people who collect both watches and cars. I think the two fields are very tied together.
TT: What do you think brings them together? Are there any similarities between them?
AM: Yes, behind every object there is a past - what brings them [watch and car collectors] together is a shared history, an element of story telling. That's why I tried to incorporate story telling in Time to Race.
For example, I found a nice watch from René Dreyfus, a very good French driver. It was a split seconds chronograph watch with articulated lugs and fixed bars by Leroy that is now in an Italian collection. There is a nice story behind this timepiece because it was presented from Delahaye to the wife of Dreyfus [upon winning the Million Franc Race]. In the book, there is an explanation about the life of Dreyfus, along with the technical notes on Leroy.
TT: They [Leroy] made only one?
AM: Yes, it's unique. Only one piece.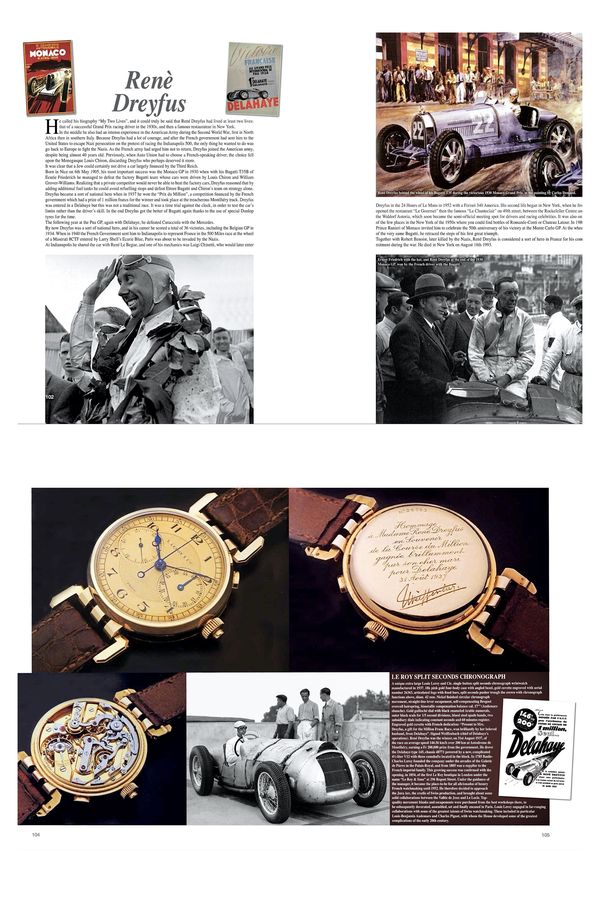 TT: Can you explain more on how this book came about?
AM: In terms of this particular book, we've [Auro and Cesare Maria] always wanted to do a project together. It finally started last summer. We decided on the sections. In the beginning, we found only 20 or 30 watches that belonged to drivers. We worked on it with collectors around the world with information and books, and then we found almost 90 watches linked to characters and drivers. Most models [in the book] belong or belonged to the drivers, the others are similar models.
TT: And how did you track down the drivers and watches?
AM: Through books, Getty Images…Cesare Maria knows many drivers and also made many interviews. For example, in the past, he interviewed [Ayrton] Senna when he was still living. Cersare Maria also interviewed Jackie Stewart.
There's also Alessandro Zanardi and Riccardo Patrese. Riccardo Patrese is actually a vintage watch collector – I went to his home to take photos of his collection!
TT: Did you ever have to make a cold call to access pieces?
AM: A few…but I found the watches anyway through auctions. Many of them have gone through auction. Actually, through Phillips I found some watches that belonged to drivers. One was Yarbrough, an American driver. It was a Paul Newman Daytona (STYLED, 5 December 2018, lot 13). Then there's the famous stainless steel and gold Daytona that was sold in New York (WINNING ICONS, 26 October 2017, lot 10). The Jack Brabham Breguet and split seconds Breitling… they're all in the book (THE GENEVA WATCH AUCTION: FOUR, 12-13 November 2016, lot 122 & START-STOP-RESET, 14 May 2016, lot 49).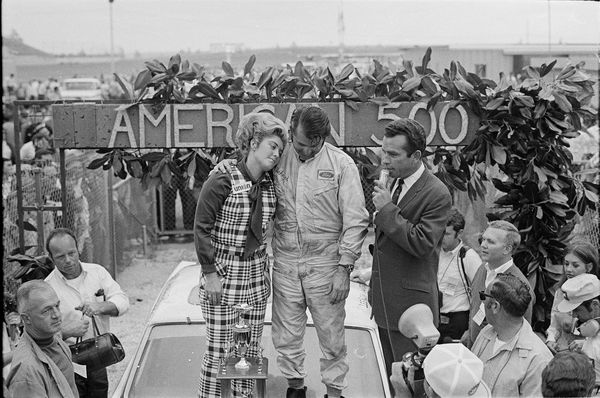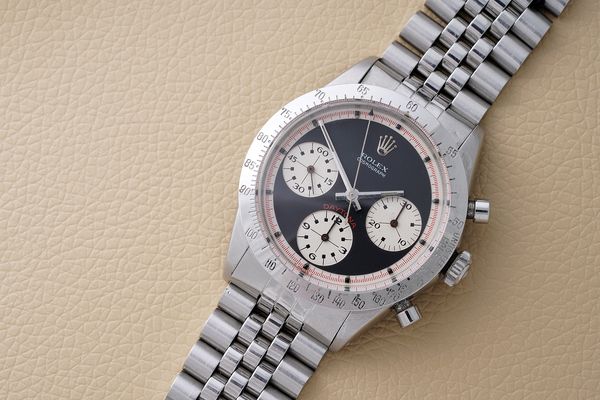 Yarbrough's 'Paul Newman' reference 6239, the earliest known Rolex Daytona awarded to a Daytona 500 winner.
I've found a few others at auction, particularly from Merzario. There are also Heuer watches. Actually…there was something I was scared about. If you only make a book on drivers and watches purely, it's a book only on Heuer because during the 1970s, that's what the drivers, particularly Formula 1 drivers, wore. I try to focus on other period such as the 20s, 30s, 40s and 50s. I didn't focus too much on the modern era because companies today, they make watches based on sports personalities, such as Audemars Piguet for Barrichello and Montoya. Richard Mille and Massa...I tried not to focus too much on these kinds of watches.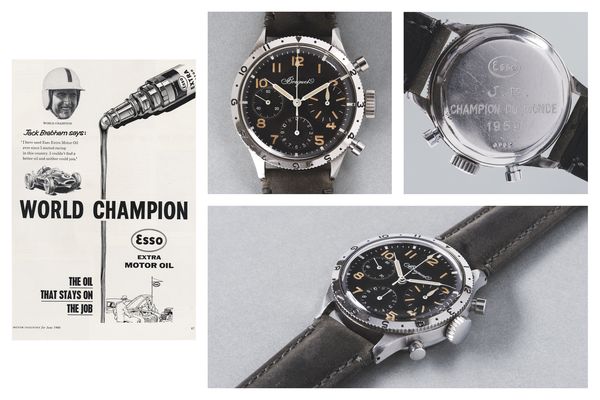 TT: Do you have a watch that's most meaningful to you in the book?
AM: I love Briggs Cunningham's watches. There's the famous stainless steel reference 1526 Patek Philippe wristwatch that is now in the Patek Philippe museum. Another favorite is a rare reference 1463 with black dial. That's in a private collection in the States…I flew there to take the photos. There was another stainless steel reference 565 with Breguet numerals that Phillips sold [Geneva Watch Auction: ONE, 10 May 2015, lot 125] – I know who bought it…he came forward [chuckles].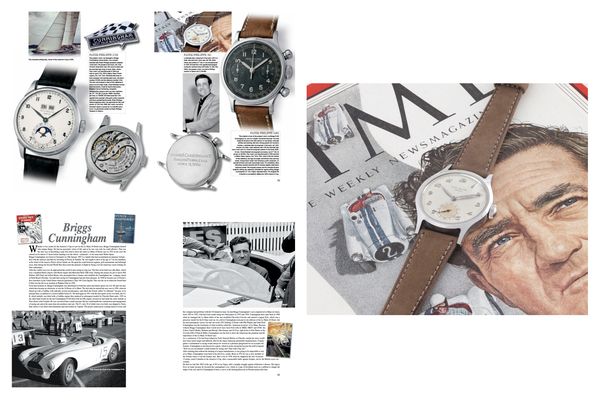 TT: What fascinates you the most about Briggs Cunningham? His choice of watches? The designs? The history behind the person?
AM: Firstly, there is the history of the character. It's incredible. He was a very wealthy man, he won America's Cup with boats, he drove cars in Les Mans and Daytona. He set up a car team. He set up a wonderful museum in Costa Mesa, California. I visited it, it was incredible, his collection of cars! He ordered very specific Patek Philippe watches in stainless steel. Very sporty. It was very unusual in the 1950s to order these kinds of pieces.
TT: So, he had great taste, then.
AM: Yes, great taste and a great man.
TT: Out of all the books you've written, which one has the most meaning to you?
AM: Probably 100 Superlative Rolex Watches. Because I've found very nice examples from collectors and I've tried to set up the best 100 examples. I'm preparing and working on a new book for next year – Superlative Rolex Watches Part II. Special Watches.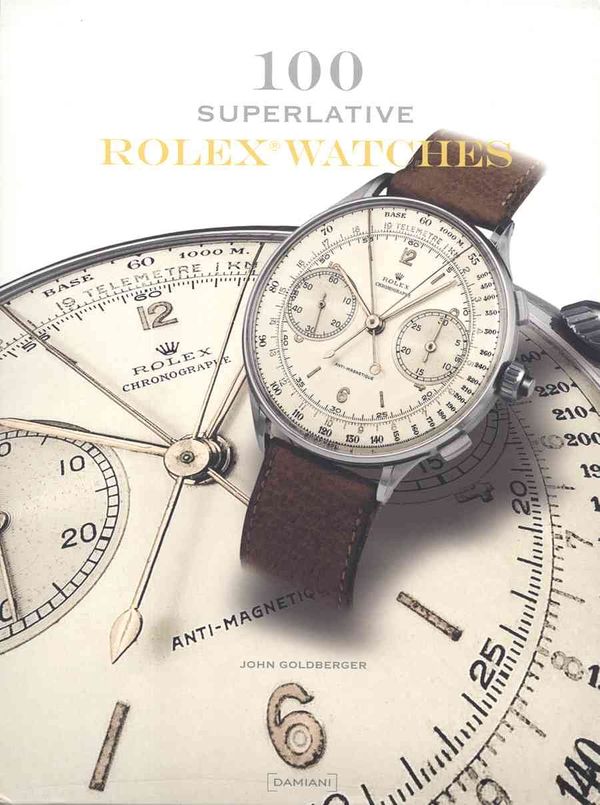 TT: What is it like, the process of writing a book?
AM: I try to make a list of good watches, then I contact the collectors who open up their collection. I'm then free to take images of their collections. After that, I write the technical footnotes. But Time to Race is more of a reading book. I was intrigued by the story about drivers. And a little bit about watches.
TT: Would you say Time to Race is more of a story about the stories of the people and their relationship with watches and driving, rather than a coffee table book?
AM: Absolutely. That's right. With this book, I didn't make a digital version [such as in the past] because this kind of book is a pleasure to read.
TT: How is it, tracking down the watches?
AM: I love to travel. For me, it's a pleasure to meet collectors from around the world. To see their collections, to see the watches. Incredibly right now, with Cesare Maria, we are hoping to make a second part, pending on the success of this book [chuckles]. We found 50 or 60 other watches after the news of this book came out. Maybe part two will be ready, 2 or 3 years later.
TT: Wow, they [the drivers and collectors] contacted you after learning the news about the book?
AM: After they saw my social media ad, they contacted me.
TT: Where is have you traveled to, for chasing down a watch?
AM: Japan, Hong Kong, all over the States, Italy.
TT: But have you gone to some small, exotic town nobody has ever heard of?
AM: No, no, no, no…collectors are mostly located in big towns. Hong Kong, Kuala Lumpur, Tokyo, New York, LA, Rome, Zurich, Geneva, London...there is no some exotic small town in the middle nowhere!
TT: What is the most difficult aspect of writing a book?
AM: For me, it is writing in English - the technical parts and laws of grammar without making mistakes…I take only 40 days to correct the footnotes! The book was ready in February and all of March and April, I read it and read it again…I look at the PDF on the computer and check and check. I find many mistakes and I try to correct them.
TT: And the best part? What gives you the most joy?
AM: The best part is putting it together, putting the graphics together...in the past, all the graphics and layouts were done by me. In this book, a good graphic designer, Roberto Rinaldi, helped me to assemble all the images and text. In this case, it was very complicated to put cars, watches, drivers and movement parts together.
TT: In general, why do you write books? For posterity? Or the transfer of knowledge? What drives you?
AM: It's my passion. I'm passionate about photos, storytelling, graphics and design. I love cars, I love watches, and I put them together and blend everything.
TT: So, books are the means for you to transfer all your passions together.
AM: Yes. My goal is to transfer my passion to somebody else.
TT: Any other projects in the pipeline?
AM: Oh...hmm...yes! Time to Wear! I met a friend, Alessandro Squarzi, and we have the same passion for vintage watches and clothes [such as vintage turquoise, silver, denim]. He has a collection of watches and rare objects, and we decided to make a book together. He has a wonderful selection of Omegas and sports watches, and even those without brand names speak a lot in terms of style through the case and dial. We have placed and photographed watches with vintage clothes. It will be a 200-page book with 500 copies. He will distribute the books, and we will make a presentation in Florence in September.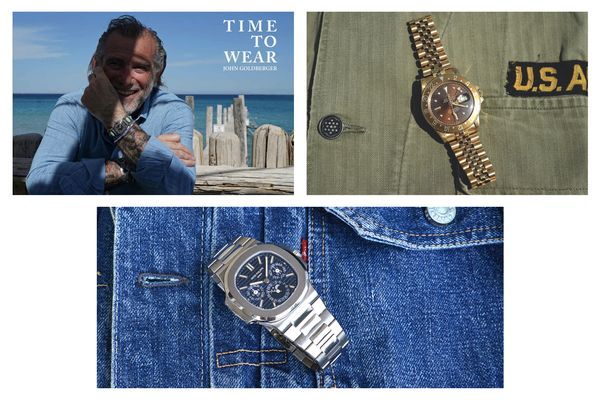 Stay tuned for Part 2 of the series with never-seen-before images of Auro in the 1980s, and watches that will be discussed online for the first time.