- By Isabella Proia

As watch specialists, history passes through our hands on an almost daily basis – and we certainly see it as a privilege. Some watches have seen those monumental events of human history and some have seen the more mundane moments of an individual's past. Often we don't know what the watch has born witness to. And sometimes, the watches we are so lucky to handle contain history within themselves. Such is the case with the Patek Philippe reference 2499 we will be offering in our December 10th New York auction entitled "GAME CHANGERS". And what a game changer it is.
A quick overview of the cataloguing and auction process will help give context to the story of this watch that has unfolded over the past few months. When Phillips receives a watch, particularly one of such importance, the entire senior international team of specialists gets their eyes on it. One feature on this particular watch struck us immediately as exceptional – the presence of round chronograph pushers. Until this watch's appearance, it was previously believed that all Vichet-cased ref. 2499 watches were fitted with square pushers.
After receiving the watch from the consignor, who purchased it directly from the family of the original owner, the watch was sent to our laboratory in Geneva for further research and inspection. Inside the caseback, the signature Gübelin retailer etchings were identified by Aurel Bacs, and later confirmed by the retailer.
To determine if the case was born with round pushers, our team closely examined all elements of the case using a microscope and high-resolution photography. Our laboratory forensically examined the seals used to enable the water resistance of the pushers – and it was indeed proper seals from the era of its production. After exhaustive analysis, we were convinced of its absolute correctness and decided that it was a "possibly unique" example of the reference. We are proud to have an advisory board of experienced collectors, industry experts, and horological scholars who also generously lend their eyes and expertise, and they too were convinced on the watch's correctness. All felt absolutely confident in the provenance and correctness of the watch, and the excitement of writing a new chapter in the history of one of the most important Patek Philippe references was the cherry on top of the cake.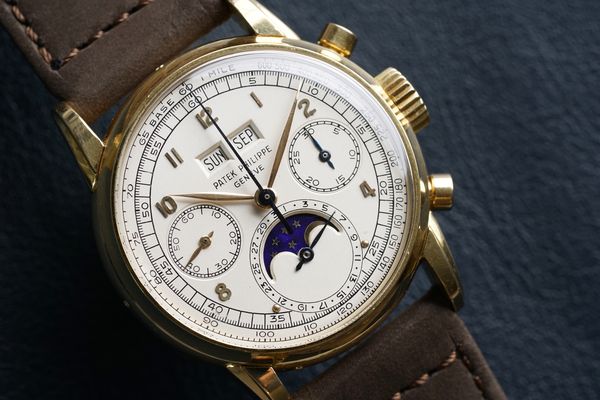 At this point, we write the catalogue footnote, describing the remarkable rarity and scholarship-changing importance of this beautifully preserved 2499. We propose several theories as to why a Vichet-cased, round pusher reference 2499 might exist. We proofread the catalogue and release it to the public at the same time as the beginning of our world tour. In the past two months, this reference 2499 has journeyed up and down the east coast of the United States, to London, Geneva, Singapore and Hong Kong, to California, and finally back to New York. In these locations, our best and most well-informed clients are seeing the watch at the same time that the catalogue is online and available to the public. Tagged as "possibly unique", the 2499 naturally sparked excitement and interest from the collecting community.
With the public nature of auction, new information was brought to our attention – a watch enthusiast brought to our attention that ours was perhaps not unique – there might be another Vichet-cased 2499 with round pushers. This news only excited our team, as the existence of other examples would bolster the confidence we already felt that the watch is factory original.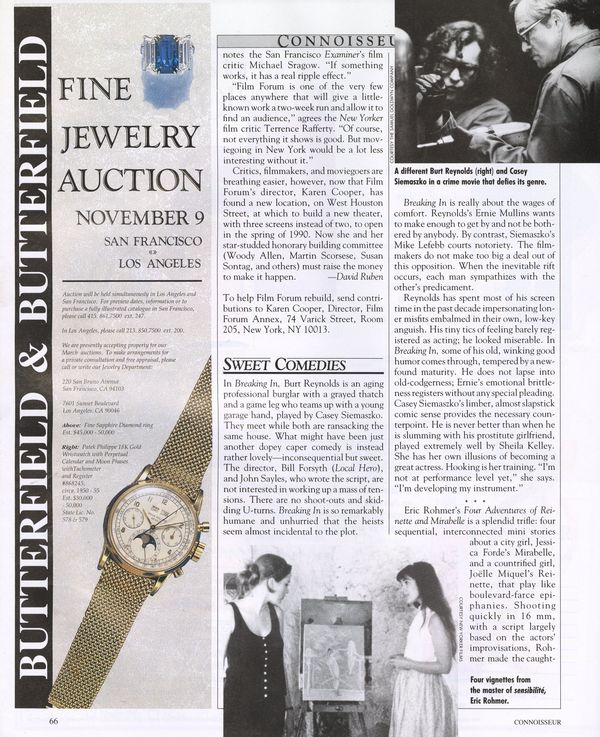 The enthusiast presented us with an image of a round pusher, Vichet-cased reference 2499 in a color advertisement for a Butterfield & Butterfield auction in the now-defunct Connoisseur Magazine, with the movement number only one digit off from our example. The date of the issue not known, and our team spent hours paging through back issues of Connoisseur Magazine until finally we found it in an October 1989 issue. The sale was to take place on November 9th, 1989 in San Francisco and Los Angeles, and we were lucky to track down the Butterfield's catalogue for that auction. Lot 2759 of this Butterfield's Fine Jewels catalogue was a Patek Philippe ref. 2499 with round chronograph pushers and bearing the movement number 868'245. Against its pre-sale estimate of $30,000 – $50,000 USD, and it realized $126,500 USD. The elegant, architectural lugs were clearly visible and identical to our example, and the dial also bore the same layout. At this point, we were elated – but our work was not over yet.
Throughout the collecting community, its widely theorized that Patek Philippe produced experimental watches in small batches – this is not always the case, but it certainly has been seen, particularly when paging through the Patek Philippe Museum catalogue. It seems as though small series of certain references – either existing references or totally new references that were never used again – were used as sort of prototypes, testing out certain calibers, case makers, lug architecture, or market reception. A few examples of those can be found below:
Three (3) reference 3449, a perpetual calendar wristwatch with manually-wound movement, large, flat, stepped case, with consecutive movement numbers, produced for less than a year before being replaced by the reference 3448.

Three (3) reference 1554, cased in pink gold, a chronograph wristwatch with "hooded mobile articulated lugs", 36mm in diameter, with consecutive movement numbers, only manufactured in 1942.

Three (3) reference 591, chronograph wristwatch with straight lugs, one cased in pink gold with black dial and Breguet numerals, with consecutive movement numbers, manufactured in 1943.

Two (2) reference 1591, one in steel and one in yellow gold, a perpetual calendar wristwatch with moonphases and waterproof case, with consecutive movement numbers, both manufactured in 1944.

Two (2) reference 2499/100 in platinum, with consecutive case and movement numbers, manufactured between 1987 and 1989.

Three (3) reference 2571, a split-seconds perpetual calendar chronograph with moonphases, manufactured in 1955.
Furthermore, Patek Philippe experimented with different case dimensions, movements, and dial layouts in other serially produced complicated watches such as the reference 1526. Earliest examples had several characteristics that set them apart from the later, final iteration: a different caliber, larger case dimension, and larger day and date apertures on the dial.
We believed there might be a third example of such a 2499 out there, and researchers helped us a 1983 Christie's New York catalogue, with a color photo showing a third round pusher, Vichet-cased reference 2499 bearing the movement number 868'244.

Armed with this convincing evidence, we approached the manufacture. Patek Philippe was able to confirm that indeed, three reference 2499s were produced with consecutive movement and case numbers.
- November 1983, Christie's New York: c. 665'011 m. 868'244
- November 1989, Butterfield & Butterfield's San Francisco: c. 665'012*, m. 868'245 [The case number listed in the Butterfield catalog was confirmed as a typo]
- December 2019, Phillip's New York: c. 665'013, m. 868'246
Given at a time when the watch market was in its infancy, and that the two earlier examples turned up at auctions in the U.S., there is a high likelihood that all three were originally delivered in the U.S.
A round pusher, Vichet-cased reference 2499 shouldn't exist – but it does. Through painstaking and extensive research, our team has found overwhelming evidence that there were at least three 2499s with round pushers produced by Patek Philippe made by the same casemaker, delivered to the same market, and with the exact same price. The proximity of our present example to its original owner further underscores this important watch's originality. And for the first time in 30 years, the last one known has surfaced – once again in the American market.