Cheyenne Westphal and Robert Tibbles in front of Damien Hirst's Antipyrylazo III, 1994.
Image: Alex Braun/Phillips.
CHEYENNE WESTPHAL: Hello Robert. I am so happy to be with you to talk about your wonderful collection.
ROBERT TIBBLES: Dear Cheyenne, it is a pleasure to have you.
CW: First, I would like to ask you about your Medicine Cabinet. I have always found it so exciting that you were literally the first person to buy Damien Hirst. Bodies is one of the four cabinets that was in his degree show at Goldsmiths in 1989… How did you come across his work at the time?
RT: Karsten Schubert told me about Damien Hirst when he came to see me in my previous flat, and mentioned this specific work. I had already bought a few things from him – the Bob Law, the Ed Ruscha. And I quite liked the idea of Bodies. It was looking at something very ordinary in a very different way. He showed me the image, and I immediately approved. Damien then came along and put it up with his friend Charlie. Now it seems very different from how it was then. It was a perfectly normal transaction though – Damien was happy to sell, and I was happy to buy.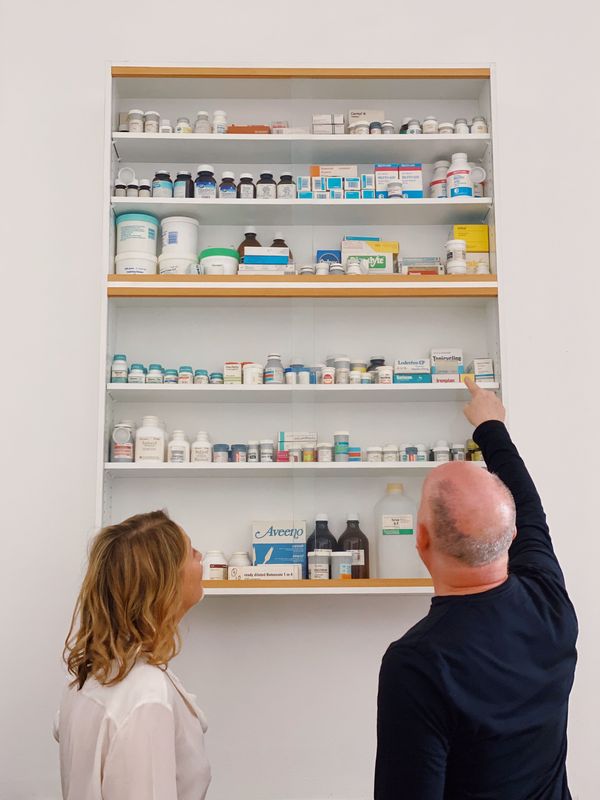 Robert and Cheyenne regard Damien Hirst's Bodies, 1989.
Image: Alex Braun/Phillips.
CW: It's a wonderful piece. Am I right in thinking that from this series, the two first buyers were you and Charles Saatchi?
RT: If I remember it correctly, Charles Saatchi bought two of the four, I purchased Bodies, and the last one remained with Hirst.
CW: After that, you really started collecting Hirst in depth. How did that come about?
RT: I don't think there was a point where I ever felt like a collector at the time, I just really loved buying art. Of course, you have to restrict yourself according to what you can afford, and what suits your envy; I just bought what I wanted when I could. The second Hirst work I got was the Spot Painting [Antipyrylazo III, 1994].
CW: Which is incredible. A 1994 painting, with one-inch spots, each separated by one-inch spaces.
RT: Absolutely. Each circle was made with a compass, and all the colors are different. With the one-inch spot/one-inch space dynamic, the composition really dances. Even looking at it now, you can see a joyful, uplifting energy radiating from this delicate work.
CW: I absolutely agree. It was an incredible moment in time, because we now look back and can identify the birth of the Young British Artists, happening right there and then. You were there at that precise moment. How did it feel buying works by these artists?
RT: It was a good thing and a lucky thing. I wanted to buy some proper art for my flat, and I happened to find something that I really liked. But it was not universally liked – even the Spot, which at the end of the day, is a very easily understandable work. People still thought that it was not the sort of painting you should have in your home. It was an area of art that was new, and it wasn't to everybody's taste. It's the taste that has changed, rather than the art.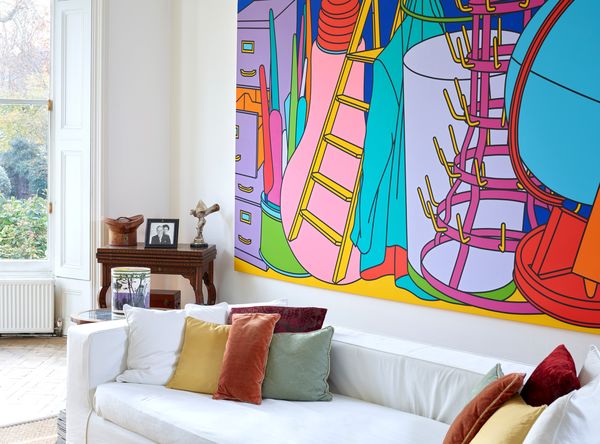 Michael Craig-Martin's Full in view in Mr. Tibbles' London home.
Image: Alex Braun/Phillips.
CW: Yes. And I also like the fact that you have Gilbert & George, and Michael Craig-Martin, and Julian Opie, who have all played big roles in inspiring and teaching and cultivating the spirit of the Young British Artists. Sitting here, we are facing the very large, very colorful Full by Michael Craig-Martin who, I believe, was also a friend of yours.
RT: Yes, I did want the overarching story of my collection to make sense. And so, I had to continually ask myself: do these bits of the jigsaw produce something that has a theme or coherence? Meeting Michael – the teacher of Damien Hirst and the other Young British Artists from Goldsmiths – was such a great experience. And it clicked instantly. The first Michael Craig-Martin in my collection was the one I commissioned, following his Paris show at the Centre Pompidou. The second one was Full, which is a masterpiece. It's got all of Michael's strength and magic. In the painting, each image represents an artist: the metronome is Man Ray, the wine rack is Duchamp, the water glass is Michael Craig-Martin, the filet cabinet is Edward Hopper… Yet again it also has this uplifting, joyful element to it. I've observed people's reactions seeing Full in our drawing room: always happy, always full of wonder, and very inquisitive!
CW: And you told me that Michael actually came and installed the piece here – is that right?
RT: Michael was really kind. He came around and observed the installation I had done for my collection. He found it quite unsatisfactory, so had his student Jesus – a name I remember telling myself would bring great karma! – re-organize it, in a simpler and better way. It made a massive difference. I can't remember exactly how it is I met Michael; it would have been through Karsten, because it was the relationship between Karsten and Michael Craig-Martin that made Karsten's Charlotte Street gallery so new and fresh.
CW: I also love that you have a work by Julian Opie. Somebody once told me that amongst the Young British Artists scene, he was the slightly older, 'cool' and socially wise guy who inspired young artists to get out of their studio.
RT: I've met him several times. He was definitely a trailblazer, the 'first' of the Young British Artists if you will… And probably the coolest too – think of the Blur album! But each artist was famous in their own right. The Opie work we've got here, picturing the blue sky and the infinite road, evokes that feeling you get just before seeing the sea in the car. It's interesting how when you live with something for a long time you end up seeing how the same themes come through – how each work has influenced the other.
CW: But what is truly special about your collection is that you didn't just buy works by Damien Hirst or Michael Craig-Martin. You picked, each time, the very best of what they did. When I look at the Spot Painting, I honestly can't recall seeing one as good as this. How did you choose it at the time?
RT: I must say Jay [Jopling] was an amazingly helpful gallerist. He would always come to me saying: 'I've got something for you', and show me a selection. That way, I had the ability to choose without feeling overwhelmed. When I saw this Spot Painting, I believe he had sent me just two other works from the series. The colors of the other ones were very different; this one clearly danced, and the colors to me formed a kind of jovial rainbow that I couldn't get my eyes off. It's a very odd thing when you see a work and tell yourself: that's my work. It's a strong feeling, and it definitely grows with time, after you've developed your eye.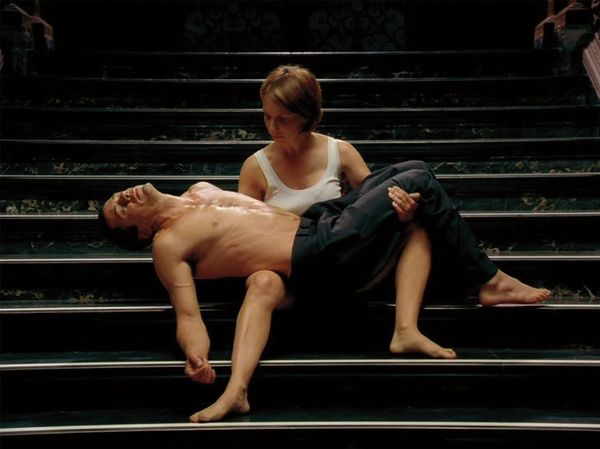 Sam Taylor Johnson Pietà, 2001.
CW: One of my absolute favorite works from your collection is Sam Taylor-Johnson's Pietà, which was projected in your dining room for a while. Could you tell us a bit more about this work?
RT: I think Pietà is really one of my favorites, too. At the time she shot it, Sam Taylor-Johnson had cancer, and Robert Downey Jr. was recovering from addiction issues. To have this contemporary take on Mary cradling her son Jesus after he's been taken off the cross, as a film of two people living through difficult times, was incredibly warm, kind and generous. I remember when Sam came over, I asked her why Robert had moved at one point in the film, slightly lifting himself off her knees. She said that he was worried his weight would cause her discomfort. The film captures this mutual sense of care and benevolence. We've had it on a projector and a TV screen, and actually on both occasions it's been fantastic. On a TV screen, I must say the colors were really superb.
CW: The other work that I absolutely love – though depicting a very different subject matter – is the Gilbert & George. You were a bonds salesman for many years, and you bought their work titled City Fairies.
RT: How lucky was that! It's a beautiful work. The middle of City Fairies is the floor of Liverpool St Station, and I used to work right above that. It's also called City Fairies, so I thought perfect! [laughs] They're both giving birth to each other out of their mouths, with big camp wings, and at the bottom, their bollocks are a different color from their arse. Again, perfect! It was like a message. It wasn't just the most uplifting work I'd found in their oeuvre, it was also the one I connected with the most. It felt like my work. When I met the artists, they remembered the piece.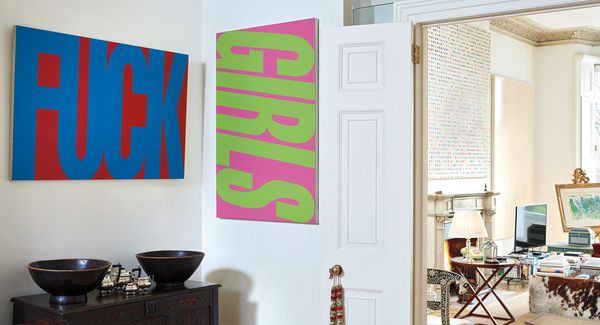 Works by Sarah Morris and Damien Hirst on display in Mr. Tibbles' London home.
Image: Alex Braun/Phillips.
CW: That's fantastic. You've got two great works by Sarah Morris, which immediately capture the eye in your dining room.
RT: Yes, and though placed side by side, they are two separate works. One says "GIRLS" – written in green over a pink background, in the style of the Maybelline mascara – and the other reads "FUCK." I think the word "FUCK" is extraordinary. It's a swear word, a graffiti word, a word full of connotations. Yet it's portrayed in this abstract way where if you get closer, the word almost disappears. The red on top of the blue feels like a reverse image. There are so many ways of looking at words; they allow for so many different thoughts and impressions. Nicholas Serota [British art historian and former director of the Tate galleries] once came over – probably around 1996 – and kindly went around the collection with me. It was the picture "FUCK" that we spent the longest time discussing. It was a fantastic experience; he was so thoughtful and erudite. Everything he said was subtle, and beautifully warm.
CW: Together, all these wonderful works are like a time capsule – because you bought everything from 1989 to 2000 roughly.
RT: Yes, and a few things after 2000. It doesn't seem that long ago, although it is. Even though some of the works' value have increased greatly, I have similar affection for all the pieces I bought.
CW: Selling your entire collection is a bold move. How do you feel about that?
RT: Well, agonized [laughs]. Separation is a very difficult thing, especially when you've lived with objects for such a long time. I've had lots of people over the years being very interested in specific pieces, saying they would be willing to pay X or Y. But I always resisted it. And then I realized when I was trying to fill in the spaces for all those artists I hadn't bought but wished I had, that it just was not the same. Buying them all this time later, a lot would have been and felt different. To me, it makes way more sense to sell all the works as a complete collection, because they are all part of the same story. And to be able to tell this same story in one jest means that hopefully, they're going to go to a good home.
CW: And now the big question… What is going to happen next? Will you buy more art?
RT: I have to be realistic and say that being a collector is part of who I am. It brings me so much pleasure. I bought and put together all these works, in a very slow but very careful way, and they only got better with time. So I think I will go back to it, and certainly have a look at some other things… Obviously with Phillips.
CW: [laughs] Thank you, Robert!
RT: But of course.
CW: Robert, it has been amazing to be here and see the incredible artworks that inhabit your beautiful apartment. What a chance to see how you have experienced them over so many years – thank you.
RT: Cheyenne, it has been my greatest pleasure to have you.