El Anatsui Affirmation, 2014. Estimate: £700,000-900,000.
20th Century & Contemporary Art Evening Sale at Phillips London, 13 February.
This February, Phillips, London, is pleased to present A Vision in Red – property from a Private Swiss Collection comprising six energetic works that are as tonally vigorous as they are physically complex. Among these works, including two lots by Louise Bourgeois, a mixed-media painting by Ghada Amer, a larger-than-life print by Halim Al Karim, and a stainless steel construction by Subodh Gupta, hails El Anatsui's Affirmation – an incredibly powerful wall-mounted installation that floods the space it exists in with colorful charisma.
Weaving myriad aluminum bottle caps into a vast shimmering curtain, Affirmation, 2014, is an exquisite example of El Anatsui's wall-mounted installations, inspired by his encounter with a bag full of metal seals from African liquor bottles in 1999. Since then, Anatsui has continually worked on wall assemblages made of bottle caps, crushing the found elements into circles or cutting them into strips, subsequently sewing the parts together to form vast tapestries. Boasting innumerable shiny lids, the present garland-like sculpture glistens, as its title suggests, affirmatively, and invites the viewer into a horizon of haptic abstraction.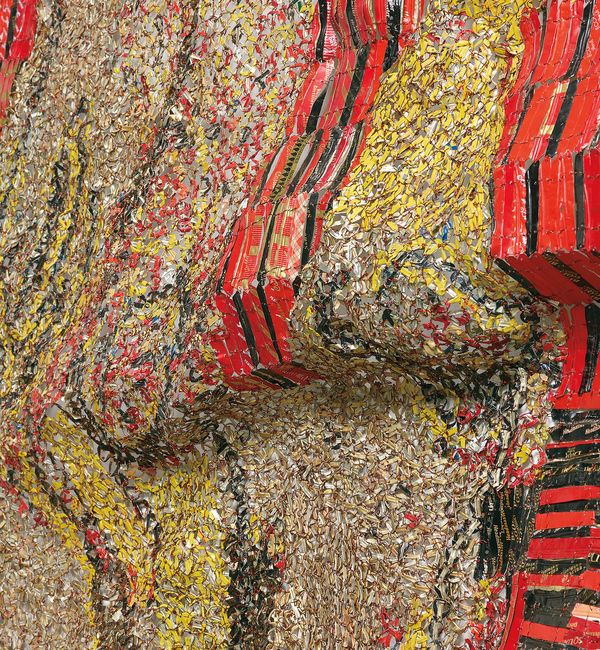 El Anatsui Affirmation, 2014 (detail).
Highly attentive to the materials he uses, as well as the technique with which he binds them together, Anatsui said, "My father wove and many of my brothers wove. But eventually what got me into textiles was thinking about 'what textiles mean'" (El Anatsui, quoted in Ming Lin, "Material World: Interview with El Anatsui", Art Asia Pacific, 6 January 2014, online). It is in reference to the specific use of bottle caps that the artist elucidated the meaning of his preferred material: "When I first found the bag of bottle tops, I thought of the objects as links between Africa and Europe. European traders introduced the bottle tops, and alcohol was used in the trans-Atlantic slave trade. Europeans made rum in the West Indies, took it to Liverpool, and then sent it back to Africa. For me, the bottle caps have a strong reference to the history of Africa" (El Anatsui, quoted in Erika Gee, El Anatsui: When I Last Wrote to You About Africa, exh. cat., Museum of African Art, New York, 2010, pp. 33-34).
As part of the artist's Theory of Se series, devised in 2014, Affirmation touches on numerous references pertaining to Anatsui's cultural background. It namely delves into the notion of "Se", which signifies fate, fortune, or destiny in the Ewe language. "Se" overarches the artistic intention with which Anatsui created the present work and its counterparts; within this theme, the artist explored three states of mind: affirmation, intimation, and revelation. Affirmation furthermore explores the idea of cultural and temporal interweavings through a spectacular formal rendition, bringing together the tradition of handcraft and discarded elements from capitalist activity.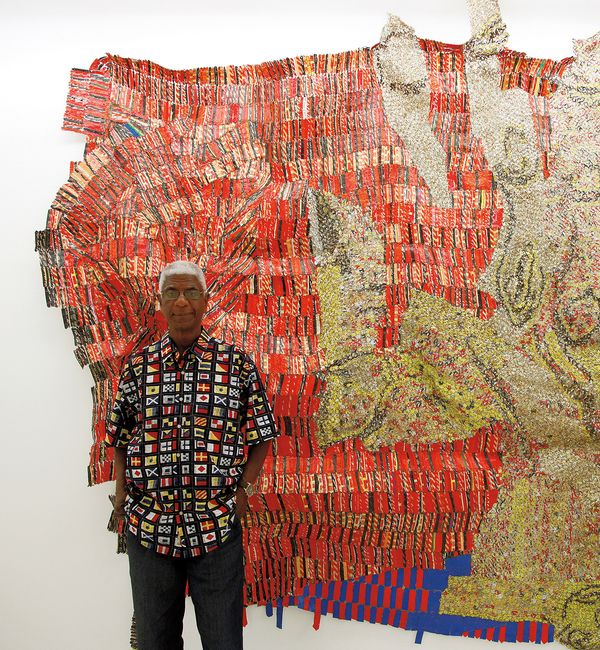 The artist with the present work at Axel Vervoordt Gallery, Hong Kong, at his exhibition,
El Anatsui - Theory of Se in 2014 © El Anatsui, 2020.
Image: Axel Vervoordt Gallery, Hong Kong.
One of the most prominent African artists working today, El Anatsui has been the recipient of significant critical and curatorial attention in recent years. The artist was selected to represent the Ghanaian Pavilion at the Venice Biennale, 2019, and was recently the subject of an important survey – the most ambitious to date, and the first-ever in Europe – curated by the late Okwui Enwezor at Haus der Kunst, Munich. The exhibition, tracing Anatsui's artistic practice from the outset of his career in the 1970s to his more contemporary creations, is currently taking place at the Mathaf: Arab Museum of Modern Art, Doha, and will travel to the Kunstmuseum Bern and the Guggenheim Museum, Bilbao, in 2020.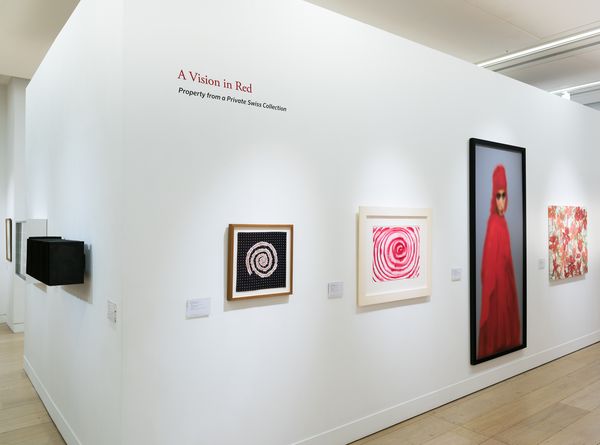 Works by Louise Bourgeois, Halim Al Karim and Ghada Amer on view in our London galleries.
Accompanying Anatsui's Affirmation in A Vision in Red are five works in Phillips February Day Sale. Louise Bourgeois' Untitled and Spiral, from 2006 and 2010 respectively, are exceptional examples of the late artist's poetic output, frequently punctuated by the psychological depths of her own lived experience. Both boasting the symbol of the spiral, these works exemplify Bourgeois' belief that "The spiral – I love the Spiral – represents control and freedom" (Louise Bourgeois, quoted in Paul Gardner, Louise Bourgeois, New York, 1994, p. 68).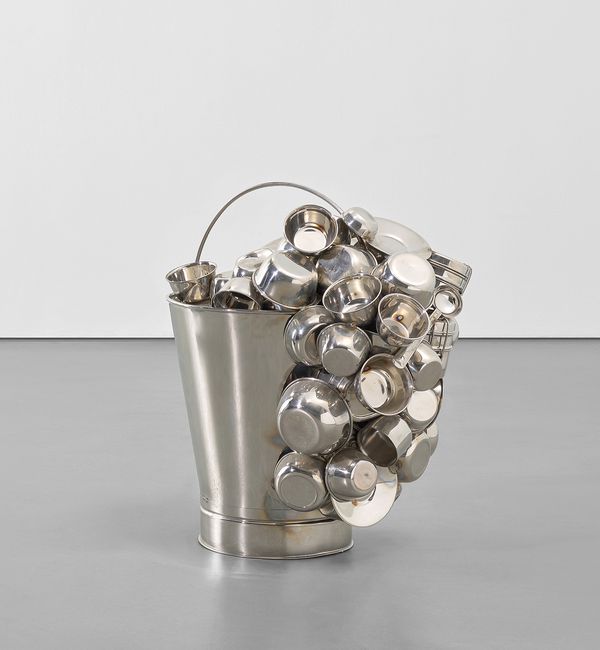 Subodh Gupta Bucket, 2007.
Equally, Ghada Amer's flowering composition In Red and pale – RFGA, 2013, brims with free strokes, devised with acrylic, cotton thread and gel. The intricate delineations atop the surface of the work reveal glimpses of female faces, subtly intertwined with the overarching petals. Halim Al Karim's Untitled 1 (from the King's Harem series), 2008, soars high above the viewer's eye, composing the blurred yet definite image of a woman veiled in rouge fabric. Finally, Subodh Gupta's Bucket, 2007, erects the enigmatic eponymous object in lifesize proportions, with many small casseroles brimming from its insides.
Together, the works from A Vision in Red compose a wondrous, immersive picture of complex materiality and vibrant color. United by their defining tonal dynamism, they furthermore capture the viewer's gaze in an all-consuming atmosphere of abstraction.