Robert Tibbles in his London home, with Michael Craig-Martin's Full, 5 December 2019.
© Michael Craig-Martin, 2020. Image: Alex Braun/Phillips.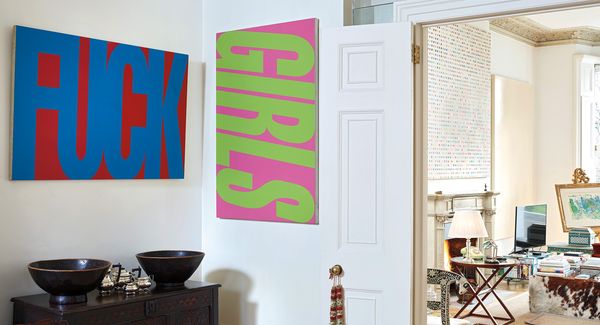 Works by Sarah Morris and Damien Hirst on display in Mr. Tibbles' London home.
Image: Alex Braun/Phillips.
Robert Tibbles is a collector in the truest sense. Having found his niche in the late 1980s, when London was bustling with a novel, brash artistic energy that readily met the increasing momentum of his own industry – finance – he became one of the first to promote and purchase the work of a then loud, yet marginal, artistic movement: the Young British Artists (YBAs). Deeply enamored with art from his first encounter with it in 1988, he quickly amassed a dozen works, and then more, constituting a collection of topical, charismatic, and intimate pieces spanning painting, sculpture, photography and video. The art collection he built over two decades remained with him to this day, predominantly in the comfort of his London home, and is now being entrusted to Phillips, London, across particularly crafted sales. "There are lots of different types of collectors," Robert confessed. "I've never been one to put works straight into storage." Instead, he placed a monumental Spot Painting by Damien Hirst above his fireplace, a brash dual portrait of Gilbert & George, along with two paintings by Sarah Morris spelling out "GIRLS" and "FUCK" in his dining room, and a poetic Julian Opie composition, portraying a road cut off by a large expanse of azure sky, just above his bed.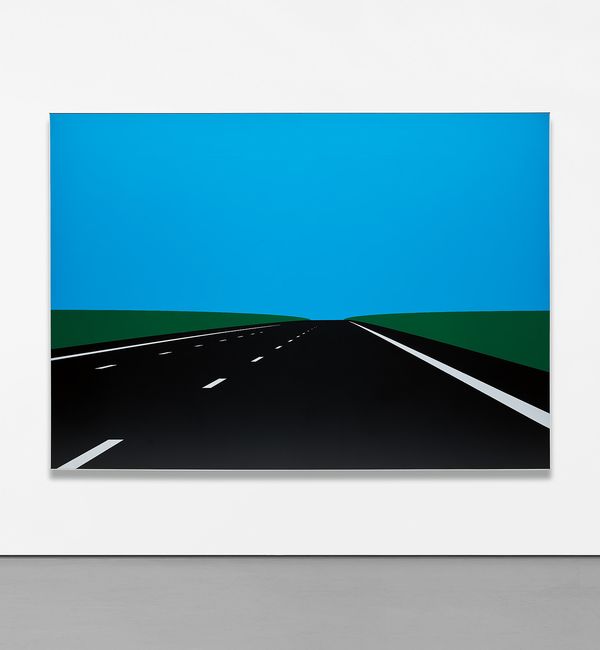 Julian Opie Imagine you are driving. 4., 1997. Estimate: £20,000-30,000.
Each work from Robert Tibbles' artful aggregation is tied to the other in a shared story of passion, foresightedness and wit. It is important to mention the spiritedness of Robert's collection as each work carries tremendous individual charisma; a spark that reflects his own. The first major work he purchased was Damien Hirst's Bodies, 1989, brought to his attention by the art dealer Karsten Schubert in the year of its creation. Acquiring the work for £600, he was the first collector, alongside Charles Saatchi, to buy a work by Damien Hirst. Indeed, while Hirst was still a student at the Goldsmiths College of Art, London, Robert was immediately taken by his work; he envisioned a likeness between his gesture and that of Duchamp years before him, similarly elevating an ordinary object to the realm of fine art. Hirst himself has fond memories of the banker. "I remember Robert very well, he was so excited by the art," he said. "It was in the days when I installed my own work in people's houses, so I went round and met him and he made me tea." Further highlighting the integrity of Robert's collection, the artist mused, "Robert is a proper collector and I'm really touched he kept and lived with my work for all those years."
Robert is a proper collector and I'm really touched he kept and lived with my work for all those years.
— Damien Hirst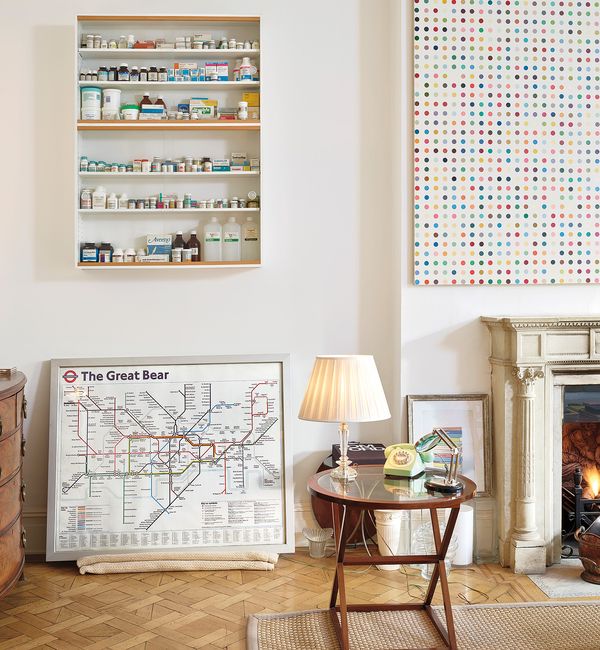 Works by Damien Hirst and Simon Patterson on display in Mr. Tibbles' London home.
Image: Alex Braun/Phillips.
Through the initial and seminal purchase of Bodies, Robert continued buying more works by the artist, and became increasingly close to Schubert, who subsequently introduced him to Hirst's mentor – the Irish-born, U.S.A-educated artist Michael Craig-Martin. Robert's particular relationship with Michael Craig-Martin, cultivated over the years, ushered new possibilities for his vision as a collector. He formed a friendship with him early on in his collecting years, and valued his advice as a friend and artist throughout his collecting journey. One of his most exciting purchases was the commissioned Narrative Painting from 1993-94; a composition that followed Craig-Martin's solo show in Paris' Centre Pompidou in 1993, where he had painted the walls of each room a different color, and placed one image on each wall. For Robert, Craig-Martin produced a canvas with a large expanse of pink to symbolize one wall, and an eighth of yellow to symbolize its tangent. "He then included a book because he always said, 'If you want to be a really serious Contemporary Art collector, Robert, you cannot have curtains or books.' And then he included the back of a canvas to show I am a collector."
Themes that consume artists at the time of creation – including life, death, freedom, irreverence and identity politics – seem to consume Robert in turn, and run consistently throughout the collection he built. The Robert Tibbles Collection: Young British Artists & More thus forms a coherent, wholly fascinating narrative; one that tells Robert Tibbles' singular story, and the visionary verve with which he approached art over the course of three decades.