The XVII Milan Triennale included a special exhibition titled "Le Affinità Elettive" ("The Elective Affinities"), which presented 21 displays by Italian and foreign designers such as Ettore Sottsass, Robert Venturi and Michael Graves. The aim of the exhibition was twofold: to support the region's furniture industry, historically known for its high level of craftsmanship, and to allow the "twenty-one designers [to] research their affinities," as the exhibition catalogue explained. This open-ended prompt resulted in experimental tableaux that explored themes of psychoanalysis and proposed new, radical ways of living. The Italian postmodernist designer Alessandro Mendini presented a range of household furniture, including the present cabinet that he designed with Studio Alchimia co-founder Giorgio Gregori.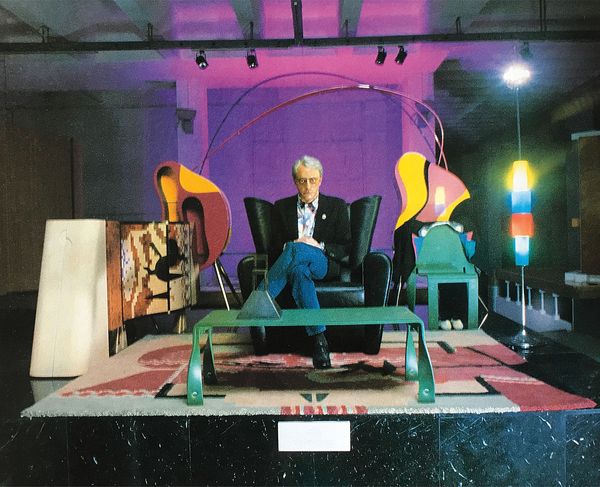 "Black-Out" display at the XVII Triennale di Milano, including the present lot and a hyper-realistic sculpture of Alessandro Mendini in wax, 1985. Image courtesy of Alessandro Mendini Archive.
Mendini called his exhibition "Black-Out" and divided his display into two levels. The top of the display, called "Black," contained various pieces of furniture—a table, bar cart, chairs, lamps and a rug—that he designed with other Studio Alchimia associates. Central to the display was a hyper-realistic wax sculpture of Mendini (what he called a "counter-monument") that sat in one of his chairs and acted as a tongue-in-cheek criticism of the "deification of design…and designers." The lower component, called "Out," featured a small opening in the platform through which visitors viewed a mirror-lined room created by Anna Gili that included a fashion design for a human from the future. According to Mendini, the entire display was meant to question "the paradox of mass avant-garde."
The pixelated motif made in inlaid woods...appears throughout Mendini's work.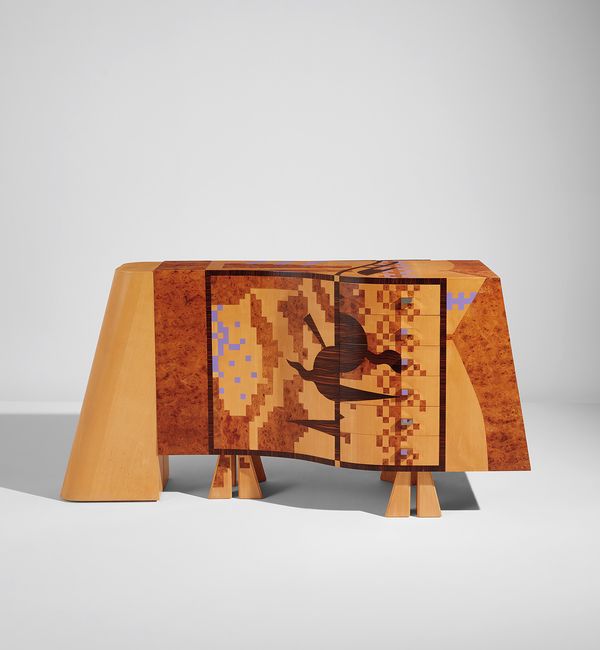 Alessandro Mendini and Giorgi Gregori Unique cabinet, 1985
Though this cabinet from our Design auction in December is a unique piece rather than an object of mass production, it still addresses this "paradox." The pixelated motif made in inlaid woods on the top and sides appears throughout Mendini's work, including the rug in his display. These patterns come from what the designer called his "Mendinigraph." As an ironic gesture, it was meant to be used as a stencil that designers could use and re-use to construct avant-garde forms, further poking fun at what Mendini perceived to be an emptiness in the avant-garde of the mid-1980s.
Despite this pessimism, this one-of-a-kind piece of furniture is truly a pinnacle expression of Italian design from the second half of the twentieth century.