Constantin Brancusi Femme se regardant dans un miroir [Woman looking into a mirror], 1909
During the Interwar period, Europe found itself at a crossroads as empires began to crumble, fascism and communism rose to prominence and rapid economic growth in the 1920s gave way to a massive crash in the 1930s. Certainly, the art world found itself wrestling with new ideas as Dada gave way to Surrealism, and photography became a central medium for analyzing — and manipulating — the "real" world.
Photography became fundamental to the master sculptor Constantin Brancusi's practice. Alongside his sculptures, Brancusi explored the photographic medium as an expressive art form, taking photographs of his sculptures and his studio to visualize his artistic intentions and interact with his sculptures. When discussing his works, Brancusi is known to have asked, "Why write? Why not just show the photographs?"
The photograph offered here shows Brancusi's 1909 sculpture Femme se regardant dans un miroir, which was inspired by his meeting with Princess Marie Bonaparte, the great grand-niece of Napoleon, who had requested a bust of herself. "She had a beautiful bust, but ugly legs and was terribly vain," remembers Brancusi. "She was looking in the mirror all the time, even during lunch … discreetly placing the mirror on the table, looking furtive. She was vain and sensual." In the photograph, the sculpted head, seen from behind, tilts slightly downward as if she is gazing at her reflection.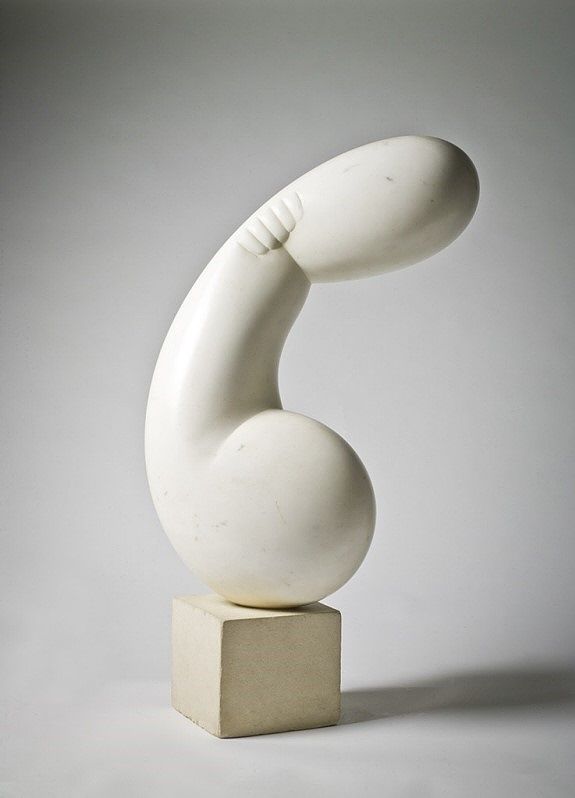 Constantin Brancusi Princesse X, 1909-1916 © Constantin Brancusi
Dissatisfied with his sculpture Femme se regardant dans un miroir, Brancusi took this photograph in 1909 with the intention of re-carving it. Between 1909 and 1916, he transformed the sculpture into Princesse X (currently held at Sheldon Museum of Art in Lincoln, Nebraska). One of Brancusi's most controversial works, the bronze version of Princesse X was temporarily banned at the 1920 Salon des Indépendants in Paris on grounds of obscenity. Brancusi's 1909 sculpture Femme se regardant dans un miroir exists only through his photographs, which provide an insight into the creative process of one of the 20th century's most influential sculptors.
While the photograph of Femme se regardant dans un miroir was taken in 1909 when the sculpture was created, it is likely that the print offered here – along with all of the other known early prints of this image – was made a decade later in the early 1920s. The dating of these prints coincides with Man Ray's arrival in Paris in 1921, for it was Man Ray who taught Brancusi how to develop his photographs and helped him to set up a darkroom in his workshop. Brancusi's archive, housed at the Centre Pompidou in Paris, holds a 13 x 18 cm glass plate negative and 10 prints of this image. As of this writing, no more than five early prints of this image – all held privately – are known.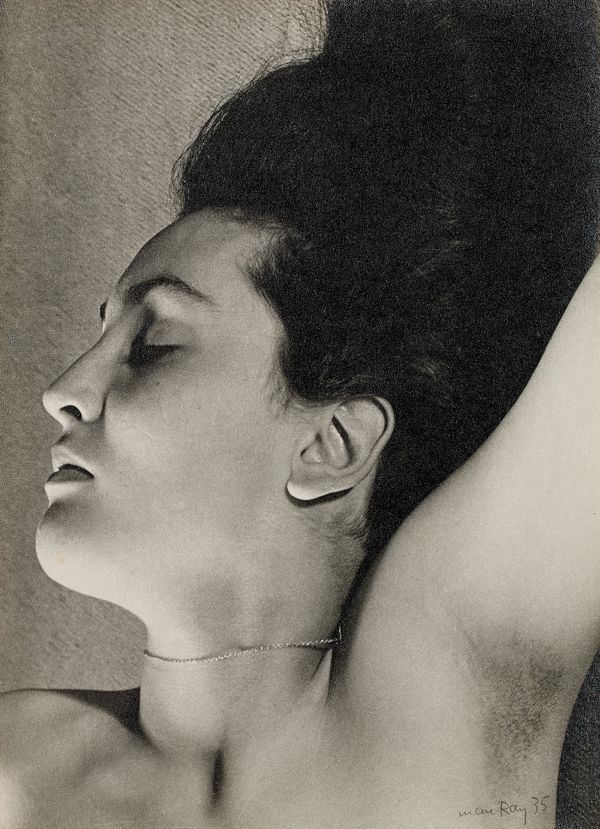 Man Ray Meret Oppenheim, 1935
The study of artist Meret Oppenheim offered here showcases Man Ray's ever-inventive approach to the medium. Presented here as a vertical, this image is actually a radically cropped printing of the horizontal 5-by-7-inch negative which shows Oppenheim lying full-length upon the floor of Man Ray's studio. Through cropping and re-orientation, Man Ray transformed the image into a surreal portrait in which Oppenheim's delicate chain necklace floats around her throat and her hair defies gravity. Another print of this image with the same cropping and orientation is in the collection of the Centre Pompidou, Paris.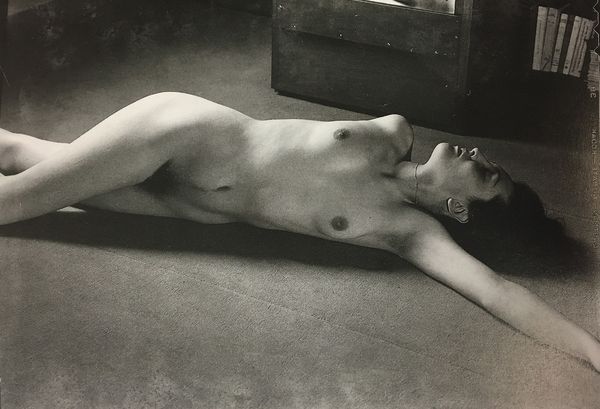 Man Ray Meret Oppenheim, 1933 © Man Ray 2015 Trust / ADAGP, Paris and DACS, London 2019
Man Ray was introduced to the German-born Oppenheim in Paris by their mutual friend Alberto Giacometti in the early 1930s. Oppenheim posed repeatedly for Man Ray, resulting in some of his best-known photographs from that decade, including Erotique Voilée and, notably, The Primacy of Matter over Mind which shows Oppenheim in a similar pose to the image offered here, lying down with her arm draped above her head. In his autobiography, Man Ray called Oppenheim "one of the most uninhibited women I have ever met," and the images he made with her show her active engagement in their photographic sessions.
I photograph the things that I do not wish to paint, the things which already have an existence.
— Man Ray
Oppenheim is perhaps best known for Object, 1936, her fur-covered cup, saucer, and spoon, which created a sensation upon its debut. This uncanny assemblage shows her full embrace of Surrealism and her ability to transform the quotidian into something charged with mystery. Object was acquired by The Museum of Modern Art shortly after it was made, becoming the first Surrealist object to enter the collection. Oppenheim remained a vital member of the Surrealist movement in Paris until the late 1930s when she began to explore a different and ultimately more feminist approach to art.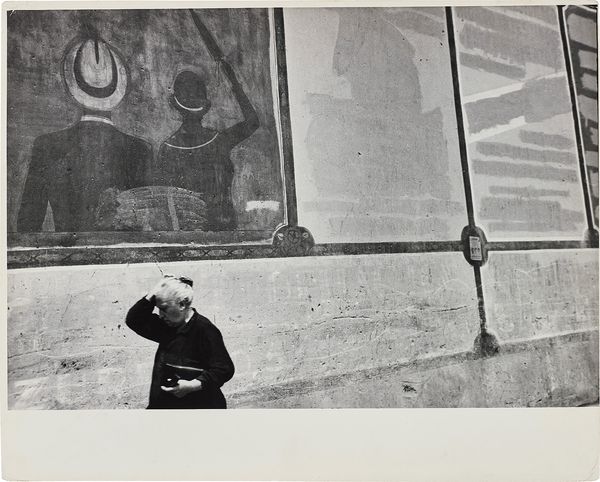 Henri Cartier-Bresson Barcelona, 1933
In 1933, just three years prior to the onset of the Spanish Civil War, Henri Cartier-Bresson traveled to Spain with his newly purchased Leica camera and produced powerful images that have become enduring records of the time. Experimenting with formal components from Cubism and Surrealism, he delicately intertwined artistic expression with humanist insights to imbue his pictures with empathy and vitality.
In the work offered here, we see a wall with painted lines creating a grid of geometric shapes and a mural depicting a man and a woman. Placed directly beneath it is a passing woman whose raised right arm echoes that of the painted woman. This photograph taken in Barcelona bears the Surrealistic hallmarks of Cartier-Bresson's earlier work before World War II. The juxtaposition of the painted woman and the real one is heightened by his choice of framing and oblique angles. His flattened picture plane gives the impression that the passing figure has become a part of the painted wall. Cartier-Bresson's process of first selecting a graphically interesting background then waiting for something striking to move into the frame is evident in this image.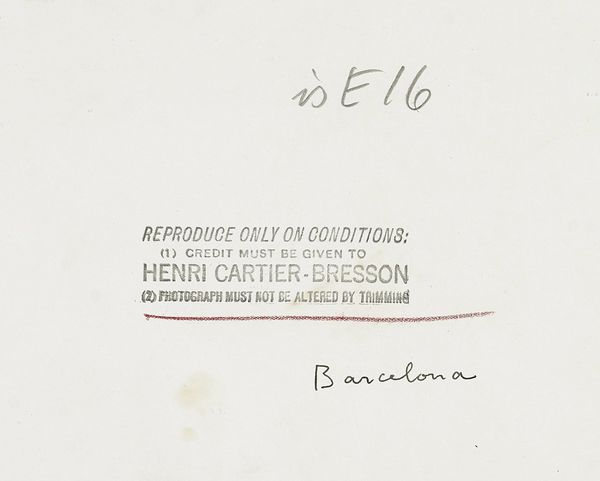 Henri Cartier-Bresson Barcelona, 1933 (detail of verso)
The combination of rigorous composition and significant content was what he would later coin the "decisive moment," a term borrowed from Cardinal de Retz, a 17th-century French priest. The Surrealists regarded composition and chance as a duality, and for Cartier-Bresson, the appeal of Surrealism was located in this openness to chance: "It is to Surrealism that I owe my allegiance and because it taught me to let the camera lens delve into the detritus of the unconscious and chance."
The present lot is a glossy ferrotyped print and was printed in New York at David (Chim) Seymour's lab in 1946 or 1947 while Cartier-Bresson was preparing for his 1947 Museum of Modern Art exhibition The Photographs of Henri Cartier-Bresson in which another print of this image was exhibited. As of this writing, only five early prints of this image, printed in 1946-47, are known.