Thinking About Selling Your Watch?

You've come to the right place. This May, Phillips in Association with Bacs & Russo presented the world's finest collectible watches, realizing a market-leading $49 Million over three sales – including a white-glove thematic sale of the most sought-after sports watches.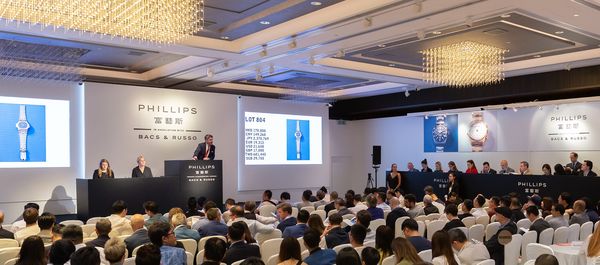 A view of the room during the Phillips & Blackbird: Sports theme sale, held in Hong Kong this May.
Phillips welcomed a record number of bidders with widespread interests for vintage and modern watches. Iconic models made by Rolex and Patek Philippe continued to stir up passions, while enthusiasm in the rising champions of contemporary watchmaking grew even stronger. Meanwhile, the result achieved by George Daniel's Grand Complication (CHF 2.4 Million) confirmed the everlasting appeal of the world's most significant pocket watches.
Our specialists are now back on the road, meeting with collectors all around the world to unearth fresh-to-market and previously unknown collectible watches. For you (and maybe from you!)
Your Watch May Be Worth Half A Million:
You might be surprised to find out how much your grandfather's watch is worth today. Collectors are becoming increasingly demanding when it comes to provenance, seeking (whenever possible) watches that come from the family of the original owner.
Several watches illustrated this tendency last season, including a spectacular Rolex Submariner Ref. 6200 found in Scandivania and consigned by the family of the original owner. The watch sold for CHF 596,000 at auction to the delight of its previous owners.
Consigning With Phillips:

Finding out how much your watch is worth is quick and simple. This summer, our specialists will be providing complimentary estimates and recommending catalogue ranges to collectors in the following cities:

Asia Europe North America

Beijing Brussels Los Angeles
10 - 11 July 8-10 July 16-18 July

Shanghai Amsterdam
13 & 15 July 18 July

Jakarta Paris
16 - 17 July 20-21 July

Surabaya
18 - 19 July

Singapore
24 - 26 July

Kuala Lumpur
27 - 28 July

Additional dates will be added to the calendar. To schedule a private meeting with one of our specialists, please contact us at: watches@phillips.com

Upcoming Auctions:

Phillips will be hosting auctions in Geneva, New York and Hong Kong this Fall, and has already announced a couple of the season's major highlights: a historically important Rolex Day-Date belonging to the legendary golfer Jack Nicklaus and the Marlon Brando Apocalypse Now Rolex GMT-Master, both offered during a historic thematic sale that will conclude our auction season. Taking place on 10 December, GAME CHANGERS will be a tightly curated thematic auction dedicated to watches owned by extraordinary people who are considered "game changers" in their fields. The evening sale will also include iconic collectors' models from leading brands that have changed the course of watchmaking and watch collecting, alongside other important timepieces that are outliers in terms of provenance, aesthetics, condition, and rarity.

In addition to searching for rare and historically important watches for these sales, our team is looking for "double-signed" watches for our upcoming thematic auction dedicated to one of the most sough-after categories in watch collecting.