Milk Magazine captured highlights of the evening on camera. Credit: Milk Magazine
Thousands of collectors and enthusiasts gathered at Hong Kong's JW Marriott saleroom over the course of the preview and evening auction for Phillips & Blackbird: SPORTS. Of all the figures and bidding increments hurled at the auctioneer over the night—between participants in the room, on the phone and online—none sounded sweeter than the final statistic: 100%. By the end of the sale, each watch had found a new owner.
A perfect sale, or "white glove sale" as it is known in the auction world, is extremely rare, but last week Thomas Perazzi achieved the feat with our partnered auction of sports watches, which also happened to be the first sale in Asia ever co-curated by a watch collector. A total of 82 exceptional timepieces, encompassing vintage and modern sports models, achieved HK$73 million / US$9.3 million— attracting collectors from 52 countries across six continents, including 500 online bidders.
The watches offered included vintage collectors' watches manufactured by the world's most established watchmakers such as Rolex, Patek Philippe, Audemars Piguet, IWC, Omega, Richard Mille and a celebrity watch once owned by Bruce Lee. Particularly strong interest was shown for Rolex sports watches, including early Submariners, GMT-Masters and chronograph models such as the Daytona. Patek Philippe showed continued strength, with an exceptional example of the iconic Reference 2499 igniting fierce bidding competition.
This extraordinary White Glove Sale marks an unprecedented moment in the global market for sports watches.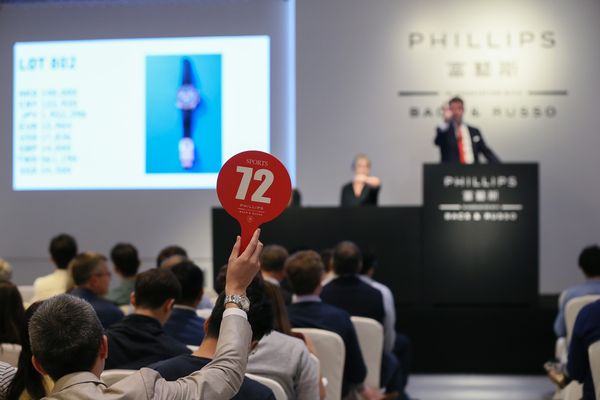 Thomas Perazzi, Head of Watches in Asia said: "This extraordinary White Glove Sale marks an unprecedented moment in the global market for sports watches."
Thomas was presented with a pair of white gloves, symbolic of a perfect sale, by Phillips' Chairwoman Cheyenne Westphal shortly after he hammered the final lot of the evening, an iconic and extremely rare Rolex Submariner Reference 6538 which achieved HK$6,030,000 all-in.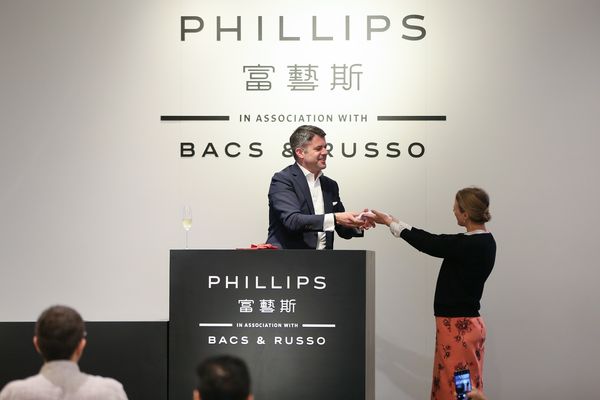 Phillips Chairwoman Cheyenne Westphal presenting Thomas Perazzi with a pair of white gloves
"It has been an incredibly exciting and enriching experience to partner with Blackbird and to witness such a strong and positive reaction to this pioneering concept," said Thomas.
This themed sale attracted bidders from around the world, with especially spirited participation from the growing community of Asian collectors, particularly across Mainland China, Hong Kong, Taiwan, Thailand, Singapore and Japan. In a crowded room, with a vast number of online, telephone and room bidders, 60% of watches soared above their high estimates, setting many exceptional prices and record results for multiple brands.
Mr. TK Mak, Founder and Chairman, Blackbird Automotive Group, said: "It is such an honor for Blackbird to partner with Phillips in Association with Bacs & Russo on such a hugely successful sale, with 100% of lots sold and a number of outstanding results. Aided by our careful curation and considered catalogue presentation, the prices achieved today show how important condition and historical perspective are to the market for these iconic sports models. I'm grateful to have been the first Asian-based private collector to collaborate with an auction house and present a thematic sale of this kind, and it is an honor to have been a part of a sale which will inevitably leave a lasting memory for the collectors' community worldwide."