Phillips' flagship New York watch auction, GAME CHANGERS will offer what is undoubtedly the most important wristwatch formerly owned by Academy Award® winner Marlon Brando. An iconic Rolex GMT-Master ref. 1675, this watch was worn by Brando in Francis Ford Coppola's Apocalypse Now, released in August 1979. With its absolutely superb provenance, it is the watch seen by millions on the wrist of Colonel Walter E. Kurtz – the character played by Brando – and long thought to have been missing. In addition to its role on the silver screen, the GMT-Master being offered at Phillips is made even more extraordinary by the never-before-seen engraving on the caseback, "M. Brando," hand-engraved by Marlon Brando himself.

This watch remained in Brando's possession until 1995, when he gifted it to his daughter, Petra Brando Fischer. The auction this December marks the watch's first time ever being shown publicly and offered for sale since having been acquired by the legendary actor in the early 1970s.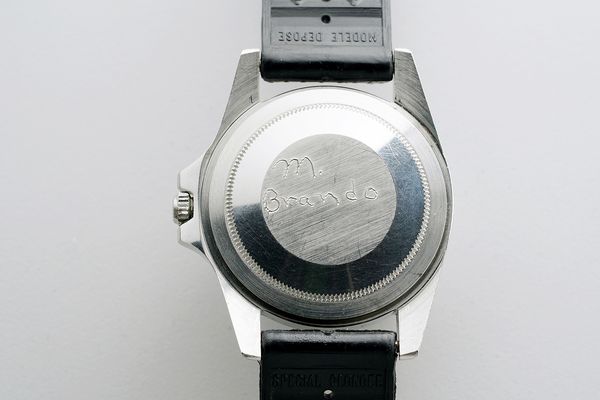 Coppola's Apocalypse Now is among the greatest accomplishments in cinematic history and Brando's performance is amongst his most iconic. Brando played the role of Colonel Walter E. Kurtz, a former Green Beret who, during the Vietnam War, went rogue running his own military unit in Cambodia. On Marlon Brando's wrist, as seen in the film, was this exact Rolex GMT-Master, a reference 1675 manufactured in 1972, fitted on a black strap with its bezel missing. Brando told Petra that he wore the watch to the set of Apocalypse Now in the Philippines, and he was told that he had to remove it during filming, as it would stand out. Brando said that he argued, "If they're looking at my watch, then I'm not doing my job as an actor." He said that the filmmakers let him wear the watch, but he removed the bezel, resulting in the unique-looking timepiece that is so closely associated with Colonel Kurtz.

Paul Boutros, Phillips' Head of Watches, Americas, said, "Widely considered the greatest actor of all time, Marlon Brando's storied career has come to define the 20th century – his seminal films serving as cornerstones of American culture over the course of six decades. This Rolex GMT-Master is the holy grail of watches owned by Marlon Brando and one of the greatest 'long lost' watches to finally surface after years of speculation. As this year marks the 40th anniversary of Apocalypse Now, the film that brought this watch into the spotlight, we are thrilled to work with Marlon Brando's daughter, Petra Brando Fischer, and her husband, Russel Fischer, in offering collectors an incredible opportunity to acquire this historic watch."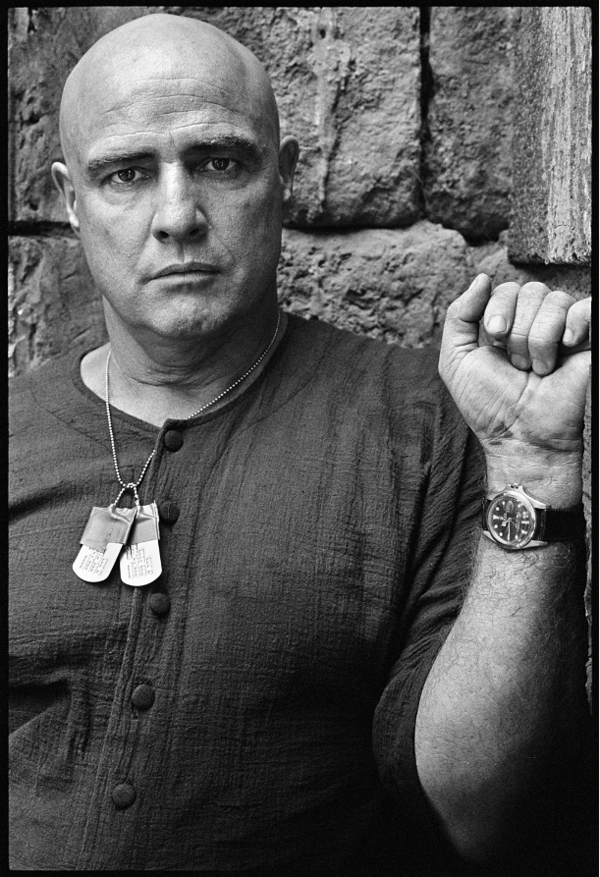 Marlon Brando on the Set of Apocalypse Now. Credit: Mary Ellen Mark
In 1995, 20 years after the filming of Apocalypse Now, Brando gifted the watch to Petra following her graduation from Brown University in 1994, before she went to Law School at the University of Southern California. Brando handed Petra a hand-written letter in which he wrote that he was proud of her accomplishments, then gave her this GMT-Master and said, "This watch is like a tank. You can do anything you want to it and it will keep on going. I want you to have it as a reminder of how proud I am of you." In 2003, Petra gifted the watch to her husband, Russel, on their wedding night. He appreciated its significance and has cherished it ever since, having chosen to never wear it.

The Rolex GMT-Master ref. 1675 is being offered as it was received by Petra, without a bezel and fitted on a rubber strap. The watch is exceptionally well preserved, retaining all bevels, curves, and sharp edges as delivered from the Rolex factory nearly five decades ago. The luminous hour markers and hands have aged beautifully to a gorgeous shade of beige, and the dial, hands, case, crystal, and crown are all original to the watch.

Through the sale of the watch at Phillips, Petra and Russel would like the public to remember Marlon Brando's great contribution to film and celebrate his legacy. "Russel and I believe this watch is a piece of movie history that belongs in the hands of a collector who will give it the prominence it deserves," said Petra. A portion of the sale proceeds will assist a charitable foundation established by Petra and Russel, which will provide financial support to children who are living through serious hardship due to abuse, neglect, poverty, or disability - causes which Petra believes would have been very important to her father.

Phillips is thrilled to offer the Marlon Brando Apocalypse Now Rolex GMT-Master alongside The Jack Nicklaus Rolex Day‐Date, announced earlier this year, during a historic thematic sale that will conclude our auction season. Taking place on 10 December, GAME CHANGERS will be a tightly curated thematic auction dedicated to watches owned by extraordinary people who are considered "game changers" in their fields. The evening sale will also include iconic collectors' models from leading brands that have changed the course of watchmaking and watch collecting, alongside other important timepieces that are outliers in terms of provenance, aesthetics, condition, and rarity.