Andy Warhol Flowers, 1964 and Roy Lichtenstein Head, 1986, seen on view in Taipei
Inspired by their passionate and sustained engagement with modern and contemporary art, the Fitermans developed their remarkable collection throughout their lives in Minnesota, Palm Beach and New York. One of the most seminal groups of Pop Art amassed in the United States, the Miles & Shirley Fiterman Collection includes significant Pop works by Roy Lichtenstein and Andy Warhol as well as pieces by 20th-century masters Alexander Calder and Robert Motherwell.
Preview the five stand-out lots coming to auction in our Hong Kong 20th Century & Contemporary Art Evening Sale, kicking off at 6pm HKT on Sunday 26 May at the JW Marriott Hotel Hong Kong.
1. Alexander Calder 'Higgledy Piggledy', 1969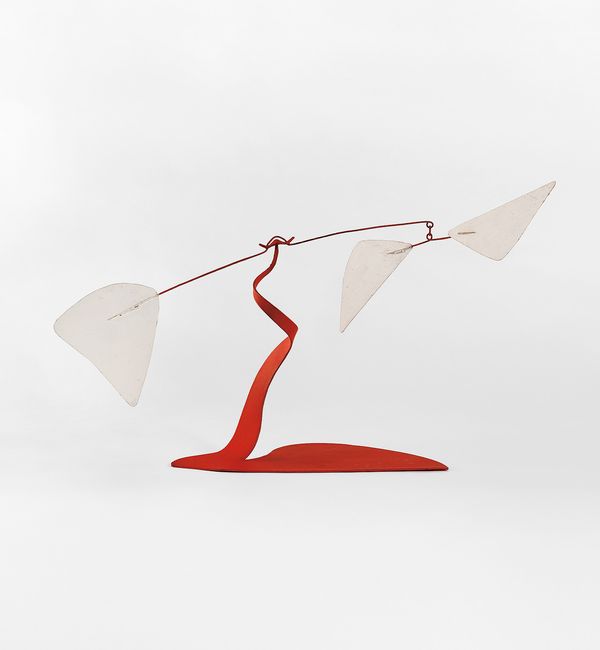 In Higgledy Piggledy, the magic and lyricism of Alexander Calder's celebrated 'Mobiles' are presented on an intimate scale. The sculpture stands only a little more than forty centimeters tall, its arms stretching out a similar distance in each direction as they rotate. The bulk of the sculpture is painted in a vivid red, with the paddles at each end of the wires in white, bringing a dynamic contrast to the ever-shifting composition. This is all the more effective in a sculpture such as Higgledy Piggledy: it is one of Calder's 'Standing Mobiles', and is intended to be placed on a surface. While some of his 'Standing Mobiles' were intended to be put directly on the floor, in works such as Higgledy Piggledy, a table or desk is the more natural setting—and this allows the white and red elements to form a counterpoint to the world around it. This is in contrast to the hanging 'Mobiles', which are so often seen against the stark white of the ceiling or walls.
Also from his 'Mobile' series, Alexander Calder's monumental Black Gamma hangs from the ceiling of "The Cube," our new gallery located at 432 Park Avenue in New York.

By the time he made Higgledy Piggledy in 1969, Calder was an international star. He had worked in many media, in many countries. He had managed to bridge the world of the Surrealists amongst whom he had lived in Paris in the years before the Second World War and that of the Abstract Expressionists who came to the fore in the later 1940s in his native United States. The movement and gesture that was so integral to Calder's work served as a prelude to Abstract Expressionism, while his intuitive process resonated with Surrealist automatism. Both are in strong evidence in this work, presented as Lot 6 in our Hong Kong Evening Sale.
2. Andy Warhol 'Flowers', 1964
Against a verdant green ground, a grid of four exuberant red floral forms emerges—each delicately delineated by traces of a monochrome photographic image. As a preeminent example from one of Andy Warhol's most iconic series of paintings, Flowers represents a formative moment in the history of Pop Art. Warhol calls upon the historic genre of still life painting in his effort to, succinctly and dramatically, conjure themes of mortality and beauty. The symbolic weight of the flower is added to Warhol's pantheon of mass-produced products, celebrities and macabre images sourced from the daily news.
'Flowers' represents the dawning of a long-standing relationship of patronage between the couple and Warhol.
This work is one of only two 14-inch Flowers that are signed with a dedication. Warhol assigned this work to prolific collectors Miles and Shirley Fiterman, in whose collection it has remained since they acquired, it shortly after it was painted in 1964. Flowers thus represents the dawning of a long-standing relationship of patronage between the couple and Warhol and attests to the unparalleled historic importance of their collection as well as their role as collectors.
Conceived and executed within a seminal year, the Flowers paintings are regarded as the pinnacle of Warhol's painterly output in the early 1960s—a period in which he revolutionized the history of representation through his adoption of the silkscreen technique. In 1964, Warhol was beginning to turn away from painting, as signaled by his last exhibition with Eleanor Ward of the Stable Gallery, where he presented three-dimensional reproductions of commercial shipping cartons. However, for his first show with renowned art world impresario Leo Castelli and ahead of his temporary break from the painted medium, Warhol debuted one of his most iconic series: Flowers. Presenting a radical switch from the images of American consumerism that he championed in his early oeuvre, the show was an instant success, leading to subsequent Flowers paintings being produced for a show at Galerie Ileana Sonnabend in Paris, as well as a second consignment to Castelli. It was from this batch of 14-inch Flowers paintings that the present work originates.
As a close associate of Castelli, the preeminent Minneapolis gallerist Gordon Locksley not only facilitated the acquisition of the present work by Miles and Shirley Fiterman but also introduced the couple to Warhol around this time. The rare personal dedication on the back of the present work speaks of a flourishing friendship between the prominent collectors and the rising art star.
3. Roy Lichtenstein 'Brushstroke Sculpture', 1981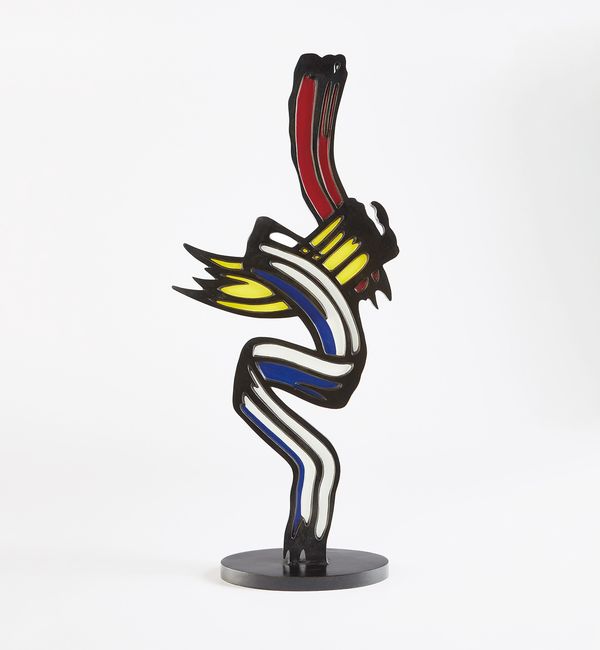 "Like Andy Warhol's soup-cans, Lichtenstein's brushstrokes were, clearly and at first glance, generational icons. They proposed a critique of the immediate past, clearly intending to supersede it without destroying it—to propose something new that would renew the past, as well." —Dave Hickey, "Brushstrokes", 2002

As a seminal addition to the history of sculpture, Roy Lichtenstein's definitive bronze, Brushstroke Sculpture, 1981, provides the ultimate challenge to our ideas on representation and the stylistic paradigms of 20th-century visual culture. As the very first sculpture made by Lichtenstein on the brushstroke motif, the present work (from a limited edition of six) is testament to the prestige of the collection from which it originates, and the ability of its original owners – Miles and Shirley Fiterman – to acquire the most significant Pop Art pieces at the time of their production.
With this particular work, the founding father of Pop Art employs his longstanding preoccupation with the mediation of images to a mesmerically confounding effect. Disrupting the traditional division between artistic mediums, Lichtenstein gives the art of painting three-dimensional form. Executed in 1981, inaugurating an expansive series, Brushstroke Sculpture draws from the elegantly kitsch stylings of Lichtenstein's iconic Brushstroke paintings of the mid-1960s. These groundbreaking paintings were based on cartoon-esque images of painted brushwork that Lichtenstein sourced from print media, forming a witty riposte to the supremacy of non-referential abstraction within the history of modern American painting. Further challenging the idea that painting in its purest form should refer solely to the act of painting itself, in Brushstroke Sculpture, Lichtenstein employs Duchampian strategies of dislocation and re-contextualization, instead making a work of art that disrupts accepted definitions of art itself. Through his characteristic gloss of primary colors laid upon the classical medium of bronze, Lichtenstein narrows the gap between the avant-garde and popular culture; a schism that was expounded upon by post-war art critics such as Clement Greenberg and propagated by the Abstract Expressionist painters he championed in the early days of Lichtenstein' career.
[Lichtenstein's brushstroke paintings] formed a witty riposte to the supremacy of non-referential abstraction within the history of modern American painting.
4. Roy Lichtenstein 'Head', 1986
Painted in 1986, Roy Lichtenstein's monumental work Head represents the sum of a prodigious career dedicated to interrogating the history of painting while melding the aesthetic tendencies of popular culture and fine art. The present work belongs to an important group of abstract portraits from the same year, each composed through the layering of seemingly conflicting painterly styles. Lichtenstein abolishes the divisions between abstraction and representation that underpinned critical discussions surrounding the medium within the 20th century. The artist provides a thorough history of mark-making, but also a succinct summary of the vast scope of art historical references that he has mastered within his own career.
When the work was executed, the artist had spent almost three decades re-imagining a plethora of artistic styles through the lens of his bold, comic-book aesthetic. Considering Futurist and Art Deco aesthetics respectively, Horse and Rider, 1976, and Modern Painting, 1967, are two additional examples from this prestigious collection that recall artistic movements. Head re-orientates Lichtenstein's long-standing "hands-off" engagement with Abstract Expressionism and takes a newly tactile appraisal of the significance of the brushstroke.

"There is humor here," the artist remarked on his approach in What is Pop Art? Interviews with eight painters, published in November 1963. "The work is still ground-directed; the fact that it's an eyebrow or an almost direct copy of something is unimportant. The ground-directedness is in the painter's mind and not immediately apparent in the painting." Head thus expresses Lichtenstein's fundamental belief that, despite the elements of popular culture it might refer to, his art is equally a formal exercise that examines the abstract components of a composition through the application of paint to canvas. As noted by his wife Dorothy Lichtenstein, "Roy viewed all of his paintings as abstract lines and marks on canvas, no matter what they looked like." Head proves that not only is it possible for artistic abstraction and commercial printing to harmoniously coexist, they can also work together to create a new vision of humanity.
Botero's works are underpinned by a conscious communion with the Old Masters of Renaissance Italy.
5. Fernando Botero 'Niña', 1981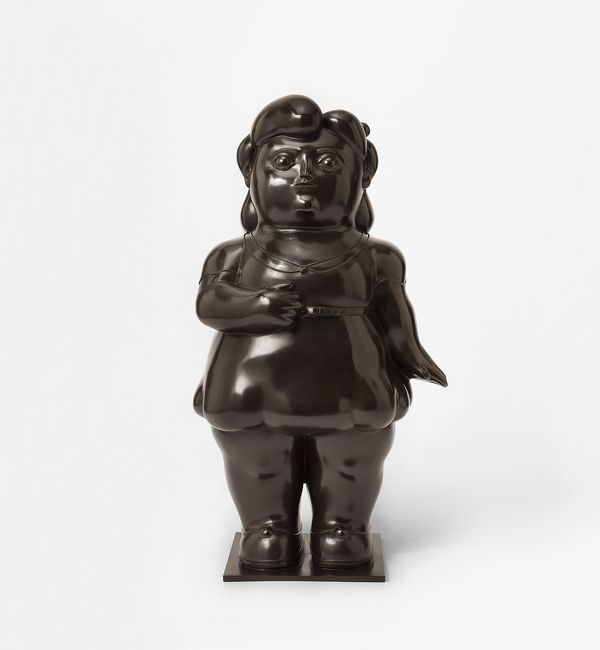 Standing just shy of four feet tall, Fernando Botero's Niña has been rendered on an incredibly human scale. She has a patina that introduces a heightened sensuality, a tactile effect that is only heightened by the soft undulating forms with which she has been captured—be it her body, her hair or her dress. Niña was executed in 1981, only a few years after Botero had begun to pay increasing attention to the medium of sculpture, rather than the paintings for which he was formerly better known. The plastic arts are particularly suited to the swollen forms of Botero's figures, and this has resulted in their incredible popularity—they have been shown not only in galleries and museums but also in town centers as diverse as Paris, Florence and Jerusalem.

Although Botero had experimented with sculpture as early as 1963, it was after his 1973 move to Paris that he had truly begun to explore the medium. Indeed, half a decade before Niña was created, in 1976-77, he essentially abandoned painting in favor of sculpture. In 1983, the artist's love of sculpture would even lead him to acquire properties in Pietrasanta, next to one of the famous quarries whose marble was used by Michelangelo.
Quoted in a 2016 interview with Time Out Shanghai, Botero commented on public perception of his practice: "Some people think that I paint fat women. But if you see, everything I do is volumetric: if I do a landscape, a still life, a fruit, a bottle, a horse, a tree, everything is volumetric. And it doesn't have anything to do with fatness. It has to do with a certain conception of sensuality in art: I am convinced that painting must be generous, sensual, voluptuous, and I discovered a way to express this sensuality magnifying forms and volumes. You see, it is not a comment about fatness or thinness; it is the reflection of a certain way to conceive beauty in art."

The subject matter of Niña appears linked less to the tradition of the Old Masters than to Botero's own background in Colombia. There is an engaging innocence and modesty to this figure. She appears vulnerable despite—or perhaps even because of—her exaggerated mass. This sense of naiveté links her to Botero's own youth: his memories of his early years in Medellín have long remained a vital touchstone for the artist. Looking at the simplified dress that Niña is wearing, it becomes clear that she is not a character from the early 1980s, but from some period further in the past, an idealized age seen very deliberately through rose-tinted glasses. She combines nostalgia with timelessness. In so doing, she manages to achieve the universality that Botero seeks in his work. "My subject matter is Colombia and it has always been Colombia," he has said.