Mel Bochner Gobbledygook, 2017, on view now at Phillips Berkeley Square as part of the con(TEXT) section of London Evening & Day Editions
Printed words and images have existed alongside for centuries, complementing and clarifying one another. However, when the words become the main focus of the image, instead of merely accompanying it, the resulting visual expression of language, signs and signals creates powerful new avenues of interpretation for the viewer.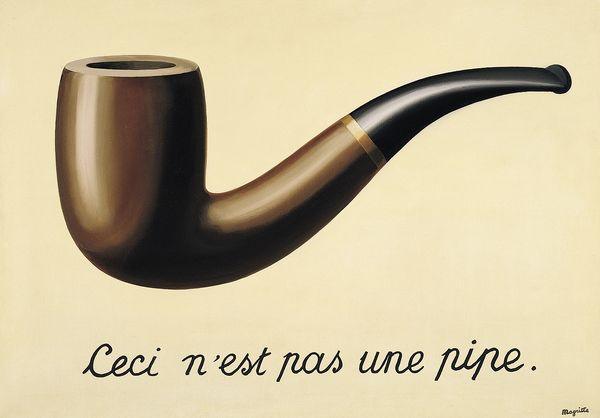 René Magritte The Treachery of Images, 1929
When Surrealist artist René Magritte (1898-1967) famously wrote 'Ceci n'est pas une pipe.' (This pipe isn't a pipe) across his 1929 painting, The Treachery of Images, he moved text from a peripheral to a central role in understanding the work. By adding this text, Magritte encourages the viewer to question the painting's meaning beyond the visual and in doing so, he paved the way for artists to remake meaning through language.
This mantle was taken up by the Conceptual artists of the 1960s, for whom words played a primary role in their emphasis of ideas over visual forms. Text and language became a crucial vehicle for artists who challenged the notion that an artwork should consist of a physical object and who recognized the versatility and power of the written word. Political activism, clever wordplay, subversion of advertising and appropriation of form are just some of the common characteristics of text art.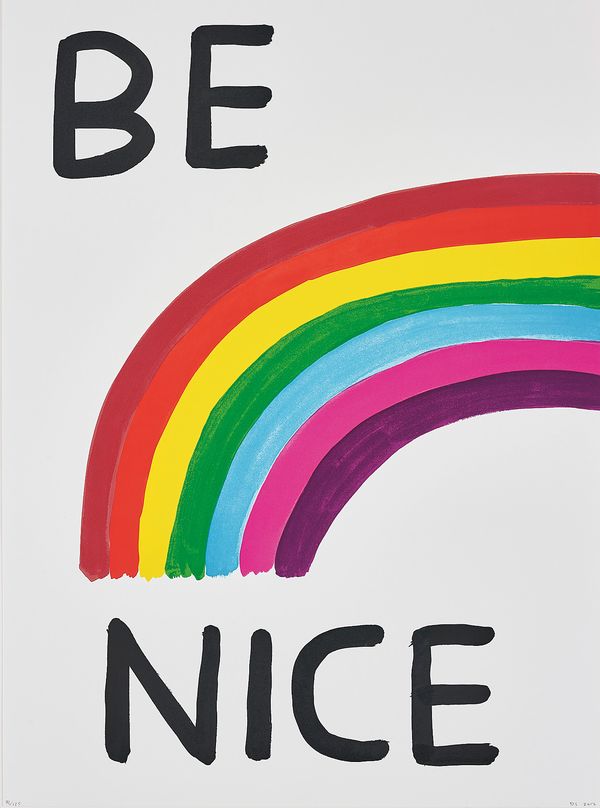 David Shrigley Be Nice, 2017
The following group of works presents just some of the various ways that modern and contemporary printmakers use letters, numbers and words as the central communication vehicle in their visual expression. Some of these artists use text as instruction, from the sweet entreaty of David Shrigley to "Be Nice" (lot 84) to the feverish demands of Jenny Holzer's Infammatory Essays (lot 96), which were once pasted across Manhattan.
Political activism, clever wordplay, subversion of advertising and appropriation of form are just some of the common characteristics of text art.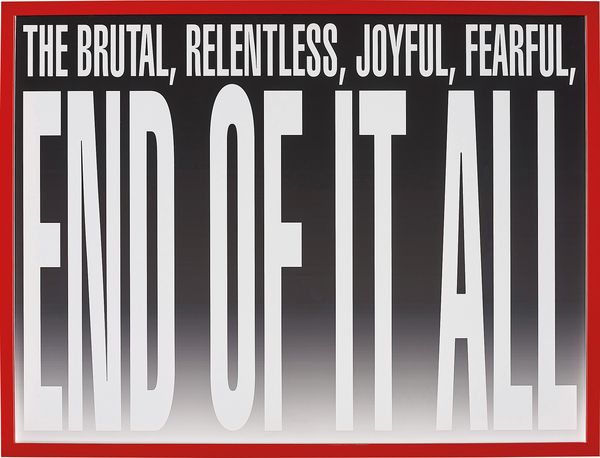 Barbara Kruger Untitled, 2014
Others, like Barbara Kruger (lot 69) make insistent, declarative statements on power and identity to a society of objectification and consumerism, while sly, satirical humor propels meaning in the work of Harland Miller (lot 80) and Christopher Wool (lot 67).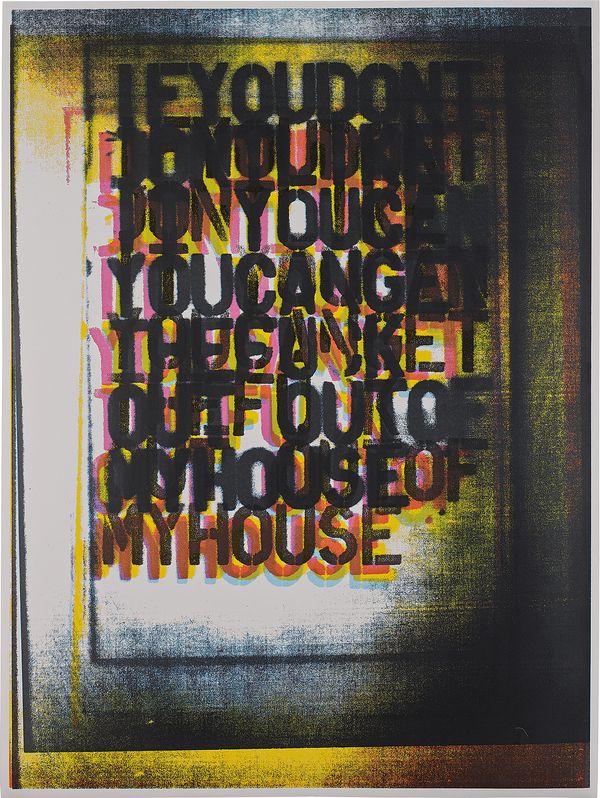 Christopher Wool My House I, 2000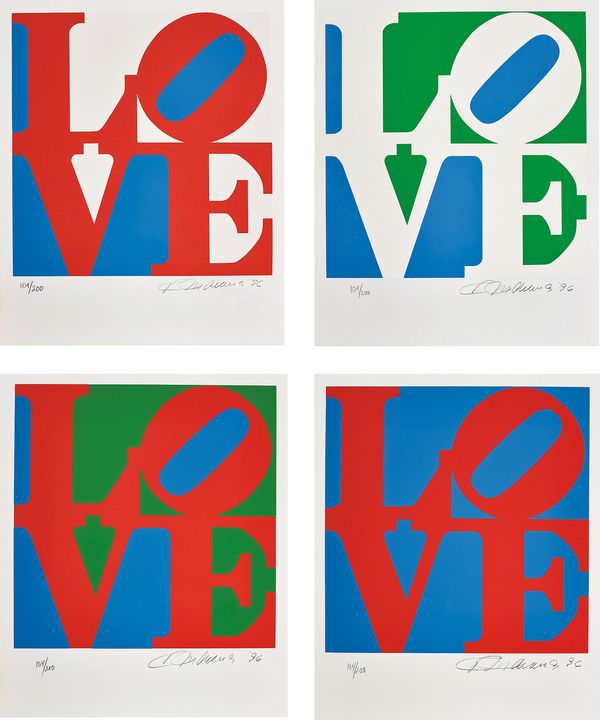 Robert Indiana Book of Love: four plates, 1996
Not all these artists rely on the meaning of their written proclamations and puns to elicit emotional responses from their viewers. Some have reveled in aesthetic play, with artists such as Robert Indiana (lot 70) and Ed Ruscha (lot 72) embracing signage and inventing type-fonts to blur the boundaries between text and image. Their emblem-like images, often of single words, create new and extrapolate upon old shapes to show letters and numbers to their full visual potential.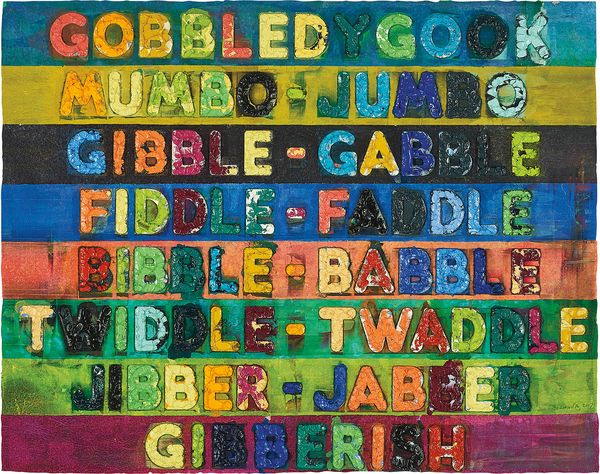 Mel Bochner Gobbledygook, 2017
Finally, with artists such as Mel Bochner (lot 65), we see experimentation with color, form and meaning—his repetition and variation of words veer into the abstract both in their visual and spoken forms. Each work is an invocation to partake in the work's expression, reading aloud as the viewer simultaneously soaks in the myriad of colors and shapes.
The artists included in this expansive group—which comprises lots 65 through 106 in our Evening & Day Editions sale on 24 January in London—ask us to look at the surface of language and remind us of the malleability of its meaning.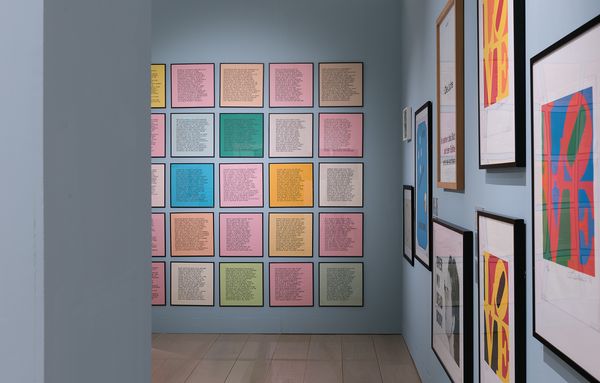 On view at 30 Berkeley Square: Jenny Holzer Inflammatory Essays: 25 works, circa 1979-82
Their work engages in an open-ended, interpretive dialogue with the viewer about how art narrates and how text can be employed as both sword and shield to express and deny meaning.